Survival in the realm of eCommerce is simply challenging, isn't it? We all live in incredible times where the eCommerce era has exponentially impacted human lives. 
The Amazons, the Walmarts, the eBays, the Rakutens, etc., are the biggest influencers and pioneers since the early years. You can even now buy groceries online – how extraordinary is that?
But with all this glitters and gold of the big fishes, there lies a genuine concern for small eCommerce businesses.
The Ultimate Question: A Major Concern of Survival
In this constantly evolving era of digital commerce, how do small businesses with little or no online presence survive?
In today's fast-paced world, being online isn't a choice; it's a business imperative. The shift to virtual shopping has reshaped consumer behavior across generations, compelling businesses of all sizes to adapt and evolve.
Many small brick-and-mortar stores rushed to embrace eCommerce to retain their customer base. They opted for quick and affordable solutions, fearing obsolescence in the rapidly changing consumer landscape.
Meanwhile, Shopify emerged as the go-to platform for businesses, primarily due to the lesser costs, quick solutions, and easy-to-use modules associated with online store development. 
However, these hurried decisions had consequences. The hastily constructed online stores came with limitations, lacking essential functionalities for success. The user interfaces often fell short, resulting in subpar customer experiences and not-so-good first impressions.
So, if you are one of these Shopify stores, you must think, what to do now?
The solution? eCommerce website redesign. 
So, 
Does Your Shopify Website Need Redesign? The Telltale Signs
Considering that you are an online retailer who has had a Shopify website for years, believe it or not, there are signs urging you for a 360-degree store design revamp. You must be craving your brand to carve out a distinctive identity in the market, right? The eCommerce store redesign also helps you boost user experience, enhance functionality, and increase sales.
1. Competitors Advancing = FOMO Rising
Do you plan to continue with the conventional Shopify store design while your competitors upgrade their online stores? Not a good idea!
Staying in the competition is crucial, and the race for survival is hotting up in the eCommerce realm. High competition already results in declining market share and a divided customer base. Why risk living in a FOMO (Fear of missing out)? Your competitors updating or upgrading their eCommerce stores is a clear indication of getting better than you. 
Get a Free eStore Design Mockup
Upgrade your website's appearance with our service. Get a free mockup to see the difference.
Sleek and Modern Layout
Mobile first design
Color Psychology
Interactive Elements
2. Outdated Functionalities = Bad User Experience
Does your existing Shopify store live up to the diverse expectations of the end-users? Does it fulfill what you expect out of it?
If the answer to both is 'NO', then Shopify website redesign is the apparent way to relaunch your refreshed Shopify store toward success. Leveraging top Shopify website design and redesign services, you can nullify all the growth constraints caused by outdated Shopify e-store design, features, functionalities, or versions. 
Shopify store redesign will help you boost sales and be compatible with all the latest platforms and digital devices.
3. Higher Bounce Rate = Failure in Meeting User Needs
A bounce rate of 45% or greater is considered 'Too bad'. It shows appalling issues with the Shopify website you own. For those who do not know, bounce rate refers to the number of visitors leaving your eCommerce store after visiting one page without performing any action.
Do you know many factors result in rising and uncontrollable bounce rates? For example, site loading speed, evolving target audience demands and needs, outdated website navigation (UI), complex functionalities, etc. Anything could be the reason.
We expect a Shopify eCommerce website to load in under 2 seconds. A lot of techie things are responsible for faster loading speed. But here, it is all about navigational (UI) issues and meeting the needs of the end-users.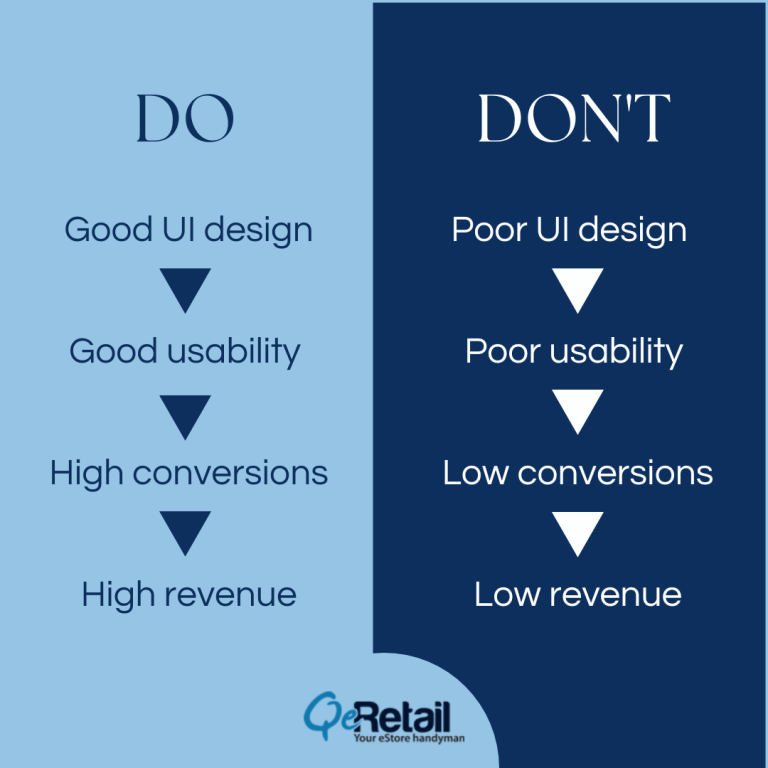 With time, UI trends have significantly changed, too. Shopify website redesign services can deliver enhanced navigational capabilities to boost website accessibility and experience.
4. Poor CTAs, Poor SERP Results = Business in Peril
What do bad CTAs and SERP results have to do with website redesigning? Well, it has to do a lot.
If your Shopify web app is not ranking well in search engine results (Google is the most preferred one here), a Shopify store redesign is inevitable. Our eCommerce experts recommend Shopify website redesign to improve SEO optimization, including content, metadata, and site structure.
Similarly, Poor CTA (Call to Action) can significantly impact Shopify website sales by diminishing the effectiveness of your website in guiding and persuading visitors to take desired actions. If your CTAs don't engage visitors, they are less likely to explore your products or engage with your content. 
We can offer end-to-end Shopify redesign services with expert suggestions on creating Engaging CTAs that can encourage users to spend more time on your site, increasing the chances of conversion.
5. Lacking Mobile-friendliness = Losing >>> 50% Online Shoppers
It is a fact that smartphone users are accountable for the majority of the overall online shopping traffic. 
This game is as simple as it gets. If you wish to see your Shopify website app destined for success, your store must cater to mobile users on all platforms (Android, iOS, Windows, etc.). A mobile-responsive Shopify store is a primary requisite in current times to become a successful eCommerce business owner.
Failure in this will instantly result in losing a gigantic volume of potential customers who prefer mobile devices. With premium Shopify website redesign services, we can empower you to target these target customers and boost conversions.
Get a Free eStore Design Mockup
Upgrade your website's appearance with our service. Get a free mockup to see the difference.
Sleek and Modern Layout
Mobile first design
Color Psychology
Interactive Elements
Shopify Website Redesign: Key Measures & Considerations 
Software app design is a beautiful yet complex journey. Every eCommerce project we onboard has unique needs and goals. This is exactly why every Shopify store design and development project should be treated in its own way. 
Remember that a successful Shopify website redesign is an ongoing process that involves continuous improvement and adaptation to changing market trends and user preferences. 
Here are a few key considerations if you really wish to redesign your Shopify store. Do some homework, as it will definitely help.
1. Audit Your Site & Set Up Goals
Dive or dig deep into analyzing your online store, for example, user behavior, conversion funnels, and the performance of existing elements. Simultaneously, sneak into your competitors' space to research their current actions and industry trends. This will help you identify and implement the best practices and opportunities to redesign your Shopify store.
By creating an end-user perception, pinpoint areas that need enhancements in website usability and performance. Map out user journeys to identify pain points and opportunities for enhancing the user experience. You have got to think from an end-user's perspective.
Identifying the pain points and problems will lead you to set up goals. Be pragmatic and innovative to think out-of-the-box solutions while considering your goals at all times. 
To be honest, it all depends on what you want to achieve by redesigning your Shopify store. To make it clearer, ask certain questions to yourself related to your true desires:
Do you wish to enhance just the user-friendliness of your online store?

Do you want to go a step further and boost your business by enhancing site appearance?

Do you need proven SEO experts to upgrade SEO performance and increase ROI?

Do you have in-house expertise for Shopify website redesign or do you need to hire Shopify developers?
Setting goals will help you understand critical issues to keep your Shopify store from a mess.
2. Determine the Project Cost: Your Budget
Relax there! It is not going to cost a fortune. 
Shopify website redesign is not costly at all. Even if you hire a top Shopify design and development agency, they only recommend the changes and upgrades your store needs. Your budget will directly depend on the number of changes and resources required by you. Of course, that depends on how quickly you want a relaunch. 
Other points to determine the final budget include:
Costs of plugins or add-ons if needed in revamping your Shopify store.

Costs for wireframes, themes, templates, and other tools.

Cost of managing downtime if your store needs to go offline.
You will have a clear budget idea upon completing the research and analysis phase.
3. Design Architecture, Wireframes, and Prototype
Considering your in-house eCommerce design expertise now is the time that you define a clear website structure. This also includes finalizing parent categories, subcategories, and even the product pages. Please ensure that the navigation menu is intuitive for end-users to find the products they are looking for quickly.
Get a Free eStore Design Mockup
Upgrade your website's appearance with our service. Get a free mockup to see the difference.
Sleek and Modern Layout
Mobile first design
Color Psychology
Interactive Elements
Now, you can shift your focus to crafting the design concepts and wireframes. Create and add visual elements to the new design and adhere to mobile responsiveness and user-friendly design principles from the atomic level.
Note that the visual design elements, including colors, typography, imagery, and branding elements used to create high-fidelity mockups or prototypes reflecting your brand's authenticity to showcase the final design.
4. Strategic Implementation
You shall follow the "One change at a time" mantra to redesign a Shopify store. It has always ensured the proper functioning of the rest of the modules on the site. Handling multiple things can break other functionalities and hamper site performance and experience. 
You simply do not want to put the whole platform functionality in danger by working on multiple modules and functionalities to upgrade them. This may backfire badly in your competitors' favor.
What if your payment modules get affected, and your customers experience severe payment issues? They will find it hard to trust your store once again.
How QE Retail Can Help in Shopify Website Redesign to Boost Sales?
For us, Shopify website redesign is more than a makeover. In the era where first impressions count, QE Retail is your ticket to land yourself a top Shopify store destined for success. We see this project as a transformation drive that ensures your brand exudes sophistication, engages your audience, and drives results.
When we join hands, our Shopify experts will take over complete responsibility based on your requirements. We offer 360° Shopify eCommerce solutions that cover expert consulting, store design/redesign, development, deployment, testing, and after-support. You can also create your own remote team by leveraging our pool of Shopify experts.
Get a Free eStore Design Mockup
Upgrade your website's appearance with our service. Get a free mockup to see the difference.
Sleek and Modern Layout
Mobile first design
Color Psychology
Interactive Elements
How Deep Is Our Love? 
At QE Retail, every one of us is committed to elevating your site to a whole new level of sophistication. 
Whether it is about enhancing your logo, choosing a harmonious color palette, or crafting an elegant layout, QE Retail's Shopify website design expertise remains unparalleled.
Our expert eCommerce team will check for broken links, ensure forms work correctly, and test e-commerce functionalities (e.g., shopping cart, checkout process). The software testing & QA professionals will test your Shopify website application using various devices to check responsiveness and website accessibility. 
There's more in our locker.
Final Thoughts: Redesigning Shopify Store Pays Off
Shopify eCommerce platform is 'The First Choice' of Small eCommerce Businesses. From portraying your brand's storytelling to managing orders and inventory, shipping, payments, etc. – it empowers you to do literally everything. And that's not it. It also helps your marketing agenda to promote your brand's presence quickly. 
If you own a small eCommerce business, Shopify is your best friend to elevate your sales. All that remains is finding a top Shopify store redesign and development company.
So… Why wait? 
Your search ends here. Contact our Shopify Store Designers and Developers for expert recommendations for your next idea.