Harness the power of these fourteen potent eCommerce Marketing Strategies and let your sales skyrocket like Captain Marvel in the eCommerce universe.
Okay, let's get down to business…
Advancements in technology make such things possible that were considered impossible a decade ago. Today, by tapping or clicking on certain points on your screen in sequential order can deliver products from anywhere globally to your doorstep. Moreover, with easy-to-use platforms such as Shopify, BigCommerce, and Volusion, online shopping and in turn the eCommerce industry has been greatly benefitted. In fact, eCommerce represented 14.3% of total retail sales in 2018.
Running an eCommerce store is having an online storefront and a connected warehouse. Running it successfully involves multiple tactics, preparations and creating a solid eCommerce Marketing strategy. This is especially important for small business owners who dream of gaining the best ROI for their efforts. So, by taking a leaf from the different marketing practices used by online retailers, we shall highlight different eCommerce marketing strategies based on the expertise you have.
Those who are starting out
You have created an online store, connected it with your inventory management system and started pulling in relevant traffic to your store. At this stage, most of your visitors are not ready to make the purchase. Here, the proven eCommerce marketing strategies would be to identify the needs of the visitor and provide them with good user experience.
1. List out your customer journey
Not everyone that visits your storefront is going to be turning into customers, at least not in the first few visits. They need to be gradually imparted knowledge about your brand, products, services, how they shall be benefitted, etc at different stages before they can be capable to make a purchase. While the customer journey for every business starts with a prospect and completes at customers, the intermediate stage might vary. So it is very important to chart out the customer journey and define milestones that indicate the promotion to a different stage.
A standard customer journey with different stages are:
Prospects → Leads or Marketing Qualified Leads → Sales Qualified Leads → Low-Value Customer → Loyal Customer → High-Value Customer
2. Create a content marketing plan
After you have devised the different stages of the customer journey, next comes the points of contact where you can reach out to your prospects. Even though no one is going to make a purchase based on what they read in a blog post, the blog post or any other form of content can at least influence the decision in your favor. Create a content marketing plan helps you identify which form of the content does your prospect consume more. It could be a blog post, infographic, flash card, case studies, eBook, style guide, or even a checklist.
Your content can revolve around the advantages of using your products, how to use your services or how people have been benefitted with your services. Such content acts as the trust-building activity for pursuing prospects as well as bringing over those who are still on the fence.
3. Set up an email marketing automation
Assuming that you have created your content marketing plan, now it is time to ensure that your content reaches the target audience. Emails are a great way to achieve this as they are easy to use, has very high investment v/s ROI ratio, will remain in the inbox of your subscribers unless purged. Additionally, in inbound methodology, emails are a vital part in 3 out of the 4 stages namely Convert, Close and Delight.
Moreover, thanks to USPs such as automation and personalized tags, emails are a great way to ensure that your customers receive personalized emails based on their online behavior without you having to manually monitor each email. Setting up an email marketing automation doesn't involve you jumping through hoops; all you need is an email service provider (MailChimp, Hubspot, Aweber, etc) a client relationship management software (Zoho, Salesforce, Microsoft Dynamics, etc) and the integration of both with your storefront.
4. Invest in a good recommendation engine
It feels good when you have someone to suggest you similar products based on your choices. A recommendation engine is a bridge between your knowledge of your products and what your customers are looking for. The recommendation engine monitors the products your prospects browse and/or purchase and scours through your product list to find similar or relevant products to be recommended. This opens up opportunities to upsell better products or cross-sell relevant products.
Those who are comfortable with their business
You have managed to bring in a steady flow of store visitors and successfully managed to bring sales but you are aiming for growth. The following eCommerce marketing strategies are to increase the number of visitors, increasing engagement with existing customers and reduce the number of abandonment (both cart as well as the browser).
5. Conduct Sweepstakes or Giveaways to increase engagement
Imagine getting a chance to grab the thing that you are planning to buy, for a discounted price or free. Would you let such an opportunity to go to waste? Similar is for your customers. When you offer exclusivity or discount in the form of sweepstakes or a giveaway, those on the fence to make the purchase would take the bait. Sweepstakes draws in new visitors to your website and most of such visitor would explore the rest of the website after taking part. By experimenting with different kinds of offers, sweepstakes and giveaway tools can help you identify what moves your customer base better.
6. Have a Loyalty reward program
The success of a business depends on repeat orders and loyal customers. Just as sweepstakes are a great way to draw in the new audience, a loyalty reward program holds your customer base together. Your products/services may be greatly helpful to the end-customer but when you include additional rewards on every purchase, you encourage them to return to your store every time they plan to make a purchase. Even though what matters at the end of the day is a good user experience but a loyalty reward program provides an incentive for your customers to remain loyal to your brand even in the presence of competition.
7. Invest in a display ad program
Ad monetization is a boon for marketing realm. It brings revenue for website owners and visibility for brands who enroll in the display ad program. Display ad marketing is a great way to bring your brand in front of those who satisfy particular traits. How the display advertisement works is using cookies. These cookies are a unique identifier for different devices helps track the owner's online behavior. Online advertising platform such as Google Adwords and Bing Ads! display your ads to those individuals whose online behavior matches your customer persona based on the stored cookie data in their devices. Display advertising has two major benefits:
It can be used for acquiring new leads, contextual marketing, and retargeting abandoners as well as dormant customers

Most social media platforms support display advertisements so greater visibility compared to other marketing channels
8. SEO and SEM
As per Retailing Today, 81% of shoppers report conducting online research prior to making a large purchase. If you fail to be present on the first page of their search, you might have lost a prospective customer. You may have the best products and your store may be the one your customers are looking for, but it is meaningless unless visible on a search engine result.  By adding relevant keywords to specific pages and have a good SEO score, the search engine determines that your store might be the best suit for someone's search query and you get a visitor.
Check out some quick DIY SEO tips here.
Unfortunately, in this age of competition, relying on ranking on specific keywords is not going to bring in visitors. This brings in the other end of the spectrum, i.e. search engine marketing wherein you bid on certain keywords and based on the bid amount, your result is shown as an ad.
9. Implement correct abandonment preventive measures
Even though 92% of visitors never come with an aim to make a purchase the first time, using cookies stored in their device, they can be reminded to return back. Moreover, there will be visitors who will place products in cart but abandon it before checkout. A simple yet timely cart abandonment email can bring them back and this brings in the revenue that might have been lost.
So implementing correct abandonment preventive measures help you bring back the traffic that you put in efforts to visit your store. There are two core types of abandonment which on timely reminder can result in successful engagement:
Browser Abandonment: Digital equivalent to window shopping, the visitor lands in your online store, browses some of your products and bounces off. 42% of revenue is generated from browse abandonment campaigns! Using display ads method mentioned above, you can dynamically display the specific products on the websites that your visitor shall be visiting.
Cart Abandonment: When someone places products in their cart but abandon it before completing the checkout process, it is considered cart abandonment. While the conversion rate from browse abandonment may be low owing to the unclear intention of the visitor, the same is not applicable in case of cart abandonment. In cart abandonment, since the customer has placed products in the cart, it is an indication that they do wish to make a purchase but failed owing to some circumstances. By sending a timely email with a link to their cart acts as a reminder as well as a good user experience.
Those who wish to push their boundaries
You have managed to cross most of the goals that you decided when you started out. Your store, as well as the marketing efforts, are working like clockwork. It is now time to focus on innovating your existing eCommerce marketing strategies to expand your business to the next level.
10. Optimize your checkout process
The ideal shopping experience has the customer visit your store, browse the product they looking for, make the purchase and wait for the product to be delivered. The more steps you include in the checkout process, you affect the user experience and it is visible in the dip in the sales. Optimizing the shopping experience involves small steps such as simplifying the registration or sign up process, simple user interface, streamlined page design that directs the attention to the checkout.
If you are a Shopify user you should read about their Dynamic Checkout Buttons.
By allowing customers to use their social media accounts to register is win-win as they quickly move ahead to the checkout while you automatically get a complete user profile without jumping through hoops.
Having a distraction-free checkout page is a second step to speed up the purchase. In the example below by Couture Candy, they have separated every step in the checkout. This way the customer is aware of how many steps are remaining to complete the purchase.

Additionally, by showing the products in the cart on the right-hand section along with the cost of the shipping added, the customer gets accurate information about the total cost incurred.
11. Create a shopping guide for different occasions
Even though a recommendation engine is a great way to upsell and cross-sell products based on past purchase history, a shopping guide manages to hit two birds with a single stone. You have a free downloadable for lead generation and your customers get a run-down on important considerations when shopping for a specific item. A shopping guide is greatly helpful in case of 'high-end' items such as furniture, home decor, and electrical appliances.
12. Sell on Instagram
Instagram's business model transformed the photo-sharing social media platform into a mini e-commerce store. You can showcase real-world photos of your products along with a link for your followers to buy it.  With the latest update, Instagram will provide followers to purchase the product right from the post. You can read more about this here.
13. Ask for product reviews
The prospects may not take your word for how well your products/services can help solve their current problem, but a word of appreciation from a fellow customer surely can do so. How many times you would have also bought something after referring the reviews? Product reviews are a gold mine when creating content. You increase the face value of a product, build trust, feature it on your store homepage to attract new visitors and also send emails on special occasions such as Mother's Day, Easter, Labor Day by featuring user reviews.
Check out this list of 100 holiday email marketing subject lines for some quick inspiration.
In the example below by KidPik, the images uploaded by customers were featured in an animated GIF during their Mother's Day promotions.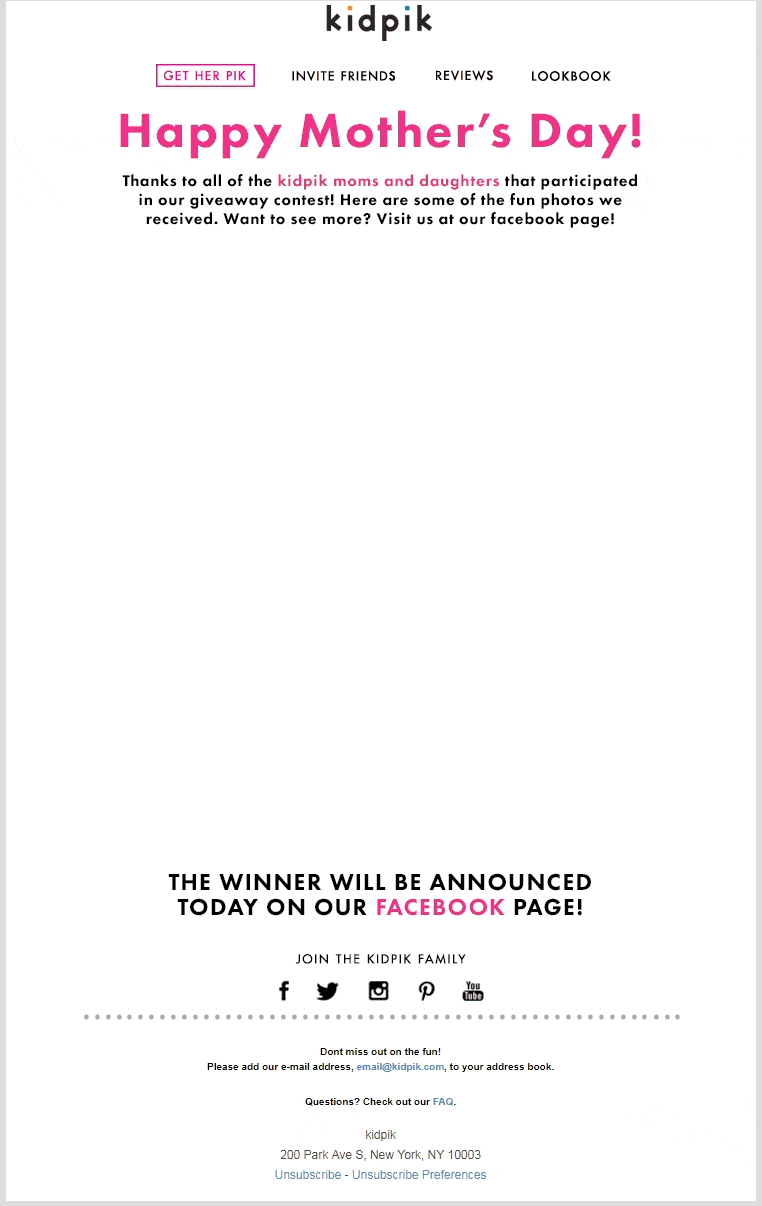 14. Plan your holiday marketing early
For any online store, the last quarter of the year i.e. Holiday season from October to December is the busiest time. To cater to the high influx of visitors, the pre-plan begins months before the actual holiday season. Preparations include not just stocking relevant products but optimizing your website, understanding the shipping schedules, fine-tuning your email automation, scrubbing the email list, and store redesign.
Download our free Ultimate List of 100 Holiday Marketing Stats to formulate successful eCommerce Marketing Strategies.  
Wrapping Up
Some times all you need is pure grit and some good products to run a successful business. Yet you may need the help of an expert to help you manage menial jobs while you focus on exploring new possibilities or strategies like the ones mentioned above, for your business. We at QeRetail are equipped with a team to tackle most of the problems arising in running an online store.