"Business has only two functions — marketing and innovation." — Milan Kundera, Writer & Playwright.
The ultimate aim of a business is to innovate and profit from it, which depends on how well you market your business. A business can never rise if it is not known to its target audience. A customer can only invest in your business or buy your product if they know about it, and that too when your brand is presented in the best light. Small business marketing strategies can help you promote your business to the customers, educating them about your product and services effectively. Despite being so powerful, marketing can only be helpful if it is done the right way.
Random or spontaneous marketing can never benefit a business in the long run. You need to have a thorough plan and execute it properly, which may not rely on your large marketing budget. What matters is where every dollar is invested for marketing is being spent.
For small businesses, finding small business marketing strategies on a shoestring budget comes out as a real challenge as any wrong step means money down the drain. However, being so crucial for a business's success, skipping the marketing process would not be a good idea. You can opt for more innovative and inexpensive ways to market your business.
If you are also wondering about some of the most effective marketing strategies that fit well in your small company's budget, you are in the right place. Here are some of the most pocket-friendly yet effective tips to guide you in marketing your business on a tight budget.
Effective Small Business Marketing Strategies on a Shoestring Budget
Leverage the Community
Leveraging the community or word-of-mouth promotions is easy and effective way in multiple ways:
Increase brand awareness
Understand the customers
Establish a positive brand reputation
Build brand loyalty
Grow your business.
Considering its benefits, many successful companies are already using it and reaping its benefits into their business.
Creating a community of your most loyal customers works in 2 ways: business growth and customer support. Not only will they be advocating your products or services among their peers, with enough knowledge, your customers can act as customer support at the preliminary level. It can create several growth opportunities for your business. On paper, you can leverage your loyal customers with exemplary user experience, but in reality, incentives worked better (and effective).
In the example below, Adidas UK launched a program titled "Creator's Club."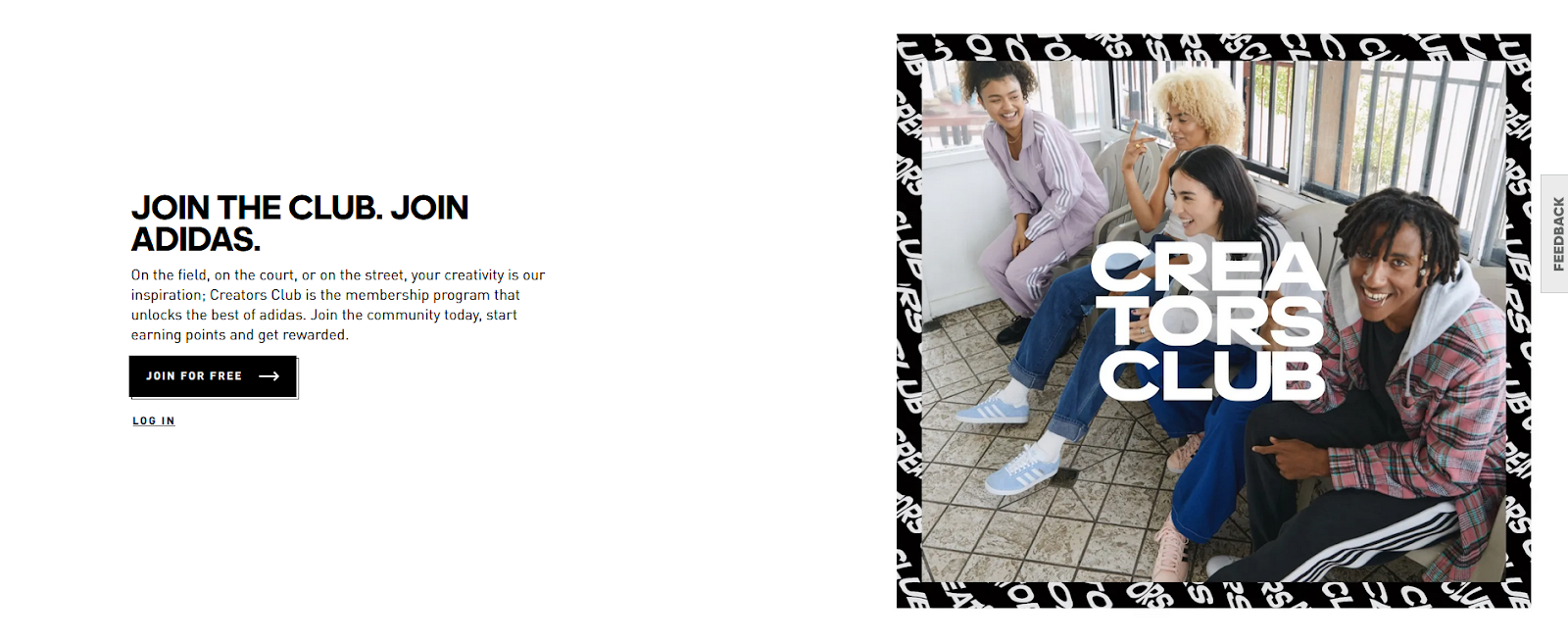 The motive behind the club creation is to encourage existing customers to shop, review, participate, run and train to earn points, which further unlock rewards. When these customers participate in a community event, this generates hype and draws in other audiences from the exclusivity.
Since your customers are your brand advocates, the only thing you should be cautious about is to ensure that the customer's communication should abide by your business value and idea. Be careful about what and how you deliver and convey your message there. Always try to create a good impression of your brand on your customer.
Collaborate and Cross-Promote
The customers of a business are humans, and just like every other human, they also have varied interests and hobbies. By exploring the most common interest combinations and even some quirky ones, you can attract new audiences. If you are wondering how? Collaboration is the answer here. Brands from the same field can collaborate to create a campaign that attracts a common audience base.
This way, both businesses can collaborate and benefit each other. Having a separate set of customers, the businesses can cross-promote the collaborated businesses' products and services to their customer group and vice versa. Cross-promotion and selling can help you expand your market reach and increase the customer base while staying within your budget. There are multiple ways that you can use to cross-promote a brand, such as.
Custom collaborative giveaways

Freebies draw attention quicker on social media. When cross-promoting, you can include giveaways and promote on social media for improved exposure. One good example of the same is the collaboration between Ivory Ella and Tervis. Both brands are eCommerce brands that have a similar goal – environment protection. In the cross-promotion they conducted, Ivory Ella gave away elephant-themed tumblers from Tervis to two lucky winners.
(Image Source: Smile.io)
This way, Ivory Ella's customer base is made aware of Tervis, and a similar shout-out from Tervis allows their customers to browse Ivory Ella's products.

You can also provide service partnerships with brands in similar industries offering services that complement your offerings, such as photo printing services on booking professional photographers or discounts in lumber mills when booking a specific roofing contractor.

Adding reciprocal website links

Content marketing is another way to mark your presence amongst your collaborator's audience base. Creating a helpful article that may guide the readers to overcome their current difficulty is generally appreciated and creates brand authority. Including a link back will tempt interested readers to explore your brand, and this can improve your audience base significantly. Other than promotions, guest posting is a vital aspect of improving your SEO performance as well. QeRetail provides efficient SEO services to help you improve your visibility and store rankings online. Learn more.

Quoting our own example, we recently collaborated with Awesomex. The brand provides growth hacking strategies, and to demonstrate its expertise, the founder wrote a piece of article on landing page designs which is an integral part of Growth Hacking. By providing a link to their website, our visitors were able to explore their offerings.

Employ Social Media Marketing
Social media networks, having 3.6 billion users across the globe, can be a great platform to promote your business. According to Statista, a user spends an average of 145 minutes/day on social media. With the right strategy in place, you can make the most of this time in favor of your business.
Employing social media marketing helps you promote your brand and connect with your customers and maximize sales. Social media sites such as Facebook, Youtube, Quora, Reddit, and Instagram are among the most popular social networks. Most offer a separate marketplace for sellers to register the brands on and sell. These marketplaces act as an extension of your existing store and help you post strategically and respond to user queries.
A new addition to the bandwagon, Instagram can add checkout options in their post, which the followers can click on to make purchases from the app itself. You read more about it in our blog.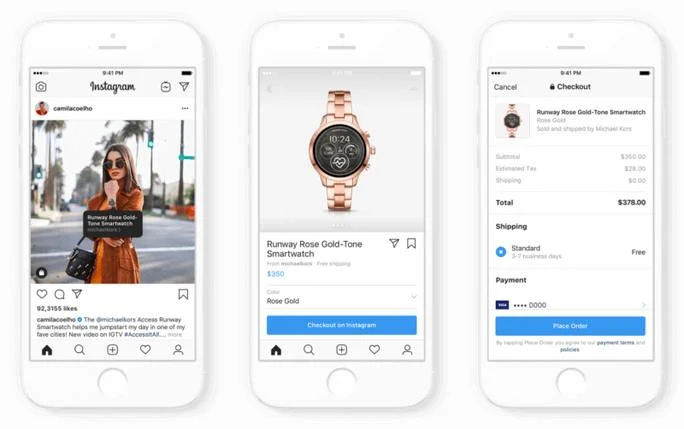 (Image source: Social Pilot)
Conduct Referral Programs
This is another variation of leveraging the community to improve sales. Referral marketing is a compelling and productive approach used by numerous top-performing companies like Amazon and Dropbox. According to McKinsey, referrals have the potential to influence up to 50% of the total purchasing decisions, generating more than twice the sales of paid advertising.
You can also conduct referral programs to maximize your sales without investing much. Ask your customers to spread the word about your product and services to their family and friends. If they consider the reference and make a purchase, reward the referrer. There are multiple ways you can reward your customers, such as.
Discounts in the future purchases
Cash reward
Credit points
Gift cards
Free extension of the subscription
In the example below by FabFitFun, visitors to their online store are greeted with the following pop-up that motivates them to refer the brand among their peers. By incentivizing the deal, you stand better chances of referral when paired with a great user experience.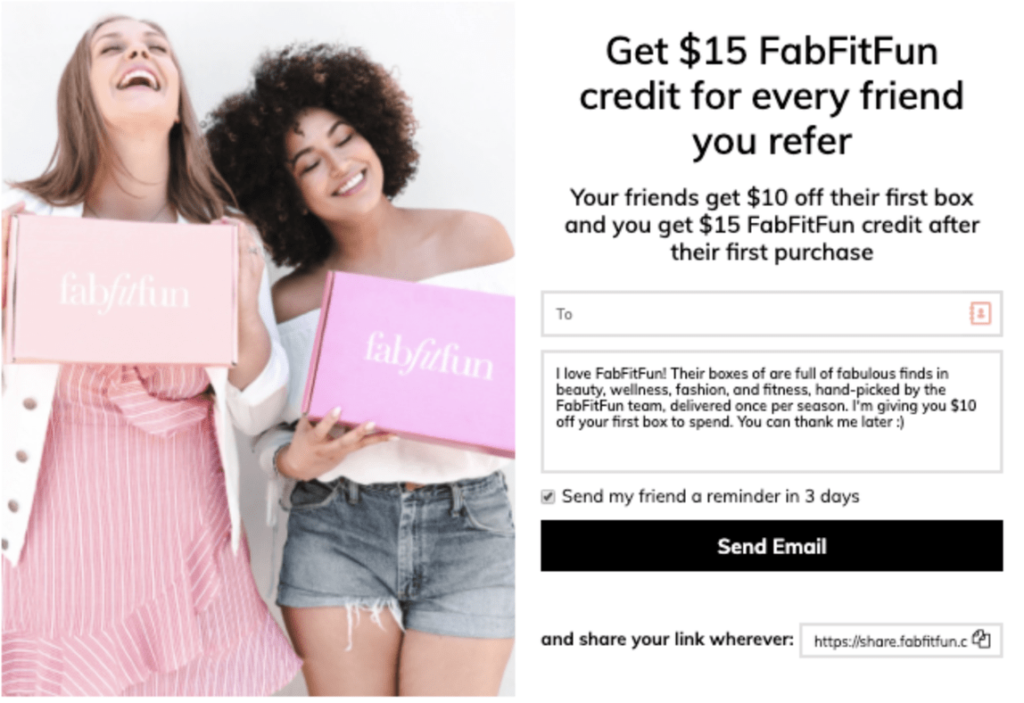 Offer Free Product/Service Trials
Customers do not prefer to purchase your product without knowing your brand. Along with the product reviews and social media presence, the approach that can help them know your products better is the product trial.
You can offer free product trials to loyal customers. This will help you gain your customer's confidence and allow you to market your business in your shoestring budget. Make sure the trial period exists for a limited time, such as one week or so. This tends to create necessity within the users, increasing their probability to purchase your product.
Formulate an Effective Content Marketing Strategy for Small Businesses
As digital marketing has become the new normal, the importance of content is also increasing alongside. People are looking forward to digital content to quench their curiosity and make decisions. Hence, content marketing can be extremely useful in promoting your business and boost sales.
According to Content Marketing Institute, 91% of B2B marketers incorporate content marketing strategies in their business to reach customers. Not only this, 72% of marketers say that content marketing increases engagement as well as leads. There are numerous effective ways to leverage content marketing in your business, such as.
Blogging
Videos
Podcasting
Email
Ebooks
Social media posts
Leverage Email Marketing
Every marketer desires to increase their customer base, putting their efforts into acquiring new customers. However, it is important to do so without forgetting about the existing customers. According to Neil Patel, the existing customers are 50% more likely to buy your new products than the acquired ones. Adding to the fact, acquiring new customers costs 5X higher than retaining the existing one. Thankfully, with email marketing, it is easy to engage existing customers with a helpful newsletter or promotional emails sent automatically.
Email Marketing, being a direct way to communicate to the user, proves to be highly effective in retaining customers and boosting sales. Owing to its outstanding return on investment, Email Marketing is always at the top of the marketer's list. Depending on the current subscriber's list volume, a small business owner can send insightful emails for free (for <2500 subscribers) or pay a monthly fee as low as $10 for additional features and a higher subscriber cap limit. 
Using email marketing, small businesses can create and send highly personalized and targeted email campaigns to selective audiences to engage them better. The following are some of the eCommerce related emails you can send:
Welcome Email Series
Reactivation/Retargetting
Offer/Promotion
Upsell/Cross-sell
Product announcement
Cart abandonment
Event-based (Birthday/Anniversary)
Newsletters
Order-related (Order confirmation, Order dispatch, Shipping Confirmation, etc.)
Review/Feedback
Conclusion
A well-thought marketing plan and its flawless execution have the potential to take your business to another level!
Marketing is not only about maximizing sales but also strengthening your digital presence and expanding your reach. With a well-strategized digital marketing plan in place, you can create an impactful reputation for your business market. By now, you might have gone through the most innovative small business marketing strategies that fit your budget.
However, if you are still on the fence and worrying over the marketing expense, reach out to our marketing experts. Our small business marketing strategies team will evaluate your business objectives and requirements. Based on the evaluation, they will design the most suitable marketing plan for your business that will be budget-friendly and highly productive.