Buy buttons have been around for more than two years now. Facebook and twitter were the early evangelists of social commerce and had introduced social media buy buttons with a lot of gusto hoping that it will become a trend going forward. Early during the days, a buy button was made with an idea of making the customers purchase directly from social media without leaving the platform. Buy buttons did not really take off as expected on social media, however, was not completely written off by the e-commerce industry.
Shopify is the first e-commerce platform that introduced a buy button in the form of an embeddable widget for its users back in 2015. They reinvented the buy button to enable users to create custom shopping experiences on their websites and blogs.
BigCommerce is catching up fast and has recently announced an advanced version of the Buy button with more customizations. The BigCommerce buy button does not only allow merchants to sell on websites and blogs but to create mini shopping experiences outside the realms of a website. With the BigCommerce buy button, you can now sell on websites, blogs, social media, email platform or any other e-commerce platform as well.
Here we have brought to you a comparison of Shopify Buy Button Vs BigCommerce Buy Button
Big Commerce buy button.
Big Commerce introduced its all-powerful consolidated Buy Button, giving merchants more ground to sell their products beyond the website. According to them, more than 400 online stores have already installed the button and have begun using it.
The first and foremost thing that catches our attention is the easy integration of the buy button for merchants. It is a simple copy-paste function which does not require any coding skills and hence can be easily managed by an online retailer.
How does it work

?

You can integrate the Big Commerce buy button across various channels like:
 Blogs
Website
E-mails
Ads
What makes the BigCommerce buy button really interesting and worth trying is the number of additional features that it has to offer which clearly lacks in the Shopify buy button.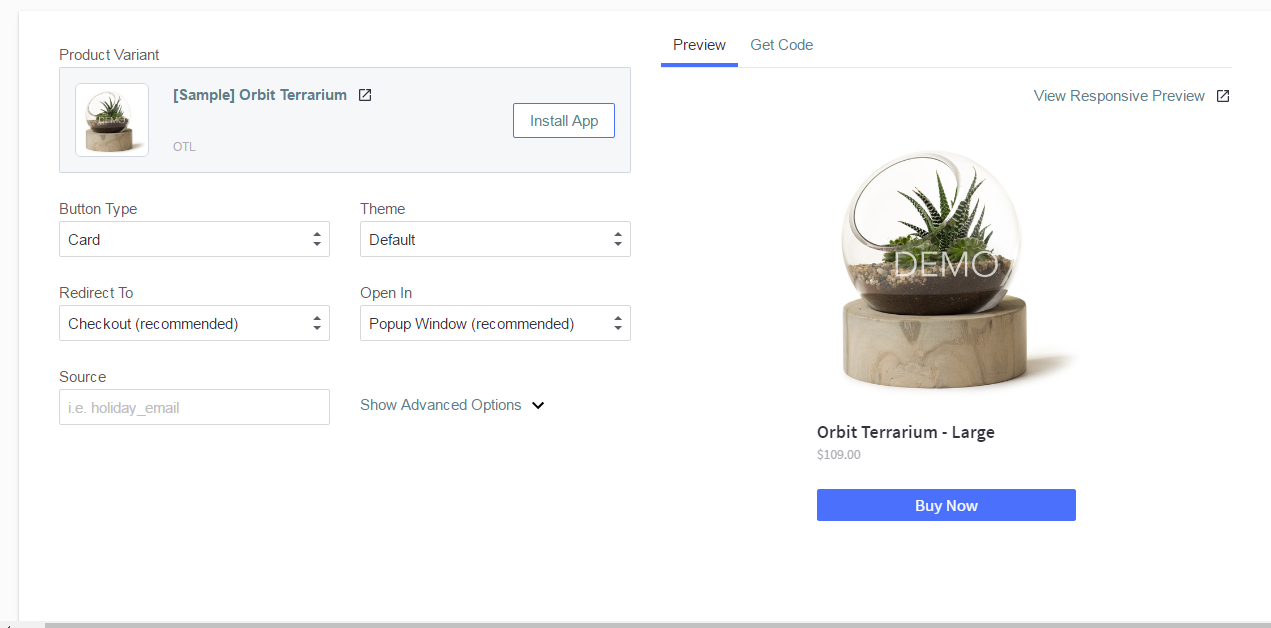 We loved the way how Big Commerce has kept it simple for the users to introduce the button on your desired platform. The icing on the cake is the customization you can perform on this button.
You can test the customization here.
It gets better further. One of the most exquisite features is how you can choose the type of button you want and customize its appearance in terms of color and typography. They have given the choice between:
So, you have the power to choose how a customer is able to see the buy button. Now, this is a great feature we would say.
Once you have set this up, next you can choose where to send those who click on the button, by linking it to different landing pages such as:
Checkout page
Shopping cart
Product page
Giving you furthermore power and control by letting you choose the path that a customer should follow, thus redirecting them on your desired page. However, we would recommend you to choose wisely among these options. Consider the aesthetics of your website and choose accordingly.
So far so good.
After you have installed the button with some pixie dust and magic spells, the customer has been now charmed into clicking on that button. Now, you can choose to open the page in a pop-up window, in a new tab or in the same tab.
Lastly, you can also attach a UTM tracking code with the button which helps you analyze the traffic and number of clicks.
Conclusion
Without much ado, we are really impressed with the BigCommerce buy buttons due to the customization it allows and good measurable ROI for those using it. By giving the power to choose the orientation of the button, it enables you to spread your product's shopping experience across a broader customer base.
You can get the detailed information about the Big Commerce Buy Button here.
Shopify Buy Button
The Shopify Buy Button has been around for almost 2 years now as we had already stated at the start of this review. The Shopify buy button is similar in many ways to the BigCommerce buy buttons; hitherto we will focus on few additional features that have not been mentioned yet. This will help you create a clear picture in the mind.
At the time when Shopify had introduced the Buy Button, there weren't as many features as there are now.
How does it work

?

Shopify generates an embedded code which allows you to present your products in your desired manner. In order to create the Buy button from Shopify, you will need to follow some pre-defined steps.

You need to log in to your Shopify admin account, select the product and select a template. These templates allow you to:
Choose to display the product image and price besides the buy button.
Create a buy button without any product image.
Write a detailed description below the product.
Once you have created the button, you can choose the action on click which then redirects the customer to the landing page of your choice. These options are similar as provided by Big Commerce. The only difference here is that while in the former Buy Button you can choose to redirect the customer to the product page, cart page or checkout page, in Shopify this option works as a pop-up of the product. Which means that when a customer clicks on the buy button, there will be a pop-up with product details and thereafter they can choose to go directly to the cart or checkout.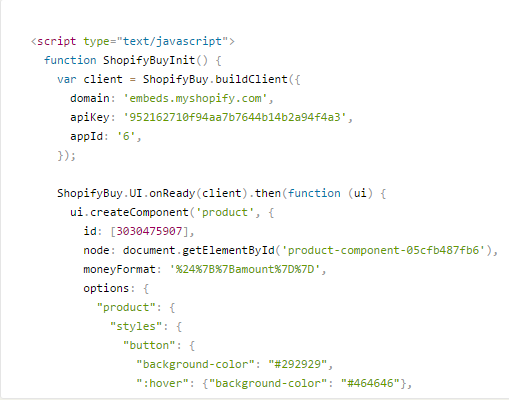 Shopify embedded code
The image above is an already embedded code from Shopify. You simply need to copy and paste this code and the work is done. Don't be perplexed looking at the lines of coding above. It does not require any editing. As mentioned, simply copy and paste.
For those who are looking for build a custom e-store, Shopify has developed Shopify JavaScript Buy SDK which allows building e-commerce on any website on any platform.
Conclusion
All in all: Old is gold. Shopify has been in this niche for a quite some time now and they have learned their way through it. With time they have added more and more options with reduced efforts on merchant's end.

Looking for a redesign of your Shopify store? Get a Free Design Mockup today @ No Cost
Get the complete description of the Shopify Buy Button here.