Being online has become second nature for most of us. Information related to anything is on our fingertips… just a search away. So for most people, Google or any other search engine is the first stop when they consider buying something. Studying this rising trend, Google made some certain changes when it comes to displaying results. The first two results are paid or sponsored results and a slider of products follows them and then the organic search results are shown.
The competition has risen to such extent that unless your brand is present in the first few entries, people may not be aware of its existence. While paid leads are a great way to draw in interested leads, it is not a cost-effective method and may soon break the bank. So, it is important to optimize your eCommerce store to draw in more organic traffic.
In this article, we shall be focussing on different steps on how to improve organic search visibility for eCommerce.
What Do Organic Search Results mean?
There are two ways you can bring in prospects to your store via online search:
You get suggested by Google

You 'pay' to get suggested by Google
In the latter case, you instruct Google to suggest your store as the top result when the user searches for certain 'keywords'. Unfortunately, you alone are not targeting the specific lead or target audience, so Google has the upper hand on how much it will charge and hence gives the top position to the highest bidder. This type of marketing is called Paid ad marketing 
On the other hand, when you have optimized your store very well, Google's algorithm thinks that your link is the right suit for a certain keyword and will automatically suggest it when someone searches for it. Since these leads are coming through the organic way, these leads are called Organic leads and the search results are called Organic Search Results.
Any link that Google thinks will answer the user's search query is considered to be an organic search result.
Some of the optimization methods that you can include in your strategy to improve organic search ranking of your store are:
Provide content that answers the long-tailed search queries posted by your target audience

Ask your existing customers to give helpful reviews regarding your business. 

Optimize the store performance such as page load speed and responsive layout, to ensure a good user experience

Use updated images of products and helpful descriptions for the customer to make educated choices.
How to Improve Organic Search Visibility
The search result ranking or your brand visibility in organic search results cannot happen overnight or over the course of a few weeks as well. But there exist certain eCommerce marketing strategies that can help you improve the visibility of your eCommerce store.
Ecommerce Keyword Research
Keyword research is the first step in an eCommerce SEO campaign. Choosing which keywords are best associated with your store or products is quite challenging. While choosing the right keywords, you need to maintain a balance between the keyword difficulty as well as the search volume. 
The keyword difficulty depends on the number of businesses trying to rank for that specific keyword. As shown below, 0-10 is very easy whereas anything >71 is deemed as very hard.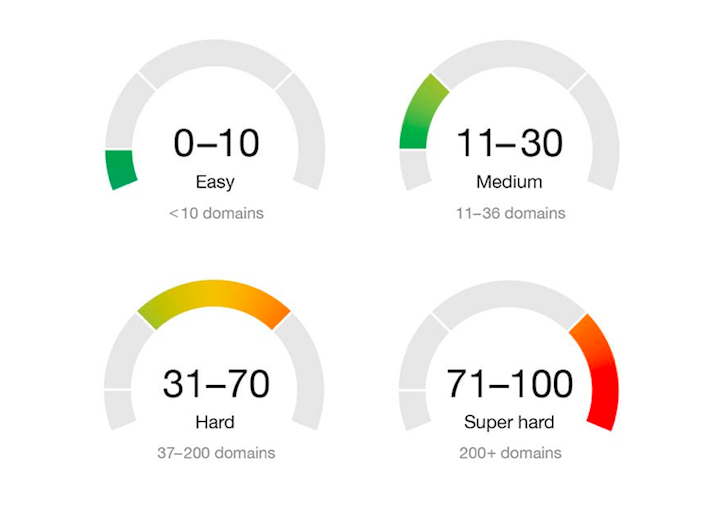 (Source: WordStream)
Search Volume is an approximation of the number of times people have searched for a specific keyword in a month. Generally, the higher search volume will automatically dictate a higher keyword difficulty so you need to search the low hanging fruit that doesn't compromise on the search volume. Thankfully, keywords are just words, and words can be manipulated or altered to find the right combination of keywords that are exclusive from a competition point of view but have considerable people searching. 
A thing to consider, while choosing the right keywords is that the keyword should have the buyer intent in it. By taking an example of 'shoe shining polish', the person can be intending to buy shoe shining polish or searching for 'ways to remove shoe polish stain'. Gauging the intention of the user, your product page for shoe shining polish or the blog highlighting the 'ways to remove shoe polish stain' can be ranked on the same keyword. 
For those starting out determining keywords for your eCommerce store, finding the right set of keywords may be a difficult task. An easy way would be to conduct a competition analysis. By analyzing the keyword range for which a competitor's page ranks higher than you, you get a direction to start your search. Ubersuggest is a great tool to use for conducting competitor analysis. All you need to do is insert your competitor's website and it shall list some of the keywords that they are ranking on as seen in the example below.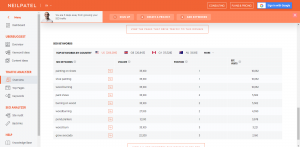 This exercise should only be used to spy on the competitor page performance and never to steal keywords. The way Google displays results depends on the Domain Authority of the page and you won't topple the competitor's search ranking by stealing their keywords. 
Ubersuggest has multiple features that can also allow you to use it for conducting keyword research and conduct an SEO audit by yourself.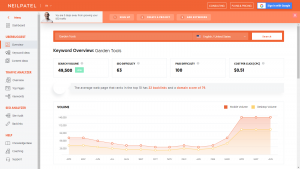 Now that you have your keywords at hand, it is time to optimize your site structure with the chosen keywords.
Optimizing your Site Pages
The Ecommerce site structure is how you set up your navigation, category pages, and the subsequent product pages. An optimized site structure will present the most relevant content in front of the users in the least number of clicks. Optimizing your store means including the selected keywords strategically at different points of your store's internal pages where Google bots search for information. Some of the key places where including your keywords can really improve its visibility are:
The Page title

Headlines

Subheadlines

Store page copy

The product descriptions

Image alt tags

Meta title and description

The page URL
A well-designed site architecture helps organize your pages for improved usability, ranking, and conversion. The golden rule for determining the site architecture is that no page should take more than 3 clicks to land on. But on the other hand, the deeper your pages go, the lesser link juice is passed on from the homepage. So, as shown below, the page arrangement should be such that the pages of the same category (product pages) should come under a category page and landing pages should be directly linked with the homepage.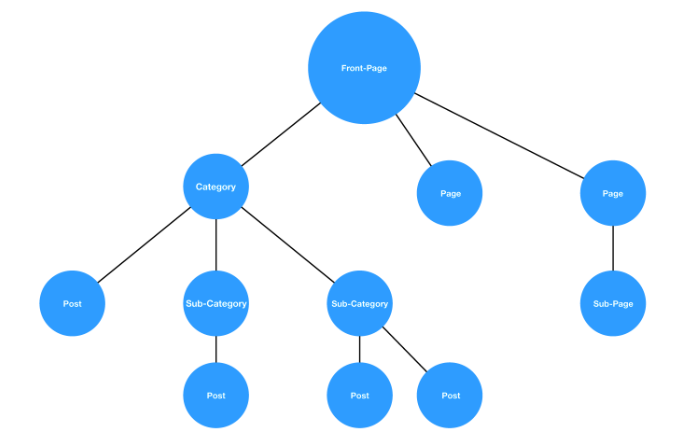 (Source: Neil Patel)
When it comes to getting recognised, Google adopts the policy of recognition via association. The more internal linking and backlinks (with dofollow tag) a page gets, the more link juice is passed and Google assumes that the page is an authority when it comes to search queries related to the keyword. Yet simply getting a backlink has no value unless the linking is done on the correct anchor text.
It is advised to get backlinks and conduct internal linkings on different anchor texts that are permutations of your keyword in order to cover a wider range of keyword possibilities. Follow the SEO best practices while using keywords in your page and linking them and it is suggested to stick to 5 keywords while starting out. 
Optimize your Store for Mobile
52% of online searches are made from mobile devices. Unless your page is optimized for the mobile, there is a big chance that you are missing out on great conversion opportunities. Customers expect a smooth user experience, irrespective of the device they use to visit your site and will leave as soon as they run into an error that will ruin the experience for them. This will drastically reduce the page performance but also your conversion rates. 
Optimizing an e-commerce site for mobile is no longer just a matter of squeezing all the content into a smaller screen. Some of the common factors to take care of when optimizing for mobile are:
Page Speed

Site design or layout

Site errors
We have discussed this in our previous article. Be sure to check it out.
Building Stronger Content
Content is a boon for anyone who wants to get noticed by Google. Not only is it great for providing useful information to your prospects but a gold mine for adding more keywords. Moreover, the more engaging your content is, the more are it's chances to be referred/ shared on social media, which also helps in increasing the website traffic. Search is the number one traffic source to blogs across all industries (Source). By creating content that addresses the pain points of your customers you are gaining their loyalty in terms of repeated visits and longer time spent. Google considers this as an indication that your content is relevant and engaging. 
When it comes to content, most marketers opt for optimizing the search experience for the customer rather than search engine bots. When creating content for your eCommerce store, you can create a wide variety of blogs and how-to videos that link back to a relevant product on anchor text for internal linking purposes but make sure your content satisfies the following 3 criteria:
Usability: How easy it is to find the required information

Relevancy: How relevant is your content to what user is searching

Authority: Can your customers take your word when you say 'Warm colors are in trend'?
Also, go easy on the number of keywords you include in your content. If Google suspects your content as only a marketing gimmick to gain ranking, they may penalize your entire domain. So, in a nutshell, the lifecycle of a good quality content looks like:
Create helpful content following SEO best Practices → Visitor spends time to consume the content → Improves credibility → Google increases the search ranking → Content (in turn your store) visible to more people → More sharing → Great Returns & Conversions.
Raise above standard SERP results
The search algorithm for displaying search results in Google has evolved to collect different information from different websites and display them in a robust way. Long gone are the days when a Google search would display links to different websites. Google automatically predicts the intent and suggests SERP results in different containers for individual result types. 
As you can observe in the example below, on searching for 'Home Decor', Google displays product listings (Google Shopping), Sponsored ads (Paid ads), and 3 brick and mortar stores in proximity to the user's search location(Local SEO). Out of the 3, Google Shopping and Local SEO are two avenues that can significantly improve the organic visibility of your store.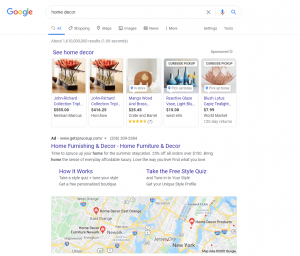 Google Shopping
For certain search queries, Google can display related products from different online stores above the paid ad results.
When you register for Google Shopping, it offers you to create listings of your products that are dynamically fetched and displayed when the user searches for it. Having the flexibility to integrate your product listing, you don't have to manually input your entire inventory list. This way, your prospects can get sufficient information regarding your products, along with ratings as well as price. This enables faster checkouts and easier conversions. 
Local SEO
Local SEO is a subsidiary of regular SEO marketing, where you take advantage of Google's location-based technology for providing accurate and location-specific search information for shoppers. With the help of Local Search Optimization, you assist potential customers by catering information such as hours of operation, directions to your store, option to search your inventory, and learn about any special offers or upcoming events. All you need to start your local SEO listing is having an updated Google My Business (GMB) account.  Having an optimized GMB profile means Google is more likely to show your business listing when local customers search for your products.
Wrapping Up
As search engines keep updating their algorithms, it changes the ranking of your online store and you should never hang your boots when it comes to optimizing your store. The methods listed above should help you get a firm grip on Organic Search Rankings and ways to improve it. If this seems a gargantuan task and you need someone to improve Organic Search Visibility of your store, all you need to do is get in touch.
Related Articles