PPC (pay per click) – the name itself says it all. You are paying for each click on your PPC advertisement. What if the traffic generated from your PPC campaign doesn't convert? The money spent on each click gets wasted, right? So, how to manage a successful eCommerce PPC campaign helping you to generate relevant traffic that truly converts.
These tips might help you –
Choose Keywords Wisely
If you understand your buyers, it becomes easy to choose keywords which can get you relevant clicks. Yes, high search volume of keywords is important but using the keywords which your audience specifically doesn't use would never be profitable for you.
To drive relevant traffic to your eCommerce store –
Analyze the keywords your competitors are using
Include negative keywords (your ad should not be displayed if these keywords are used)
Use keyword research tools to find the keywords just right to promote your business.
For example, if you are selling clothing for women, explicitly use the keyword "clothing for women" or "clothing for females" instead of using a generic keyword like "clothing."
Create Persuasive Ad Content
There are various other online stores also who provide the same products as you do. Consumers today have a plethora of options as far as buying online is concerned. If you want your audience to prefer your PPC ad over your competitors' ads, you need to include compelling content in your advertisement.
Just ensure that you include –
Call to action
Unique value proposition
Relevant ad extensions
Click to call button
These elements would encourage your audience to click your ad instead of your competitors'.
Optimize for High-Quality Score
Quality score is the rating given by Google based on the relevancy of the keywords, the ad group, and the landing page. The more relevant your ad is with the landing page, the higher quality score you get from Google.
The cost per click decreases by 50% if your ad has a quality score of 10. Thus, if you optimize for quality score, you spend less on PPC campaign.

Link to Convincing Landing Page
It doesn't matter how persuasive your ad copy is if you don't have a convincing landing page. Your visitors would immediately bounce back from your landing page if it is not able to convert.
Want to know how to create a highly converting landing page? Just go through – 6 Landing Page Conversion Tactics That Rock.
Be Explicit
If you are using broader keywords or key phrases in your PPC ad, you might get more clicks but you would be wasting your money on entertaining irrelevant traffic for your eCommerce store. That would just increase your bounce rate and would not get you any kind of monetary benefit.
Thus, you need to be specific in terms of keywords which include manufacturer name, style, model, color, etc.
For example, the person clicking on your ad with heading "Women Clothing at Best Prices" might be looking for only "Prom Dresses for Women." They might get disappointed after landing to your eCommerce store if you are not selling prom dresses for women and leave immediately.
Other ways of being explicit when it comes to your eCommerce PPC ad campaign would be to include details like price, location, etc., as that would eliminate clicks by the irrelevant audience.
Even after being highly explicit, still, if you don't experience sales going up, you can set up a remarketing campaign for your online store. In this case, you would be able to target the visitors who have already visited your store but have bounced back without purchasing anything.
Maintain Regularly
You just cannot launch a Google Adwords campaign and forget about it. Especially, if it is an eCommerce PPC campaign, where the competition is fierce, you need to consistently update it to stay on top position and thus drive traffic in your store.
You don't need to spend an entire day managing your eCommerce PPC campaign. But, to keep an eye on your competitors' ad position comparing to yours is important.
Moreover, keep on measuring your ad campaign results in terms of traffic and conversions in order to achieve success. Simply, launching an ad campaign and not working on it can lead to failure.
Conclusion: Significance of an Effective eCommerce PPC Campaign
As per the statistics, Pay per click visitors are 50 percent likely to buy something than organic visitors.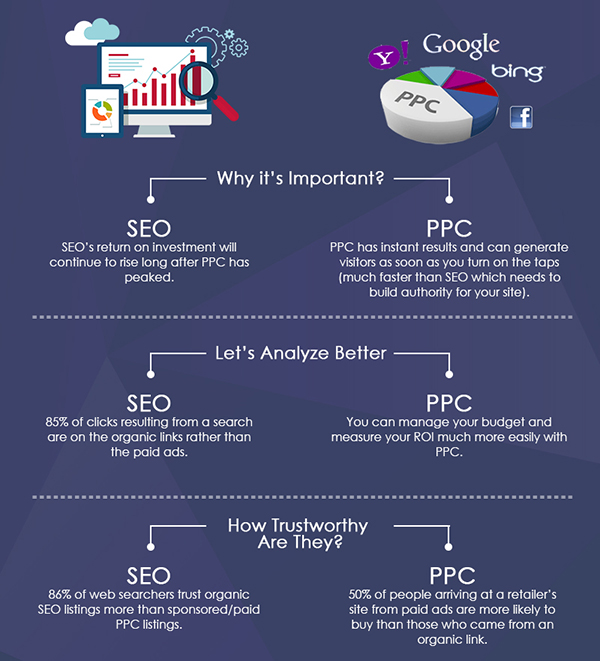 If you have not included PPC in your digital marketing strategy, then you definitely need to give it a second thought.
Google keeps on introducing several updates which affect the organic ranking in its result pages. Moreover, the updates don't affect the PPC ads. Thus, the organic ranking remains uncertain all the time which is not the case with PPC ads.
With the right PPC marketing for eCommerce and following above mentioned tips, you would be able to attract relevant traffic to your store and improve conversions.