We all are awed by the world of YouTube. The fun, frolic and fantasies from around the world dumped at one crossroad. YouTube has some of the most intriguing content you can find on the web and that is the reason it has clicked with the users.
Today, YouTube is one of the most desired platforms to market your business. The audience has been increasing more than ever with videos hitting millions of views in a matter of just days. Even some independent YouTubers who have their own channel, have millions of subscribers who watch their videos religiously.
Now, this can be a great marketing opportunity if perceived correctly. We know you do not want to shell out millions of dollars on advertising or marketing your products.
You have your online retail shop, you think that your product might just resonate with the audience and you want to reach out a larger audience. What would you do? This is not rocket science, some back of the envelope scribbling will tell you to market your products on social media platforms; where most of the today's generation is.
Now you may think, marketing a product on YouTube may require you to create your own channel and start doing Vlog. And this could be a hassle if you do not have a specified team for such roles. What if you do not have the time and resources to start your own channel?
Creating brand awareness without having to start your YouTube channel.
YouTube influencers are the ones you should be looking for. Previously, there were ambassadors; brand ambassadors as we know them. A person with a heavy fan following was roped in by a particular brand to endorse their product. This sort of created a psychological influence on the consumers, compelling them to at least try the product once just because a person whom they admire so much has endorsed it. This formula hasn't changed much for the marketers. Revered persons are still used to endorse their products. However, the market has been segregated now. Ambassadors have made way for influencers now. These are the people who have an influence amongst their fans and that too on a very large scale.
Finding the correct YouTube influencer.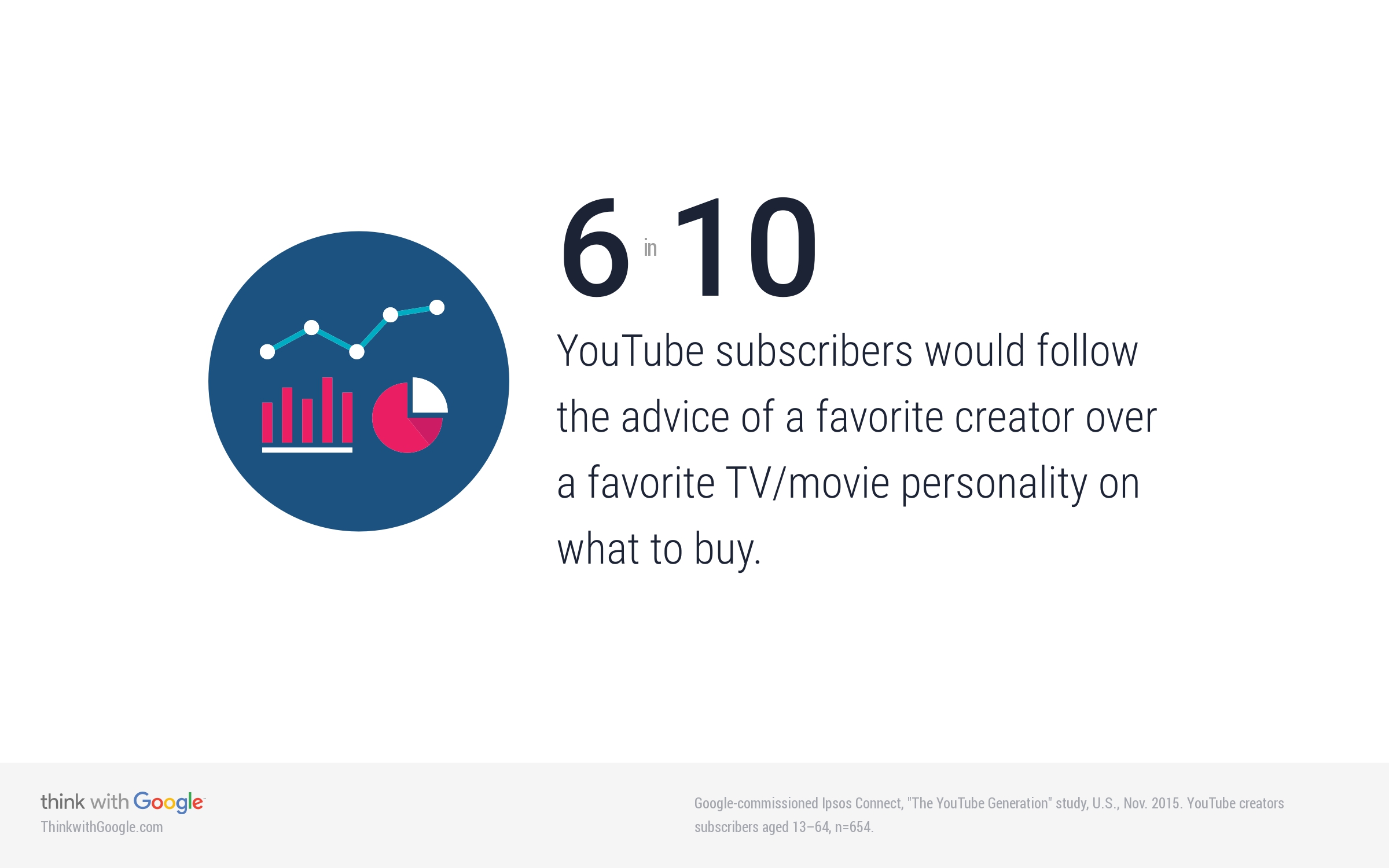 Image credit: ThinkwithGoogle
Firstly, you need to identify what type of audience you wish to cater to. This understanding can give you a great advantage while marketing your product on YouTube. Let's say for example that a retailer sells customized parts for motorbikes online. Now, if he wants to market his products on YouTube, he will find someone who is a motorcycle fanatic and regularly uploads videos regarding it. This increases the chance of product getting the desired attention.
For starters, you can visit Famebit and connect with such influencers.
Once you have identified the type of audience you wish to target, second in line is identifying the correct influencer. Our retailer selling customized motorcycle parts will not want his product marketed by someone who gives beauty tips online.
There are n number of lists you will find on the web which will help you to gather information on these influencers.
Sort the category of influencers.
Find the correct category which fits your product.
Make a list of influencers you would like to get in touch with.
How you can use these YouTube influencers to market your brand.
Image Credit: ThinkwithGoogle
Once our merchant selling customized motorcycle parts has found a group of YouTubers who have their own channel, he will look for the factors like No of hits per video, the total number of subscribers and the number of likes per video. These are the primary factors to look out for. In order to market your product to the correct audience, search for those who have at least 1K subscribers on his/her channel. Once done, find out how many likes and views are there on each of the channel's video.
By now, you are done with the scouting. After shortlisting the influencers whom you think are apt, just go through the comments sections and look what people have to say about them. This is an additional process but helpful in the long run. This gives you a notion of how strong influence the vlogger has on the audience.
Generally, the author of the channel has a business email provided in their 'about' section. You can easily contact them through that. If not a business email, you can always contact them through their personal email.
If everything works out well with the influencer of your choice, you may see your product being talked about in their next video.
Who knows when your product might become the talk of the town.