In one of my posts, I had stated 10 Creative Holiday Email Marketing Ideas to Boost Sales. But, one thing that was missed out was the importance of your email design.
The design of your email plays a major role in deciding the success or failure of your email marketing campaigns. If your email is not mobile-friendly or its content includes unattractive fonts, poorly sized images or broken links, then all your efforts can be a waste.
If you are looking forward enjoying a lucrative holiday season this year, you better focus on sending attractive and aesthetically beautiful holiday themed emails to your customers and prospects.
Before you start decorating your next email according to upcoming festivals, it would be better if you analyze what your subscribers are looking for. There are few designing aspects given below to consider before launching your holiday themed email marketing campaign.
Maintain your Brand Identity
Each and every brand has a unique identity. If you are using holiday themed email template, ensure that it allows enough customization so that you can maintain your brand identity in your holiday emails. You should be able to include your brand logo, header and footer, text, images, and video relevant to your business and convey the right message to your customers and prospects.
Mobile Friendly
Most of the people these days use their Smartphones to access their emails. Just ensure that your holiday themed email is mobile friendly so that your audience, no matter which device or platform they are using, find your email to be attractive.
Look for Simplicity
Adding too many festival themed images and objects can ruin the look of your email. So, just ensure that the holiday email template you use aims for simplicity so that your message to your customers is conveyed in the right manner.
Attractive Call to Action
The main goal of any email marketing campaign is to drive traffic to your online store. To ensure that your email viewers get tempted to visit a website, you need to ensure that your holiday themed email includes the attractive call to action images and text.
Sharing on Social Networking Platforms
It can be highly beneficial for your business if the email you have sent to your customers gets viral on social networking platforms. So, make sure your holiday promotion email includes social network sharing features.
Using Holiday Email Templates For Successful Marketing Campaigns
It is pretty well understood, that holidays are your busiest time of the year and you might not get time to design holiday themed emails that can drive user engagement.
The solution to this problem would be to use holiday email templates which can drive maximum buyers to your online store.
Basically, holiday email templates would help you save your time, money and resources utilized in designing attractive emails for executing successful marketing campaigns.
Here, I have listed out 3 most important days you can use holiday email marketing templates for.
Black Friday Email Template to Boost Sales this Holiday Season
In 2016, $3.34 billion was spent on Black Friday which was an increase of 21.6 percent from previous year. It has been predicted that Black Friday sales in 2017 would turn out to be $3.52 billion.
Now, after knowing these figures, you just cannot miss out this opportunity named "Black Friday". You can use holiday email template exclusively designed for Black Friday which would help you in promoting your offers through great looking holiday emails.
Kick Off This Shopping Season With Cyber Monday Email Template
As per Adobe Digital Insights, sales on Cyber Monday 2016 accounted to $3.45 billion which was 12.1 percent higher than the previous year. This year also, billions of customers are expected to participate in this big sale day known as "Cyber Monday."
With so many consumers looking out for purchases, you just can't afford to miss out this opportunity. Just use Cyber Monday themed email template to yield awesome results this holiday season.
Use Christmas Email Template and Make the Most Out of this Holiday Season
As per the statistics, total spends on Christmas amounted to $91.7 Billion in 2016. The below graph shows that the sales decline between 20th to 24th December, but again on 25th December (Christmas), the sales increase because people look for profitable bargains.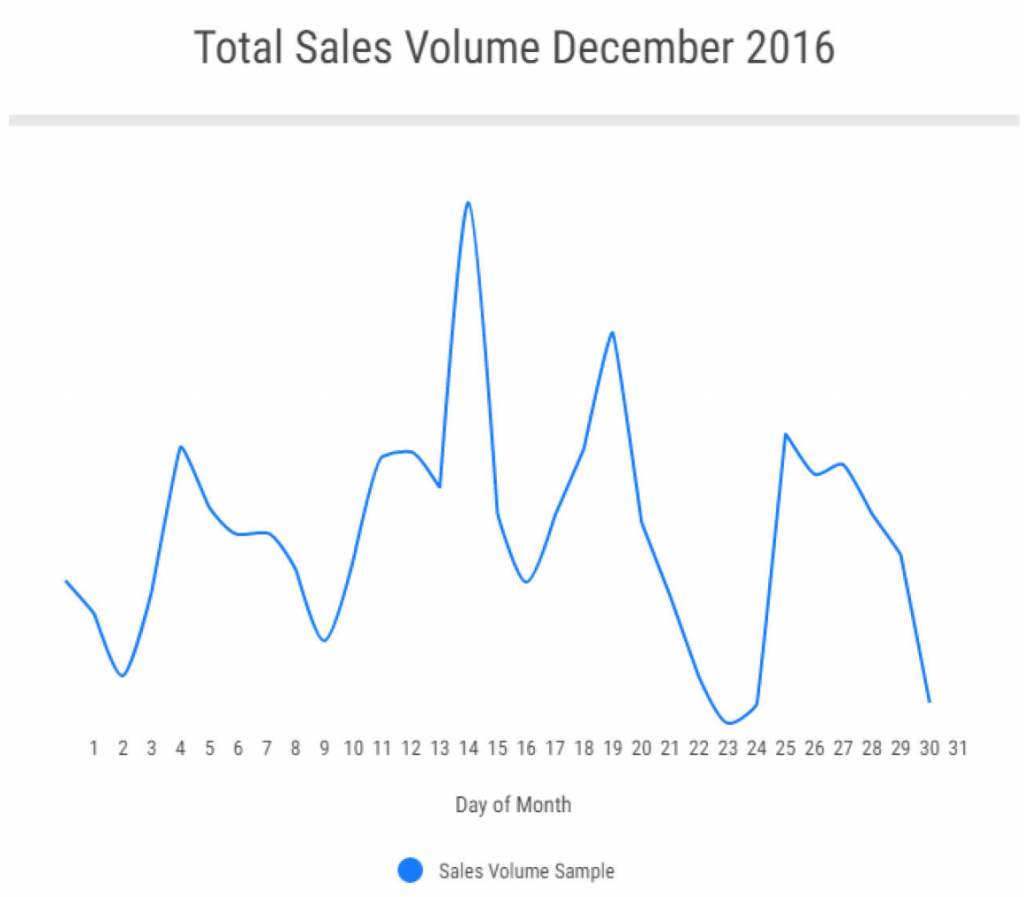 To benefit out of this opportunity, you can use email template with Christmas theme to promote your offers this holiday season.
Are you Ready to Get Started with your Holiday Email Marketing Campaign?
If you have still not started sending emails to promote your offers, then the right time is to start now. Most of the retailers begin their holiday email marketing campaigns in September as it is always a smart move to start early to take advantage of the holiday season every year!!
Just consider these free holiday themed email templates specially designed for Black Friday, Cyber Monday, and Christmas, as that would save your time and help you in promoting your offers in the most effective manner.