When you think CMS, you think WordPress, but it is a lot more!
For many, WordPress is a challenging eCommerce platform and to build a more seamless back-end and front-end online selling experience, people seek an easy solution. Though WooCommerce is WordPress' own eCommerce platform, nothing can beat the ease of use that Shopify offers. And that's the reason many turns to Shopify for WordPress as an effective solution. 
Shopify is an eCommerce platform that allows users to set up a hosted online shop with the quickest turn around time. At first, it might seem paradoxical to mix the two platforms, however, a few years back Shopify announced their WordPress plugin and three free WordPress themes which they later discontinued to promote their 'Buy Button' setup. Clearly, this penetration makes Shopify enter into the larger WordPress community as an eCommerce solution.
Is it worth it? Does the integration make sense? Well, we are here to find out exactly that. This article will show you why you should consider integrating Shopify for WordPress (or why not) with the necessary steps to make it happen.
Major Pros and Cons of Shopify for WordPress
Since WordPress already has WooCommerce and other native eCommerce plugins, why would you consider Shopify instead? Let's discuss.
Pros
One of the main reasons to use Shopify is simplicity. The platform eliminates much of the necessary technical know-how that makes setting up an online shop so complicated. Instead, now you can take care of your website with WordPress in the usual way while Shopify handles the eCommerce part.
No need to deal with code, CSS or anything else. Shopify offers a secure shopping cart, SSL, 70 different payment methods, flexible shipping options, tax calculations, inventory management and a host of languages. The service even includes options to sell on social media and you can get all of that for relatively small money.
In addition to that, Shopify offers WordPress themes that are made to work with their shopping cart and help you showcase your products to get the most out of your shop. Alternatively, if you already have a site going, you can easily integrate products from Shopify and take advantage of their eCommerce architecture. Plus, by using your own site, you can use your own domain for the shop instead of a subdomain on the Shopify platform.
In addition to that, you can take advantage of the advanced content marketing, blogging, SEO (not Shopify's strong suit) and other benefits of using the WordPress platform. That way, you truly get the best of both worlds.
In short, integrating Shopify with WordPress is a very cool opportunity for business owners who want to start an online shop quickly without diving too deeply into the technical aspects of it.
Cons
Of course, one of the biggest arguments against it is that of decentralization. At the moment it is not possible to administer Shopify products and WordPress content from the same place.
As you will see below, you always have to switch back and forth depending on whether you want to take care of your products or the rest of your site. While not too big a deal, constantly having to deal with two different platforms can get annoying.
Why Integrate Shopify for WordPress?
There are abundant WordPress eCommerce plugins to help you start an online shop.
The real question is, why Shopify instead? Here are a few advantages of using Shopify for your eStore:
Ease of use

: Getting started with Shopify is much easier than using native WordPress eCommerce plugins. All you have to do is sign up for an account with Shopify to get your online shop up and running. You also don't have to worry about site speed or security, because Shopify takes care of all of that for you.

Cost

: Shopify is a cloud-based solution, so you won't experience traffic outages as your business grows. This means you don't have to worry about running out of server resources and upgrading to more expensive WordPress hosting.

Social media integration

: Integrating your online store with social media is important for marketing your business and products. Shopify's app store makes it easy. They have apps to integrate your Instagram feed on your site, add social media sharing buttons, and more. All you have to do is download the apps of your choosing, no coding required.

Shopping cart options: Shopify offers built-in payment options so you can instantly take payments from Visa, Mastercard, Discover, and American Express. They also offer multiple payment gateways like PayPal, and they'll automatically calculate shipping rates and taxes for you so you can easily ship to anywhere in the world.
Shopify for WordPress Set-up Process
The Buy Button is Shopify's way of letting you integrate both the platforms. You can choose to embed a single product or collection of products using an embed code that you can generate within Shopify.
How to Activate Buy Button
You should be able to see the Buy Button under the Sales channels section of your Shopify Admin dashboard but if you don't see it here, you might need to activate it first.
To activate the Buy Button, click on the plus (+) button beside the Sales channels heading under the dashboard menu.

Click on the Buy Button on this Add Sales Channel dialogue box.

Click Add Channel.
To start using the feature, navigate to the Buy Button page within your Shopify admin. You can then use the option 'Select Product' to generate code for a single product listing or 'Select a collection' to feature the entire collection of products on your store.
Let's look at the process of listing a single product or collection and customising it further to generate code that you can then use to embed it within your WordPress website.
Code for Listing Single Product
To list a single product, start by choosing Select product from the Buy Button page that lets you feature a single product.
You will see a product dialogue that lets you select a product from your store catalogue. You can also search to find the specific product for listing on this dialogue box.
Once you select a product, you can proceed to choose a template of your preference (Templates to show Buy Button only, or with more features including Product image, price and button).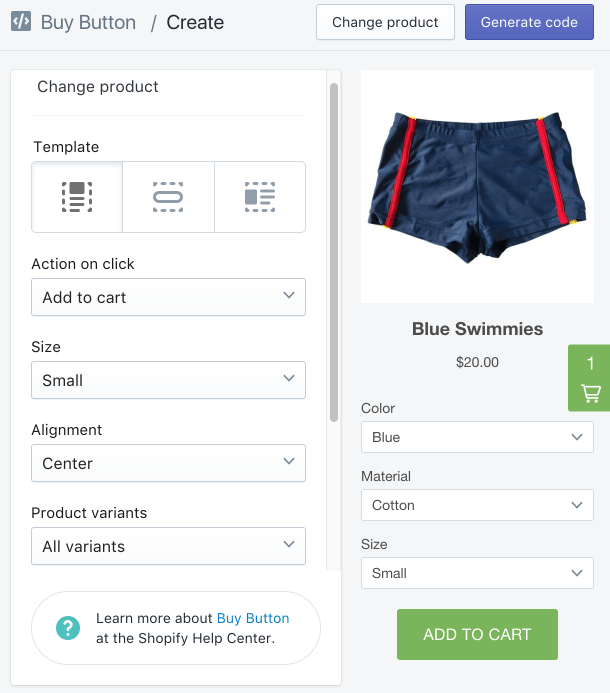 You can further customise the appearance of the button using the style and colour options.
See how the Buy button looks in the preview and once you are happy with the settings, click Generate code.
You will now see an embed code that you can copy and paste in your WordPress editor.
You can also see in the dialogue box that Shopify provides further embedding instructions for WordPress users.
Code for Listing Product Collection
Within Shopify, you might have created a collection of similar products and if you want to list the entire collection, you can use this selection.
When you are on the Buy Button page, click on "select selection".
You can see a Select a collection dialogue box where you can select a collection or search if you have many collections to find and select the one you need.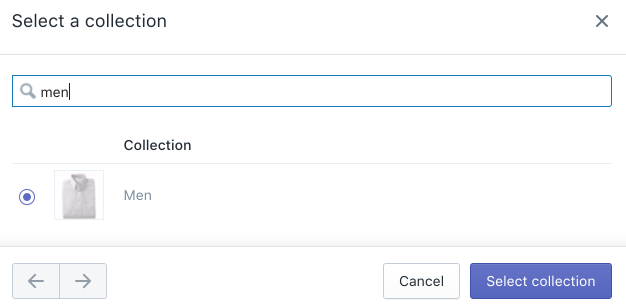 Click on Select collection at the bottom of the dialogue box when you have selected the one that you want to proceed with.
You will now see a Buy Button create a page for your selected collection that will let you choose from a few options to get the right template.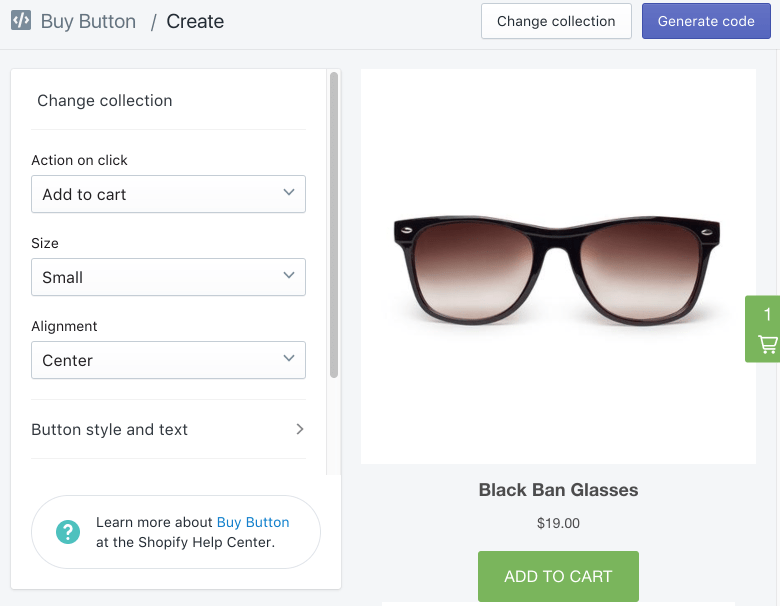 You can continue to customise the appearance with the Button style and text options on the dialogue.
Click Generate code once you are happy with the options and appearance for your collection.
You should now see the Embed Code that you need to copy before we go back to our WordPress dashboard.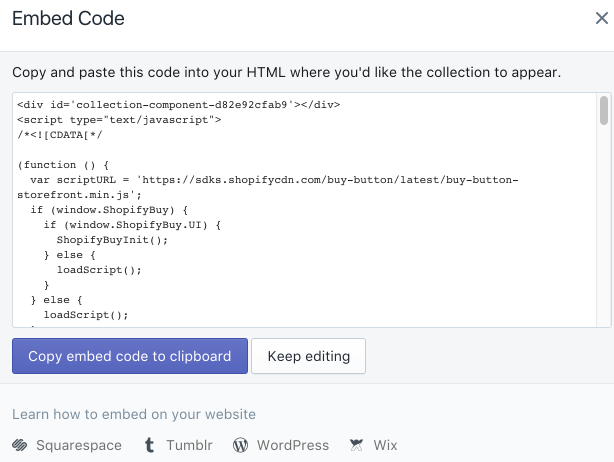 Click on Copy embed code at the bottom of the dialogue box to proceed further.
Final thoughts on using Shopify with WordPress
Using Shopify with WordPress means that you can get the best of both worlds.
Your website and blog will be still powered by the world's best blogging and publishing software, while you can simply add the powerful e-commerce functionalities from Shopify.
Using WordPress, you don't have to rely entirely on the Shopify platform for your website and blog. In contrast, using Shopify, you don't need to spend a lot of time and additional costs for plugins and security features to build it all within WordPress.
To summarise, using Shopify with WordPress can be useful to,
Add a shopping cart and e-commerce features to your WordPress website.

Adding Shopify features and integrating with the Shopify store to manage your orders, products and inventory.

Quickly embed products in posts and pages to allow users to purchase on your own website for better user experience.
If you need help with your integration or migration, QeRetail's eStore handymen can help you with it. All you have to do is get in touch.