Mother's Day is less of a celebration and more of an emotion! Alongside buyers, shoppers too stay excited about creative Mother's Day Promotion Ideas. The mother's day 2019 is expected to deliver the highest consumer spending to date i.e. $25 billion. According to the annual survey released by the National Retail Federation, a total of 84 percent of U.S. adults are expected to celebrate in honor of their mothers and other women in their lives.
Mother's day promotions are vital for eCommerce stores, as a huge population relies on the web for last-minute purchases and online mother's day sale. From inboxes to promotional social media ads, the internet starts celebrating way early. And targeting the prospects through more than one channel and for that matter more than once is advisable. So let's get started with a few of the mother's day promotion ideas and check out how popular brands are doing it.
Mother's Day Promotion Ideas For eCommerce Stores
1) Mother's Day Email Marketing Campaigns
Email generates around $37bn retail sales annually, and timely emails from brands are Millennials' preferred channel for staying up to date about what's new and what's happening. Mother's day emails should be sent well in advance as a reminder to your subscribers. Use storytelling to spread across a message with empathy rather than just being salesy! Plan a mother's day email campaign that's scheduled for more than three timely emails. This way, you'll cover a mother's day reminder message, your pick of the season, and be able to target the last-minute shoppers. 'Mother's day gift guide' emails are the most popular ones during this season, and people actually shop from the timely sent emails.
Check out this email template from Apple designed for Mother's Day (Image source: Really Good Emails). If you're also looking for designing festive email templates, reach out to QeInbox. Have a look at our customizable Mother's Day Email Templates here.

2) Specially Designed Landing Pages and Banners
Another common yet effective mother's day promotion practice is to design special landing pages and banners on the eStores to drive the maximum possible traffic on them. Linking them in your promotional activities taking place on social media, emails and other channels will increase your eCommerce store visits. People love when they've to navigate less on an eStore and directly get access to things they're intending to buy. Thus, personalizing by creating separate mother's day product categories or landing pages will ease up the process.
Here're a few examples from brands promoting mother's day with such landing pages, special category pages, and eCommerce store banners,
Home page banners and special category page from Carole Hochman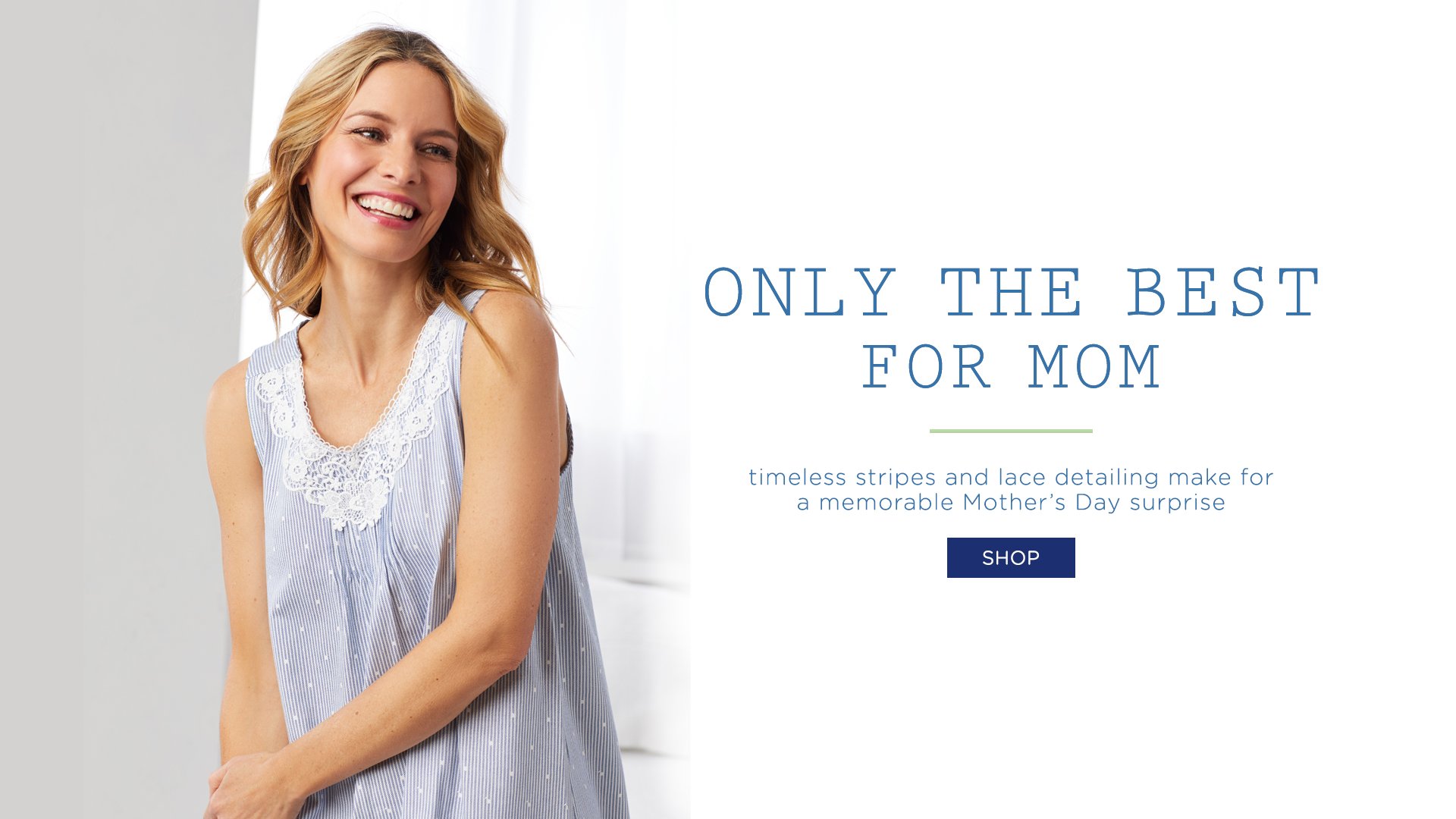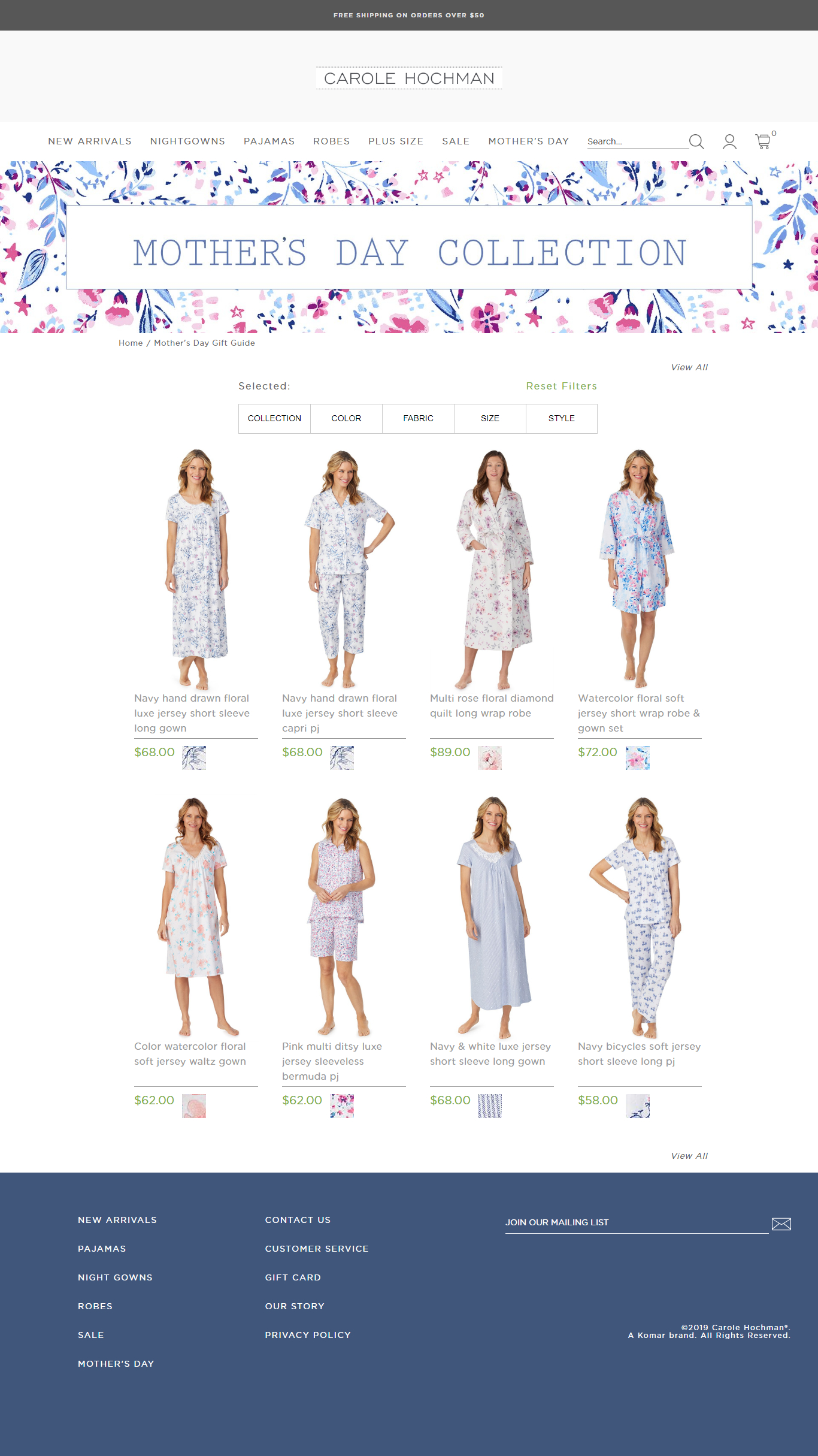 3) Mother's Day Sale and Special Collection
'Mother's Day Sale' is the most searched key phrase around the months of March-May! People are constantly looking for mother's day gift ideas, discounts, and special collections. Running mother's day sale for a month or so on your eCommerce store will drive the traffic on your website. Make sure your page load speed is minimum and your eStore has traffic compliance. Because navigation and ease of access play major roles when it comes to online shopping. Promoting your sale and special collection through email marketing, social media, and other marketing channels will give you a boost!
Mother's Day sale and special collection designed by Williams Sonoma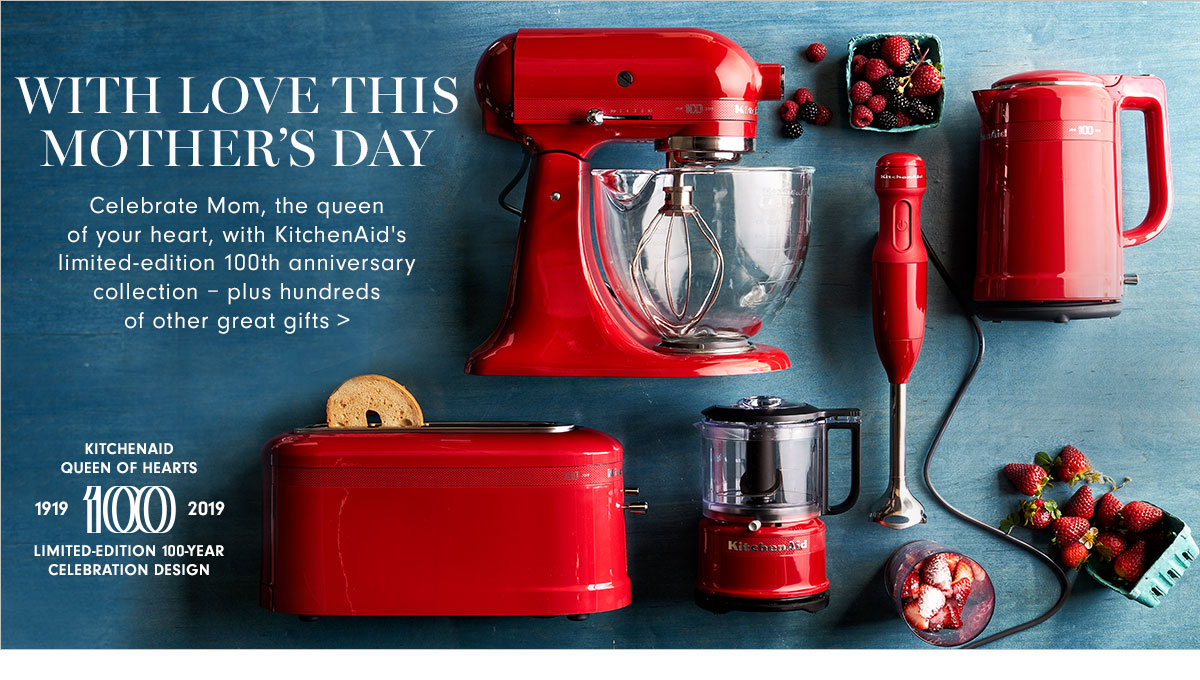 4) The 'Social' Animal
Social media Mother's Day promotions are vital and effective! Various social media platforms demand different mother's day marketing campaigns, but the efforts are worth it. Facebook, Pinterest, Instagram, Twitter, and Email Marketing; when used to aim a single campaign will definitely weave fruits.
Pinterest – Pinterest has gained a significant rise in terms of business accounts in the past decade. Especially, eCommerce stores are utilizing Pinterest's image-centric approach to showcase their products in creative ways. For Mother's Day promotions, creating separate boards is a proven technique. Post Mother's Day related posts, products, and quotes to pin it to that board.
Facebook –  There are numerous options available to the market on Facebook. A strong feature of Facebook is to remarket the website visitors (with the help of Pixel code) with display ads. Moreover, with story feature trending in the market, brands can opt for story ads as well. There are non-monetary promotions too. Posting Mother's Day quizzes, running contests, organizing giveaways and more. One can choose the 'Nostalgia Advertising Approach' by incorporating past events and bringing the old-gold trending products, stories and more.
Twitter and Instagram – The #Hashtag game never goes out of style! Create a unique hashtag for your brand that represents the Mother's Day stint and run it across all your social media platforms for generating an impact. Let the UGC (user-generated content) flow with your hashtag in it. Encourage them to share their stories, pictures, posts, and celebrations using your hashtag to increase the reach.
The current favorites for young minds are memes and humor affiliated content. Use this trend to boost your brand presence, but be very careful about not hurting people's sentiments while incorporating this Mother's Day promotion technique.  
Other Mother's Day Promotion Tips
Mother's Day free shipping is the most common yet influential trend. People are going to buy and they know every other online store is offering some or the other way of the price cut. If not huge discounts or Mother's Day sales; free shipping is still a triggering factor for many to make the purchase. Shipping promotion is one powerful trick to gain quick sales!

Promoting Mother's Day without being salesy is also an impactful Mother's Day campaign. You can offer DIY Mother's Day Gift Ideas, Mother's Day Quotes, Images, cute stories, List of songs and more as a part of your mother's day promotion. You don't have to every time just sell, sometimes you should take a back seat and earn loyalty rather than money to come in consumers' good books. Be empathetic and help them celebrate!
Wrapping Up
Mother's Day promotions should run in full swing by now! The mentioned promotion techniques will impact your eCommerce sale if placed properly. If you're looking for someone who can design special banners or landing pages for your website, get in touch with QeRetail and make the most out of our custom page design feature. Till then, happy promoting the Mother's Day!