eCommerce is a flourishing verticle and to keep it thriving, one needs to stay updated! eCommerce platform migration is a significant and timely decision that eStores can put into action as and when required. Shopify is a considerable option for the many advantages and featurefulness it has to offer. For starters, we are here with a definitive guide on Magento to Shopify migration! 
A  brief and fair comparison between Magento vs Shopify is called for before getting started. Your current eStore on Magento must have you well-versed with all the functionalities and even drawbacks that Magento has. Before you make the switch, understand Shopify better as it's a hosted platform, unlike Magento which is an open-sourced platform. Both have their shining and dull sides, it is better to have an all-around knowledge before you sing-up to anything new.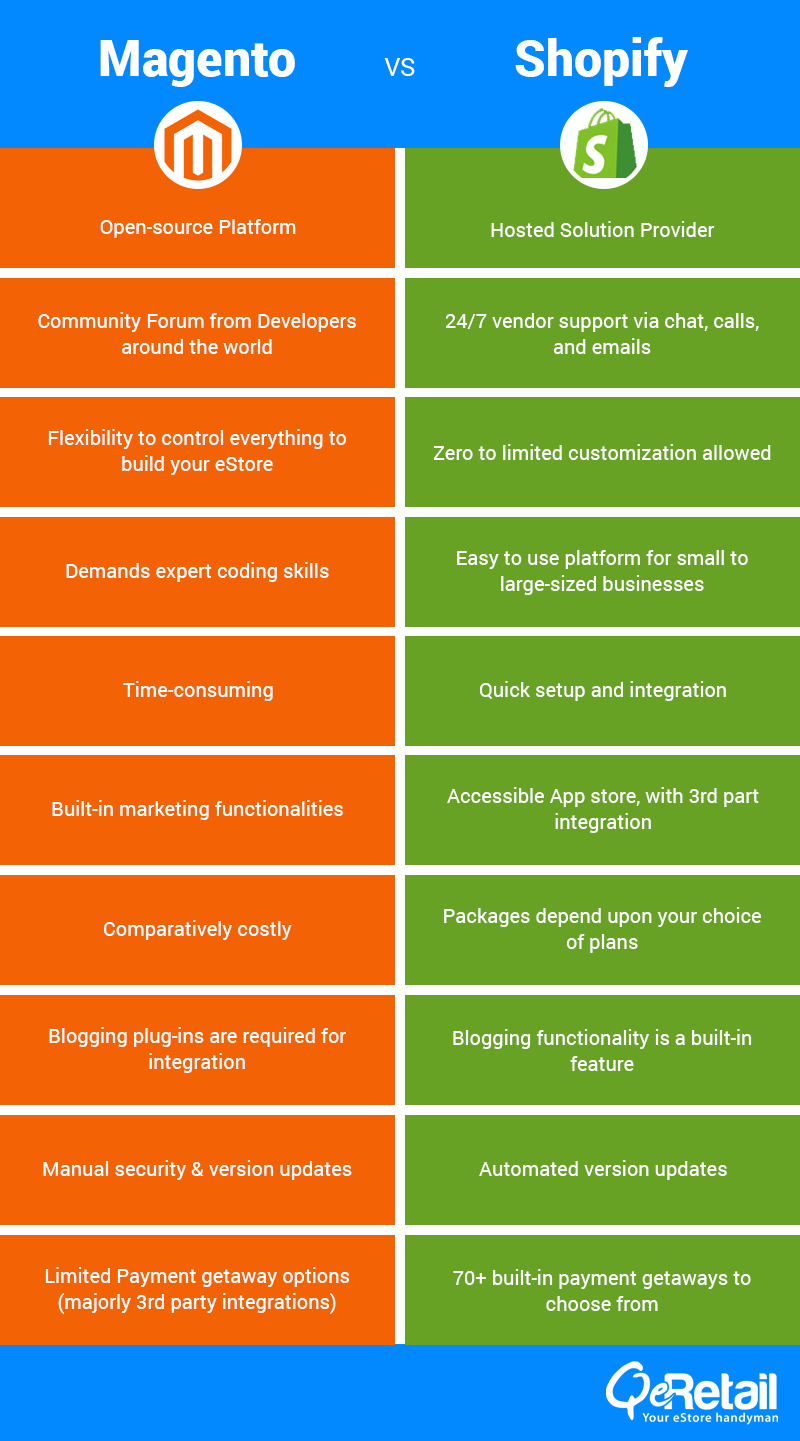 Prepping Magento to Shopify Migration
A pre-requisite to migration is to identify the cause and outcomes of the process. Ask yourself the following questions and prepare well.
Why Do You Want To Migrate?
This will be the first set of questions that you should ask before any replatforming decision and not just Magento to Shopify migration.
What are your biggest challenges with your current platform? Is it the long and manual updates? Developer expenses? Outdated version? Marketing or security lags? Or simply a fresh start? For instance, eStores running on Magento 1.x are compelled to find Magento alternatives, as its support is no longer available. 
A crucial decision would be to identify a platform that suits the bill. Make sure that whichever platform you choose, covers the features you lack in your current platform.
What Data To Move?
There's a reason why we migrate and not recreate! Ultimately, when you migrate, the operations, features, framework, design and almost everything's gonna change. But we need a robust base to start where we left off and DATA provides that base. You need to collect qualitative and quantitative data from your eStore before migrating.
Qualitative data refers to visitors and their actions! You need to identify your most clicked page just like your most saleable product. What is the source that's driving your customers on your site and how much time they are spending on which page? Heatmaps can be a useful solution in collecting detailed qualitative data.
Quantitative data, on the other hand, represents the numbers! The number of people landing on specific pages, what is their next step, how many visits until final conversion and more. Majority of these numbers can be drawn from Google Analytics.
Quantitative data includes:
List of pages that draw in the most traffic

Pages that lead to conversions

Pages that have the highest bounce rate

Customers by demographic groups

Stages of checkout funnel people drop out the most
When leaving Magento is final, there come the vital steps to ensure a smooth migration. An actionable approach is necessary to make sure you're taking what's important with you—and leaving behind what's not. This isn't an exhaustive how-to guide, but it will give you a solid frame of reference for the steps required to migrate your store successfully.
Magento to Shopify Migration Steps
#1 – Keep the existing store running and earning
Migration is a process that demands precision and time! Until your new eStore is up and running, you can't put all the earnings on hold. An advantage in Magento to Shopify migration is its backend process. Shopify facilitates in keeping the transfer running in the backend without hindering the sales. 
#2 – List down the thing to migrate
The qualitative and quantitative data refers to the performance of your eStore, but there are other data too. You will want to migrate the products information and webpage content (unless you're considering re-writing it) to your Shopify store. That's not it, there are order history and status data to migrate too. Migration also calls for a cleaning drive.  There may be outdated data that you would rather not take along. The obsolete and old information which might not help in any future interactions should be left behind.
Similarly, the marketing content, blogs, static HTML pages, et Cetara also migrate along, but you can choose to bring only that matters and converts. Whatever you decide to bring over to your new eStore will need to be redesigned to fit the store's new look. You can do that yourself, or work with an agency that specializes in migrations.
#3 – Try before you buy: create and test Shopify eStore before migration
Get your feet wet before committing the dive. Shopify's free trial can be your saviour here. Familiarize yourself and the team with Shopify's features before you initiate your business on the new store.  The website wireframe, menu, product collection, layout, checkout process, everything will be new, and getting a hang over it is important.  Shopify's excellent customer support team will be your best friends throughout this process.
#4 –  Backup everything beforehand
Just to be on a safer side, backing up all the data of your Magento store is important. Even if the migration doesn't go as planned in the first shot, you can not leave any room for data loss. Save yourself the panic of customer details loss or any site data loss for that matter by backing each and everything up. You can seek third-party app help or some experts' support if need be. To perform your own backup, use one of the more detailed tutorials online
#5 – Data migration
Now comes the heavy lifting. Apps like Cart2Cart and Shopify's Magento Importer are designed to facilitate your migration. You can opt to export and import the data manually as well. If you choose the latter option, you'll likely export Magento data CSV files. There are tutorials online for importing this data into hosted platforms, but if you're not tech-savvy (and even if you are), your best bet may be to hire a developer who specializes in migrations to assist you.
#6 – Testing sessions, and some more testing sessions
Ensure the tiniest details for perfection! Test the orders all the way through payment to find out any loopholes left unattended. The display should be crisp and organized for the visitors to have a seamless shopping experience.  Ensure that customer data is organized and displaying properly, and that you're able to manage every aspect of your business as if it were a live store.
#7 – Reinstate your new eCommerce store
Your new eStore won't be a clone of your old site.  Needless to say, when you're migrating, backend adjustments are not the only ones that you'll perform. Shopify offers an array of free and paid themes. Front-end changes will elevate your brand with the UX cues it needs. Here are top Shopify store examples you can refer for your eStore theme inspiration.
Double-checking everything on your eStore is worth the time, as the first impression leaves a mark. Once you finalize a theme and integrate it, ensure the content, products and other page details are rightly fit. When the process is thoroughly checked and ready to make a show, choose a day with minimal visitors. The final touches and upgrades will then soothe the store for a welcome. 
Closing Note
Migrating your store can feel like an almost impossible task, but taking one brick at a time helps you reach the goal. Shopify is a feature-rich eCommerce platform to migrate to, and a smooth migration will give you the headstart that you need. Stay tuned to QeRetail blogs for your eCommerce related queries, and get in touch with us if you need help. Happy migrating!