A stunning eCommerce theme is a primary part and parcel of selling online! Attractive website aesthetics are essential for credibility as well as conversions. In order to get started, you first need to finalize the type of eStore theme that fits your requirements. eCommerce hosting solution providers have made it pretty convenient and quick to get on board with off-the-shelf theme options, while on the other hand, custom made themes are here since forever! To make this choice easy, we have listed the pros and cons of both these options in this post. Read on…
Ask these questions to yourself before you pick a type of eCommerce Theme
What budget do you consider to invest in your eCommerce store and what part of it can be utilized for its theme?

Do you possess entry-level to moderate level website development skills?

What type of products are you selling?

What level of marketing and optimization features are you going to put into your eCommerce store? (for various functionalities you need a separate budget and development skills)

What kind of customer service you're planning to offer?
Cutting the chase, now let's jump to the pros and cons of ready-made eCommerce themes and custom made eCommerce themes:
The Pros And Cons Of Off-the-shelf eCommerce Themes
An off-the-shelf eCommerce theme is often a suitable choice when you're beginning and want a simple yet effective eCommerce solution. The hosting solution providers offer an array of such themes to their merchants. The list of Shopify themes is a great example to look at when we talk about pre-designed eCommerce theme templates. Here are some of the examples from BigCommerce and Shopify eCommerce themes followed by which, we are starting with the pros of off-the-shelf themes…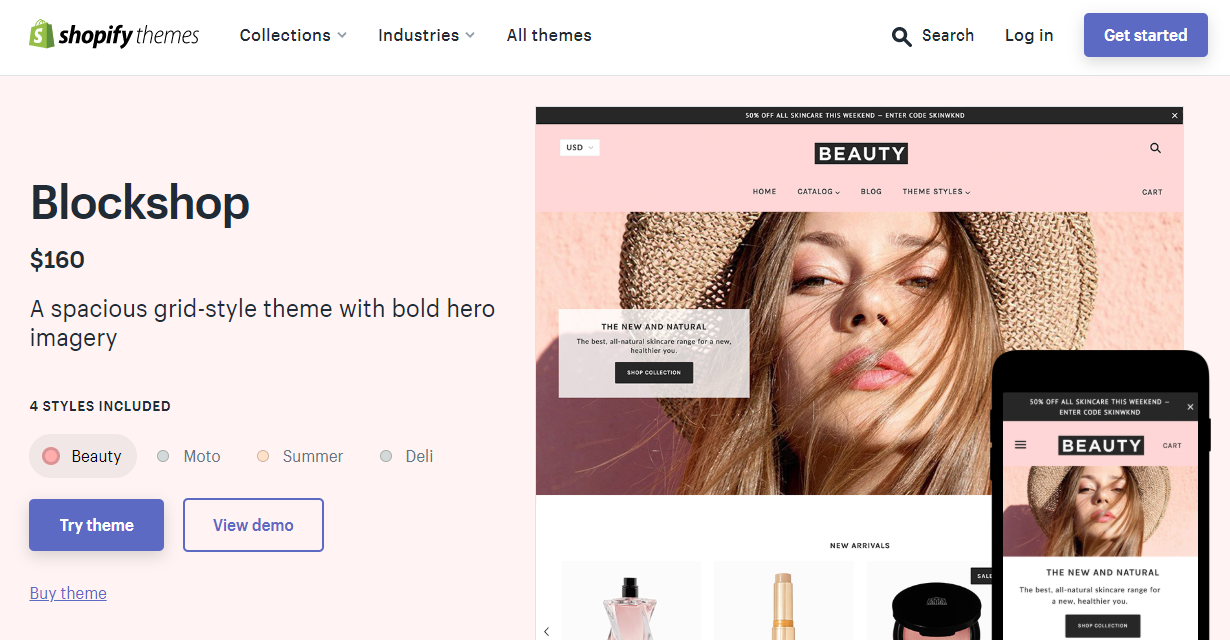 (Courtesy – themes.shopify.com/)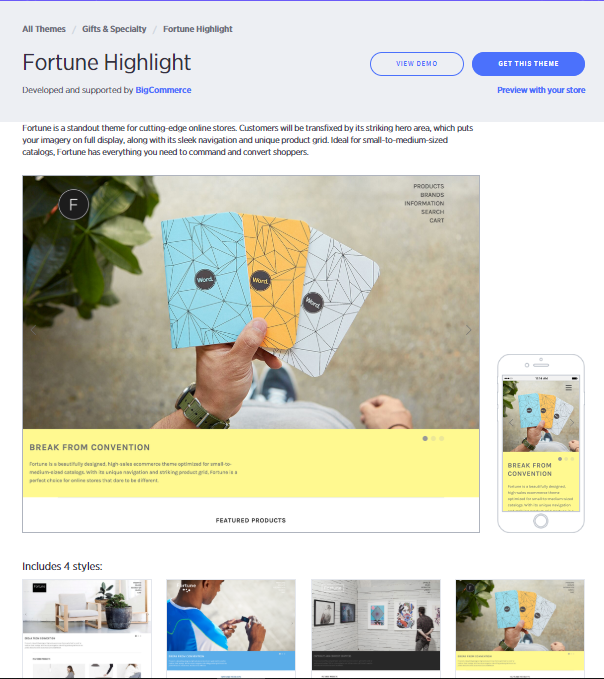 (Courtesy – bigcommerce.com/theme-store/)
Pros:
Off-the-shelf themes are comparatively less expensive:
Using an off-the-shelf theme denotes that most of the website coding is in place without you needing major developer changes. That's one of the reasons why Shopify and BigCommerce are the most used eCommerce hosting providers. Even though you need to implement the content and product listing on your own, eCommerce implementation guides can do the trick!
This again is true due to pre-installed coding. An off-the-shelf theme can mostly be launched in a matter of days if the product content and visuals are ready (however, this is the barrier that inexperienced people face when they try to set up and eCommerce store themselves). Depending on the design and content elements, custom made themes might take longer than this.
The theme Templates are getting more and more sophisticated:
The off-the-shelf theme templates are well-cultivated, classy, and allow a fair amount of customization where required. This can give you the best of both worlds where you get a sophisticated design with modification access.
An important website design aspect that incorporates SEO is the website's responsiveness to different screen resolutions. As one of Google's ranking algorithms, responsive websites get priority to rank in the SERPs (search engine ranking pages). Off-the-shelf eCommerce themes, in most cases, come with built-in mobile and tablet responsiveness features. And if not, there are easy workarounds to get it done.
Cons:
With pre-designed theme templates, your site may look like everyone else's. Skilled designers can minimize this problem with Imaginative use of visual cues and content can still save the day but major parts of your eCommerce store might look similar to many others who have opted for the same theme.
The amount of customization is limited:
A reasonable amount of customization is possible in off-the-shelf themes, especially in the paid ones, but there's a huge barrier of being able to make only the permitted changes. Most design and navigation part stays the same. There's a reason why they're pre-designed and you cannot change them to the core!
Dependencies on the hosting solution provider:
eCommerce stores made on WordPress require frequent updates as and when its CMS (content management system) or functionalities change. These updates are for the betterment of the eStore operations but can be daunting at times. This is one of the examples of how off-the-shelf themes have a limitation of depending on their service provider for alternations. This again isn't a problem for paid and premium templates but the cost included should be taken into consideration.
The eCommerce stores running on open-source hosting solutions are prone to hacking with their theme templates being free to code and access! Effective firewalls are always there and there are millions of websites built like this but a possibility should always be highlighted when there's a security concern involved!  Make sure your eStore isn't vulnerable as and when updated and coded.
Functionality installation barrier:
eCommerce stores require various marketing, optimization and customer service features enabled on their websites. One great example of functionality that is unmissable in an online store is having a tracking code implemented to analyze the customer journey and make use of it to increase sales. You need to check what level of coding alterations are allowed when you opt for an off-the-shelf theme and what functionalities are important to you. However, this again depends on the hosting platform as to what level of features they provide to their merchant. For instance, BigCommerce has the most built-in eCommerce features for their merchants whereas Shopify has vast App variants to implement them on your eStore. Read this detailed comparison of BigCommerce vs Shopify to delve deep into how they operate.
The Pros And Cons Of Custom Made eCommerce Themes
Custom made websites are still a preferred choice by many. Especially when we talk about eCommerce, the industry faces customer service trends and technology advancements every now and then, and we need to stay up-to-date and updated with it! Custom themes come handy when we seek everyday coding alternations. The following are its pros and cons…
Pros:
The major advantage of going for a custom made eCommerce theme is its design and feature exclusivity. Depending on the creativity and skills of the website developer, when it is custom made, you're sure there's none like yours!
Custom made themes are flexible and grow with you:
Down the road, when your eCommerce store is up and running, you will need to alter some or the other parts of its design and functions. If you're working with an off-the-shelf theme template, you may have to start over in the event of major changes. It is much more convenient and handy to add new changes to a custom made theme.
Custom themes are easier to update:
Your website developer will be able to fix any problems that might occur in a custom made theme.  If we again take WordPress's instance, if its update breaks the theme template, you might get stuck and seek a WordPress developer's help. This makes your site more vulnerable to hackers. Wherein, custom made themes have constant support from the developer and can be easily updated.
Betters search engine optimization:
Even though the off-the-shelf themes come with basic SEO features these days when we talk about technical SEO the web developers who build sites from the ground have the technical knowledge to ensure your eCommerce store is optimized and crawlable for the search engines. This is a key part of digital promotions when you're selling online!
Cons:
The one disadvantage that pops out when you start from scratch is the budget and time. Website developers charge for their expertise and experience and thus, you can't expect them to program and code at lower rates. Similarly, when creativity is involved, you can not bind it with a limited timeline! Unlike off-the-shelf themes, custom themes aren't ready with defined navigation or functionalities. They are comparatively expensive and time taking.
The constant need of a skilled developer:
Custom made eCommerce themes can only be managed by a skillful website developer. As and when any feature, product, offer page, or even a minor change is required, you need to get in touch with your developer. Optimization, responsiveness, secure payment getaway, and tracking are few of the essential aspects of an eCommerce website, and custom made theme selection binds you to implement each and every such aspect by yourself with precision. With the eCommerce industry thriving quickly, a full-time developer is what it takes to stay strong in the game!
The Bottom Line
An eCommerce website can only bring conversions when managed correctly! A poorly-executed one will work against you and can cost you online credibility and financial setback. The bottom line is that you should choose your developer correctly when going for a custom made theme and a powerful hosting solution provider when going for an off-the-shelf eCommerce theme. If you're looking for savvy developers who can help you build your eCommerce store, get in touch with one of the eCommerce handymen from QeRetail!