The pandemic has shifted gears for digital marketers, and for better or for worse – it has unraveled a lot of aspects that play a key role in telling good marketing from bad. It's now an understood reality that a business's online presence is in all likelihood it's primary presence.
So, what does e-commerce marketing look like post-pandemic?
It pretty much looks like it's all over the place, but still, gradually piecing together. The global standstill caused by COVID-19 has brought to focus the fact that if a brand wants to get noticed, it needs to be everything but boring.
Older norms like posting an advert with a discount coupon or monthly giveaway announcements just doesn't cut it anymore. Why?
Because every second person is doing it. What does make a difference is being creative, and being creative with a plan?
The holiday season is just around the corner, and It's time to prepare for the inevitable.
As e-commerce retailers are gearing up for their first holiday season post-pandemic, it would most definitely be a sight to see – who cracks the code and who doesn't.

To bring things more into perspective, in this article we've listed down 10 key online marketing tips that can help e-commerce businesses better re-connect with their audience during the upcoming holiday season.
Take it as your very own holiday marketing guide!

Let's take a look.
Online Marketing Tips for the Post-Pandemic Holiday Season

Tip #01
:
Holiday e-commerce marketing always starts with a plan.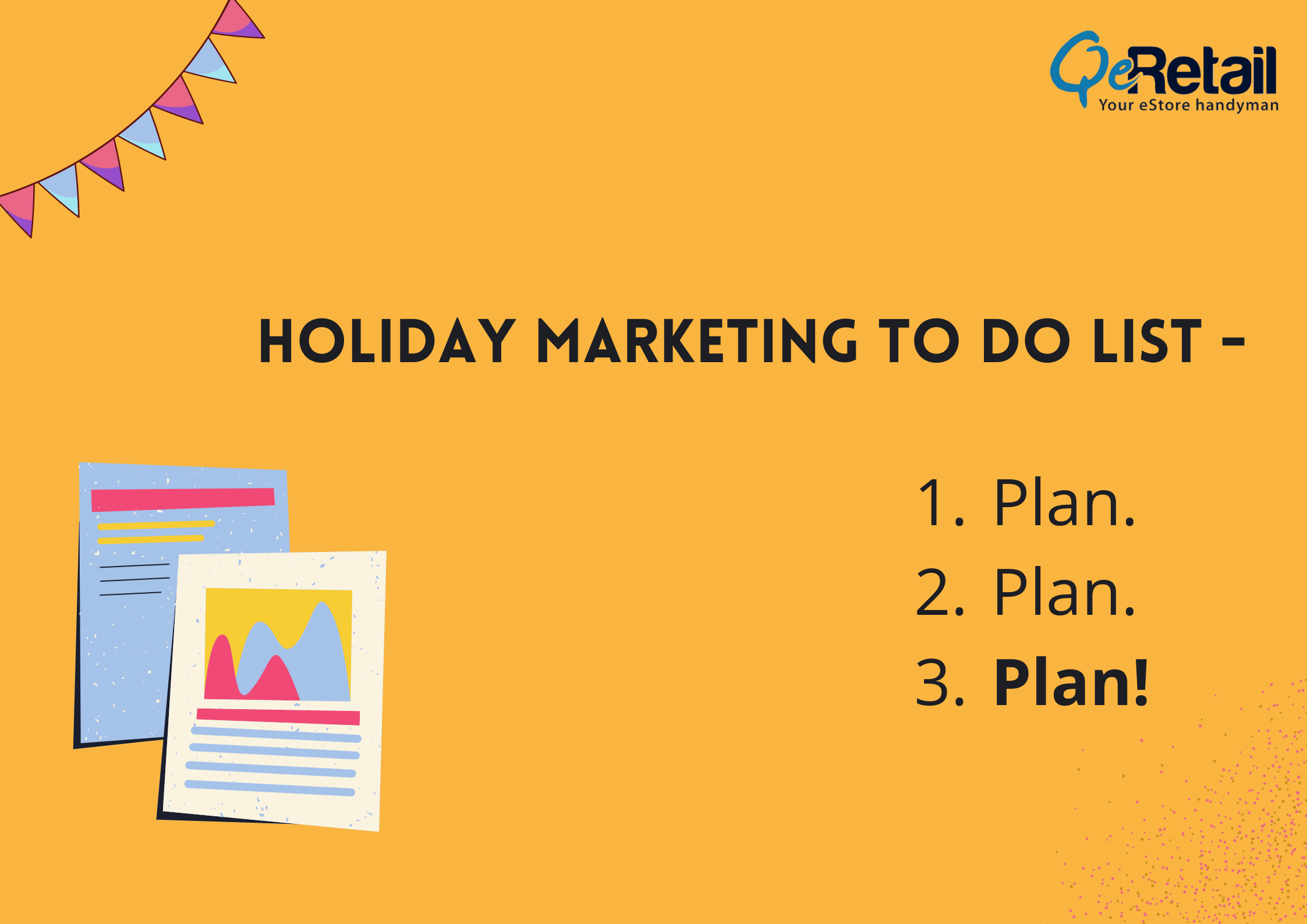 The most crucial step that decides the rest of the flow for where your marketing campaign stands ultimately is how you plan one. Before you even begin the first round of discussions with your marketing team for what you're planning during the holiday months coming ahead, you need to sit down with yourself and create a basic outline for who, what, and how it is that you're going to market your collective during the festive season.
A well devised outlay goes a long way in keeping things in check (read as – within budget), and also having clearly defined roles for everyone in the team. In addition to this, a well planned campaign also makes analytics an easier task – since you've already been keeping a tab on your marketing layout, and your target audience.
Having said that, it goes without saying that E-commerce retailers need to take the required time well in advance of the holiday season to develop an effective marketing base, comprising of strategies and plans that are known to give returns – like email marketing, social media marketing, promotional content, and discount offers, to name a few.
Talking about email marketing here, an effective email campaign is essential for brands to build their customer base and engage loyal customers. Moving ahead, the e-mails should be sent out once or twice during the holiday season, depending on how much your target audience will engage with e-mail through their inbox.
A marketer cannot possibly target a 70's themed ad copy to a segment of 12 year olds for a cereal brand, and expect the kids to know head or tail of what's going on. Even if the content is interesting and well thought of, it's ultimately without a plan, so it doesn't go anywhere.
This is exactly why it's greatly emphasized by experts of all leagues to make sure you have a planned outlay to what you're marketing in the first place.


Expert tip –
Dynamic marketing policy is a unique marketing technique that many e-commerce sites employ to boost sales during the holiday season. In this tactic, the key is to customize offers for each customer that visits an e-commerce site by utilizing the data your site has about the customer. It is an effective strategy that allows you to offer your products to customers at the best price for each one of them based on their shopping trends. More than just boosting sales and conversion rates, it is an excellent way of obtaining crucial data about your customers that allows you to enhance their buying experience on your site and thus boost customer loyalty and eventually customer retention.
– Katherine Brown, Spyic

Tip #02
:
Get personal, it matters
.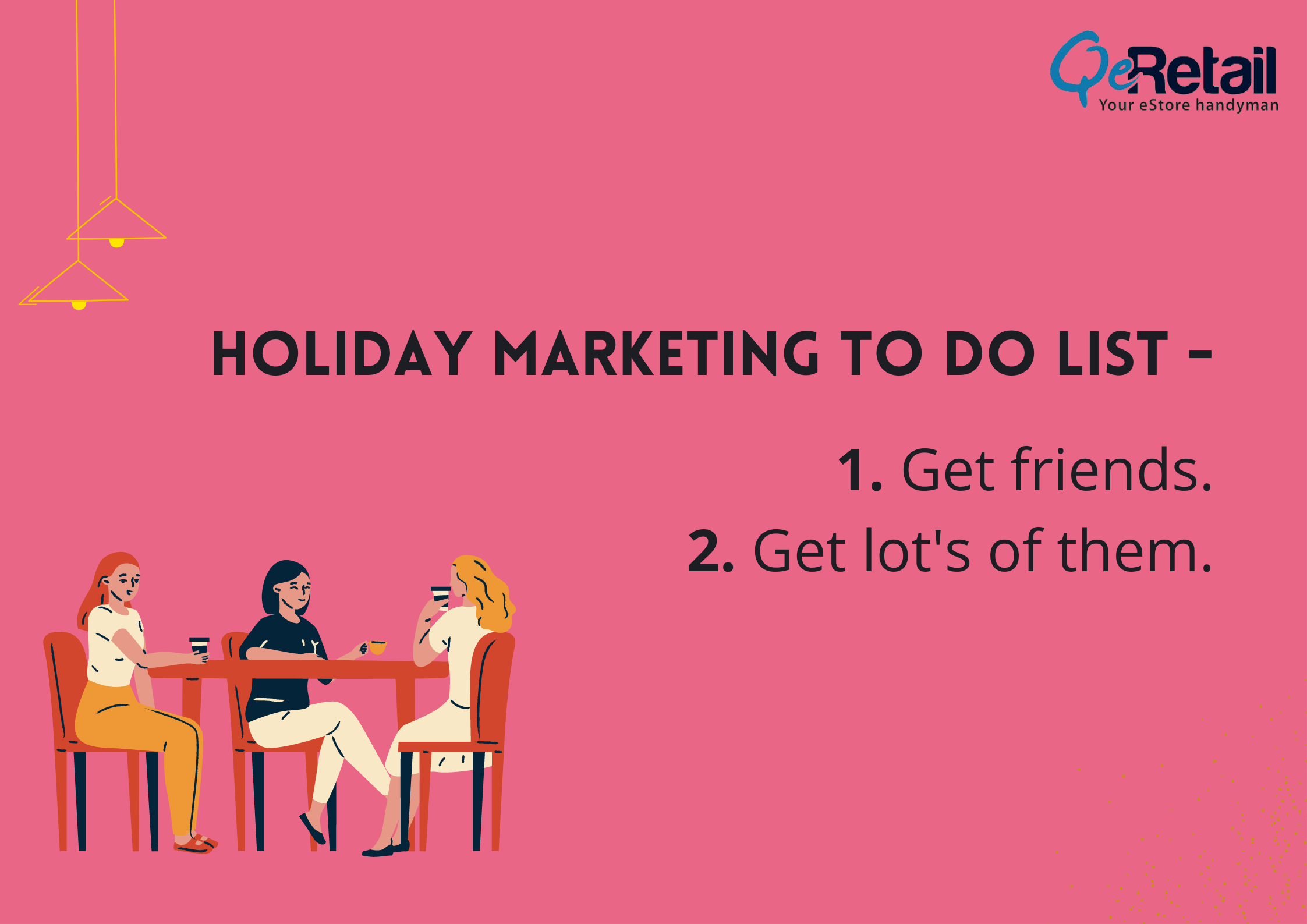 A large part of the motive to get personal is about staying relevant. When emails are sent out during the holiday season, they should have a personalized touch that is designed for each customer.
Relevancy will also help drive engagement with your email campaign by targeting what may interest customers at this time of the year. For example, an online retailer might send gift ideas just in time for Black Friday or Cyber Monday deals on specific items.
To be relevant is not just about knowing what is currently 'in', it's also about having an understanding of what works where, and for whom.

An Accenture survey states that – 91% of consumers are more likely to shop with brands who recognize, remember, and provide them with relevant offers and recommendations. 

There used to be a time when using someone's name at the start of an email was considered revolutionary. Now, it's an accepted norm and just a way of being for effective marketers. Personalization, or creating tailor-made experiences for consumers is a brilliant way to let your customers feel seen, heard and known and create a niche for yourself in the growingly impersonal digital world.
A buyer is more likely to keep in mind a brand that keeps him in mind. As the digital marketing arena shifts from marketing communications, to having a more conversation, and perhaps friendlier tone of interacting with their audiences, it's only wise to collect, analyze and utilize data to in turn create more mindful experiences for your customers, and not just those directed to make sales.
It can be useful to ask these questions before you get started –
1. Who is my audience and what are its general interests?
2. What social media platforms does my audience frequently spend time on?
3. What kind of content get's my audience's attention?
4. Which are some of the problems that my audience is facing? Can I solve them?
5. How do I listen to my audience better?


Tip #03
:
Don't forget mobile!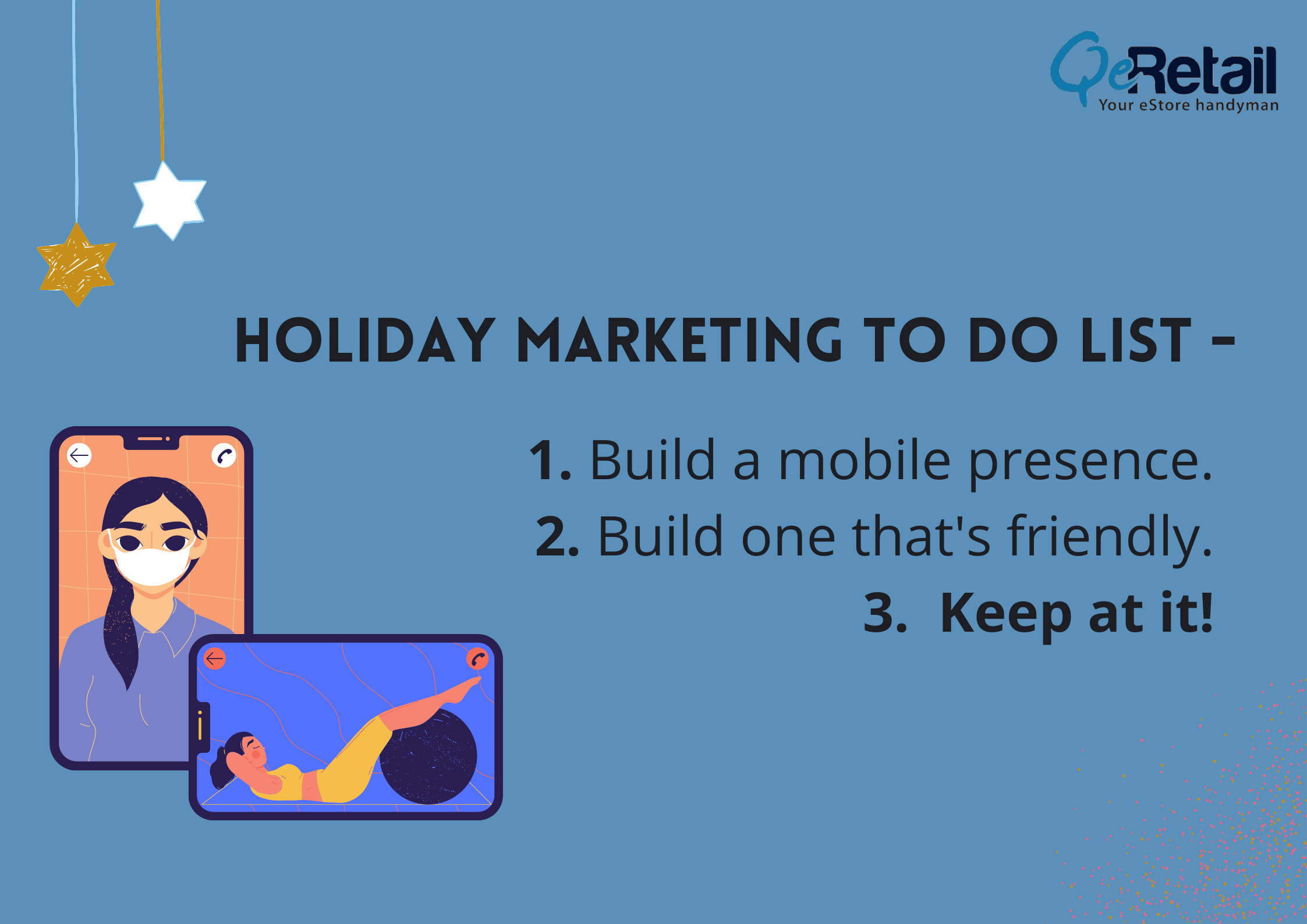 Due to the one-to-one nature of mobile devices, they're wonderfully effective when it comes to building a more impersonal, and consistent equation with your customers.
Speaking of how current trends go, it's not enough to simply build a good website, it does pay off to go the extra mile, and once you're confident of your web interface – invest in developing your mobile app.
The online world is always on, and consumers are increasingly turning to their mobile phones to read, research, analyse and also make purchases – all in a matter of a few clicks.
Mobile traffic tends to grow around this time of year because people are looking up information while shopping in stores as well as browsing products online when they're waiting (or bored) and on the go. 
It's pertinent for E-commerce retailers to have a mobile eCommerce strategy in place which ensures that their customers can make purchases with ease when they are browsing from mobile devices like smartphones or tablets. As buyers also get increasingly savvier, it's no rocket science for an experienced marketer to know how far a strong mobile presence goes in terms of effective, impersonal marketing.

Thanks to the advent of digital technology, we're all on our phones, nearly all the time.
The content consumed via mobile phones makes up for most of the overall content consumption made by modern-day users, especially millennials.
Even if one is mindlessly consuming what he sees on his screen through the day, he still is consuming something. It still registers on his mind, if not immediately – then eventually. This is what motivates brands with an active mobile presence to stay consistent, and create an interactive medium for their buyers to connect with their businesses.

How a strong mobile presence works for a brand
–
1. It increases your brand's accessibility.
2. You get to build your own digital brand.
3. Helps in growing your online presence.
4. Improves your brand's search engine ranking.
5. Ultimately, it proves to be an easier way for your customers to get to you.

Tip #04
:
Don't forget to bring a focus on offering sales, discounts, and promotions.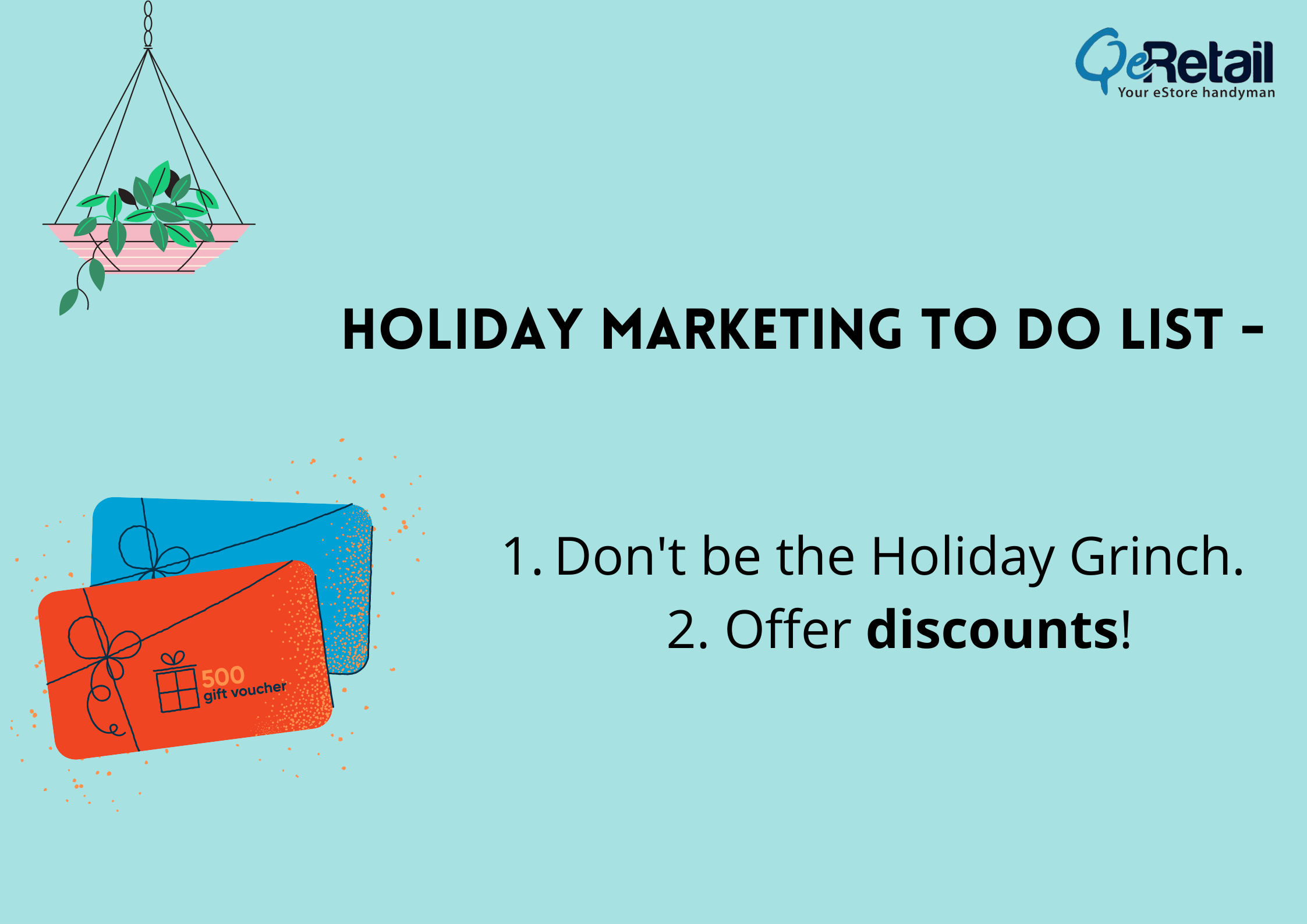 Everyone loves a good sale.
Which is exactly why, one of the best ways for an e-retailer to reconnect with their audience during this time is by promoting holiday deals and offers at discounted prices through social media channels, as well as online banner ads throughout their websites.
For example, if you sell clothing items then it would be wise (and expected) for your email campaign to promote any coupon codes under 15% off!
The holidays are all about giving back to your customers – so e-commerce retailers should offer discounts or deals through email campaigns, social media channels, and online banner ads. It's essential to note that during this time – it's not only important to give, it's important to give generously.
This time isn't just about making sales, it is also about giving back to your customers – not necessarily with a sales pitch in mind, but with the genuine intent of giving back.

Expert tip –
One unique tactic to counteract this is to start black Friday/Cyber Monday sales well before their actual dates. Run a black Friday month campaign that offers discounts and sales several weeks prior. Consumers are already in the shopping mood getting gifts for friends and loved ones, you'd be shocked at the volume of sales you can drive in the weeks leading about to Thanksgiving.

Tip #05
:
Your campaign needs to center itself on customer service.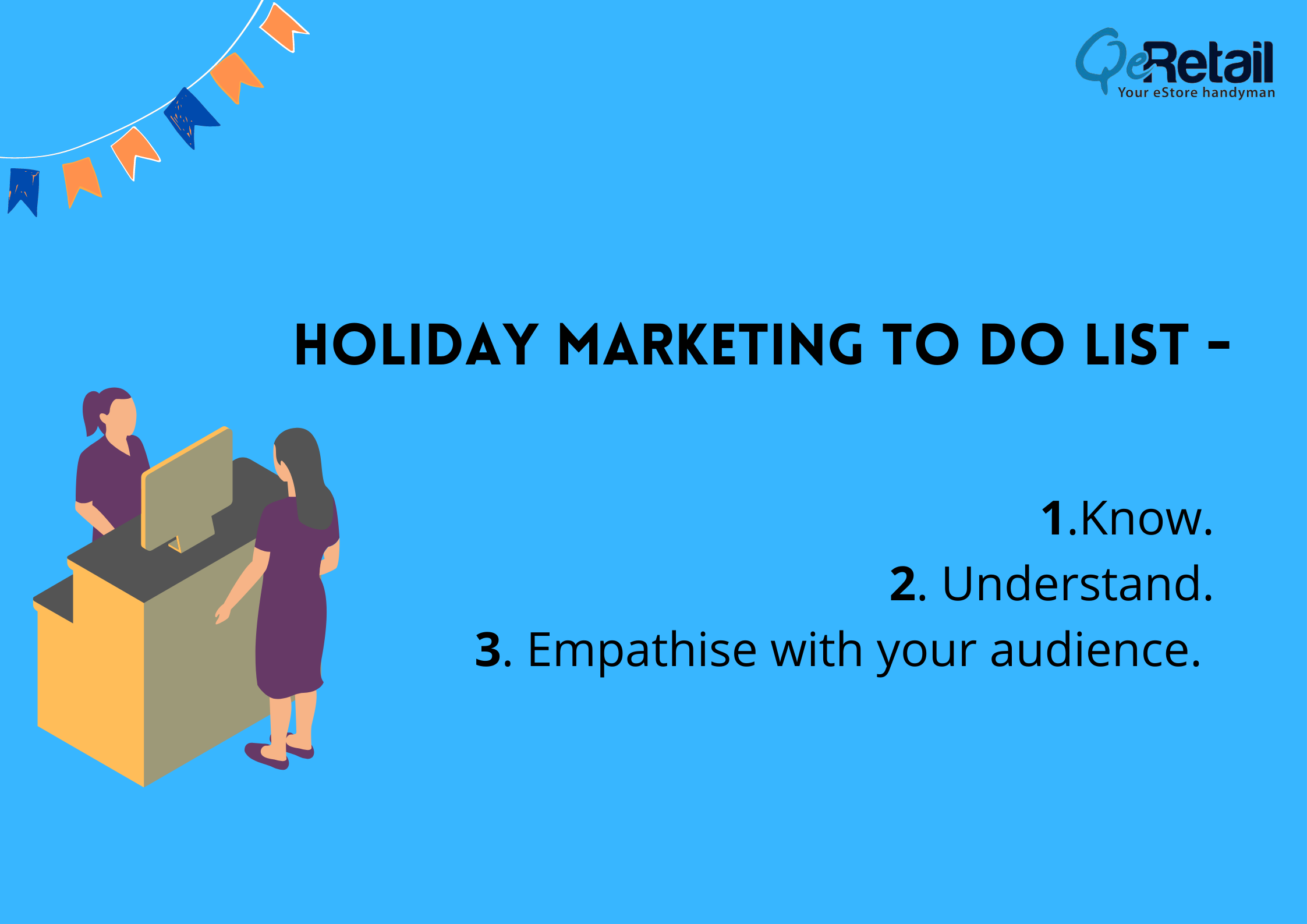 Digital shopping is all about convenience these days.
Customers are looking for the fastest way possible to get their goods delivered at home with a click of a button and without having to worry about waiting in never-ending queues or visiting stores.
As an e-retailer during this time period it's important that you provide accurate product listings which show what items can be shipped to certain areas (or countries) as well as any shipping restrictions that may apply.
For example, "this item cannot ship internationally" will help drive more sales from e-commerce retailers who offer international shipping options.

Today's buyers are more aware than they've ever been. The expansion of the internet has allowed customers to make their own detailed research before making a purchase, and even then, if they stumble across something better – have the freedom to pick what suits them best.
The same tide has brought with it the fact that the success rate of digital channels and marketing pipelines ultimately lies within the hands of the customer. In spite of this shift in power, there are still a large number of companies which operate within their own preconceived framework – which is sales centric, and still not customer centric.

This tactic has avidly shown it's limitations too, since now more than ever, marketers are waking up to knowing that a brand's real success lies with knowing the buyer. Everything else falls behind.

So, what are the key questions that a brand needs to ask itself when in the process of understanding it's customer-base?
We've listed a few pointers –
1. Who are my targeted customers?
2. What are the problems that they face?
3. What are their opportunities?
4. What is the environment within which they're trying to operate?
5. How can I help them do better?


Expert tip –

The idea of a discount never fails. People are innately motivated to shop during the holiday season. Make things easier for them by offering lucrative discounts and offers. Communicate the same ahead of time by launching a campaign that informs your audience about the details of the offers. This will help you get a better response when the sale actually starts.

Tip #06
:
Your marketing layout's overall user experience should be seamless.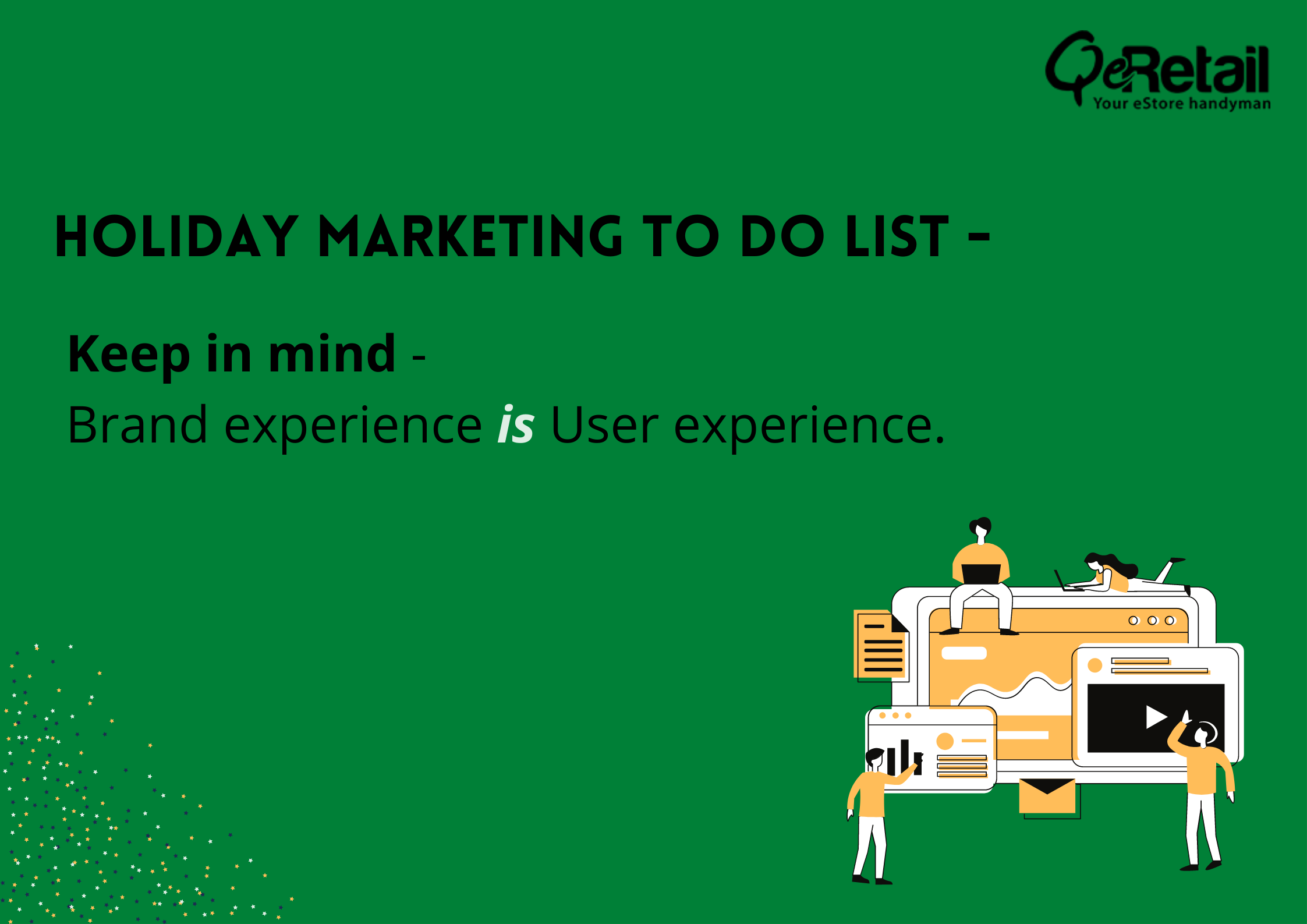 Branding, and user experience are processes that are often overlooked as different from each other, and ones that don't inter-relate as much. This is false.

At its core, UX is about understanding your customer's needs and then going on to design a practice that encourages a positive buyer experience. At a broader front, branding and user experience go hand in hand. At the crux of it, nearly everything is based on how well you understand what your customers are looking for, and then how you inculcate website developments that are an extension of the same emotion.
Customers want a seamless and easy eCommerce website that is mobile friendly, and comes packed with features like live chat services available for their convenience during the holiday season.
It's also important that brands have eCommerce experts in place (and ready) to help customers as they browse the online stores. Which is why, make sure you're prepared ahead of time by hiring eCommerce specialists or sourcing them from freelance websites such as Upwork, Freelancer, etc. If possible, speak with these freelancers before the season ensues, so they can review any changes made to your company site post pandemic. Ultimately, ensuring an optimal customer experience during this busy time will increase sales and lead conversion rates.

Branding falls as one of the first testaments to how well you understand consumers, and a good user experience only uplifts the process. It's absolutely vital for a brand's goodwill that it's users have a good experience not just with the products/services that it's selling, but also have experiences that reinforce the brand. Brand experience is user experience.

Expert tip –
You've probably heard of a showroom. When a customer wants to view a product in person, they visit a showroom, which can assist them in making a purchase decision. Web-rooming is similar to show-rooming, with the exception that you showcase your products online rather than in person. In most cases, a web room lets customers view a product from every angle, simulating the in-person showroom experience. If your organization wants to create a web room for your items, you should get started as soon as possible.

Tip #07
:
Customers want to purchase more than one item!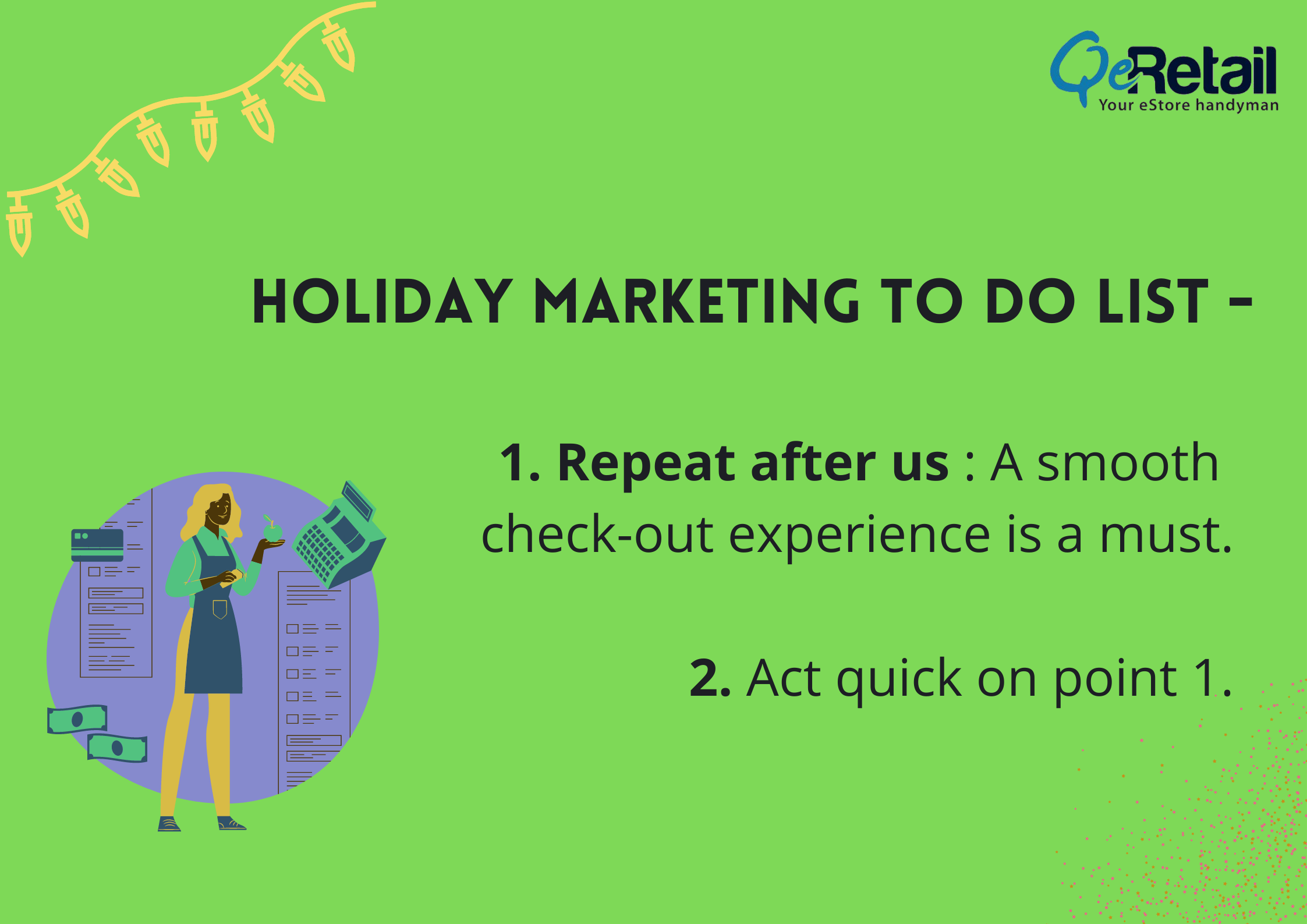 Customers today naturally expect a friction-less shopping experience, but even more than that – they look for a seamless checkout experience. No one likes it if they've spent a good load of time going through a site's various shopping channels, added everything they're looking for to their carts, and then find themselves at a sluggish checkout front, that's not just slow, but it's also technically disinclined.
E-commerce retailers should have an easy way for customers to add multiple items and order them all together. For example, it's important that you provide options such as "add another ____" so the customer can select how many of each item they would like in their cart before proceeding with checkout. This will help decrease abandonment rates because there is less hassle on behalf of the e-retailer during this busy season.

After all, the whole idea behind creating digital experiences was laid out keeping convenience in mind. And convenience isn't just limited to a single experience within the whole shopping layout, it's inclusive of every layer that your buyer passes through when they find themselves making a purchase at your e-store.
So make sure you're not leaving any stones unturned when giving your buyers the experience they deserve.
A well known theorem that supports this intent is the Fogg Behaviour Model, proposed by Dr. B.J. Fogg.
The model states that a consumer's propensity to convert depends on having three key factors in place – motivation, ability, and a trigger.

1. Motivation – Engage, and then compel your customers to sit up and take notice of your brand.

2. Ability – Make your customer's journey to conversion as easy as possible. Reduce as many technical roadblocks as you can find.

3. Trigger – The trick to timely conversions lies in the right message, delivered at the right time, and shadowed by the right CTA.

Tip #08
:
The holiday eCommerce marketing campaign needs a strong call to action at the end of your content.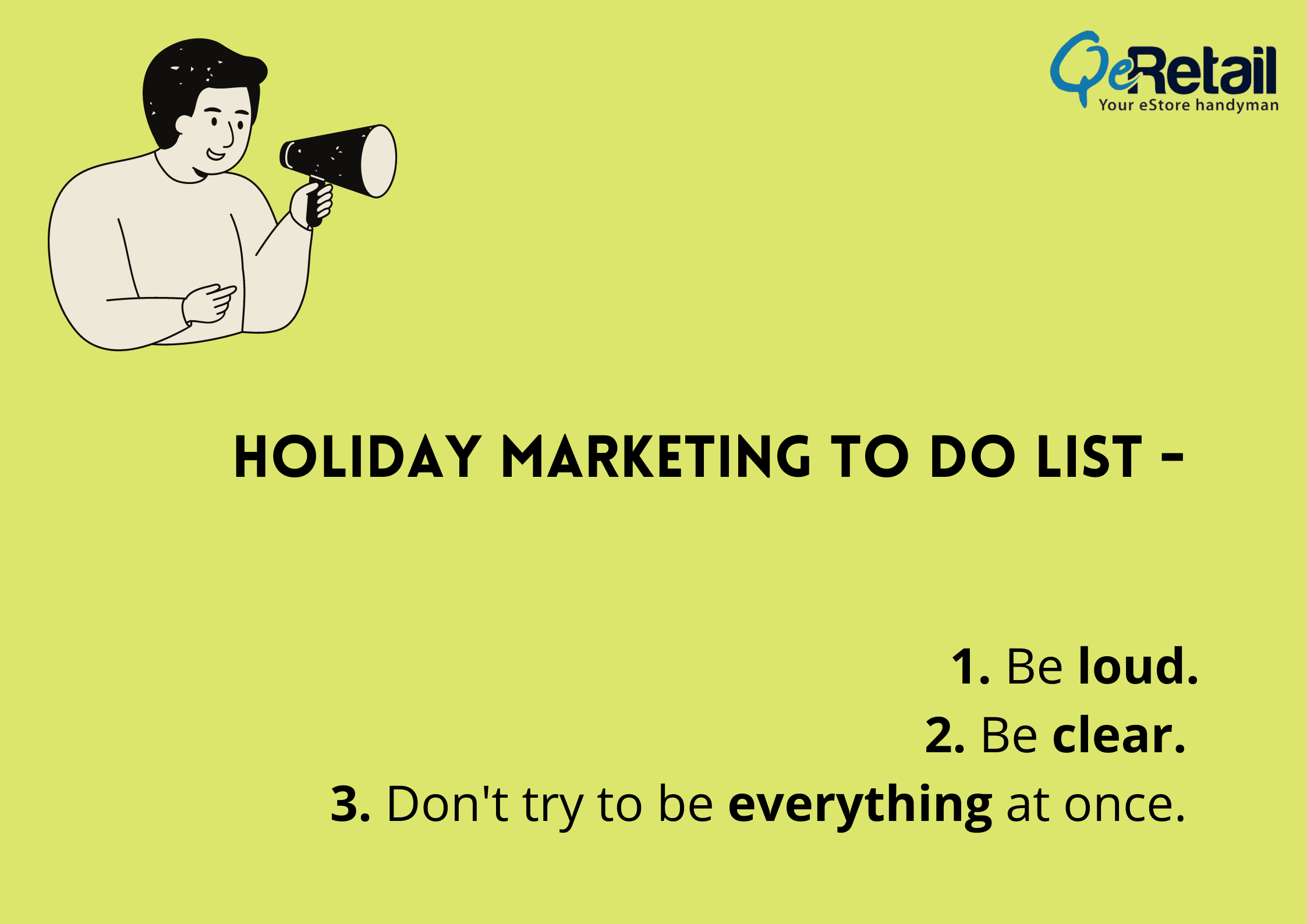 Your call-to-action is the chief defining factor that bridges the gap between your leads to conversions. It acts as the last push for your customer's site journey for the main reason that if it's used optimally, it is what ultimately gets the eggs to your basket.
You could either make a bold highlight out of your CTA, or subtly steer it across your key deliverables – the choice is yours, but the important thing is that you use it and you use it well.
More often than not, a CTA is something motivating or exciting enough to drive people through those last few steps until they've completed their purchase online.
For example – you can offer a coupon code or a sale to e-commerce new customers if they add their email address at the end of your blog post so you can reach them with future eCommerce offers.

Here are a few pointers to keep in mind while working-out a plan to create the right kind of CTA
–
1. Use a design that's attention-grabbing.
2. Keep your copy direct and action-focused.
3. Make a clear promise.
4. Create a sense of urgency.
5. Have a smooth pathway for conversion.


Expert Tip –
Call to actions are central to any marketing campaign. A call to action created specifically for the holiday season needs to induce shoppers to use their holiday emotions rather than their shopping brains. For instance, a call to action that reminds the prospects about the holiday, while still maintaining a sense of urgency is a great hack to the shopping frenzy over the holidays. –
– Alina Clark, CocoDoc

Tip #09
:
Collaborate with influencers for a wider visibility spectrum.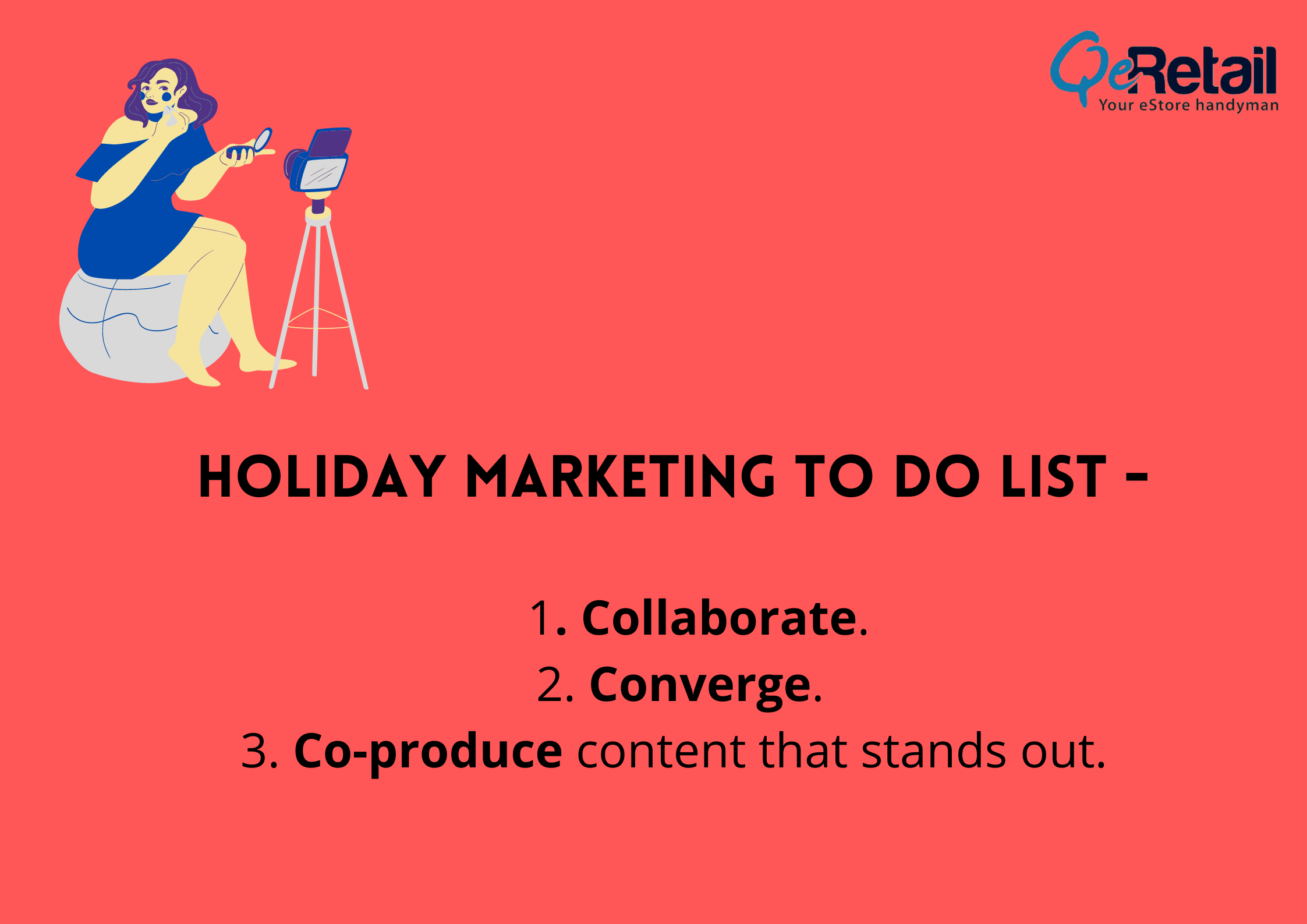 Touted as not just one of the fastest-picking, but also one of the most rewarding trends of 2021 so far, influencer marketing is certainly a surefire way for your brand to get a headway in it's overall reach and engagements across the digital landscape.
Collaborating with personalities that are known and trusted is an excellent way to widen your brand's visibility and eventually – engagements across major social media platforms. This strategy not only helps people to know you better, it also gives you a chance to build trust within your audiences.
Another aspect that's to be noted about this marketing tactic is that it no longer requires a huge capital investment to get an influencer to promote your brand. In contrast, it's actually local influencers that are gaining more momentum and delivering better results than celebrity influencers.
Gone are the days when the word of traditional celebrities was taken to be final. Today's digital evolution has created a more holistic space for smaller, more locally known creators to make an impact on buyer's purchase-decision.
All-comprising Holiday e-commerce marketing strategies should be focused on developing strong relationships with influencers in order to promote not just products, but also the values that your brand stands for.
The best way for an e-retailer to reconnect with their audience during this time is by partnering up – and paying handsomely when needed – with influential people who have large followings on social media channels such as Instagram, Facebook, YouTube, Twitter etc. Influencer campaigns are proven ways for e-retailers to generate traffic back into online stores through likes/follows from these key individuals. One method that has been successful for e-commerce retailers in the past is to work with influencers on a product review campaign – so e-retailers may reach out to these individuals and offer them this type of partnership.

Expert tip –
This holiday season, you should anticipate your competitors to make a significant push in online advertising. So come up with new ideas about how you can engage with your customers. Influencer marketing is a great approach to advertise your items by partnering with someone who already has a following.
– Darsh Somashekhar, Solitaired

Tip #10
:
Don't forget to
have fun!

Here's the most important bit of all – to have fun in the process. The holidays can be a vying time to catch up on with respect to how effective marketing goes, but ultimately and above all – it's the season to let your hair down and have fun.
The most important aspect of delivering on a good marketing campaign during this time is to firstly enjoy the process of it, and not make it just about making sales, or creating engagements. This year especially, as the world collectively attempts to make the transition from a pandemic to a post-pandemic period, It's about a lot more than just making money. It's about giving, getting together, and celebrating what it means to be human and to be unified in our celebrations.
Whatever our means to celebrate maybe, it's easy to get caught up in all the holiday marketing tips that are necessary during this time period but it's important you do your best not to lose sight of what holidays really mean.
For instance, take some time each day while planning your campaigns and think about something you're grateful for before getting back into eCommerce mode!

Expert tip –
There's no 'expert' tip needed here. Just have a good time!
Wrapping up,
We hope these tips and the expert-sourced advice with it helps you achieve the kind of visibility you desire this holiday season.
Do keep in mind though, that no single piece of advice works for all, and it's completely up to you – to make the big leap towards your marketing avenues coming ahead!
Happy marketing!