You and, we all are excited as the festive vibes have started to ring the bells as we have entered the last quarter of 2023. This is the busiest time for business owners in the eCommerce landscape. And like every other year, eCommerce businesses during the holiday season of 2023 are anticipated like never before.

Have a look at the complete list where online shopping is going to be at its peak: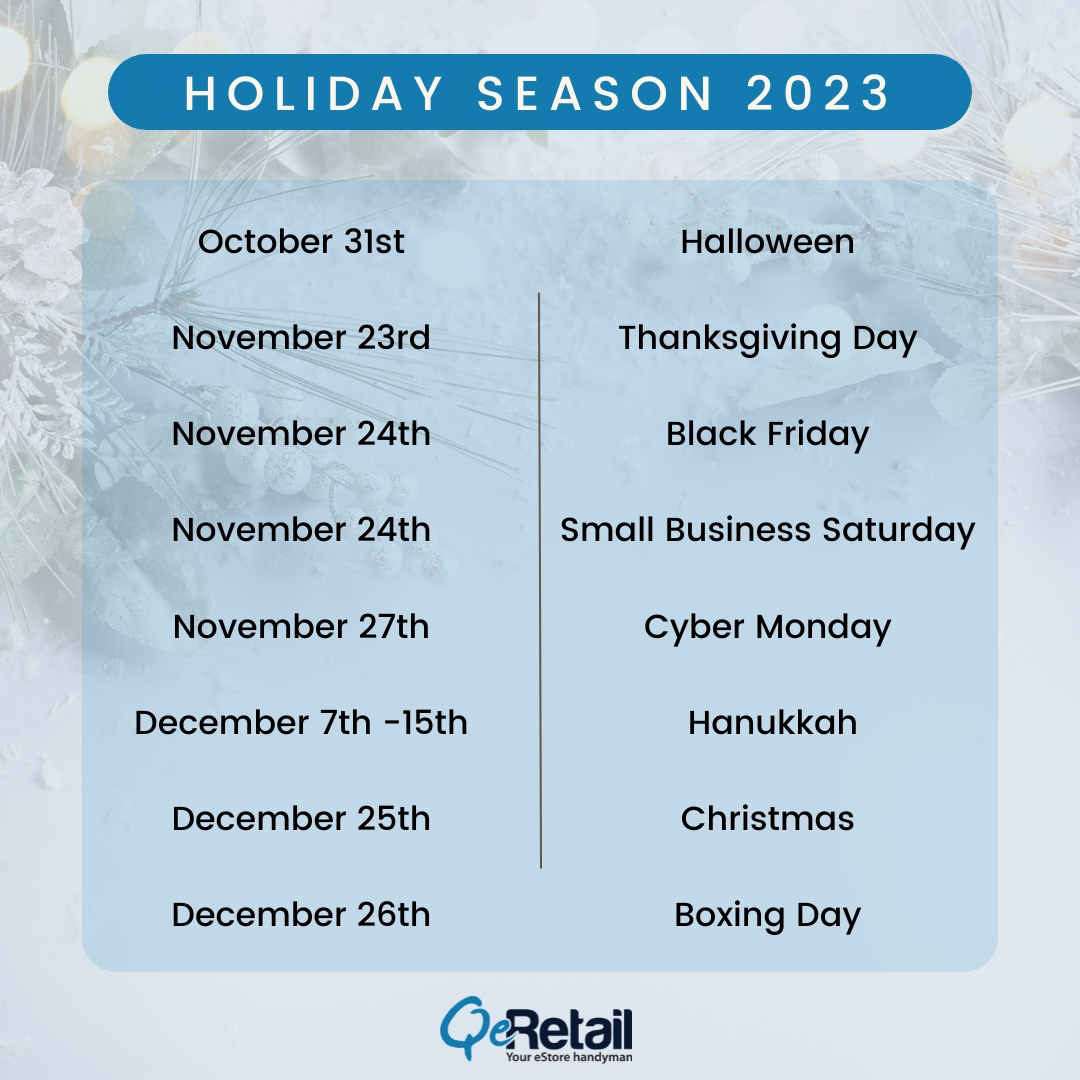 Why is Holiday Season 2023 Crucial to Grow Your eCommerce Business?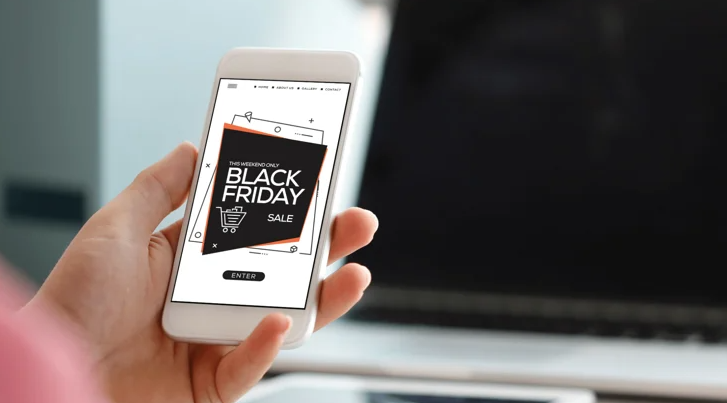 The dynamic duo of BFCM (Black Friday & Cyber Monday) are the main targets for the shoppers to visit the eCommerce web apps and marketplaces to get the biggest discounts of the year. This surge in traffic keeps the eCommerce businesses and eCommerce digital marketing services providers on their toes. At the same time, it represents an incredible bunch of opportunities to increase traffic, conversions, customer loyalty, and branding.
Staggering Stats for Sales on BFCM & Christmas
According to

Shopify

, last year's global sales totaled $6.3 billion during BFCM, and 47 million shoppers purchased from Shopify-powered businesses. 

Moreover,

Adobe Report on Holiday Season 2022

reveals that eC

ommerce revenue reached $211.7 billion during the 2022 holiday shopping season. Nearly 10% of those sales occurred on Black Friday & Cyber Monday only.

Consumers spent over $9 billion on Black Friday and over $11 billion on Cyber Monday.

National Retail Federation's annual survey

reveals that more than

148 million

consumers planned to shop in-store and online on the last Saturday before Christmas.
Ask Yourself: "Is My eCommerce Business Ready?"
It is crystal clear that the holiday season 2023 is destined to grow your eCommerce business. The sales and revenue are going to blow up and shadow the numbers for the rest of the year combined. 
But when? Only if you, as an eCommerce business owner, are well prepared, understand the eCommerce holiday season 2023 trends, and strategize accordingly in advance. 
It becomes even more crucial if you are a startup or an SME, as you will have to compete with the big fish, too.
Not feeling ready yet? No worries, you still have time. Let's see how!
Experts' Corner: Recommended Trends to Grow Your eCommerce Business
To help eStores like you, we have made a checklist to grow eCommerce sales in the holiday season of 2023. 
But first, let us see some expert recommendations to follow this year.
1. Why Start Early in October? Bracing Yourself for Shopping Rush.
Numbers do not lie, right? National Retail Federation (NRF) reports that in 2022, 54% of shoppers began researching and purchasing gifts before Thanksgiving. 
By starting ahead of your competitors, your brand will benefit from increased organic search traffic. October 2023 is considered to be a perfect time to kick-start marketing campaigns with holiday-themed content, promotions, and product visuals. 
This will help you leverage the surge to attract potential customers by the last week of November when the actual rush chips in. With the right guidance and planning, it is time for you to reap the rewards in December if we sow the seeds correctly in October 2023.
Here is what you can do to ensure smooth operations and sustainability:
Inventory Planning:

Pile up your stocks in advance to meet and handle the rush in customer demands in the form of orders.

Early Marketing Campaigns:

Start pre-holiday marketing to leave a lasting impression and capture the attention of the early shoppers. They'll spread the word to their network, too.

Customer Engagement:

Prepare a robust and proactive customer service team and strategy to respond to product/order inquiries. It will boost customer loyalty and bridge the gap between your brand and customers.
Benefits you could get by early planning & execution:
Increased online sales → revenue

Competitive edge

Efficient inventory management

More marketing opportunities

Flexibility for contingency

Better budget management

Data-driven decisions to complete conversions
2. Omnichannel Experience: Intertwining Online-Offline Shopping.
A strategic eCommerce ecosystem was created to deliver a seamless and integrated shopping experience between online channels. 
For example, a customer can access information or take action (order, checkout. etc.) via a mobile app, web app, social media platforms, or even a physical store and finish the journey through any other channel out of these. 
Omnichannel eCommerce marketing empowers you to use multiple channels to reach a customer. But here is the best part – Each touchpoint can be managed uniquely with a different strategy.
The statistics outlined below show the importance of Omnichannel Strategy Implementation in your eCommerce business to grow:
It's worth mentioning that by expanding to three or more channels, companies can boost their order rate by a substantial

494%.

The average retention rate for fashion retailers with an excellent omnichannel strategy is

89%

, compared to 33% for those without.
Here's what you can do to grow your eCommerce business in holiday season 2023:
Integration:

Deliver seamless, cohesive, and integrated buying experiences to your customers by aligning online channels.

Unified Pricing:

Ensure pricing consistency for all your products across every channel that exists. It is vital to build trust.

Cross-Promotion:

Cross-promotion really helps as it boosts your offline presence, online visibility, and branding across all digital platforms.
Key Advantages of an Omnichannel Operations
Enhanced customer outreach

Increased engagement, conversions, and profitability

Improved customer loyalty

Boost in-store footfalls
3.
Conscious Consumerism: Going Green & Being Empathetic.
Sustainable fashion is taking over customers' hearts in 2023 already. Celebrities are idols of Gen Z and millennials, and the impact of what they say really drives consumers' buying behaviors. 
The concept of ethical conscious consumerism drives the global awareness about eco-friendliness, carbon footprints, green packaging, carbon-neutral shipping, etc.
A survey by IBM Institute for Business Value found that 51% of their respondents are willing to change their purchasing habits to help reduce their environmental impact. As a result, eco-friendly product lines are becoming central to marketing strategies. 
Things YOU can do:
Market In-house Sustainability:

Showcase that your business is adhering to eco-friendly practices, product sourcing, and packaging.

Implement Transparency:

Clearly communicate your sustainability initiatives to the audience to install impenetrable trust.

Green Marketing:

Create meaningful content to infuse your marketing materials with sustainability messages to reach conscious consumers' minds.
These are the top 3 recommendations from eCommerce marketing experts of QE Retail. Let us move forward to the to-do's of the Holiday Season 2023.
Grow Your eCommerce Sales During Holiday Season 2023
1. Analyzing Past Performance: Reviewing Last Year's Sales and Marketing Strategies 
Fetching meaningful insights from your last year's marketing campaign, regardless of whether it was a success or a failure, will help you create enhanced campaigns in 2023 to meet your customers' expectations.
Identify the channels that soared up traffic on your web app or mobile app, gave you maximum conversions, and resulted in maximum ROI. Evaluate all the channels in terms of net spending and ROI. This will help you skip the channels on which you run paid marketing campaigns. Instead, spend that money elsewhere.
Ask to yourself:
What were my successful marketing campaigns?

Which product categories were hot favorites?

Which days generated the most traffic?

Which channel or traffic source has proven to be the most profitable?

What was the total revenue generated during this time period?

What was my average order value?

Which keywords worked well for my paid campaigns?

Which competitors performed better and what did they do?
Aggregating proper and precise data from the holiday eCommerce trends in 2022 and marketing campaigns will deliver detailed insights to move forward in 2023.
2. Optimizing eCommerce App Performance to Deliver Ultimate Buying Experience
Customers will not think twice to jump the ship in case of a site failure. 
Get the hold on top QA & software testing professionals to conduct performance testing, load testing, usability testing, and accessibility testing. This will help you find out how well your eCommerce web app will behave on peak traffic days like BFCM and Christmas. In any case, create a backup plan to get your site up ASAP if it goes down. 
What do you need?
Fine-tuning and curating your product pages, listings, etc.

UX design experts to optimize & add holiday-theme store look & feel.

UI design to create a clean UI for holiday shoppers to drive conversions.

Mobile-ready eCommerce website design and development.

SEO optimization is to be done beforehand.

Make sure your website can handle load and traffic.

You have enough products in stock.

Create holiday-specific category pages (Black Friday Offers, Cyber Monday Offers, Boxing Day Offers, Gifts for Men/Women/Moms/Dads, etc.).
3. Get in There to Save Cart Abandoners
This has been an ongoing issue the eCommerce businesses, and it shall be no different for you, too, right?
As per the Saras Analytics eCommerce industry report, the average cart abandonment rate is around 69.57%. This depicts that nearly 7/10 customers who add items to their cart do not complete the purchase. A proven solution is using a clean exit-intent popup to win them back.
Exit-Intent Popup Example: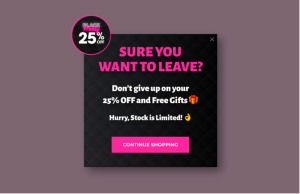 Sending abandoned cart recovery emails is another great way to remind customers of the items they left in the cart. 
You can offer some additional discounts or rewards and set a timeline to complete the purchase to avail them of.
For example:
A banner like the one above can be used to engage the customers directly, showing a countdown on the clock. Additionally, an offer can be seen in the button text that triggers customers to take action.
4. BNPL (Buy Now Pay Later) & BOPIS (Buy Online Pick-up In-Store) Business Models
This is the most intriguing payment solution for the majority of the customers, and it really has encouraged them to finish the purchase.
The consumer demand is winning the race here. As inflation soares on the global level, a stunning 35% of millennials alone are considering choosing the BNPL option to stretch their holiday shopping budget. –

Payments Dive

reports.

Moreover, eCommerce brands that offered the BOPIS model grew revenue nearly

7x faster

than the rest.
Evaluate your business models and consumer behavior, and you can implement BNPL and BOPIS models into your ecosystem if they fit well.
5. Personalizing Website Specifically for Special Days Like BFCM
When traffic is at its peak, you can get the best out of a personalization strategy. Gather meaningful data about your visitors when they land on your website page. 
Now, what data can you gather? Get some ideas from the examples given below:
Geographic location

Where they arrived from 

The landing page they landed on

Full browsing history on behalf of them on your domain

Purchase history

Browsing time

Wishlisted products. Etc.
Based on these details, you can create a personalized store experience for specific customers and wow them. You can send them emails by showing a timeline with handsome offers, and once they are redirected to your website, BOOOOOM! 
You can personalize their experience by displaying recommended products, products from history, etc., with reminder bars with a countdown till the offer stands.
Image referring to Product Recommendations is shown below: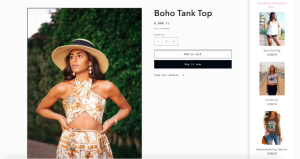 Image for Sticky Bars Displaying Timer & Discount:

6. Setting Up Effective Email Marketing Campaigns: Creating Targeted Messages Boosting Conversions 
We say you will have to be on your toes for this. As active as you might be on social media campaigns, you have to be working out on your email campaigns for the holiday season 2023. Target your previous buyers, potential buyers, etc., by generating meaningful and targeted content to start communicating at the earliest.
Your emails should convey a clear message to make an early purchase with handsome offers and to avoid missing out on products and standing in long queues. Do not forget to include deadlines or countdown clocks in your promotional email banners. 
A Great Example to Promote a BFCM-like Offer is Shown Below:

7. Setting Up UTM Tracking for Paid Campaigns
UTM links encompass parameters used for tracking and analyzing marketing campaigns. It helps digital marketing experts determine which paid campaigns drive traffic and conversions to optimize marketing strategies precisely. 
During the holiday season 2023, where the marketing spend will also increase, UTM parameters help you measure the return on investment (ROI) for each paid campaign. This will ensure that your advertising budget is directed toward the campaigns that provide the best results. 
You can monitor campaign performance in real-time with UTM links. In case of underperforming campaigns or keywords, you can make instant tweaks to maximize results. This is a great way to optimize budget and net spending on marketing efforts.
UTM tracking helps boost eCommerce sales by providing data to:
Identify & continue with effective marketing channels.

Segment and target audiences.

Test and optimize paid marketing campaigns.

Precisely calculate ROI to allocate the campaign budget.

Personalize user experiences.

Acknowledge weak points in the sales funnel.

Leverage data-driven decisions for continuous improvement.
UTM setup and tracking will help you drive better results for your eCommerce business. 
Some Other Quick Tips for eCommerce Business Growth in Holiday 2023
Customer Support:

Ensure customer support is readily available during peak shopping times. Prepare for an increase in customer inquiries and complaints.

Payment Gateways:

Offer multiple payment options, including digital wallets. Ensure payment processing is smooth and secure.

Security Measures:

Hire eCommerce experts to implement robust security measures to strengthen website and customer data protection at peak times.

Post-holiday Planning:

Develop a holistic strategy for post-holiday season 2023 sales and inventory clearance. Collect customer feedback to improve in the future.

Loyalty & Retention Program:

Plan a loyalty/rewards program to incentivize repeat purchases. Send personalized messages and holiday greetings with some futuristic offers.

Smart Analytics:

Set up tracking for key performance metrics using tools like Google Analytics. Monitor website traffic, conversion rates, and sales data in real time.
Conclusion: Embracing the Opportunity & Grow Sales
These are the proven eCommerce trends for the holiday season 2023 that our experts have explained above. But let us not forget that every eCommerce business will have unique strengths, weaknesses, goals, requirements, and marketing ideas in the upcoming holiday season 2023. 
You have to be adaptive, innovative, and proactive to make calls to use these trends in your eCommerce ecosystem to monitor the sales and performance in real time. 
Do not forget to download the detailed checklist here for your quick reference.
Need an Expert's Help? Partner with QE Retail to Build a Proven eCommerce Strategy!
Being a top eCommerce solutions company, our team offers end-to-end eCommerce solutions with proven experience to design a customized strategy that suits your business and meets your goals.
When you choose us, our eCommerce experts will dive deep to understand your business, products, and target base to plan and implement the right organic or paid eCommerce marketing strategy for the holiday season of 2023. 
We have been offering fully managed eCommerce services to enterprises, SMEs, and startups, covering 360-degree needs for brick-and-mortar retailers looking to build a digital presence.
Talk to our experts to learn more about our eCommerce capabilities and see our work.