High search engine ranking in organic results play an important role in the success of an online store. Good design and user-friendly functionality can convert your traffic to buyers. But, what if you are not getting enough traffic in your store? eCommerce SEO is the solution.
You need an effective eCommerce SEO strategy in place if you want to generate maximum traffic for your store. Still wondering whether if SEO can still help in driving traffic to your store? Below statistical report can help –
As you can see, Google organic is the highest traffic generating source.
75% of users never scroll past the first page of search results. So, the goal should be to achieve ranking on the first page of organic search results through relevant keywords.
How to accomplish this goal? By ensuring that below-mentioned eCommerce SEO practices have been taken care of for your online store –
Keyword Research
The keywords relevant to your business and having high search volume should be used in the content of your eCommerce website. How would you know that which of your keywords are highly searched?
For that, you can use Google's Keyword Planner. Ensure that you use keywords with high search volume so that your website gets ranked with those keywords and get maximum clicks.
Content Optimization
After keyword research next comes using those keywords in your website content. Your online store website content includes –
Meta Title
Meta Description
Heading Tags
Alternative Text for Images
Product Description
Descriptive Web Page content
Ensure that all the above content includes the keywords which are having high search volume and also relevant to your business. Driving relevant traffic would yield effective results otherwise your bounce rate would go high and is not going to help anyway.
Easy Navigation
Having easy navigation not only benefits your user experience but is also good for search engine crawlers. Segmenting products in categories and subcategories is very important as it helps in finding the products in your store easily.
Moreover, having breadcrumbs on category and subcategory pages is also required as that helps search engine crawlers to navigate through even those pages also which have not been linked from the Homepage.
Search engines algorithm these days gives the highest importance to the user experience. The search option on the top facilitates your visitors to look for the products they are unable to find from the navigation bar. Ensure that your search option has been placed on the prominent spot easily viewed by your visitors.
Quick Loading Speed
One of the most important ranking factors for your eCommerce store is its loading speed. Search engines give preference to those online stores which get loaded within 3 seconds on various platforms and devices.
You can use using Google's PageSpeed Insights to check whether your website loading speed is as per search engine standards or not.
Optimizing for Mobile
As per Google's latest development named as mobile-first index – Google would determine the ranking of your website based on the user experience you provide on mobile devices. Most of your audience is now using mobile devices to browse and shop from your eCommerce store. So, the fact that your eCommerce website should be mobile-friendly cannot be neglected.
Just go through preparing for Mobile-First Index to achieve high ranking in search engines. Here, you will get information about how to improve mobile UX and visibility of your mobile site in search engines.
Schema.org
You might have noticed the rich snippets which appear below the page title in SERPs. (The below image can make the concept of rich snippets clear.)
These rich snippets are outcome of schema.org tags which can be added to website HTML. It changes the way search engines read and represent your content in SERPs.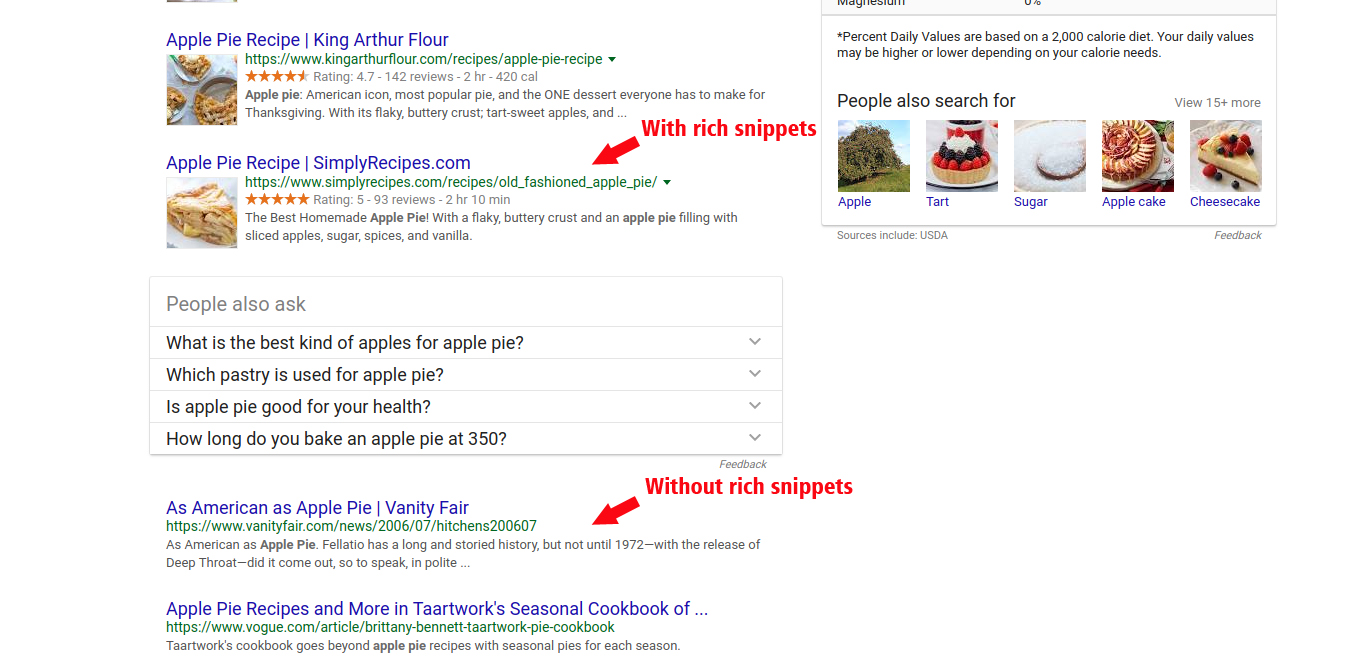 Search engines give preference to the websites having schema.org tags executed in their website code. It not only improves ranking but also boosts CTR and conversions.
Blog
A blog which is frequently updated and includes long-tail keywords relevant to the products or services you provide possibly can achieve high ranking in SERPs. Ensure that you have hosted your blog in the same domain as your eCommerce website. All the inbound links and traffic you get on your blog would benefit your online store too.
For more information on this, you can go through – The Significance of eCommerce Blog Design for your Online Business.
Social Media Integration
Social sharing buttons on product pages can help the visitors to share the products they like on social media platforms and attract new prospective buyers.
Social media integration is a leading approach towards targeting new customers and improving traffic. The search engine algorithm considers the website to be relevant to the users if it has improved traffic and thus ranking gets improved.
Voice Search
With the increased popularity of Alexa and Siri, the requirement of your eCommerce website to be voice search friendly also increases. With the use of right long-tail keywords and structured data of your website, your store can be an answer to voice search queries done on search engines.
For more details, you can go through – 5 Voice Search Optimization Tips to Prep Up your Website for 2018.
User-Generated Content
User-generated content is one of the best ways to enable your website to rank through long-tail keywords and improve the reputation of your brand.
People tend to make purchase decisions quickly if they find positive product reviews about your products. Whether this user-generated content is in the form of product reviews or comment on a blog, but if it is praising your product or business, then definitely you can benefit out of it.
Live Chat Integration
Have you got live chat integrated on your eCommerce website? If not, then you better get it done. Search engines also give preference to the websites having live chat integrated because they consider those websites to be highly user-friendly.
Moreover, through live chat integration, you will be able to solve your customers' queries instantly and help them in taking decisions relating to their purchases quickly.
Strong Call to Action
A strong call to action whether on Homepage or the product page, it convinces users to click and convert. The conversions on an online store and search engine ranking are interrelated to each other.
If your online store conversions are high, your brand reputation improves resulting in high search engine ranking. If your store is ranking in the top 10 results, obviously your CTR improves resulting in high conversions.
Payment Options
Providing multiple payment options means better conversions because that improves user experience on your website. The criteria for search engines to rank a website on top is based on the user experience.
The better user experience you provide, the higher possibility you have for your online store to rank in the top 10 organic search results.
High-End Security
Is your online store secure enough to keep your customers' data confidential? Do you have security badges displayed on all the important pages of your eCommerce website? If no, then you need to get that done as your audience would be reluctant to buy from your store if it is not secure.
Provide your audience a safe shopping experience to help them return back to your store for future purchases. This would enhance your brand popularity and improve your search engine ranking.
Easy Checkout
Always keep the checkout process easy for your customers. Don't give them a hard time by asking a compulsory account creation on your eCommerce store. The easier checkout process you have, the better conversions you would experience.
With easy and quick checkout process, you would also earn brand loyalty which would help you in accomplishing your goal of high search engine ranking.
eCommerce SEO: A Never-Ending Checklist
SEO for an eCommerce website is a never-ending process and so its checklist. might seem to be complete today but may not in future.
But, at least if you are optimizing your website as per the eCommerce SEO checklist given here, you are definitely going to get positive results in terms of high search engine ranking.
Till then, we would keep on updating this checklist with the latest search engine optimization trends, so just stay tuned!!!