Referral marketing is not a new concept. It has been there since the age of traditional marketing. People used to refer to their family and friends to purchase from a particular shop. Though it wasn't openly talked about then, it earned those customers benefits like discounts on the product. The practice encouraged the customers to make more references, which took it to the next level, i.e., eCommerce Referral Marketing.
When talking about referral marketing, the name that immediately pops-up in mind is PayPal. The company that started online referral marketing when social media wasn't even in the picture. PayPal started this off by paying its customer for sending invites to its friends to use PayPal. This brought a huge benefit to the company, growing its customer database to 1 Million within a year.
What is Referral Marketing?
Referral marketing is an approach in which the existing customers promote your business to their friends and family and encourages them to use your product. This can be done in many ways, such as sending invites to the contact, promoting on social media, or word of mouth.
Referral marketing works excellent for eCommerce companies, improving their business and customer base. Referral marketing also makes a considerable contribution to website traffic as well. Higher website traffic leads to better website ranking – one of the most desired things for an online business. Hence the companies opt for various marketing strategies to strengthen their online presence. eCommerce Referral Marketing is one of them.
6 Most effective eCommerce Referral marketing Strategies to use for Better Exposure
Referral Marketing proves to be an extremely productive marketing approach. The reason behind such popularity and effectiveness of referral marketing is the trust that the customer holds for their family, friends, and other verified customers. 92% of customers prefer the recommendation made by their family and friends more than any advertisement.  Considering the fact, companies have already started to include it as an essential part of their business. There are many strategies that you can opt for to make the most out of referral marketing.
The incentive works great for eCommerce referral marketing. You can offer incentives to your customers for referring their friends to your store/product. Incentives can be in the form of cash, discount, or points, which they can redeem in their future shopping. Paypal also followed the idea of incentive; but, with a slightly different strategy. According to Elon Musk, initially, they used to offer $20 to the new joiners and $20 on referring anyone.
Also, an eCommerce store called The Clymb, which is known for adventure related products, practices eCommerce referral marketing in their business. The Clymb offers $15 to their customers to promote their company by referring it to their friends.
Source: https://www.referralcandy.com/blog/clymb-referral-program/
You can also offer a discount to your customers on the referral, as Woolovers does. Woolovers provides a discount to the existing customers for referral marketing and gives rewards to the new customers.
Source: https://www.referralcandy.com/blog/47-referral-programs/
You can also offer some extended services to your customers on making references to their friends. The lucrative offers, like extended warranties, account upgrades, customized offers, etc. tend to attract the customers to invite their friends to get the services for free.
For Example, A software company called Prezi offers a three months upgrade for free in the return of three customer references. Along with the website traffic and more significant customer base, the offers also increase customer engagement to your website.
Source:https://www.business2community.com/marketing/51-best-referral-program-examples-2016-01685197
Make sure you know the pain points of the customer, just like storage space for Dropbox. Dropbox knows the customer's need, hence uses it in their referral marketing. Dropbox offers 16 GB extra free storage space at the rate of 500MB/reference to its customers on making references. The program took its customer base to 40x in 15 months.
Source: https://viral-loops.com/blog/dropbox-grew-3900-simple-referral-program/
Gifts and rewards always encourage us to do something better. Similar is the case with eCommerce referral marketing. The companies also opt for providing gifts and perks to their customers on promoting and inviting customers to their website. There are many creative ways that you can use to give gifts to your customers, such as based on the number of customers coming through their reference, some exclusive gifts for the customers, etc.
For Example- Tesla offers rewards for both referral and the one using the reference link. Along with the cash rewards, Tesla also gives a chance to the customers to win a roadster car as a gift for the customers to invite their friends and family to try out the product/services.
Source:https://www.theshelf.com/the-blog/10-examples-brands-with-referral-programs
No matter how perfect you are, you can never be liked by everyone. As referral marketing works on the customer, you need to be aware of the interest of your customers. You can categorize your customers on the basis of their response and interest in your business. To do this, you can conduct a Net Promoter Score(NPS) survey for your customers. Based on the score provided by the customers, you can form categories, such as –
Source: https://www.netpromoter.com/know/
9-10 Scorers
The customers who grant 9 and 10 scores on the NPS scale to the product and services, come in this category. These customers are called as the promoters of the business, who actively take part in your offerings. Hence they can be used as a referral for your business.
7-8 Scorers
These are the customers who grant 7-8 scores to your company. Considered as passive customers, these customers are generally the unenthusiastic ones, who do not like to take part in your offerings.
0-6 Scorers
These customers are called the Detractors. They are the ones who award 0-6 scores to the company and are the least interested in your company. They are unhappy customers who will never promote your business.
These scores give you an idea about the customers who you should consider for referral marketing. This provides direction to your marketing strategy, producing better output.
Include Social Media Influencer in the Referral Program
Social media can prove to be a perfect place for E-Commerce referral marketing. With the total 3.96 billion Global social media users, Social media gives a better exposure of your business. There are many social media influencers present in the market who can help you with this.
To start with, you need to do research about social media influencers and jot down names based on their popularity. Approach these influencers to promote your business among their followers. To encourage them for the same you can offer some reward or a part of the sale coming from their friends. Some of the influencers have their pre-defined charges as per the social media platform.
Webfx, through its research, came up with some really helpful stats related to the influencer marketing rates going on in the market.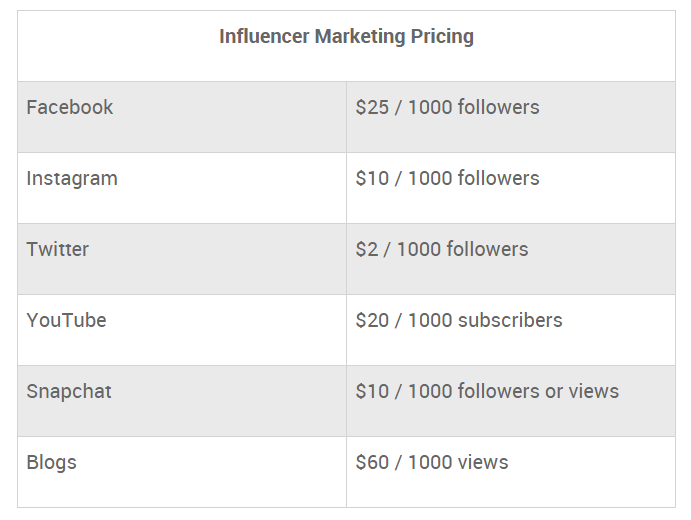 Source: https://www.webfx.com/influencer-marketing-pricing.html
Include Affiliate Marketing
This is one of the most critical step of eCommerce Referral marketing. After a while of using various strategies of eCommerce referral Marketing and paying your referrals at a consistent rate, you need to evaluate the process. Based on the result, you should start dropping the rate and start including Affiliate Marketing. Consistently following the same strategy and paying such a huge amount to each referral, may slowly take your business to loss.
Affiliate Marketing is a process in which, unlike referral marketing, the people other than your customers give recommendations for your product and services. 8 out of 10 companies use affiliate marketing, including eCommerce mammoths like eBay, Amazon, Etsy, etc.
Ready to commence eCommerce Referral Marketing for your Business?
The eCommerce referral marketing program proves to be a highly productive marketing approach. Referral Marketing tends to be a very cost-effective process that can help you achieve better leads and dedicated customers.
The most powerful tool can also turn to the useless device, if not utilized properly. You have to be careful and vigilant throughout the process. Hence, before hopping into the process, make sure to do thorough research of the market . Research is the only thing that can help you to stand out among your competitors. This gives you an idea to design an efficient flow of the process.
Choose the incentive that you want to offer to your referrals. Make sure it goes with your budget and has a good performance record. Along with the type of incentive, you should also determine the best time to start the eCommerce Referral Marketing. The last and most crucial step, keep tracking the performance of your marketing program. And that's it!
Related Articles