An eCommerce store is just a few clicks away when you have hosting solutions like Shopify. For your ease, we've compiled a list with 40 best Shopify stores you can take inspiration from. Whatever industry or product category you're planning to take online, this list can become your one-stop destination with top Shopify stores! 
The list encompasses some of the most successful Shopify stores from varied industries. The categories we've tried to include are best Shopify clothing stores, skincare stores, food & beverage eCommerce stores, accessories, household buys, travel, jewelry, and Shopify store examples that have multiple and combined product ranges. The list also contains the most popular Shopify stores that are from famous celebrities and global brands. 
Each of these 40 Shopify stores has its unique offering which caught our attention and got a spot in this list. From the eStore theme to its visual appeal, content, beautiful color palette, product descriptions, call-to-action-buttons, pop-ups, categorization, sorting, branding, user-friendliness, page navigations, layout, and many such elements are taken into consideration. Just brace yourself up as we start this list and note down the points you like the most to integrate them on your own eCommerce store later.
The List of Best Shopify Stores
Category/Industry – Home & Kitchen
We Liked – Apart from a neat and beautiful homepage layout, what we liked the most about this Shopify store is its positioning of the blog, recipes, products, and Instagram feed, all on the homepage itself. In spite of having different inner pages, the major highlights of the store are right in front of the visitors. Try keeping your homepage as neat as possible by focusing your major offerings, just like SoYoung did!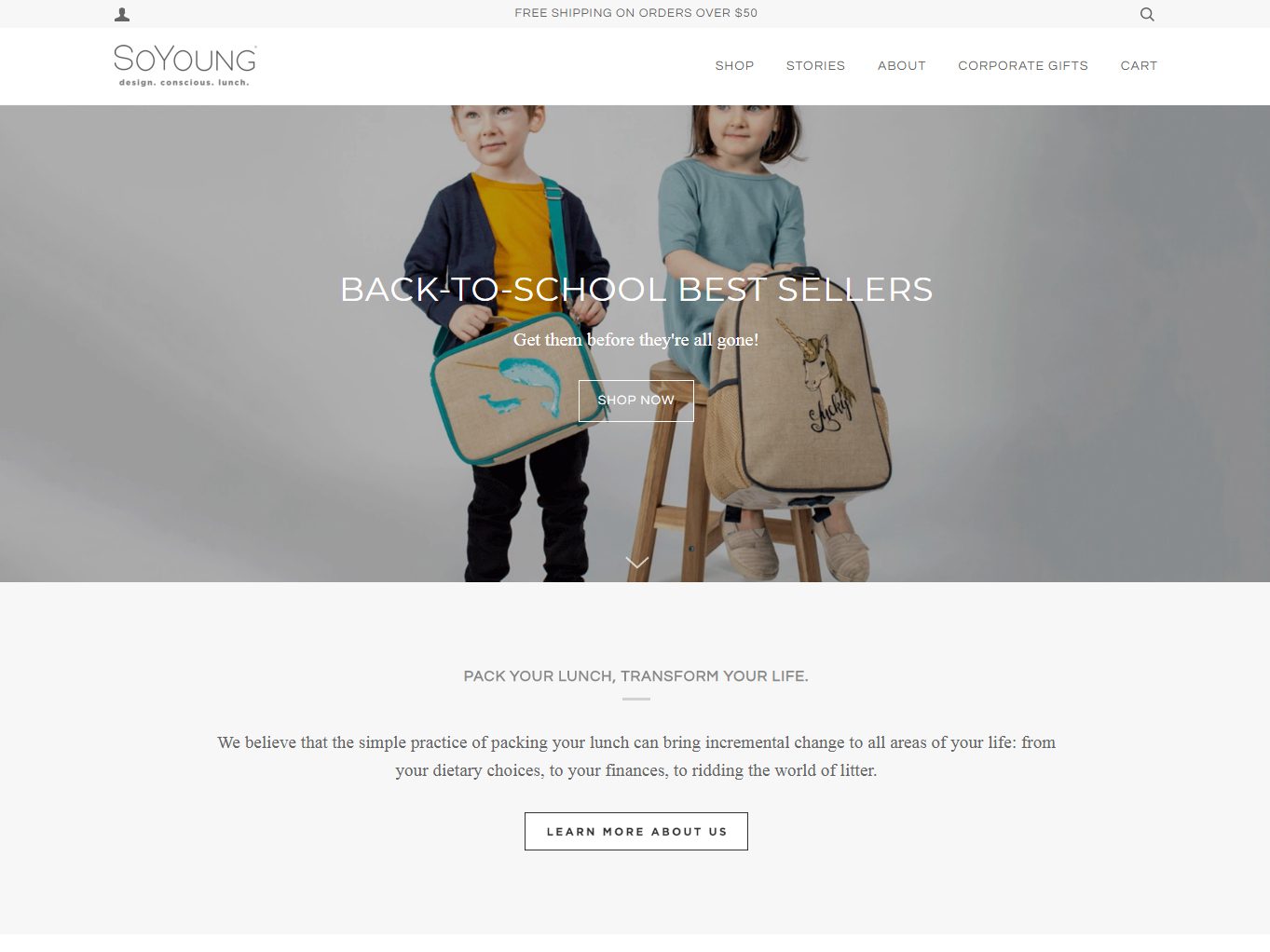 Category/Industry – Home Decor
We Liked – This luxury bedding & bath brand has a very unique appeal to its eCommerce store. Unlike other shopping stores, they aren't highlighting the products straight on their homepage. Instead, they've highlighted the services, brands, and concepts they're following. A major attraction for us on this Shopify store is its lookbook page and how well they've portrayed the entire collection. Their service and product pages are goals too!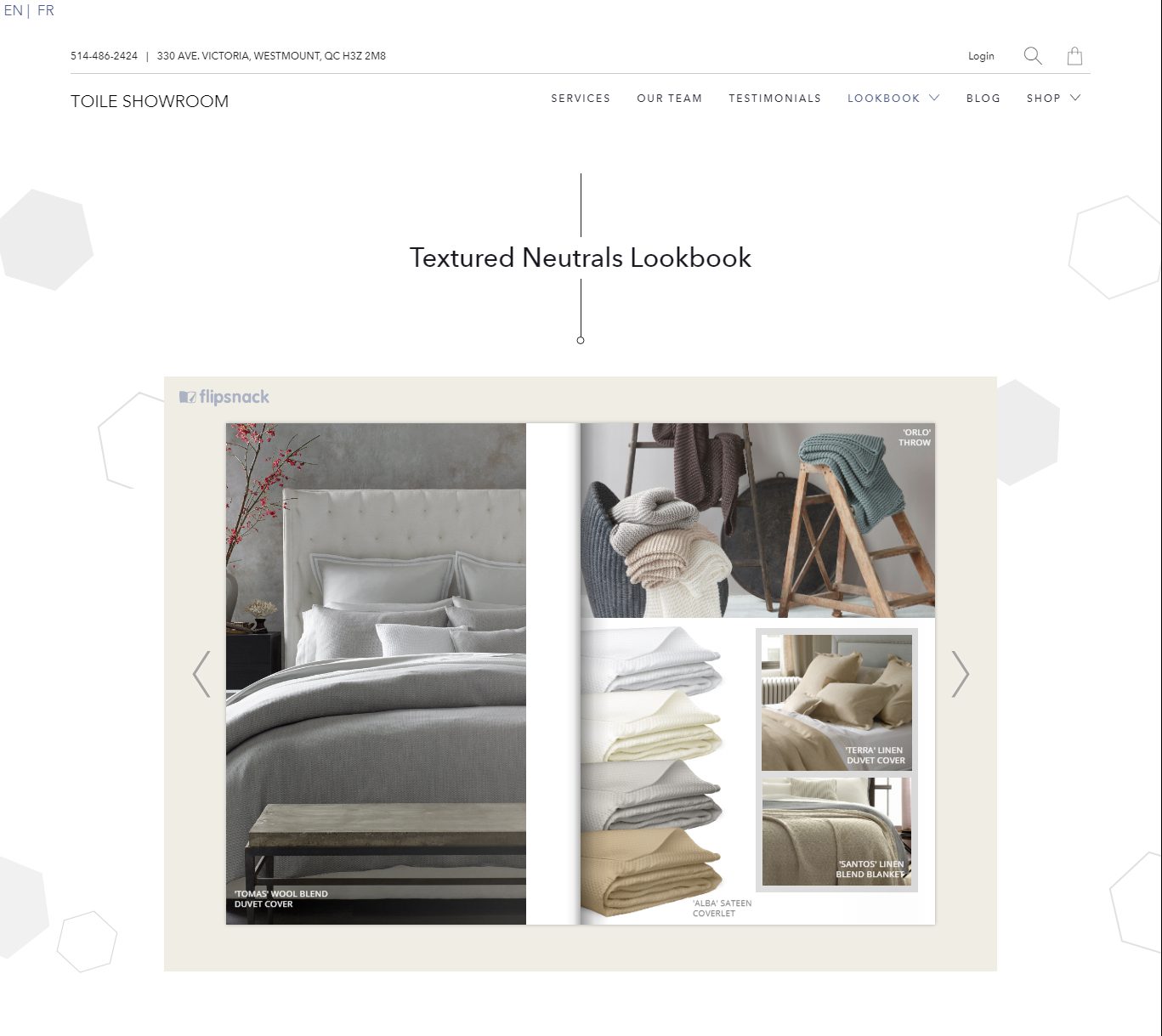 Category/Industry – Home Decor/Accessories
We Liked – There are three things we liked about this Shopify store; the currency exchange option and free shopping banner in the header, a separate 'wholesale inquiry section' at the end, and smart product categorization (including the 'last chance' section). The store gives a clean appeal with beautiful product photography.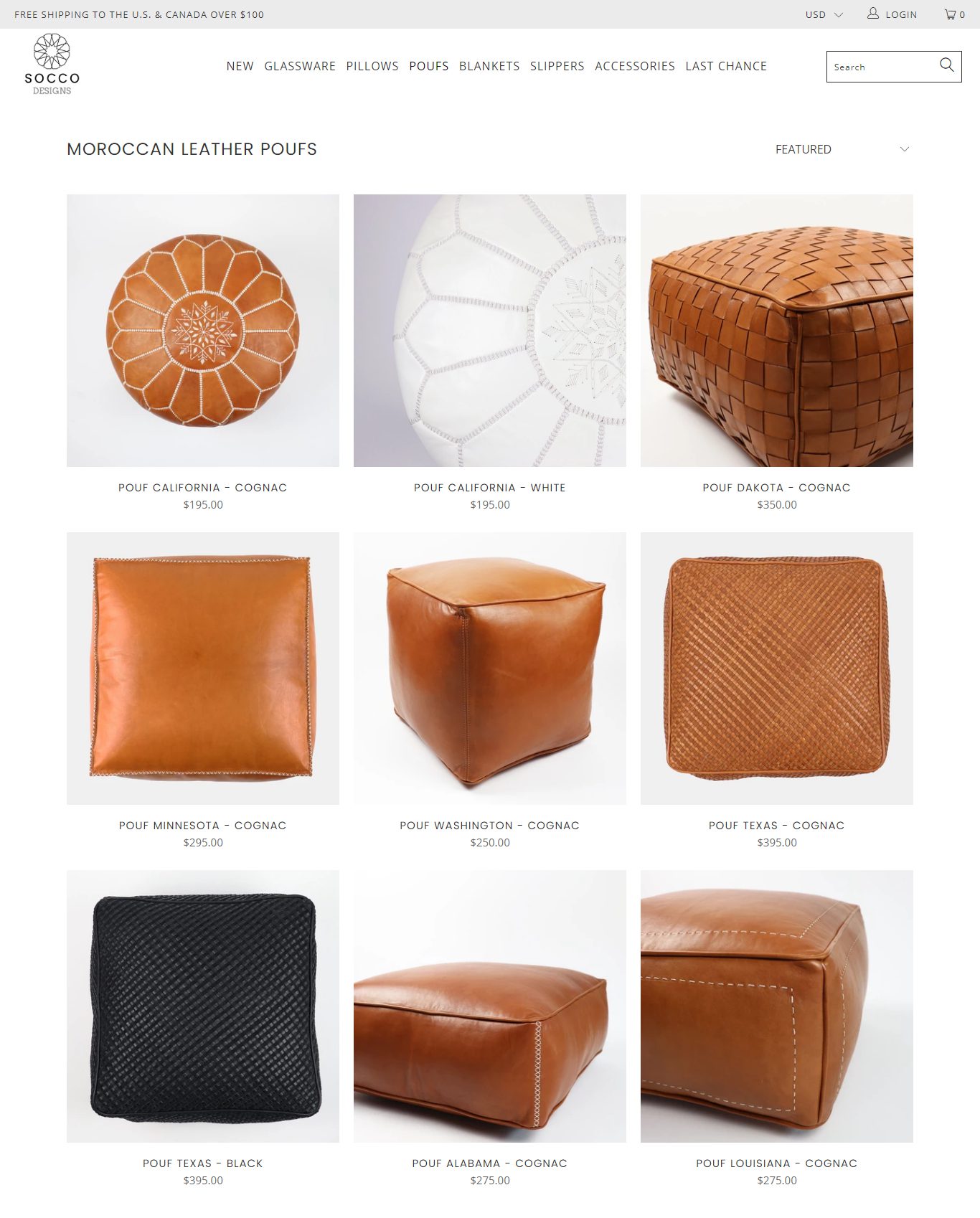 Category/Industry – Home & Kitchen
We Liked – This eStore made on Shopify has the sleekest design combined with awesome photography. In spite of having a handful of products to offer, the way of displaying them is amazing!

Category/Industry – Everything!
We Liked – The New York Times is a brand that needs no introduction. They chose Shopify to be their hosted service providers and developed a wonderful eStore for branded goods. The key factor of putting this eCommerce store in this top Shopify list is its branding. Every good they provide have logos, slogans, and a touch of NYT to them. Check out their accessory page below.

Category/Industry – Women's Clothing & Accessories
We Liked – The Runway Catalog clothing Shopify store has a feature of a 'Quick View' for its all the products and not only that, it shows you the product images in a consistent, white and elegant background. In an eCommerce store, the major setback is to not being able to make the buyers feel the products; in this case, Runway Catalog makes sure to put an image with a model wearing the product they're showcasing. If not much, then also with this feature, buyers can have a brief idea about how it would look on them. A plus point!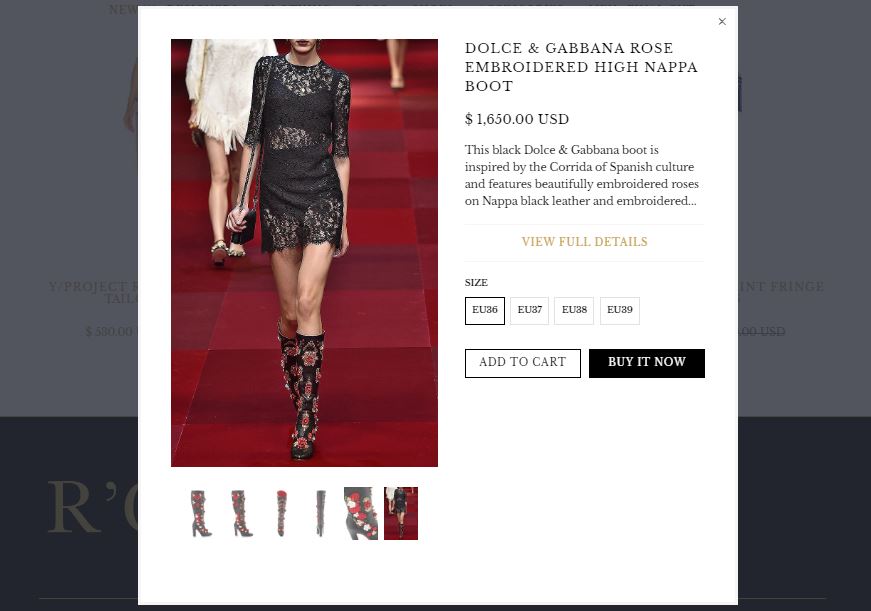 Category/Industry –
Women's Clothing & Accessories/
Home Decor
We Liked – eCommerce personalization is the key to stand out in this highly competitive world. Once an eStore visitor becomes your regular buyer, machine learning will help you know about the user preferences. But what about the first time users? Here, Oak+Ember Boutique provides a personalization by showing similar category products to keep users engaged. One of the factors why we love Shopify store layouts!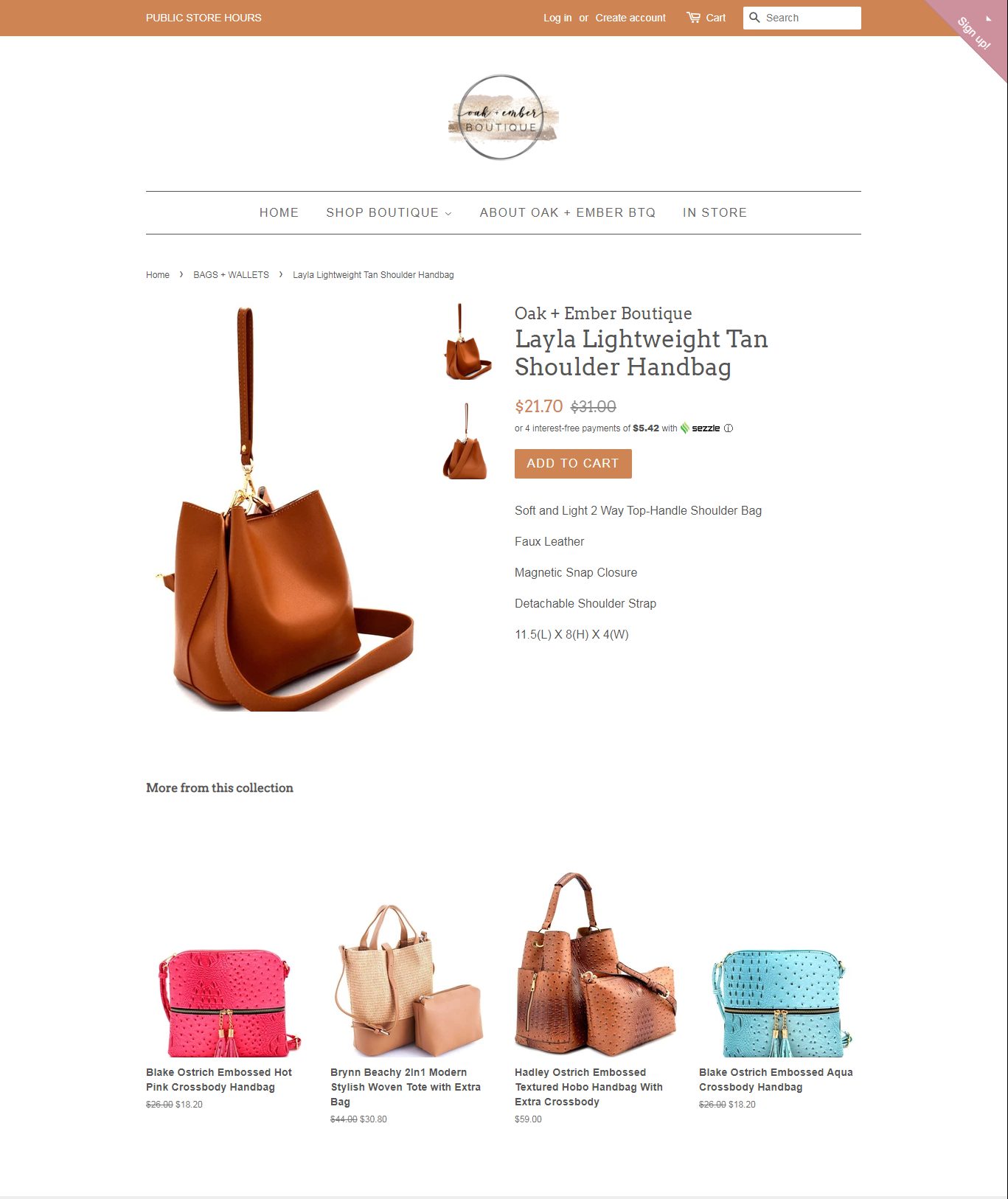 Category/Industry – Women's Clothing
We Liked – This clothing Shopify store, offering Bikinis caught our attention at its 'quick shopping' page. Reviews and ratings from fellow buyers are major purchase boosters. Providing them right below the product page gives you bonus points! People want to know what others are saying about the products and putting the ratings for their ease will increase the credibility of your eStore.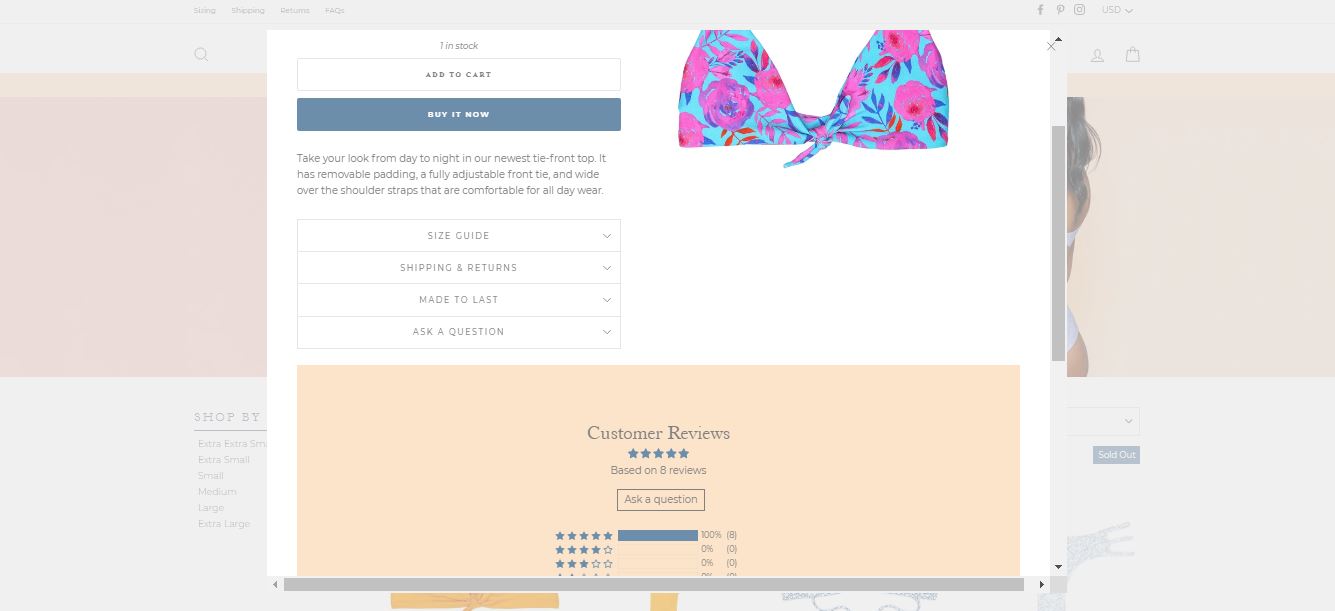 Category/Industry – Men & Women's Clothing 
We Liked – This Denim brand is using the Shopify features in most creative ways possible. It is a best practice to showcase your social icons on your eCommerce store, but MAVI has interestingly displayed their Instagram pictures where visitors don't have to move from the website and can scroll through the gallery there itself. Another highlighter of their online store is a website survey pop-up on the right corner. It asks preferential questions to improve the eStore. Quite an idea to enhance the online performance eh!

Category/Industry – Sports & Fitness
We Liked – GymShark has smartly placed their mobile application on their activewear clothing Shopify store. This smart placement combines gym apparel and workout routine application on the same page. People always expect more, and this is how you define MORE!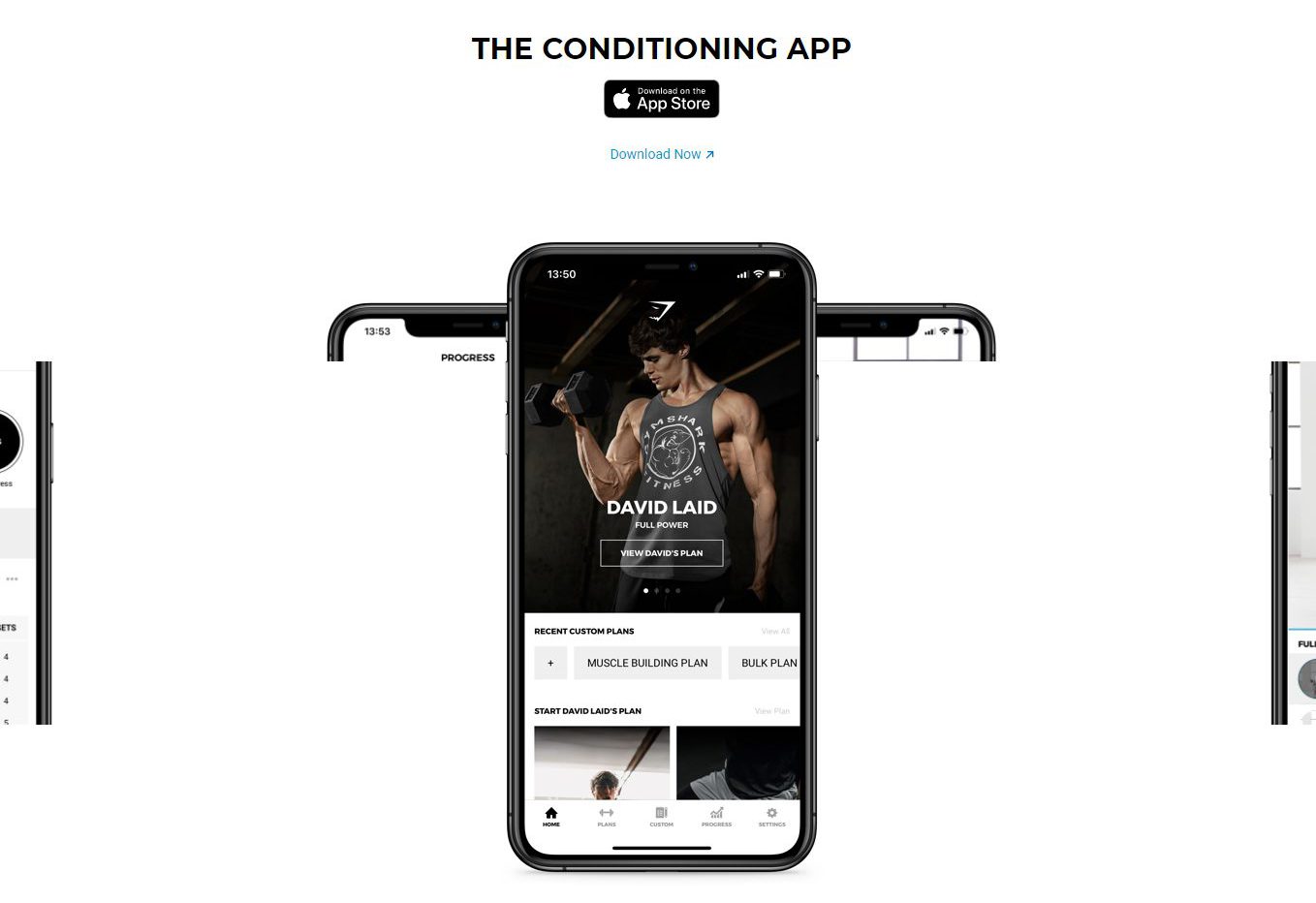 Category/Industry – Women's Clothing, Accessories, Home Decor & more!
We Liked – Fashion NOVA is one of the best Shopify stores out of our list you can take inspiration from! This fashion destination for many has some serious eCommerce store features to look up to. From its sleek design online store design, product page architecture, categorization of thousands of products under one roof, to smart personalization, everything is an inspiration. The 'Get the look', 'More cute stuff', 'suggested add-ons' and the use of artificial intelligence for identifying the gender and then offering the up-sell and cross-sell for other products and gender is commendable. In spite of a huge range to offer, the site speed is remarkable as well. See the below picture to have a clear idea.

Category/Industry – Men & Women's Clothing, Footwear & more.
We Liked – Ellen DeGeneres needs no introduction when it comes to the sense of humor, but have you checked her Shopify store out? It has a classic appeal to it and what we liked the most is it's sorting options. The eStore offers sorting options by color, pricing, size, and type. Moreover, the 'sale' section has the most clickable properties on the entire homepage. Check out!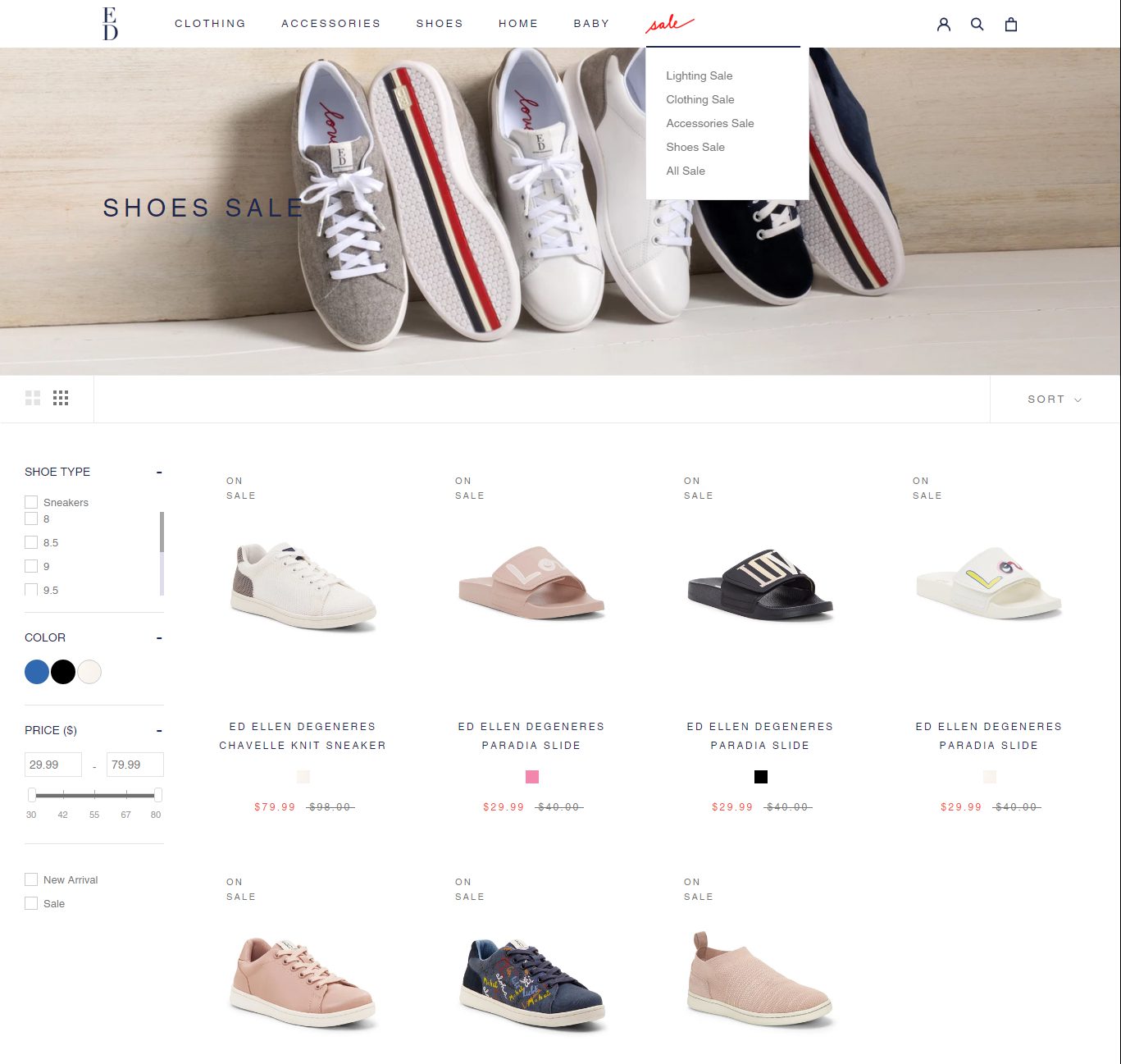 Category/Industry – Beauty & Personal Care
We Liked – Niu Body is a range of natural skincare and their eStore has their 'promises' and 'testimonials' displayed on the homepage. Not only that, the key feature they're offering is letting the users take up a 'skincare quiz'. By this, they will recommend the most suitable product from their range. The quiz mechanism is simple, but the effect is lasting! Visitors feel special when website recommends according to their skin type and if not more, then it is pretty much certain that they'd end up at least taking the test. Add some personal appeal to your eCommerce store to stand out just like Niu Body did!

Category/Industry – Outdoor Recreation – Bicycle
We Liked – Bicycle is a thing that one would want to try before buying. Unlike clothing or footwear, you cannot put pictures with other people sitting on it and make people buy them. Brilliant is a name we all know and what they did to increase online purchase is providing a 30-day 'joy ride' and highlight it enough on the homepage for visitors to notice. Not only that, the best part is their 'find you riding style' section. This way, one can examine their personal style and choose the bike. The ease of purchase is the major reason why Brilliant got its place on our 40 best Shopify store list!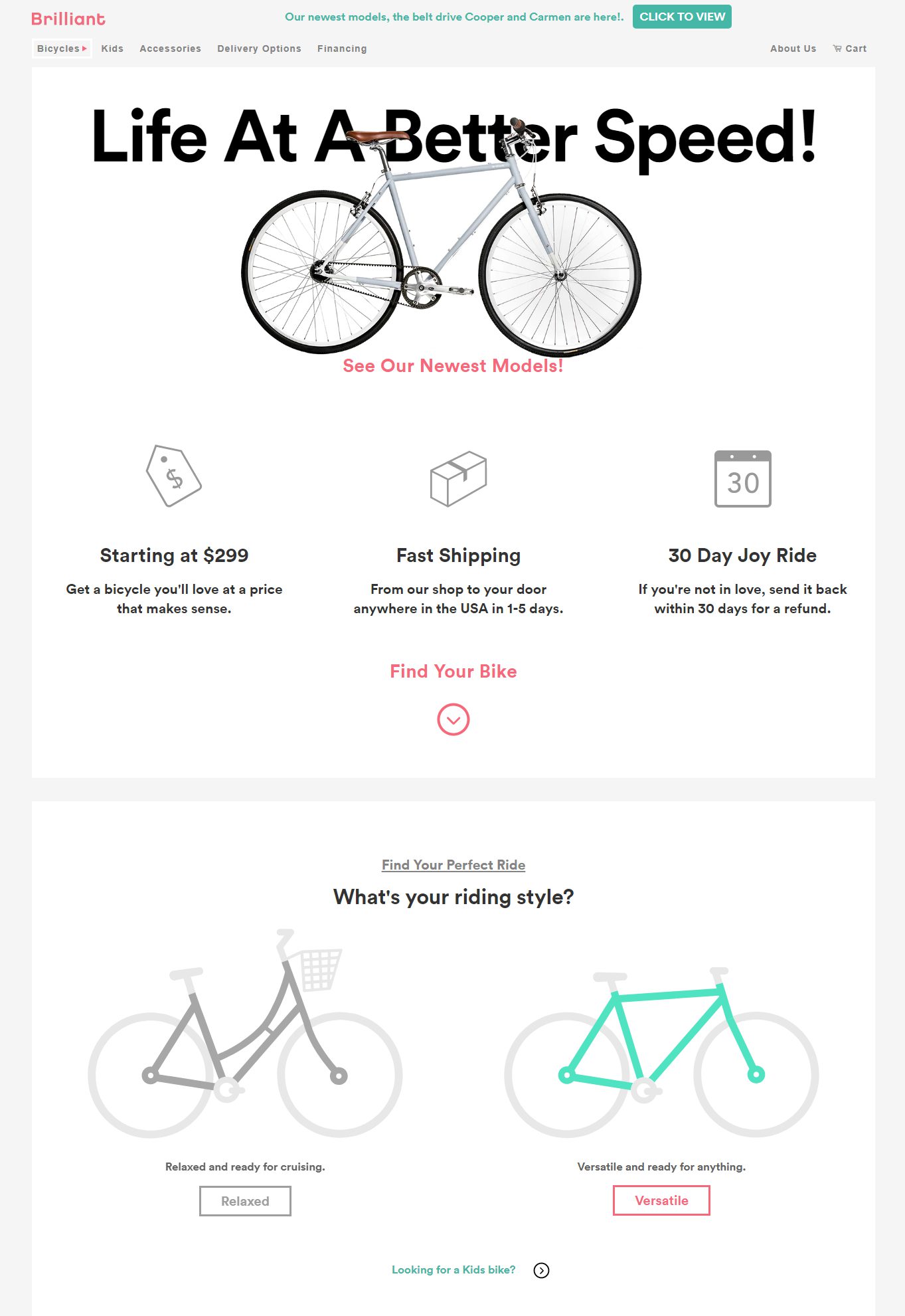 Category/Industry – Office Products/ Gift Cards.
We Liked – When it comes to online stores, people hesitate to go beyond some defined design, font, layout and color styles. This completely out-of-the-box eCommerce store caught our attention at the very first sight! The mismatched fonts, typography, use of colors and bold statements made it stand out. And how can we forget the left menu bar…
It proves that consistency is key, but not if you know how to jumble things up better! Look at their homepage and tell us if we're right, or we're right?

Category/Industry – Home & Kitchen
We Liked – This one is a luxury pottery brand that is designed for different continents. The front page title bar shows countries and when you change them, the currency at the cart automatically changes. Isn't it cool?  Moreover, the festive makeovers are always a bonus when you revamp your eCommerce store according to it. They've put Halloween/Fall landing pages designed for the upcoming holiday season.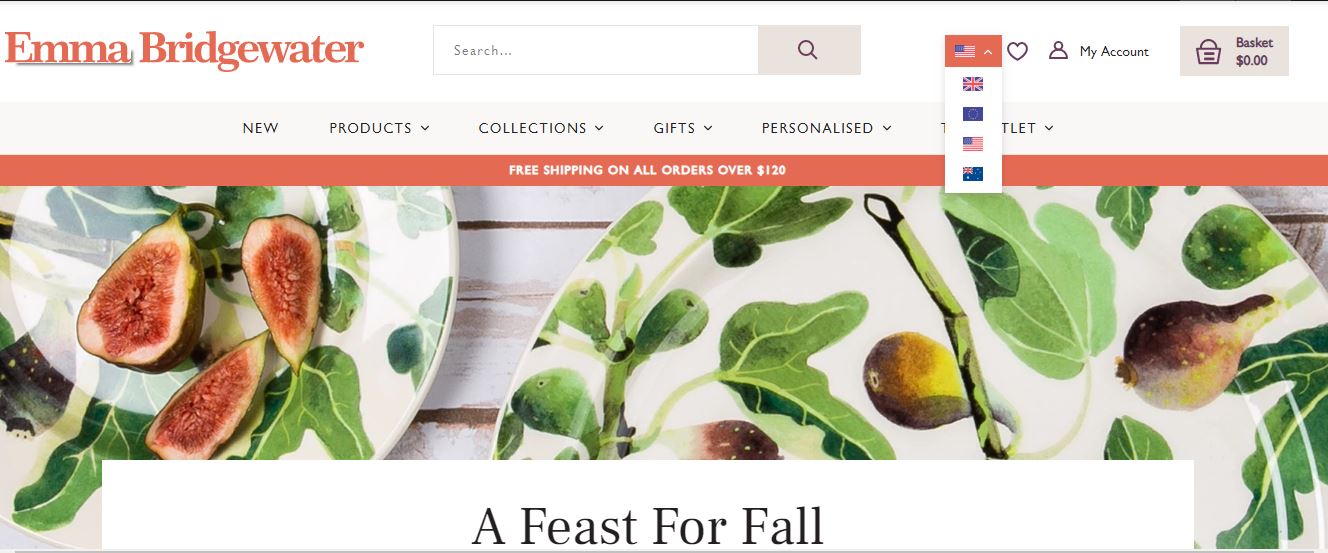 Category/Industry – Food – Bakery
We Liked – This online bakery setup got our heart with each page they've designed. We take bakery and grocery items at the local level and can only expect them to work within certain dimensions, but why not make it worth it? Hummingbird bakery has a beautifully crafted product page where all the customization and size issues are taken care of. And make sure you check its subscription pop-up out!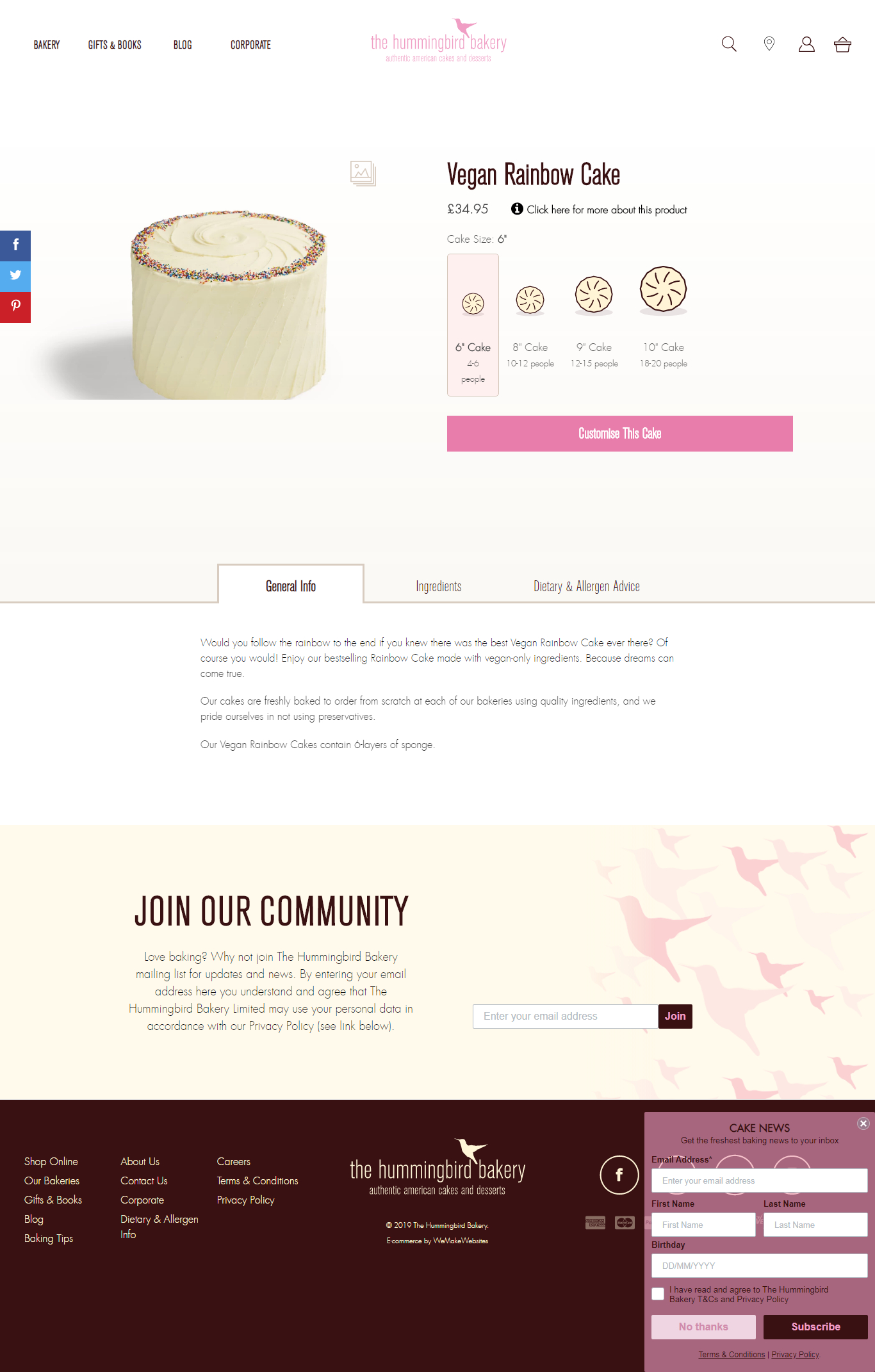 The second image shows its checkout page where delivery and self-pickup option along with a card, message, candle, and donation options are seen. This is how you make sure your online food store works as good as your in-store walk-ins do.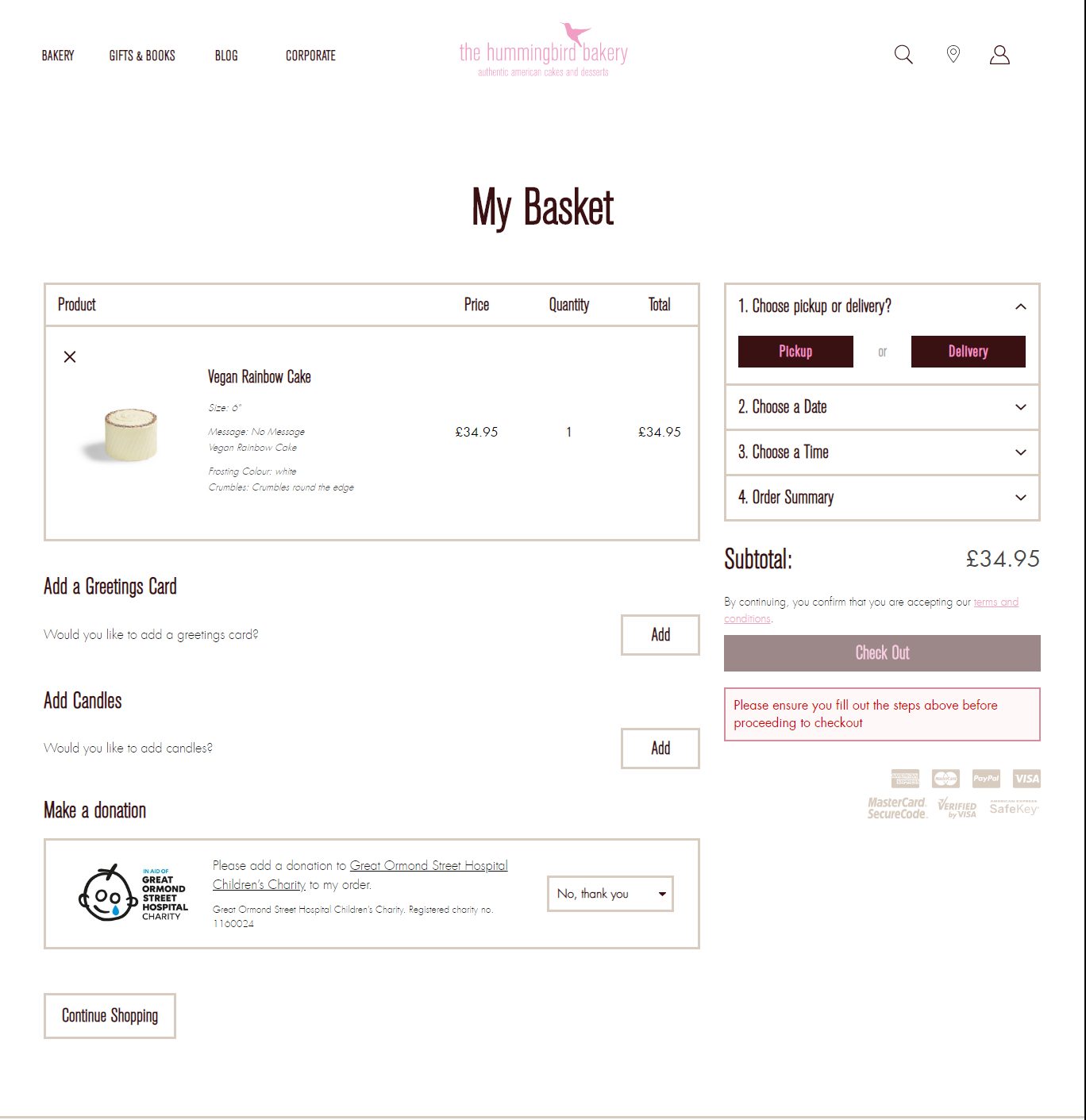 Category/Industry – Luxury Eyewear
We Liked – Sunday Somewhere is a luxury Eyewear brand that is quite famous among celebrities. The brand does not let this opportunity go away and has showcased how Hollywood had carried their eyewear in style. Check their 'as worn by' section!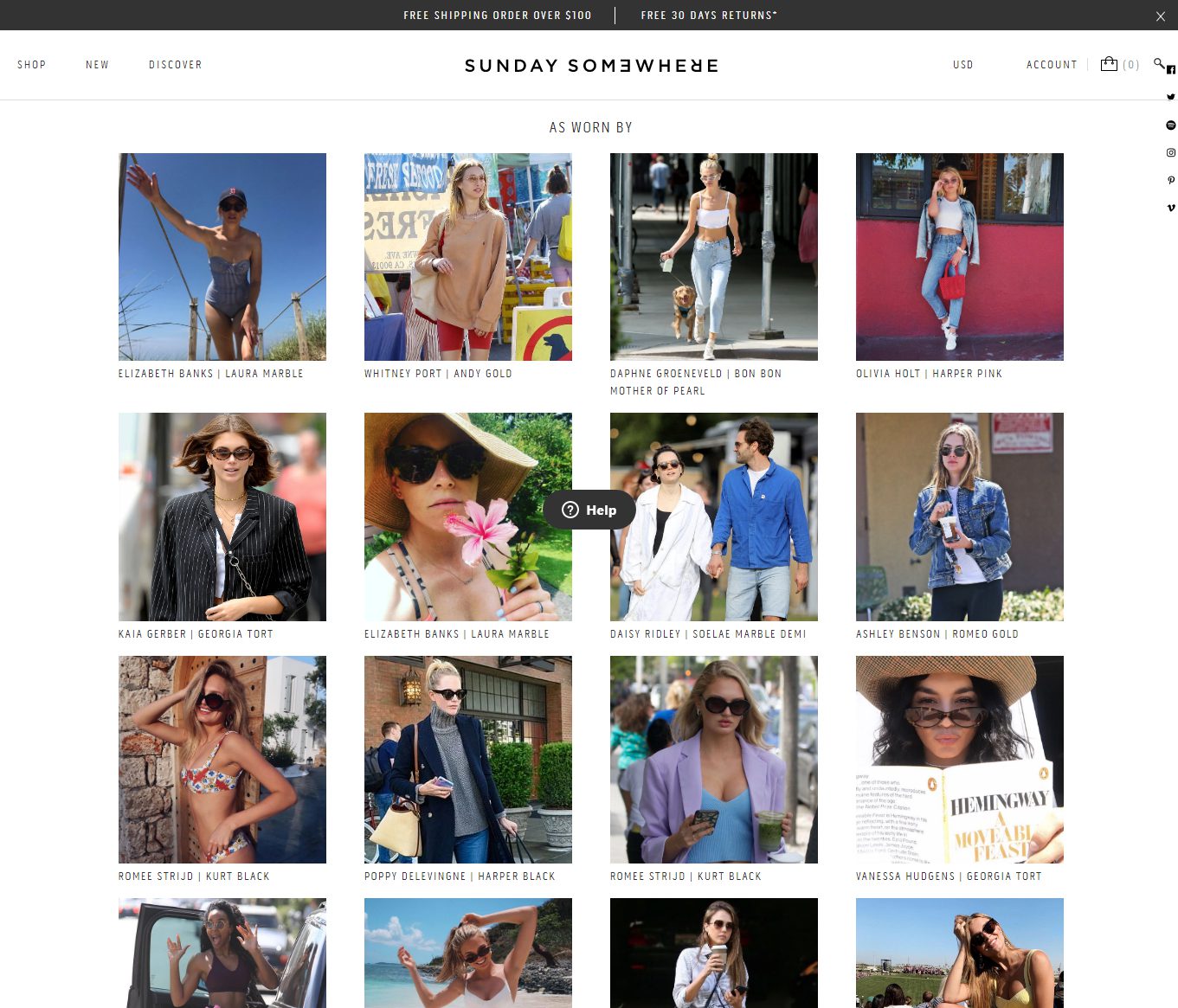 Category/Industry – Women's Jewelry
We Liked – To increase the trust factor of the visitors, Tiny Hands provide details of some recent purchases when someone visits their website. The left corner keeps on popping and following until the visitor is available and browsing through the website.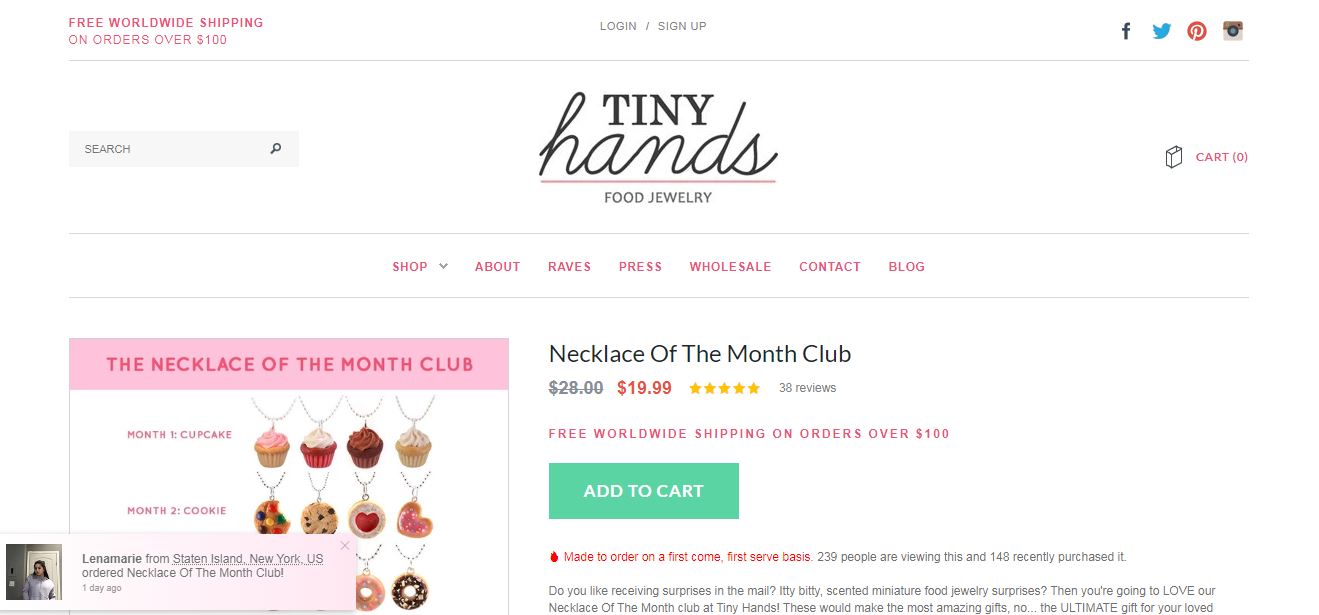 Category/Industry – Grocery & Gourmet Food
We Liked – Tease tea uses a very creative and catchy pop-up for the first time visitors. The beautifully crafted website is already there, but the beautifully drafted content on the pop-up caught our attention. Content is still the KING and it is here to stay. Never take your eCommerce store content for granted!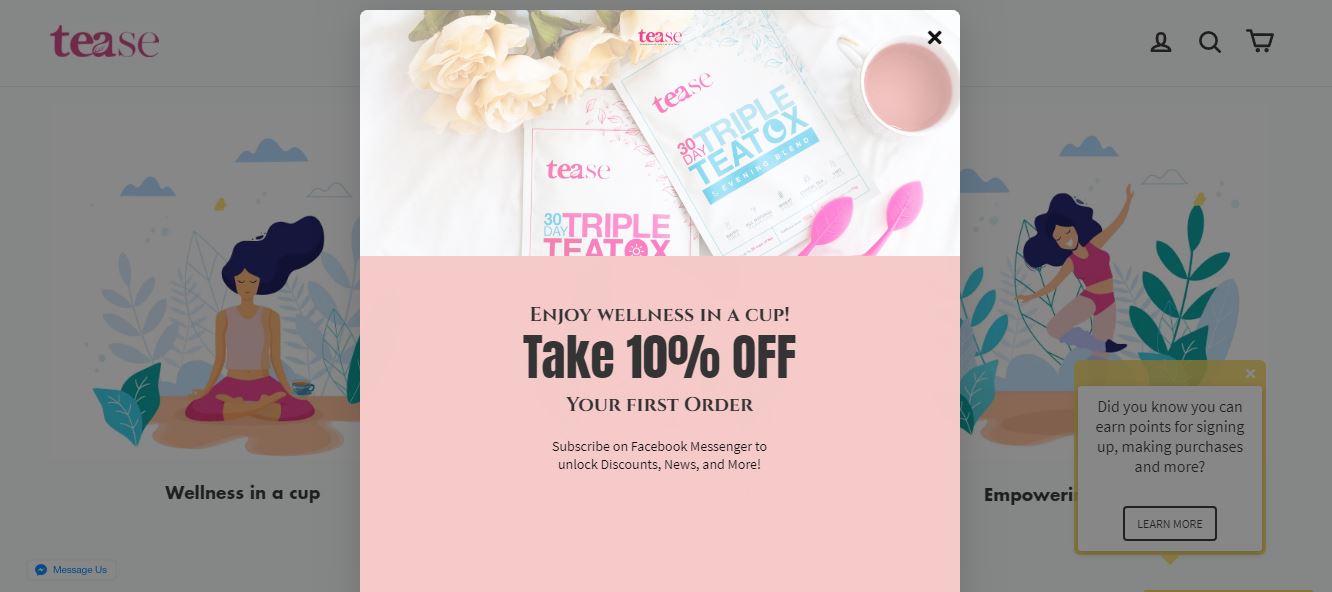 The mentioned above are some of the features of the most successful Shopify stores and what it took to be there. The outperforming design architecture is the core to everything! These 20 from our list of 40 best Shopify stores have much more to offer than what is shown. And that's not it, the list continues and you can explore other eStores from our list below to identify what would work better for your eCommerce store. If you still need a helping hand, get in touch with experts for a free mockup to your existing eCommerce store. 
Enjoy the list and be ready with all the homework that you want before you go live this time!

Looking for a redesign of your Shopify store? Get a Free Design Mockup today @ No Cost
Parting Words
So here are all the details about our list of 40 best Shopify stores. Hope you also like what we liked and get some inspiration the next time you plan to redesign your eCommerce store or coming up with a new one. Top Shopify stores are at the 'Top' for a reason, just find out what works best for you and hop in! 
Happy eCommercing!