The recent changes to Shopify's Partner Program Agreement (PPA) and MailChimp deciding to cease it's "MailChimp for Shopify" integration, has a certain "Captain America: Civil War" vibe to it.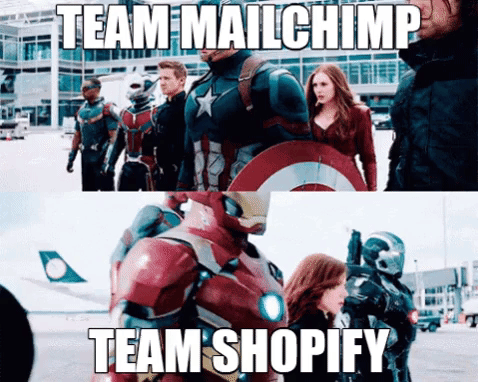 For those curious, Shopify's PPA requires partners to share all important data back to the merchant using Shopify's API to help them run their businesses and MailChimp believes this move will negatively impact their business and put users to risk. While Shopify and MailChimp lock their horns about who stands correct and emerges the victor, the prime question remains:
What about the Shopify customers who are getting affected in this tussle?
Thankfully, Shopify users have until May 12th to migrate their data from MailChimp and find the best free alternatives to MailChimp to conduct their businesses as seamlessly as before. Additionally, removal of MailChimp integration from Shopify's App Store provides you, the Shopify users/ partners to explore other ESPs and Marketing Automation platforms that can be the best alternatives to MailChimp to fill the void.
The article is a list of different ESPs and Marketing Automation platforms along with the USPs and QeRetail doesn't endorse any of them but our team is certainly equipped with skills to help you with the migration process.
3rd Party
Mailchimp
Alternatives To  Help You With Email Marketing
Any Many more…
If what you are looking for is not cheap Mailchimp alternatives, but some way to easily connect with your customers while conducting your business, there is hope. Shopify's app store has choke-full of plugins and integrations for different aspects of email marketing such as pop-up forms, discount generator, customer ratings & feedbacks, etc. Thanks to cross-platform integrations of Shopify, the customer data can be passed from one app to another. This way what your customer gets is a personalized communication.
In case you need some help with managing your online store or looking for a redesign of your storefront, drop us an email at info@qeretail.com and one of our representatives will contact you soon.