An inclusive marketing campaign has several facets to it, most of which centre around good content, better marketing tools, and an even better structure to analyse how you're performing ultimately. Having stated this, it's also worth a note that there's only a handful of businesses which are able to score in all three aspects, consistently.
To be consistent with your marketing prospects takes time, practice and a good support system that backs your efforts.
After all, what's effective marketing without a good team of executioners?
In contemporary times, an optimal marketing layout most often than not includes one key element – the email. The email, with all of it's hits and misses in the course of the digital marketing advent has continued to secure it's safe spot in the marketer's handbook of essentials.
Even with the stoic rise of social media and the expanse of content sharing mediums, the email holds it's ground. As per a report by the Content Marketing Institute – As many as 87% of marketers use email marketing to circulate their content. And the numbers are still on a rise.
As much as the audiences have grown accustomed to consuming fast-content on social channels and through 2-minute reads, there's still a generous section of consumers who take their e-mail content seriously.
Another core aspect that supports the rise and rise of email marketing is the ESP, or the Email Service Provider.
Your ESP pretty much makes or breaks the deal for you, and that's exactly why we've simplified the mammoth task of researching and picking just the right platform for your e-mail marketing endeavors!
To know better, take a read through our list of the most used Email Service Providers for the season!
Read ahead.
Hubspot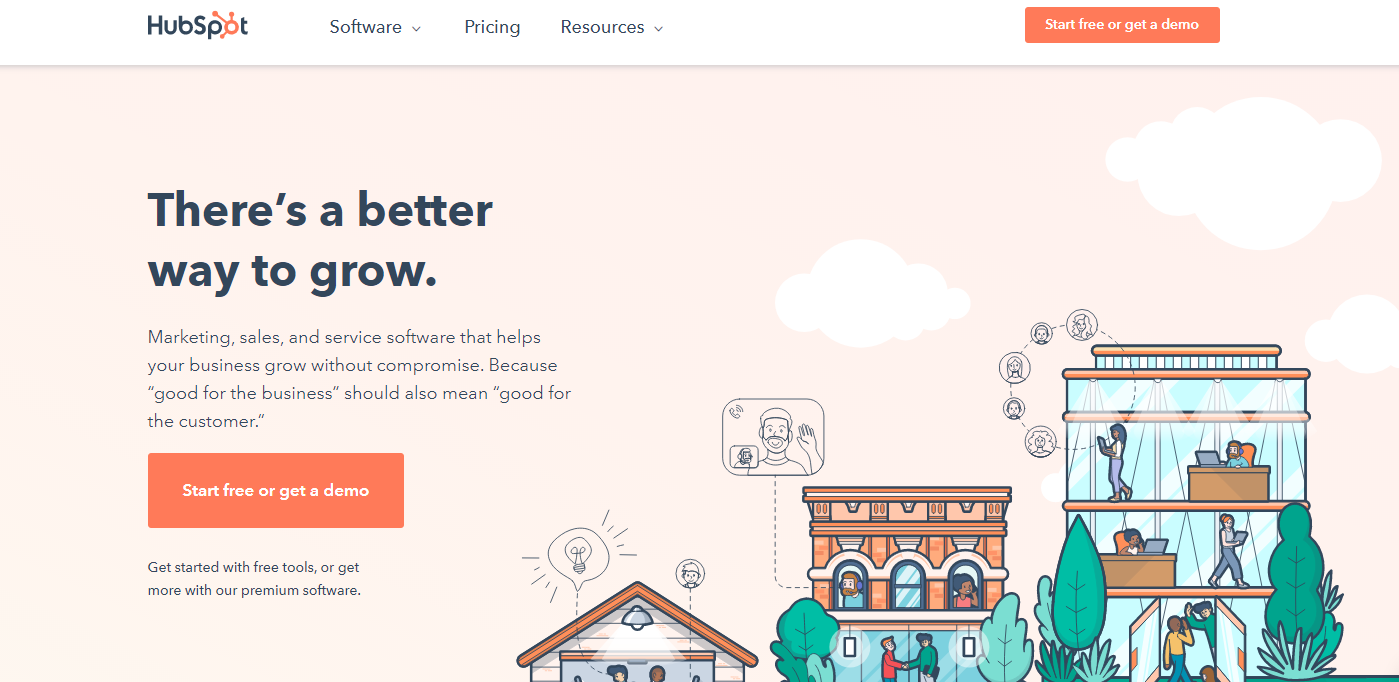 Touted as the one of the kingpins when it comes to ESPs, Hubspot retains it's position as one of the best-rated email marketing platforms across. With an exceptionally varied user-friendly interface and well developed integrated features for CRM, as well as campaign automation – Hubspot seals the deal as the most wholesome ESP, and an enterprise's dream.
What is commonly misinterpreted about this platform is that it's mainly B2B centred, which isn't true really, and if you're writing their platform off as a retailer – you could be missing out.
With a brilliantly diverse E-commerce email marketing set-up that gives you the freedom to customize your templates and engage as much with developing a marketing campaign that best suits your brand needs, Hubspot barely leaves any stone un-turned in making the job a cake-walk for it's users.
What truly gives Hubspot that edge over it's rivals is it's openness to constantly learn, adapt, and evolve. Nearly each time you tap into it's Marketing Hub, you'll spot something you haven't before – and it's always going to be a pleasant surprise for your brand's e-mail campaign plans.
What makes it so good –

– Extensive analytics and reporting features.
– Intricately developed customization options.
– A-Z workflow maintenance options.
– Great list building and segmentation.
– Well developed social media as well as in-app migration tools.
MailChimp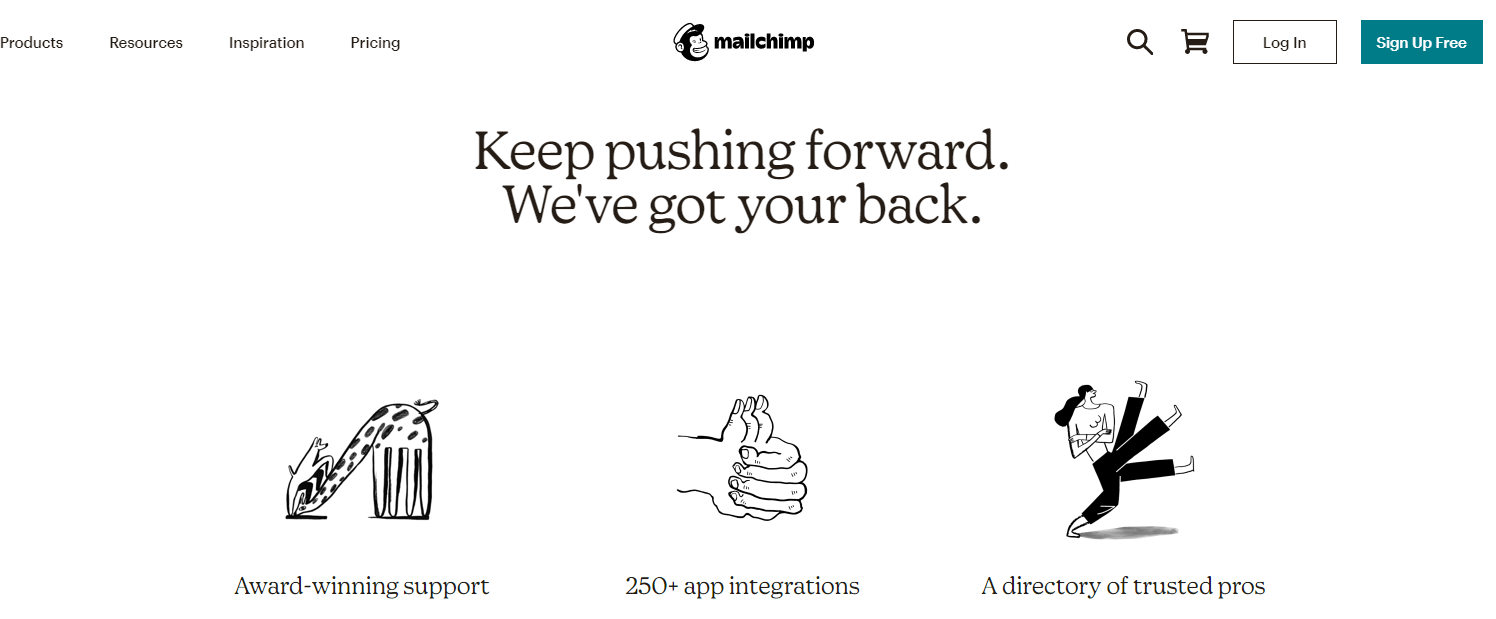 MailChimp comes with an experience in the ESP field that not many do. With a fast evolving interface, flexible pricing structure and adaptive features, this platform reserves it's edge among users.
Many prefer MailChimp for it's Shopify and Magento app integrations, as well as diverse social media merger possibilities, but that's nowhere close to everything that the platform has to offer.
Other than offering a host of user-friendly tools that make your email marketing campaign a lot more smoother than it ever used to be, MailChimp also sets itself apart with turning what once was simply an email marketing tool to a full fledged marketing hub. With a newly centred focus on expanding beyond small businesses and including multi-channel campaigns, marketing automation and diverse social media integrations, including the option of setting-up a fully customized marketing calendar, the platform is definitely one to look out for.
What sets it apart from the rest –

– Extremely workable free tier options, with flexible pricing overall.
– Fast-paced evolution into a full-featured marketing platform.
– Latest features like website hosting and design tools.
– Added features like AI (artificial intelligence) backed tools which help with audience analytics and context-sensitization.
– Great mobile functionality. 
SendGrid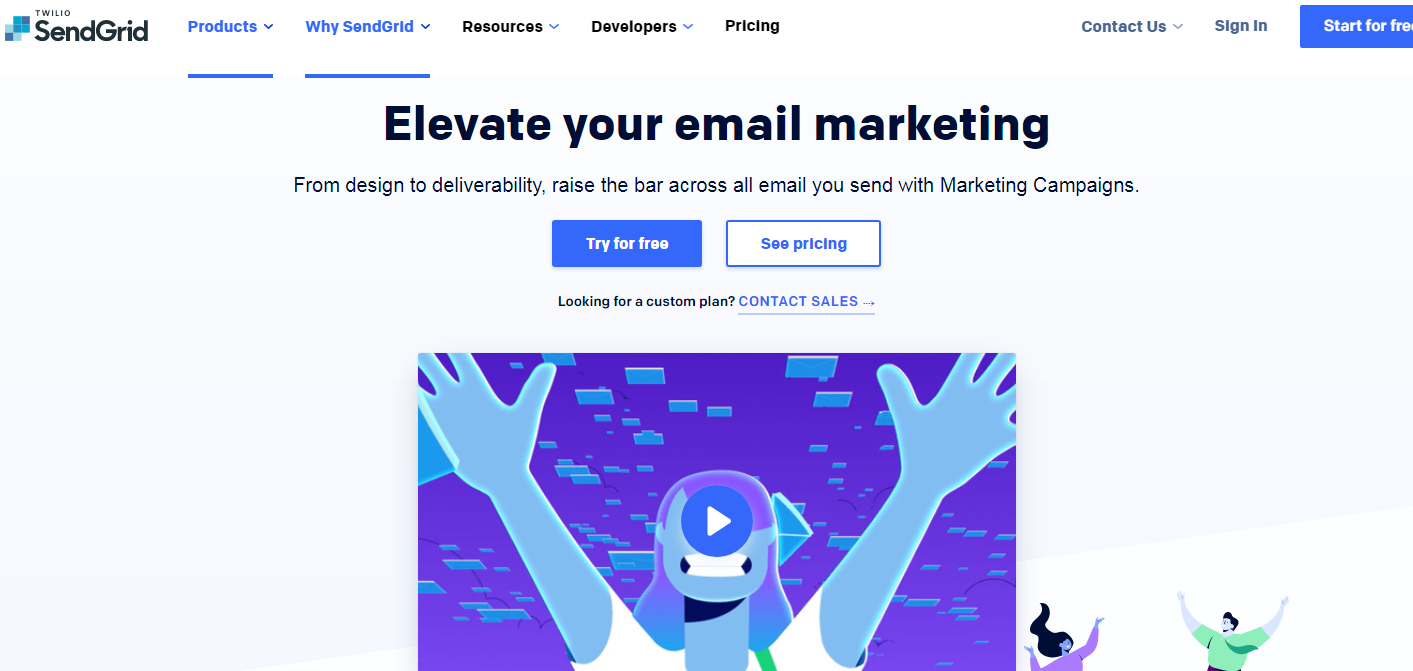 Raked as one of the 'Bigger Players', SendGrid makes a strong case for itself among the takers as a complete-solutions provider. With a strong focus laid on the customer-experience – from managing recipient preferences to a good overall tracking system, this platform makes a compelling case before it's competitors. What's more (and there's a lot more) to this platform is that it makes collaborative functions a seamless possibility for it's users – with the options of UI, API or even both.
Another key feature that gives SendGrid that extra edge is it's range of expertise over the subject of not just email marketing, but the entire experience that comes with it. With strong-tied partnerships with Yahoo, Google and Outlook, these guys aren't just saying when they say that they know what it means to send wanted mail.
 What makes it so diverse –

– Aligned communications across promotional and transactional mail.
– In-built options to overlook global mail statistics and delivery.
– UI, as well as API supported template functions.
– Guided expert support when it comes to not just mail delivery, but also overall campaign optimization.
– Known industry-leading e-mail service platform.
Klaviyo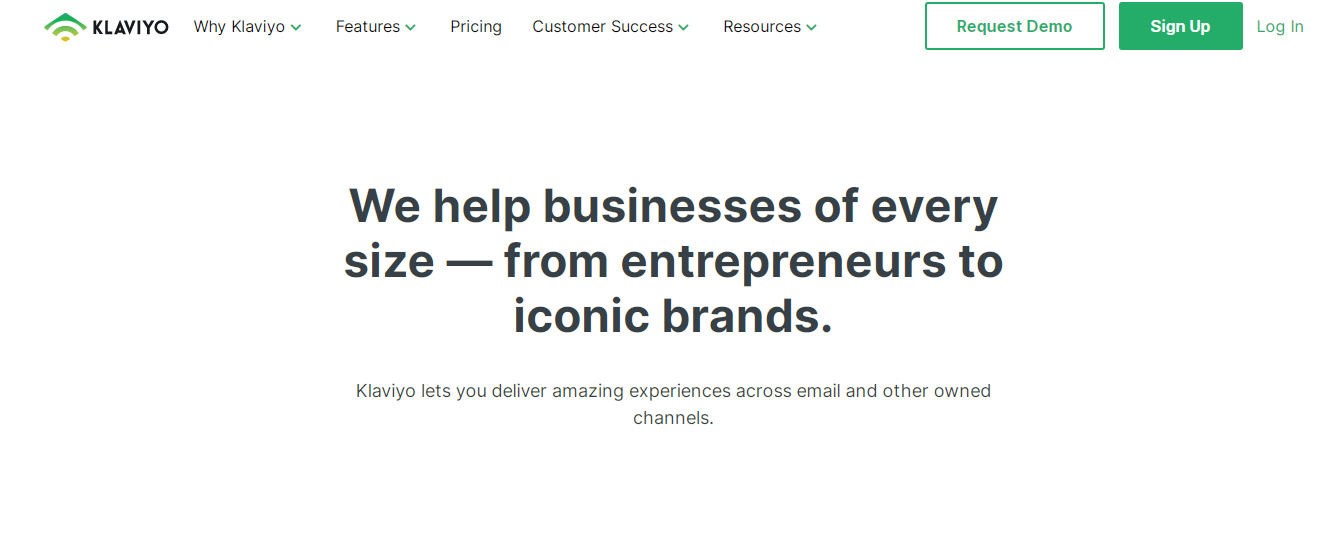 A relatively new entrant to the ESP pool, Klaviyo delivers on several key aspects that dictate the whole email marketing process, but where it shines through most is it's simplicity. Compact with a brilliantly simplified integration set-up that allows it's users to merge data with top E-commerce platforms and marketing resources, and also without the hassle of hidden fees that usually comes with such additions, Klaviyo's open API broadens the possibilities of a seamless integration experience.
Taking pride in it's inclusive structures – that support budding entrepreneurs to established brands with the same pace, the platform doesn't hold back with it's in-app possibilities that combine natively sourced technologies with a fast-paced company culture.
Klaviyo divides it's chief functions into three main categories – Listen, Analyse and Act, which covers the core components of the platform's email optimization package. Laying additional emphasis on the phrase – "letting businesses own their marketing", it truly delivers on what it promises to with it's simplified, and ever-inclusive marketing insights.
Why your business needs an ESP like Klaviyo –


– Research driven, and committed to data-science and machine based learning.
– A wide range of personalized integrations.
– Segmentations that come with real time updates.
– Easy to operate social media integrations.
– Inclusive co-learning opportunities for marketers.
Emarsys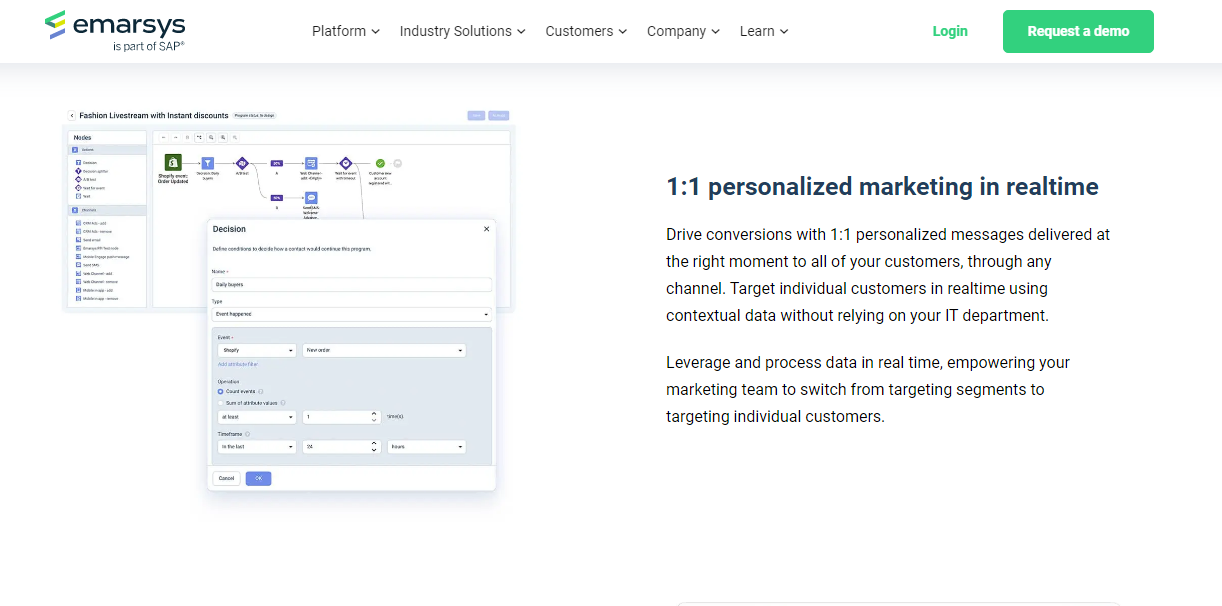 This Austria-based platform started it's operations in 2000. Since then, it's overseen an array of transitions when it's come to not just it's technical layout but also multiple shifts within it's product-process structures. Emarsys prides itself as a one of it's kind omnichannel customer engagement platform, that enables businesses to bring about the best of outcomes through their marketing intents.
The platform places it's focus on personalization, with tools to monitor real time analytics that ultimately reduce your business's dependency on it's IT department. The automation campaigns also come with built-in reports to measure progress, layered with an AI optimized mail-delivery scheduling, which has reported to generate an increased engagement rate – by 10% in a 6-month period.
An additional aspect that works beautifully for this collective is their well developed team of experts – whose expertise ranges in everything, from on-boarding processes, to technical support and an all-round strategic guidance to help you get the best out of your mail campaigns.
Why it's considered to be an ESP leader –

-Easily measurable business results and analytics.
– Simplified cross-channel execution.
– A unified customer-engagement platform, powered with API and open architecture.
– Integrates predictive-analysis with marketer execution.
– Interdisciplinary expert team that works specifically to enhance the on-boarding process.  
Wrapping up
We hope this comparative analysis comes in handy when you're setting out to pick the best email service provider – that perfectly suits your brand requirements.
Another factor that would help is to keep in mind that different ESPs work for different kinds of businesses and to know which one works best for you, you need to actually give it a try.
Happy marketing!