What is a Fidget Spinner?
According to The Guardian and The New York Times, the credit for first inventing Fidget spinner goes to Catherine Hettinger, a chemical engineer by training. These little toys were marketed as stress relievers. People suffering from ADHD, Autism and anxiety have a need to stay focused. The stimulation to push the wheel helps bring their focus at a particular point.
Fidget spinners consist of a two or three branched design with a bearing in its center circular pad. An individual holds the center pad while the toy spins.
How did it all start?
James Plafke of Forbes published an article on December 23, 2016. It was titled, 'Fidget Spinners Are The Must-Have Office Toy For 2017.' After this, many readers started to upload videos and pictures on social media platforms reviewing this product. Soon it became a craze among the audience and people got addicted to it.
Today, it is considered one of the fastest selling product throughout the history, and it has just started to gain popularity.
How fidget spinner impacts the e-commerce market?
Surprising as it may sound, but according to 1010Data, there have been over 30 million (projected) searches in a month for Fidget spinners. Quoting what 1010data has to say, based on search volume across major retailers like Amazon, fidget spinners are the fastest growing, high volume product line ever. The term 'fidget spinner' reached 10 million searches in the least amount of time."
You can love it or you can hate it but, you cannot ignore it. This awfully simple yet amazingly addictive toy is being glorified more than any other product in the e-commerce market right now. Fidget spinner has become the most searched item on marketplace giants like eBay and Amazon. To put some weight on the word, according to 1010Data, the total number of fidget spinners sold online in April is 127 times greater than the number sold in January 2017.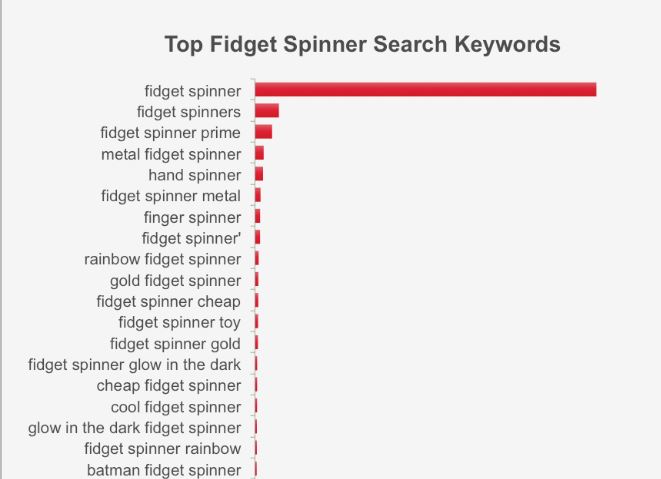 School kids and office workers have been completely mesmerized with this toy. What makes it sell like hot cakes is its availability in a vast array of shapes, sizes, and colors. This gives it a niche as a collectible article as well. Just a search of 'Fidget Spinner' on Amazon yields approximately 100K different results. Yes, let that sink in.
How can you benefit out of it?
Time has never been this right for online retailers and sellers. The iron is just perfectly hot enough for a solid strike. If you are a seller or planning to sell on  marketplaces, now is the right time. You can either stock up on these items or you can drop ship them directly to the customers. With the dash that this product has commenced, there can be no better day than today and no better time than right now.
If you want to order bulk quantities of Fidget spinners and plan to drop ship them either directly through your store or through any online marketplace, you can check this list and go through all the websites we have listed. To give an example, Fidget spinners are easily available on Alibaba directly through manufacturers or bulk suppliers.
Another quick way you can start selling them is by stocking them up yourselves. Be it a school, college or your office, you can harness the power of social media and spread the word about it. This way you can start selling locally and earn a quick fix. If you face an anxiety during this period, we suggest you order one for yourself!
Few simple ways to spread the word.
Create Facebook and Instagram pages
Tag your friends and ask them to spread the word
Create memes and posts circling the topic
Be a part of forums, discussions and look for what people have to say
You can also go an extra mile and create videos and wait for them to go viral
If you already have your own website, you can definitely think to encompass fidget spinners into your existing catalog. One intrinsic way you can do is by giving free takeaways or free gifts. You can plan a marketing strategy around the idea of providing these toys for free in limited quantities. You can weave this free take away offer around referral schemes.
In Conclusion
It doesn't take much time for a fad to die down as fast as it had picked up. But, that doesn't mean it does not provide ample opportunity to earn and learn. As long as it lives, there are substantial amount of opportunities to churn out the gains and make the most out of the ongoing trend.
So, spin that fidget and rotate your profits easily between your fingers.