Do you want to advertise on Amazon in this holiday season? A survey of 2016 shows about 55% of people actually skip Google and start searching for the required products on Amazon. However, Google still remains the favorite but Amazon is growing steadily especially in the B2C market.
Amazon sponsored product ads target shoppers and deliver relevant information so that they are invoked to buy. Product listings are promoted on various pages of the website.
This leads to a maximum visibility of your products. You can see the Campaign reports and track your ads' performance. Measure ROI and optimize your spending.
An Insight to Amazon Sponsored Product Ads
What are 'Amazon Sponsored Product Ads'?
Amazon Sponsored Product Ads are image ads. They appear in several different places in Amazon. Sponsored Ads can be differentiated by the search results. They appear in a box and labeled with a grey colored 'sponsored' tag. So, when I search for food blenders, I get these results.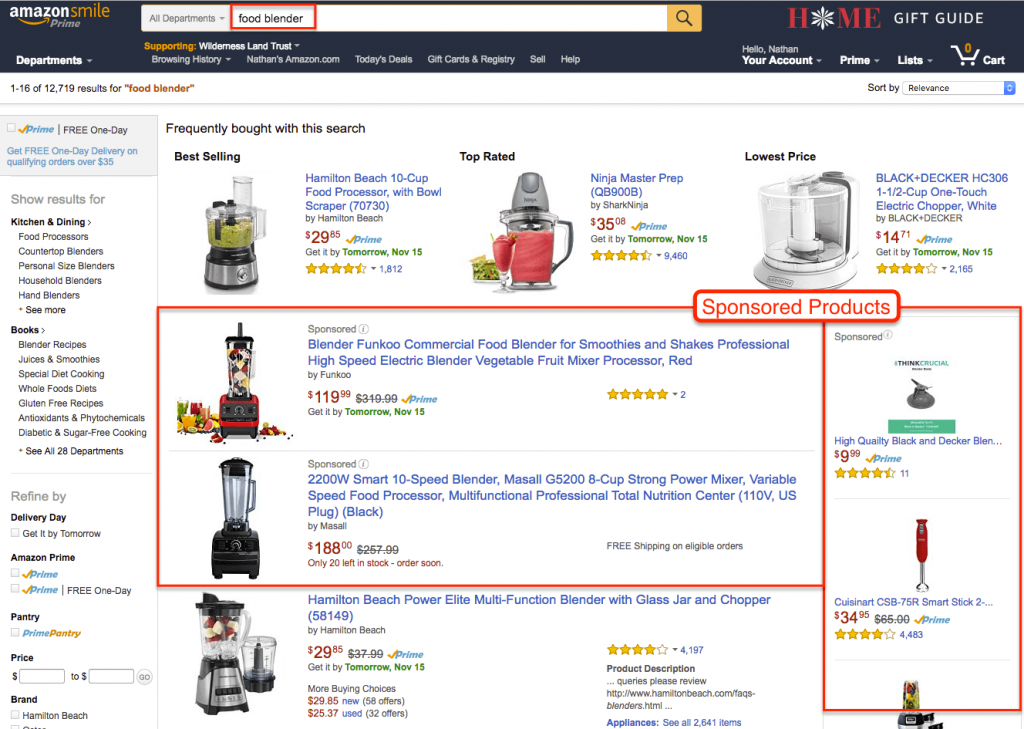 As Amazon wants to grow further, it doesn't shy away from selling the space on its search results page. You can also see Ads occupying both the top and side space. Once a shopper clicks on the listing page, sponsored products are also present there.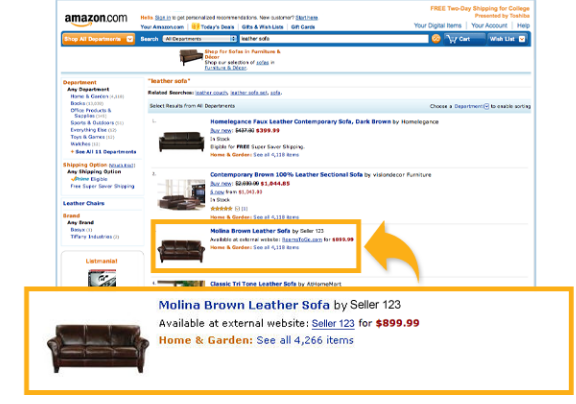 You can list your products in numerous categories such as baby, computers, health and beauty, lifestyle, sports, toy categories and what not. See the full list of categories.
Amazon Sponsored Product Ads use keywords based targeting much like Google Ad words or Bing Ads. With Sponsored Ads, you pay the fee only when a shopper clicks your Ad. That click takes a shopper to the Amazon details page where the shopper can buy the product from you. The Amazon product details page act as a landing page for you.
But before opting for this program you need to fulfill certain requirements. These requisites are:-
1. You need to have an active seller account on Amazon.
2. You should have new products, not used or refurbished. Also, adult products are not allowed for advertisements.
3. You should ship to united states
4. The products you advertise with Sponsored Products must be eligible for the Buy Box.
Who can leverage sponsored ads the most?
If you're having an eCommerce company, you should definitely take advantage of Amazon Product Ads. Considering the amount of traffic Amazon generates, sponsored product ads can be a good opportunity to sell your stuff.
Key benefits of using Amazon product Ads as an advertiser
When you're thinking about your online advertising strategy, you want to reach where your customers are. Facebook and Google still have their hold on the online market generating $80 billion and $27 million in 2016. But they cover only 20% of the total sales. Hence, this gives a lot of space for Amazon to emerge.
As per Sir Martin Sorrell, chief executive of WPP, Amazon has earned more than 1 billion in 2017 and they are growing exponentially. Since Amazon is still not a major player, eCommerce advertiser can surely leverage this opportunity.
Amazon product ads get your ads in front of customers who are looking for just the right item to add to their cart. Target your Ads to customer search terms to match your products to the shoppers who want to buy.
Get your products discovered on the search results page or on the product details page, boosting your visibility. As you'd only be charged for the clicks your ad receives, you can measure ROI and adjust your bids and budget.
Grow your business with Amazon
Amazon suggests to opt for sponsored products to increase product visibility and clicks, offers with low glance views, clearance items, and seasonal promotions.
Google and LinkedIn dominate the marketplace but to advertise on these platforms you need to pay a hefty cost-per-click price. According to content26.com, "the average CPCs on Amazon Marketing Services was about 38% lower than Google Adwords".
Why is it so? The reason is Amazon Marketing Services is new and launched in 2012 as compared to Google Ad words which have been in the industry for close to 17 years.
The number of advertisers opting for this platform is much lower than Google, which means less competition. In addition to that, Amazon advertising focuses on products only, which means less competition from other websites which you more often than not see on Google Adwords.
For example, If you are selling rucksack and bidding on the broad match keyword 'bags' on Google Adwords, then you need to compete with not only other retailers selling rucksack but also advertisers for other different categories of bags. And all of this is offered at a lower cost-per-click for advertisers of products on Amazon.
Bottom line
Amazon sponsored ads not only increases the visibility of your products but also gives an ample number of opportunities to the small business owners to eat their slice of pie. So, if you have a product to sell, is the time to hop on to Amazon sponsored product ads.
You can get enough clicks that make your product a big hit–that too at a lower cost per click! As Amazon product advertising is the new player of the game, it can prove out to be a great opportunity for e-retailers. Amazon marketing services is surely a game changer.