Online forms are the ultimate tool for your e-commerce business to capture and nurture potential customers. No wonder 49.7% of companies claim online forms are their highest converting lead generation tool.
When users sign up for your newsletters, purchase your product or service, download a piece of content, or create an account, they fill in sensitive data regarding their preferences, demographics, and purchasing habits. If they encounter problems during this process, it usually is a deal-breaker that results in them exiting your online store.
Any online business that doesn't take advantage of form submission is just leaving money on the table and failing in conversions. This is where modern online form builders come in to help you build engaging forms and remove any possible friction points for your online shoppers.
Things to Consider When Choosing an Online Form Builder
You might be looking for an online form builder to improve conversions, enhance your landing page performance, perform online payments, book appointments, or collect customer feedback. Whatever the objective, online form builders get the job done.
Simple as it may sound, picking the right one among the vast array of options out there seems intimidating. To save you time and frustration, we've gathered five criteria that delimitate a great form builder from the bunch.
Pricing:

Using an online builder doesn't have to cost a fortune. Most of them have a monthly subscription that depends on the number of features offered, while there are also tools that come with a free version.

Ease of use:

Form builders serve the purpose of enabling anyone to build stylish and often complex forms. This includes beginners, people who don't know the first thing about coding, or small business owners. A clean interface, customizable templates, and drag-and-drop functionality are key to reaching your goals.

Customizable forms:

No need to have such software if you can't customize it to your

e-commerce

needs, right? No matter how simple or complex the form, it has to be highly personalizable. Tweaking form elements like images, colors, fonts, fields, etc. to fit your overall branding gives you brand consistency.

Integrations:

Form builders are at their best when they connect your form data with your favorite tools – think of Paypal, Dropbox, Google Sheets, etc. This process minimizes manual entry and eliminates the chances of human error.

Safety in data collection:

Data safety is one of the factors online businesses take into serious consideration. Securing your customers' sensitive information keeps you out of trouble and away from potential cyber threats. So, your preferred form builder must include advanced security features to safeguard data.
The Top 8 Online Form Builders Tools
Keeping the above-mentioned criteria in mind, we have created this list, containing the best form-building tools. We expect you to find in it all the necessary information to pick the one that best fits your needs.
1.Moosend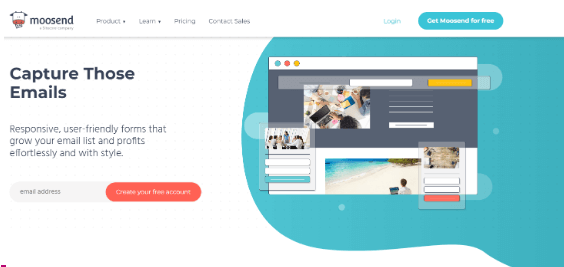 Moosend is widely known for its email marketing and automation features but its online form builder tool is gaining popularity due to its functionality and user-friendliness. With an intuitive interface, stylish templates, numerous publishing options, mobile customization, and tons of integrations, form creation and lead capturing becomes painless instantly.
Key Features:
Fully customizable templates that let you add, remove, or tweak elements as you please

Custom fields that you can add or edit from within the form builder

GDPR compliance to ensure you have user consent

ReCAPTCHA security that offers spam protection

Conditional visibility settings based on various criteria such as countries or certain URLs

Option to customize your forms with JavaScript

Countdown timer widget to generate urgency
Pricing:
Moosend's pricing starts at $9/month, with unlimited forms, landing pages, advanced automation, an SMTP server, and unlimited emails. You can also check out its online form builder and other features through the 30-day free trial offered.
2.HubSpot Forms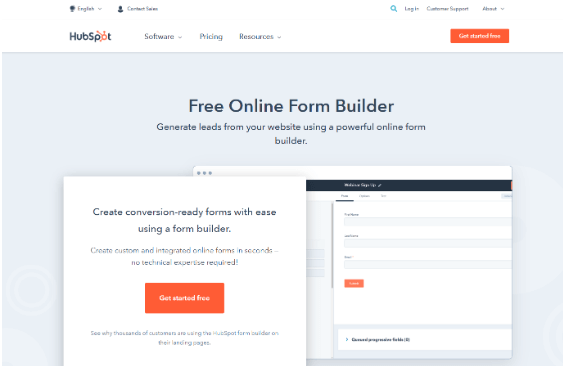 (Source)
HubSpot Forms tool for creating online forms can be combined with all of HubSpot's products for marketing and CRM. HubSpot's online form builder – which is also free – balances advanced customization, powerful integrations, and user-friendly features. Best of all, when visitors fill out your online form, they are automatically routed into the HubSpot CRM system. This process makes it all that easy for you to further engage them through follow-up emails and behavioral targeting.
Key Features:
Drag-and-drop builder that enables you to build and embed forms into your website

Ability to set reminder tasks or send personalized emails to users through HubSpot's CRM software

Customization capabilities with 12 different field types (such as text, checkbox, date picker, etc.)

Easy integration with HubSpot Marketing Suite

Option to adapt form questions for visitors returning to your website through HubSpot's smart features
Pricing:
HubSpot's free online form builder allows you to use most of its features and integrate them with its CRM. To benefit from its full potential through A/B testing, smart forms with adaptive questions, or custom form fields, you must upgrade to a paid plan. Paid plans start at $45/month and the price increases in case you want the full suite of HubSpot products.
3.Paperform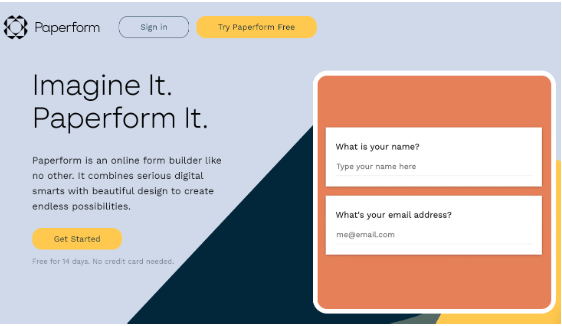 (Source)
Paperform is considered an all-in-one solution, used to build forms and surveys, schedule bookings, take payments, and insert digital signatures. It features a drag-and-drop editor that lets you create forms from scratch. Paperform boasts of making it as easy as writing a document through various options like adding questions, editing text, or using conditional logic fields.
Key Features:
Numerous theming and customization options

3,000+ integrations with third-party platforms

Option to perform complex data manipulation

More than 650 form templates – from customer feedback to restaurant reservations

Online payment forms

to link to popular payment gateways like PayPal or Stripe

Custom HTML and CSS options
Pricing:
Paperform's Essential package comes at $20/month, with unlimited forms and up to 1,000 submissions allowed. You'll have to upgrade to a higher plan to get more entries and features, while there's also a 14-day free trial.
4.Wuffoo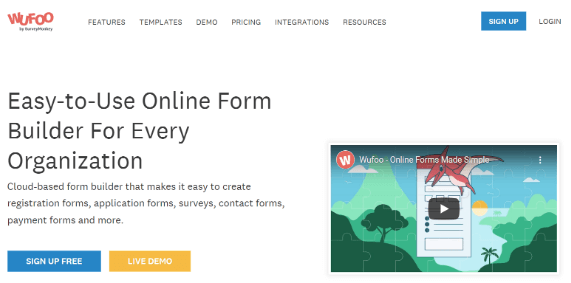 (Source)
Wufoo features an online form builder tool with various templates to create contact forms, surveys, registration forms, and more, and directly implement them on your website. It was created with simplicity in mind. Therefore, its easy-to-use interface and traditional functionalities make it perfect for form creation newbies. However, it is considered outdated design-wise compared to other modern form builders.
Key Features:
Large selection of customizable templates, organized into distinct categories

CSS and HTML customization options

Ability to accept payments via payment platforms (only in paid plans)

Custom reports generating features with detailed analytics

Automation workflows that transfer data to popular marketing automation or CRM systems

Free plan available
Pricing:
Wuffoo's free plan is certainly a good option, but it doesn't allow more than 5 basic forms and 100 monthly submissions or the option to use advanced features like Google Analytics. Its Starter plan comes at $14/month, offering customized branding and automation workflows.
5.Ninja Forms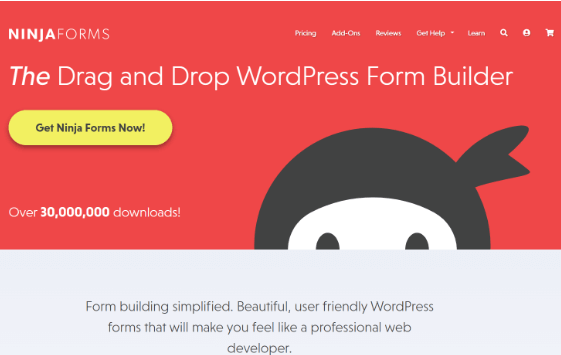 (Source)
Ninja Forms is a plugin highly appreciated among e-commerce businesses within the WordPress ecosystem. Its drag and drop functionality makes it the perfect choice for entry-level form creators, helping them build their own forms from scratch. On top of that, it offers advanced features in terms of WordPress lead generation. Therefore, this tool is the way for WordPress users, but that's not the case for consumers searching for advanced data collection.
Key Features:
Ability to export submissions in form of an Excel file, a PDF file, or a Google Sheet

'Save progress' feature that allows users to save their progress before submission and take it from there once they return

Mobile responsive forms with multiple steps and conditional logic

File upload functionality during form-filling

Integration with CRMs, email marketing services, and options to accept online payments

Drag and drop form fields that make form customization easy
Pricing:
Starting at $49/month for its Personal plan with unlimited forms and submissions, 1 website, and 4 add-ons, it certainly isn't the most affordable option out there. You can benefit from its core online form builder, offered for free as a WordPress plugin, keeping in mind that it includes basic features.
6.Typeform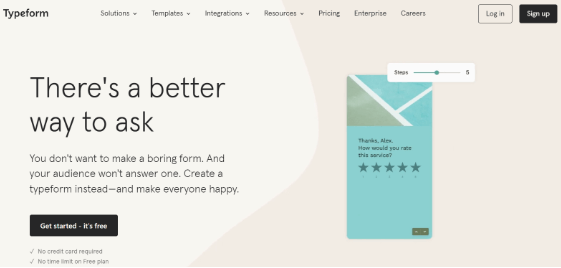 (Source)
Typeform is a form-building tool specifically designed for creating forms, questionnaires, and surveys. You can pick your forms among various form types that are neatly categorized. With its distinct approach to data collection and the conversational tone used in its questions, it's a good option for building engaging forms. Typeform is known for its attractive form designs that you can tweak to perfection by adding cover pages or elements like videos, changing fonts and colors, and more. Typeform shows deficiencies in terms of advanced security and compliance-level features, though.
Key Features:
Access to stock image and video library from Unsplash and Pexels

Option to personalize greetings to visitors by name

Excellent user experience for mobile users with easy navigation and customized buttons

One question at a time structure that makes form-filling innovative and fun

Conditional logic structure that adds, removes, or changes questions according to the visitor's response
Pricing:
Typeform's pricing starts at $21/month and includes one user and unlimited forms. Features and number of responses advance as you move to higher plans. You can have a taste of its form builder for free, but you can gather up to 100 responses before having to change to a paid plan.
7.Google Forms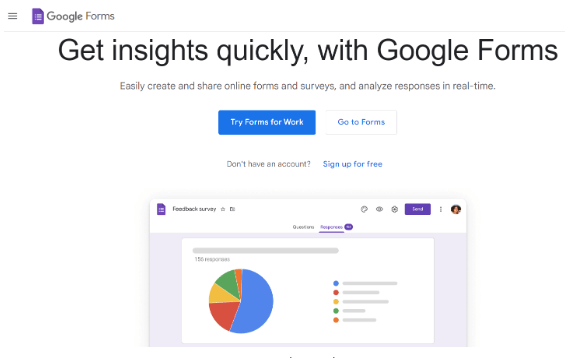 (Source)
Google Forms is fast and minimalistic. Obviously, there's no need for introductions when it comes to Google products. By using the familiar Google interface, you can easily create forms and surveys, collect responses, and immediately transform them into Google Sheet forms for further analysis. You can change themes, add multiple-choice or checkbox questions, and more. Google Forms is a free online form builder, having the main disadvantage of lacking customization and integration options.
Key Features:
Functionality to easily add collaborators and have multiple users collaborate on a single Google Form

Lets users upload files within your forms and surveys

Fully accessible to everyone with a Google account and as simple as writing any type of document

Ability to upload images, YouTube videos, logos

Connection to other products within Google's ecosystem
Pricing:
Google Forms is free for everyone owning a Google account, offering basic form creation features and unlimited forms. Paid plans start at $12/month for each user, allowing more participants in video meetings and more storage space. More features like advanced security and compliance controls are included in higher plans.
8.Gravity Forms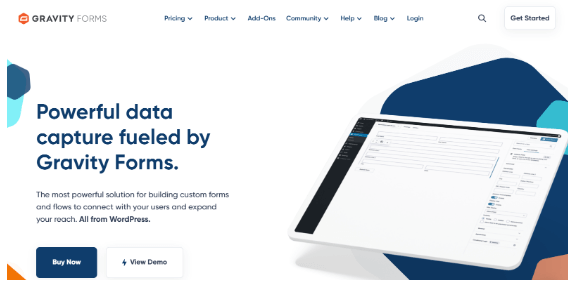 (Source)
Gravity Forms is a WordPress form builder plugin – just like Ninja Forms – with a wide range of features that create a personalized user experience. It comes with drag-and-drop functionality to build anything from simple contact forms to product order forms or job applications. There's also the option to integrate popular payment platforms like Stripe and Paypal, making it popular as a solution to collect payments. However, Gravity Forms doesn't have a free trial choice to check out its features – you have to go for an annual subscription instead.
Key Features:
More than 30 form fields and the ability to apply conditional logic

Form visibility settings and the option to submit buttons according to users' selection

Advanced features such as uploading files upon form submission, complex calculations, or reCAPTCHA settings

"Save and continue" functionality for users to partially fill out a form and complete it next time they visit your website

Intuitive editor that facilitates embedding forms to your WordPress website
Pricing:
With Gravity Forms, you can register for a demo account but there isn't a free trial option. Paid plans start at $59/year, including 1 website, standard support, and some important add-ons. Monthly subscription plans aren't available.
Summing Up
Being the owner of an e-commerce business, you have a lot on your plate. And let's face it: building online forms that capture leads and convert them to loyal customers is always part of the equation. How will a form-building tool help you achieve that? To cut a long story short, a reliable form builder saves you time without getting you out of your normal workflow.
In this article, we did our best to present 8 of the most reliable form-building solutions, along with their niche capabilities and pricing details. The rest is in your hands; decide on which features go hand in hand with your business objectives and which form builder is aligned to the user experience you're looking for.
Then, start by eliminating the ones that won't cut it for you and test those left to find the one that will do all the work for you, successfully creating high-converting forms.
Author

Maria Fintanidou works as a Copywriter for email marketing automation software Moosend, having created the Help Articles (FAQs) and overseen the platform's translations in Greek and Spanish. She loves exploring new cultures and ways of thinking through traveling, reading, and language learning.