As we head closer to pumpkin spice season, the E-commerce landscape is bustling with some serious prep-work to gear up for the Big Weekend : Black Friday-Cyber Monday 2021. Everyone from big-ticket sellers to small scale businesses look forward to big leaps and bigger sales during this time – and for all the right reasons.
Moreover, as we slowly make the shift to move ahead from the shackles of all the upheaval caused by the pandemic – buyer behaviours have made a visible shift too. Making equal room for brands to keep up and adapt.

When talking about how the trends have ranged upto the season so far – a report by PYMTS suggested that more than 70% of customers prefer to shop online during the holidays. The primary reason behind this being not just the convenience of the medium, but also the superior quality of products offered online. To add to the delight of enthusiastic marketers – The Cyber Monday sales of last year touched a whopping $10.8 billion – making it the biggest E-commerce selling day of all time.

Further, a survey by Union bank in 2020 found that – more than 40% of US shoppers would pay $20 more to purchase from a small, or a locally-run business, than save the same amount in buying from a large retailer. So If you're a small business owner, this time can truly be your time to make the most out of.

All in all, to prepare you for the biggest shopping week of the year, we've rounded-up a compilation of 'to-dos' that you can tick off to shine-through on the Big Weekend.

Take a read-through! (a notepad on the side would help)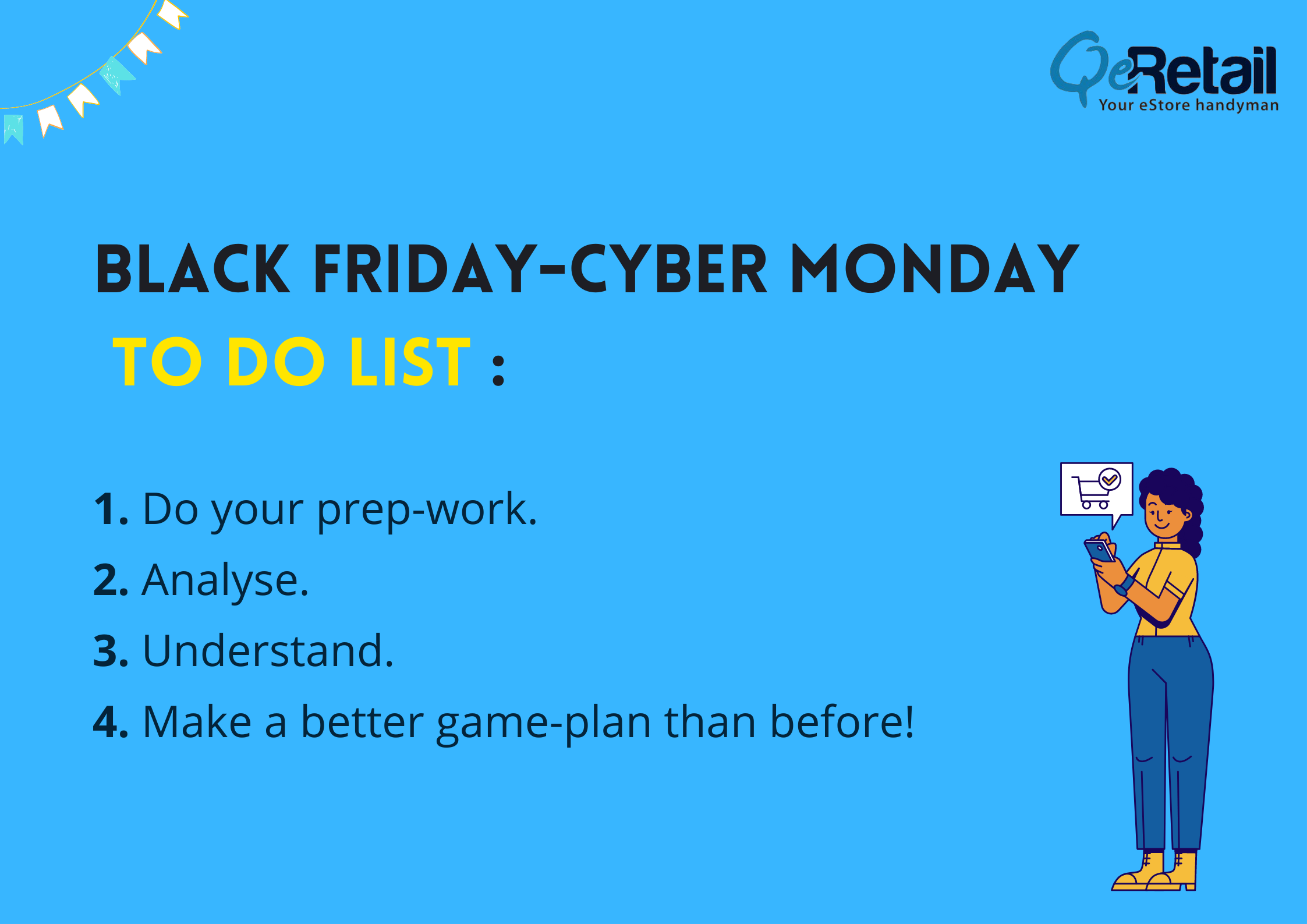 Do your prep work –

Analyse previous year's performance :

Before anything else, it's essential to make some thorough analysis of how you've previously performed. No profit-yielding plan can be built without some research and analysis put into its premise.

To get a better perspective, try asking :

– When did you start last year's promotional run? Was it a week in advance, or later?
– What were your offers? Did you have consistency?
– How many unique visitors came to your website during and after promotions?
– Which sales channels drove the most results?
– Did your effort align with the outcomes?

If your answer was a 'no' to the last question, the next step's for you.
Understand where you fell short :
Take note of your past short-comings, and try to devise a plan that counters them.
Was it an ill-planned Facebook Ads campaign, or a hastily stocked inventory?
Do your homework on the pain points you faced earlier, to get a better perspective of exactly where you need to be working extra.

It's crucial to keep in mind that a good strategy is no good without an understanding of your strong and weak points. Everything else falls into place after.

Make pointers on :

– Your highest vs. lowest performing sales channels from last year.
– Promotional layout, and the scope-duration of your offerings.
– Performance by channel.
– Marketing-promotion schedule (frequency of emails sent, social media posts)
– Total sales made.
Work-out a better strategy than before :
When you finally sit down to plan your strategy for the upcoming Black Friday-Cyber Monday weekend, start with where you previously left at.
If an ad campaign let you down last year, put in extra hours to devise a more thoughtful copy this time. Identify what you could've done better, and take the time you have this time around to do just that.

Above all, strategise in a way that mainly segregates channels that worked for you vs. ones that didn't – so you save up on not just hasty losses but also on time.

In the end, remember – by failing to prepare, you're preparing to fail.
Benjamin Franklin vouches for it.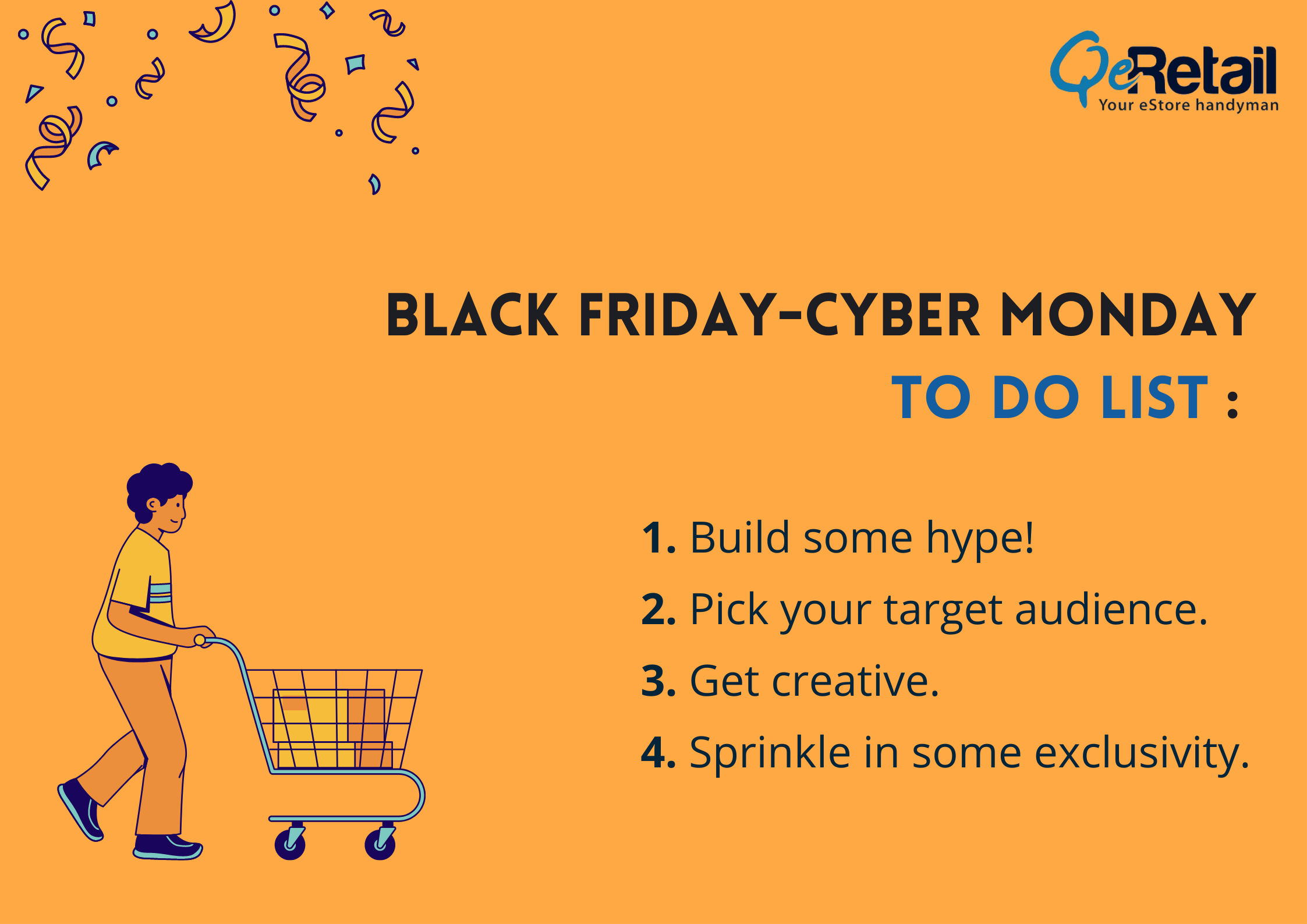 Be early to build the hype –


Pick your audience :

Are you someone who's quick to identify patterns?
If not, you better start working on it.

It's pivotal to recognise who you're catering to, and how you can get them to listen to you better. If you set out with elaborate campaigns, but they lack direction – you're not going anywhere. Knowing and understanding your audience is key to having the best idea of what to give them.

Whether it's a simple mail update or a big discount offering – having a blueprint of your target buyer's behavioural patterns, likes and preferences is a must before you start out. Make ample use of your user data and tracking during this time, and thank your analytics team later.

Get creative with your product teases :
The same old 'Flat 50% Off' has gone flat. Literally, and figuratively.

With all the noise around Black Friday – Cyber Monday sales this time around, the task is to stand out. Don't shy away from being a little 'extra' with your holiday marketing campaign during the last few weeks building up to the Big Week.

Boring won't be rewarding, not now, not ever.
So go all out with adding colour, teaming up with local influencers, and bringing that little dash of buzz to your campaigns. Whether it's a themed email template, or an Instagram reel – the audiences love to be entertained.
So be sure you're not backing off from doing just that.


Offer exclusive discounts – vouchers :

Exclusivity sells.

During this time of the year, your customers are naturally expecting a good sale.
Try to do more than not disappointing them by adding a dash of 'chic' to your discounts and voucher announcements. Be loud and clear about your offerings, and also be generous with sharing the news with your audiences through your social media handles.

Limited time period giveaways, contests and coupon codes are a sure-shot way to drive better engagements, and generate excitement. There's no one who doesn't appreciate some extra savings this season, so be sure to capitalize on that.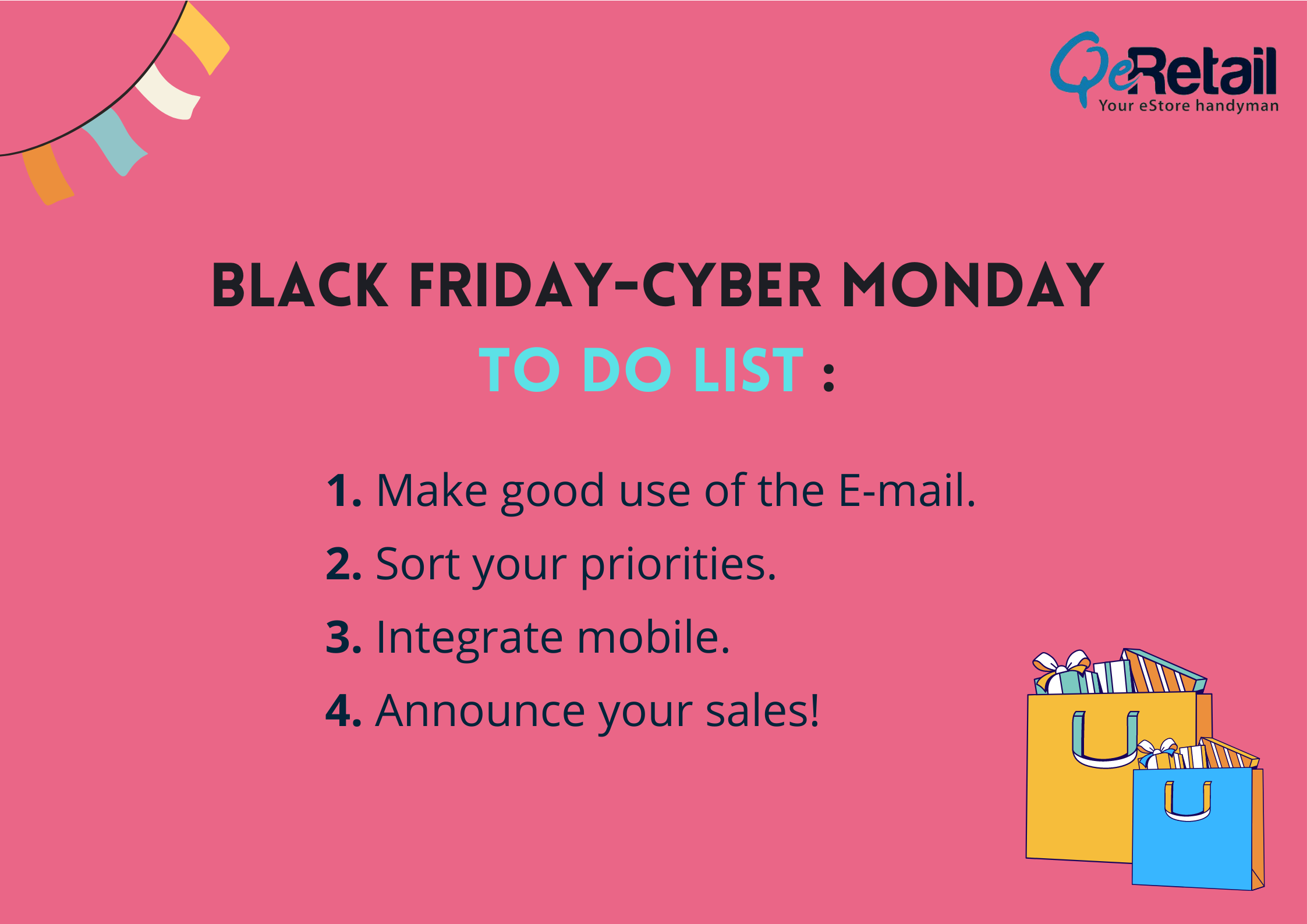 Make Use of the E-mail –


Create an E-mail list that prioritizes those looking to hear first about BFCM :

Before you set-out with sending fancily decked up mail blasts, be sure you're aware of who even wants to hear from you.
No self-respecting marketer intends to send mail that goes directly to the spam box.
To be able to efficiently capitalise on your mail campaigns – the first step is to identify who amongst your audience is even listening in the first place.

It's a busy time, and no one likes to be spammed with unnecessary info-overload when they'd rather be unwinding with their loved ones. So prioritise on the concept of the right message, at the right time, to the right person.
It's not the easiest of tasks to identify your target audience for the season, but technology is here to help – as per usual.

Email Service Providers these days come brimming with nearly every feature a marketer could ask for to run a successful email campaign. Make use of AI-sourced algorithms to segment your user data, and build on your Customer Experience (CX) with refining the tone and content value of your emails.
Your email contacts are a valued resource, make sure you make them feel like one too.

Get people to opt-in for updates and mobile notifications :

Online shopping is at an all-time high.
Nearly anyone and everyone with a phone on them is turning to online sources first to make purchases. As per a report by Datareportal, nearly 66% of the global population is recognised today as a unique mobile user. Moreover, the number of mobile users has seen a 13% increase in 2021, within just the span of a year.

One of the chief reasons for this stoic rise is social media, of course. The potential and reach of social channels and their nearly constant presence through our mobiles is only growing by the day.
This proves to be a brilliant opportunity for brand owners to get their customers to loop-into getting updates, announcements and mobile notifications on products and releases – before the Big Weekend is at our doors.


Announce your sales in advance :

The build-up leading to the holidays can prove to be an even more beneficial time for brand owners than the holidays themselves. This, if utilized optimally.

Take this time to make sales announcements, and give those an edge too by opting to offer a 10% extra to first-in-line customers. Everyone loves gifts, but with all the hoo-ha around sales and discounts during this time – it's pivotal that you have an edge over your contemporaries by going the extra mile.

Going beyond just sales announcements, this time is also crucial to build, or re-build on your brand values and how you choose to represent them.
The post-pandemic period has brought with it a stoic shift in not just how customers buy, but also how they think.
Nearly 80% of respondents in a survey said that they expect brands to be guided by a definite purpose attached to their offerings.

Gone are the times when a business was only defined by a profit or loss statement, today's brands clearly need to do more than just sell.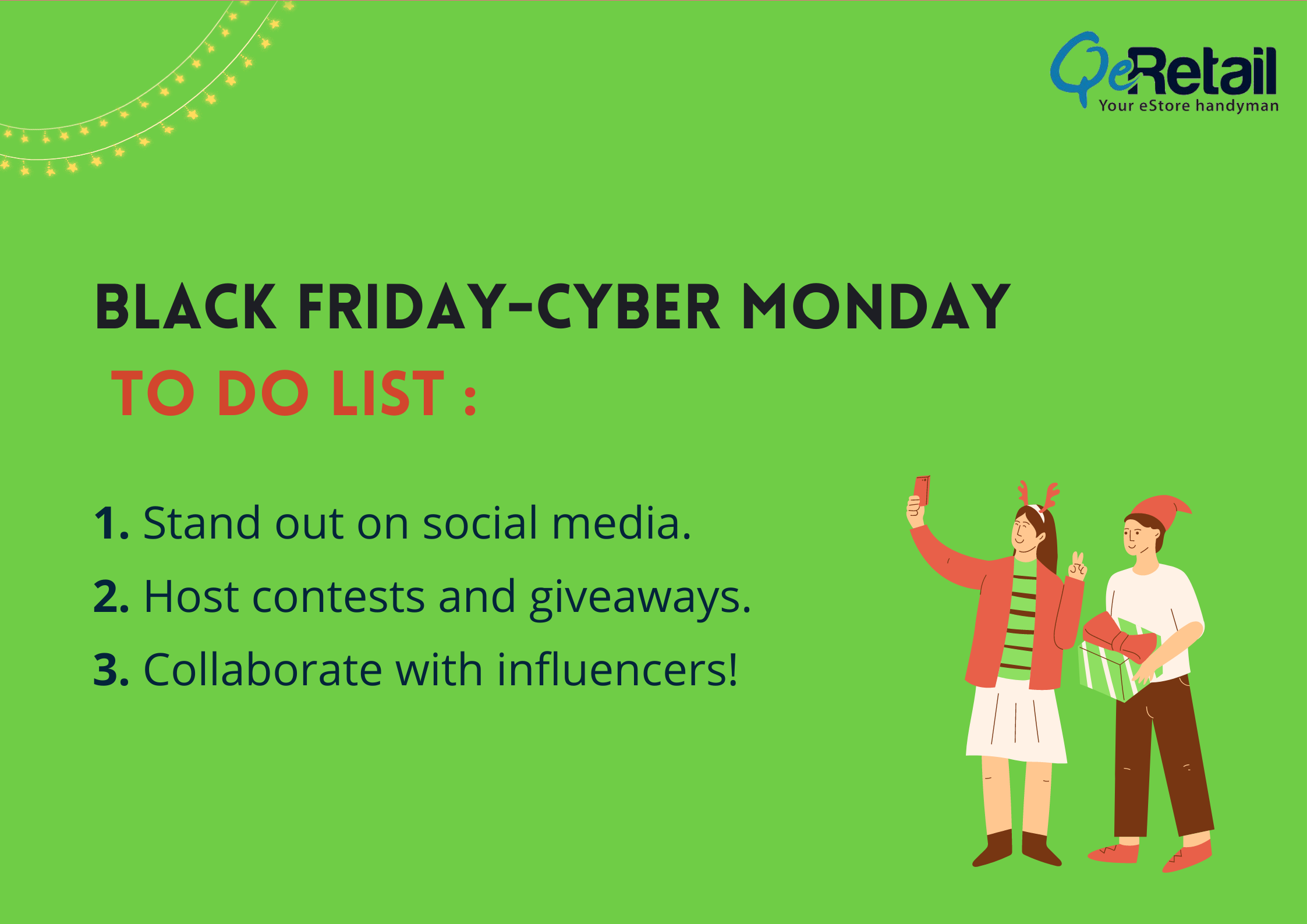 Integrate your Social Media –
Capitalize on all your social media fronts :

During this time of the year, you cannot possibly afford to be 'inactive' or inconsistent on your social media.

Social commerce – as in driving profits through social media channels is on an all time rise this year. As per a report, nearly 90% of people buy from brands they follow on social media. What's more is that they do listen and look forward to keeping themselves updated on what's up-and-coming by their liked brands.

The key element to take note of here is that in order for a customer to have an aligned perception of your brand – it's pivotal to stay consistent. Be it your Facebook ads campaign, or an Instagram poll – your content needs to be uniform in terms of how it represents your brand.

A brand like Reformation, for instance, is a great example of a collective speaking it's heart and mind out to their audiences through social media.
Contemporary shoppers are keen on research, and they don't mind dwelling in on their options before making a purchase decision. So it's only natural for brand owners to make sure they're taking this time to convey a wholesome message during peak season through their social mediums.

Organise contests and giveaways :

Who doesn't love the thrill of online contests?
Especially ones that come with those much needed self-care hampers.

A tactic that seldom fails is to engage your audiences with exciting contests and giveaways. Social media contests are a great tactic to add to your marketing planner, especially during peak season.
This, because contests not only help in encouraging a community feeling among your audiences, it also incentivizes people to actually follow and engage with you.
What would work even better is to team up with a well-known personality to host or organise these contests. It not only increases your reach and the interactivity quotient your customers share with you, but also adds volumes of social proof to your collective.


Collaborate with influencers :

When trying to step-up in the race to be seen and heard as a brand, collaboration is the time-trusted way to be.

It's no rookie's job to create a following for yourself across social channels, and especially one that's engaged with your content. Influencers are everywhere, and there's next to nothing that they're not doing – to create meaningful content, spread a message, and unite communities.
To team up with someone who already has a voluminous audience base of their own can work wonders for brands looking to come in the limelight.
Another factor to take note of here before you get overwhelmed by the term 'influencer' is that they come in all forms, shapes, and (follower) sizes. Gone are the days when it took one to be a celebrity to be considered an influencer. In today's time, the reigns have swiftly been taken over by local influencers – whose word is often given more heed than that of a celebrity.
Teaming up with micro-influencers who have more of a local/regional audience base can be a great tactic to increase targeted traffic to your site. These smaller scale creators have a great understanding and hold over their followers and can be great to partner with for a more definitively -targeted marketing campaign.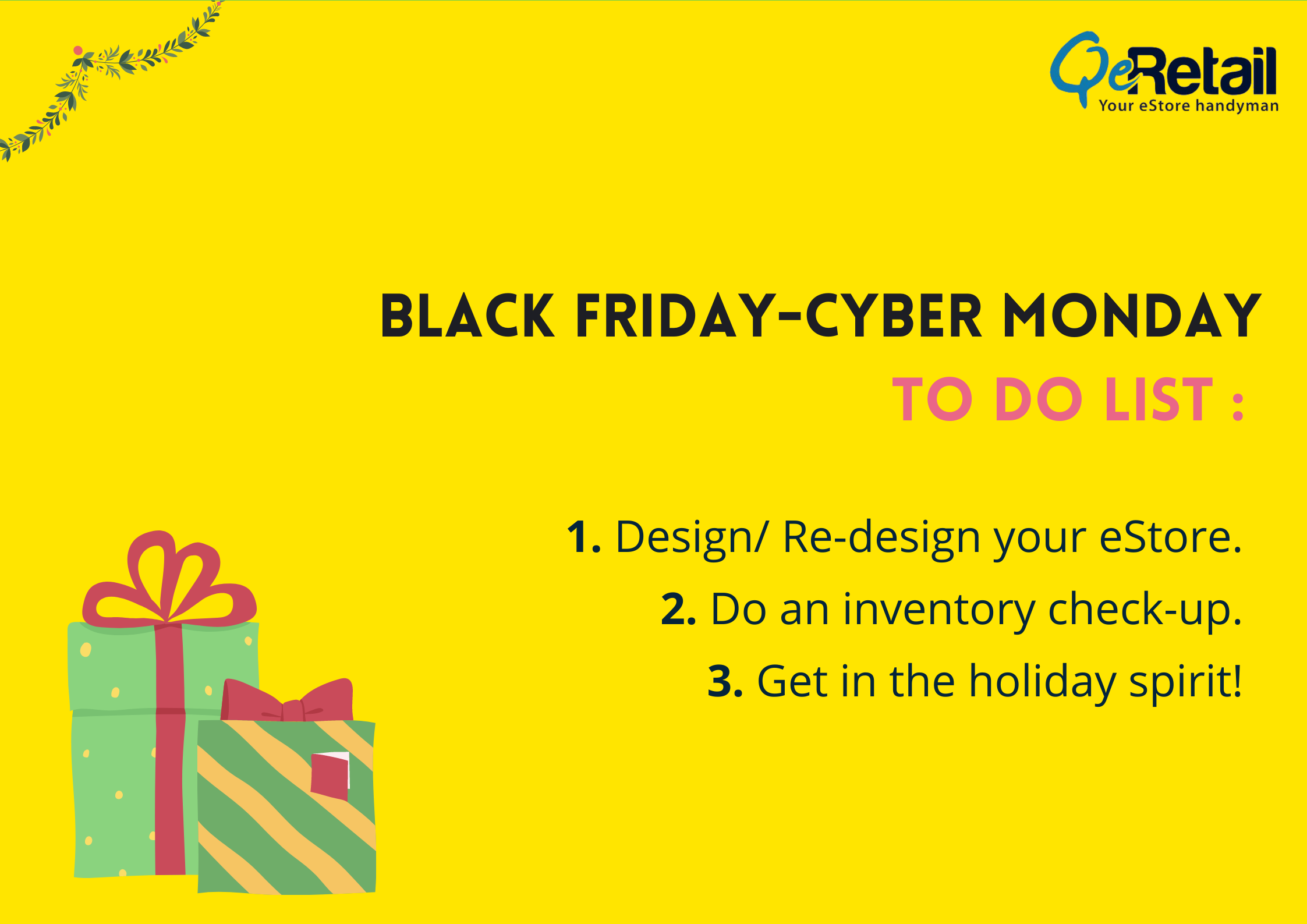 Make sure your store is actually ready –
Be sure to check-up on :

Website Design : product pages, navigation, checkout process :
To make sure your store sees it's desired traffic during the busiest week of the year for brands, you need it to be ready and prepared for the season's offerings.
When your customers find themselves at your site to make a purchase – work in advance to make sure their experience is seamless throughout.

A good way to get started would be to check on the page-speed and optimization of your home and product pages. These are the headliners for your store-front, and it's essential for them to not just look, but also feel like it. A good design layout can pretty much make or break the game for you, so be sure to give it that much needed makeover if it looks like it needs one.

The checkout process is one of the most pivotal aspects of the whole customer journey, goes without saying. So, make sure it's streamlined to suit your buyer's experience by – cutting out any unnecessary pages, making navigation more simplified, and also providing the option of a guest check-out, so people don't have to set up an account.
Inventory set-up :
Your store's inventory lies at the head and heart of all processes that flow from there on.
No one likes to deal with any last-minute mishaps, stock deficiencies or order delays – especially during this time.

At the crux of it – inventory management is primarily your system of managing your business's supply chain in its totality – from raw goods to finished goods. Processes like storing, selling and managing your stocked goods – all come under inventory management and it's vital to be at the head of things here.

To make sure your inventory is all set to welcome holiday shoppers, Try to –
– Have more than one supplier / supply channels.
– Avoid spoilage, or dead stock.
– Save on storage costs.
– Improve your cash flow mechanisms.
– Optimise on fulfillment.
Your holiday spirit!
Above all else – make sure you have all the fun you can during this time!
Much more than making sales and running profits, the holidays are about getting together with our loved ones and having a good time.
So keep reminding yourself to –

– take regular breaks.
– indulge in doing things that keep you refreshed.
– plan ahead, not after.
– make time for family, friends, and yourself.
– take it one day at a time!