A product sheet if created effectively can be the most significant key to increased sales over your online store. Product sheet design becomes quite important to attract customers and help them in making purchase decisions.
Creating a right product sheet is like balancing two main aspects – attracting customers and providing important information which can encourage them to take an action.
Here, we will enlighten the concept of a product sheet and what features to include to make it lucrative.
What is a Product Sheet and Why Is It Required?
A product sheet is a one-page sheet used for pitching sales to your online visitors. It includes the details about your product or service with a basic information about your company.
The product sheets are used as marketing material and are downloaded by your visitors when they require in-depth information about your product. It can also be printed and distributed in trade shows, sales meetings, etc., or emailed to prospective clients.
Below mentioned can be a perfect example of well-designed product sheet –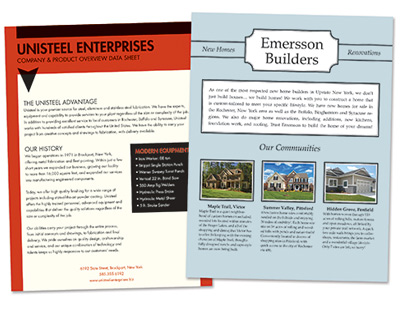 How to Create Effective Product Sheet Design?
There are three aspects which ensure the success of your product sheets –
Design
Content
Distribution
Out of these three aspects, the design is something which evokes the visitor to go through the entire product sheet and try to understand the message it is conveying.
So, here are some tips which would help you in creating a perfect product sheet and improve conversions over your online store –
Create a Captivating Headline
The visitors on your online store hardly have time to go through the lengthy content on your product sheet. But, if they find a headline which is creating some value for them, they are likely to read the entire content of the product sheet.
The headline should be something to which your buyers can relate to. Emphasize on the problem first instead of just selling your product or service straightaway.
Besides, the words you use in your headline, the way it has been presented aesthetically is also important. It should look attractive and so you need to use the right colors and fonts so that the users are encouraged to read the content below the headline too.
Optimized Layout
The layout should not only be attractive but also systematically designed so that it is successful in drawing the attention of visitors on important elements like a call to action, testimonials, price list, etc.
When it comes to single page design, there is less space and plethora of information to be placed. Each and every set of information is important and should be placed in a manner that it attracts users' attention.
Adding Personality
Your product sheet design should stand out different from other pages of your website. Think out of the box and use some creative images and fonts to give it a different look.
Besides having attention seeking headline and systematic layout, your product sheet requires to stand out different from the crowd. Add appealing colors, layout, and graphics to make that happen.
You can also follow a modern approach, and execute fun elements in your product sheet to form an excellent image of your company before potential customers and reap the benefits in terms of sales and profits.
Appropriate Testimonials
No matter how attractive your heading, images, colors, and fonts are, if you are unable to establish trust in the minds of your potential buyers, you may fail in growing sales over your online store.
To add credibility to your sales pitch, it is very much important to add positive and relevant reviews to your product sheet design.
Irresistible Call To Action
The purpose of presenting one-page product sheet is to encourage users to make a purchase decision and that can be done through an irresistible call to action.
Ensure that you have a highly visible call to action to accomplish your sales goals successfully.
Product Sheet Design: Is It Relevant for your Type of Business?
After going through the information on how to create an effective product sheet, the question may be arising in your mind that is it relevant for your type of business?
The answer would be that product sheet design can be a great marketing tool for any business requiring to provide detailed information about their products or services to their visitors.
For example, if you are selling a unique application, the modern approach to generate revenue out of it would be educating clients instead of presenting a direct sales pitch. Nothing can be better than getting a product sheet designed to familiarize your clients with the features of the app which would encourage them to go for it.
If you have any other tips to make a product sheet design better, please let us know in the comments below.