For an eCommerce business, it is all about high conversions. Email marketing can be the most cost-effective way to generate leads and convert if the email is attractive enough to lure the recipients.
According to direct marketing, email has an ROI of around 4.300%, and so it becomes important to ensure that it generates maximum leads and converts better.
Besides email subject line, the major key factor which can help in conversions is the email design. Whether you are owning an online store for apparels, jewelry or furniture, you will surely find one which can inspire your next email campaign project.
Stylemined – Online Marketplace
This colorful email design by Stylemined marketplace offers up to 74% discount which itself makes it quite luring for the recipients. Moreover, the layout and colors compliment each other very well making it a win-win situation for the store owners.
As the online marketplace has so many products to offer, it becomes challenging for them as to which products they should be highlighting in a single email design. Stylemined had overcome this challenge by not only presenting some of their best products with description and discount but also creating anxiousness among recipients by writing "There's More To Love At The Marketplace!"

H&M – Online Clothing & Accessories
This email design by H&M has been sent with the purpose of marketing their summer collection. With user-friendly navigation and soothing colors, this email design had been successful in grabbing the attention of many recipients and proven to be one of the most successful digital marketing techniques.

Purses of Paradise – Buy Purses Online
This email design by Purses of Paradise has used the same model in three different colors to choose depending on the color of your outfit. The images used are big and bright so that the email recipients can be lured easily to buy these purses. Moreover, the offer of "Buy one and win one" is a sure-fire way to win customers.

Unionmade – Online Store for Footwear
This awesome single image email design having a strong call to action is a true inspiration for eCommerce stores selling shoes and fashion accessories online. This email design proves that instead of cluttering the email with too many images, a single image can do wonders. This single image containing so many different shoes is so attractive that email recipients could not stop themselves from scrolling down till the end.

Petflow.com – Online Store for Pet Essentials
This email design is wonderfully designed with cute pets to lure the pet lovers all around. Moreover, a sense of urgency is created by providing instant savings for that same day only. It was their smart strategy of providing a fixed amount discount instead of offering percentage discount. Next time, if you are offering a discount to your customers, consider providing them a fixed amount discount and experience the difference.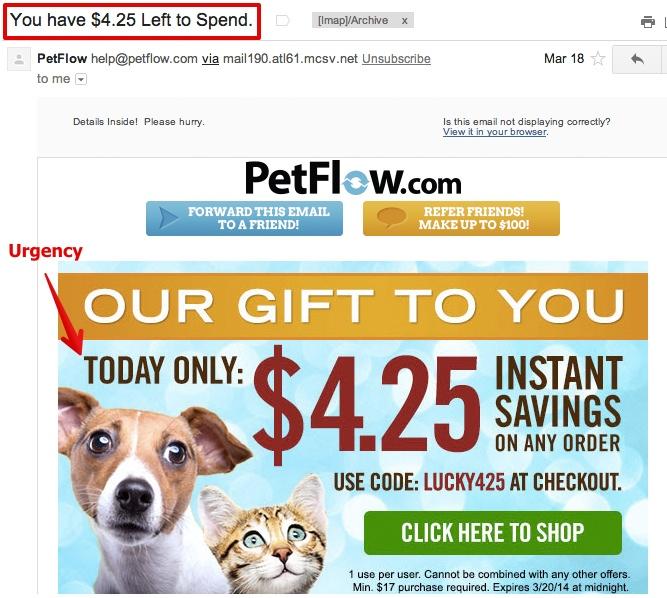 Conclusion: Customized Email Design for your Online Store
You would agree to the fact that emails can really help in generating sales provided that the email you send should be specially designed for your business. Picking up any email template and adding your store name in that design would not get you the results you would want.
Instead, you can get inspired from the above designs and use the strategies for your business.
Get in touch with us if you want to get customized email design for your online store. QeRetail is expert at designing eye-catching email designs which really work.