Twitter, best known for brevity, announced increased character limit to 280, up from 140. Oh! How we loved that number 140!! The ultimate gatekeeper of emotions, rants, updates, news, discussions, jokes etc. Well, the guard has now been replaced by someone more lenient. Meet Mr. 280, the compassionate tw . . .
Apologies, I ran out of characters there. So, there it is. You can see for yourself. Look how crowded 280 characters look. Or does it feel like a breath of fresh air? More space to thrive, play and mitigate?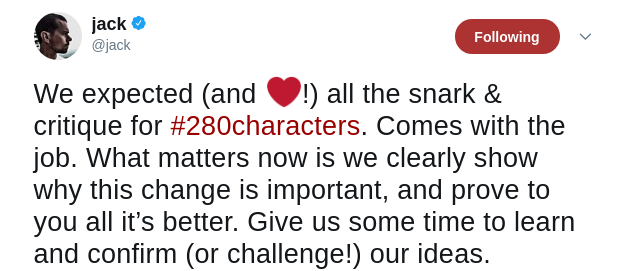 Let's do a fact check on what this Twitter's increased character limit update has in store for us.
The barrier of 140 characters had the reigns tightened over us. The backspace was used more often than needed. This was the beauty of 140.
Did you notice that the above the paragraph consists of 140 characters?
But hey, a change is always welcome. Or in this case, is it? There are mixed reactions pouring in from everywhere. Even though this furor is being fueled by sarcastic comments and witty jokes, it doesn't mean the new update is worthless. With an outreach at a global level, such updates are always subjective.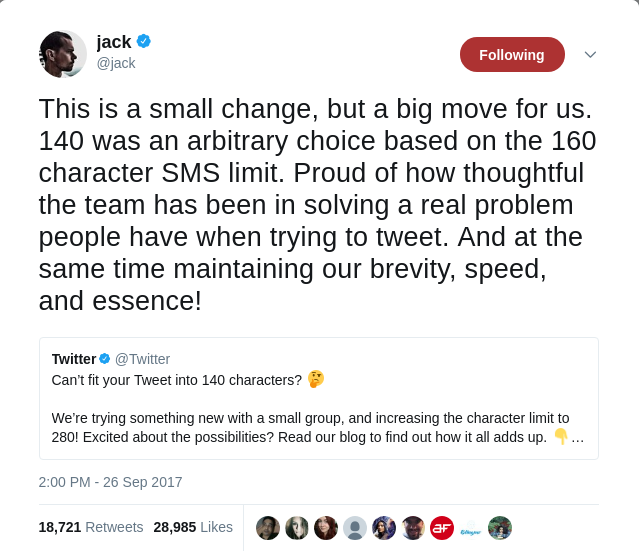 What sounds like a joke to some, might be beneficial to others.
1. Extended playground for marketers
So, we already know that 280 characters are too much for a platform that thrives on its character limit model. But hey! More characters mean more room to express. Not emotions but, products.
More room for marketers and influencers to construct a detailed sketch around a product or a service. While marketers have efficiently managed their marketing skills in the confined space of 140 characters specifically, more characters will simply add a definitive angle to these tweets.
2. Meaningful and up to the point
Marketers today know that users have short attention span. Sending out information in 140 characters, including the links, hashtags, and tags, made tweeters cramp their information as concisely as possible. And, the users or readers are adapted to reading short, crisp tweets.
This makes the platform a tad bit difficult. Marketers will now have to be clear about their message. Tweeting unnecessarily long descriptions will be punishable by the attention. It is obvious, people are not going to read 280 characters long tweet unless you have something very important to say.
If one develops the ability to resonate with users even while writing paragraphs that cover 1/4th of the screen, then that person deserves a retweet or two.
3. More users=More customers
Surely Twitter's move at increasing character limit is aimed at bringing more users to the platform. It's evident below that Twitter stocks plummeted heavily in the period between Feb 2017 and May 2017. It again hit a new low from Aug 2017 until mid-Oct.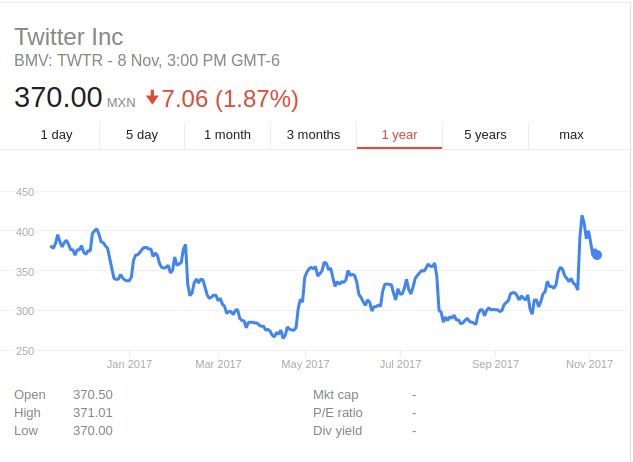 If this move reaps the benefits its intended for, this could be a good news for marketers. More users mean more potential leads. And if marketers use this increased character limit as stated in the previous point, this could also lead to more customers.
4. More accessibility
Increased characters > more words > in-depth expression > vast outreach. Almost all major countries use Twitter. With increased character limit, many marketers will aim at using Twitter as of their major social media platforms.
Quite a few folk found it difficult to market their product or services in 140 characters. Most of the space got utilized by hashtags and links. 280 characters could attract more marketers and social media experts. This gives a golden opportunity to convey the correct message across every part of the world.
Conclusion
If only Mr. Trump had 280 characters back then, the Covfefe fiasco would have been avoided.
Nah! Somewhere it did give us a good laugh and something to mock about. Didn't it?
Glad that it happened before the Twitter's increased character limit update.