Dropshipping attracts many who want to run an online business since it is not as complicated as it sounds. There are numerous benefits that come along with a drop shipping business: you do not have to worry about stocking or warehousing the products that you sell. You simply contact the manufacturer or wholesaler for the products that you want to sell, all the while partnering with them.
Now, finding a legitimate drop shipping partner can be a little exhausting if not tough. There are many merchants who just want to take the upfront cost from you in exchange of godawful services.
Here are some of the top drop shipping companies you can look forward to.
1. Doba
Doba has one of the largest inventory of products from a huge range of manufacturers and suppliers. Each supplier in the Doba marketplace has to meet rigorous technical and performance standards.
You can view any suppliers' scorecard on the website and take the decision accordingly.
Pros:
They provide free trial for 30 days.
Approximately 2 million products from hundreds of suppliers in one catalog.
You do not have to contact different suppliers for different products.
Simply select the product you want to sell and Doba will contact the supplier for you.
Cons:
As Doba works with many suppliers and manufacturers, shipping might vary.
Compared to other drop shipping companies, Doba's monthly plans are a bit steep.

The basic price plan starts from $29 per month while the advanced and the pro version costs $69 and $249 per month respectively. You can check their entire price plan here.
2. Salehoo
Salehoo has 8000+ companies and suppliers affiliated with them. Each supplier is verified by Salehoo. It boasts of 1.6 million products at genuine wholesale prices. Salehoo also has an amazing educational resource to help you grow your business. You can use the Market research lab to find what type of products are more likely to bring you higher profits.
Pros:
They have a comprehensive supplier directory with over 8000 companies.
They have amazing learning centers and resources, from a market research lab to seller training center.
Their customer support is very efficient.
Cons:
You can see the supplier's name only when you sign up.
They do not have any free trial.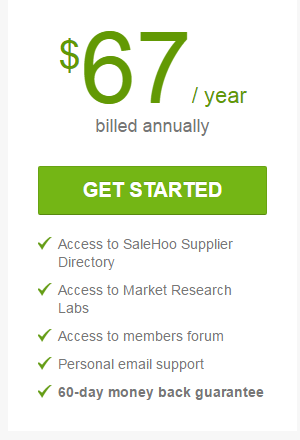 Salehoo has only one single price plan. For $67 a year you get complete access to their website. Additionally, they have a 60-day money back guarantee.
3. Alibaba
One of the largest e-commerce website out there. There are loads and loads of merchants, suppliers and manufacturers you will find here. You will find almost any product on this website and that too at a cheaper rate than others. You will just need to make sure you get in touch with a merchant who provides drop shipping as not all manufacturers on Alibaba provide this service.
Pros:
The largest conglomerate of suppliers and merchants you will find on the internet.
Low-cost to start with.
Plentiful merchants and suppliers under one roof.
Cons:
Not all manufacturers provide drop shipping.
Shipping times may go as far as up to a month.
Since Alibaba is not a straight out directory for drop shipping merchants, they do not have an unequivocal price-plan.
4. Wholesale2b
Another global drop shipping directory which has over 1.5 million products at your disposal. Their inventory includes over 25,000+ categories/sub-categories. Every product is shipped anonymously from warehouses across the USA.
Pros:
You have a range of plans to choose from.
Easy to integrate with e-commerce platforms such as Shopify, BigCommerce etc.
You can freely view their suppliers and products without any cost.
They have competitive rates and plans.
Cons:
A major drawback for Wholesale2b is their support. You cannot contact them directly through call or email.
The only way you can contact them is by raising a ticket.
It doesn't offer tools for analytics when it comes to sales and performance.


Wholesale2b has its own set of customized plans. You can choose from multiple plans that fit your bill. They recently introduced two new 'Do it yourself' and 'All inclusive' plans for $67/yr and $82.99/month respectively.
Wholesale Central doesn't have a decent website but is quite good at filtering through different categories and products. They have an abundant resource of products and suppliers. It is a strict B2B platform. There are no middlemen here; when you find a supplier on their website simply follow the link to the website where you can do business with them directly.
Pros:
A decent B2B platform for both, buyers and suppliers.
They have powerful sourcing tools.
You will receive exclusive deals from prescreened suppliers by Wholesale Central.
Cons:
Does not have a very good website which may seem cheesy at first glance.
You can contact them only through email.
Since there are no middlemen involved, they have no pricing provided on their website. You need to contact the manufacturer directly, hence pricing varies.
6. MegaGoods
Founded in 2004, MegaGoods is one of the largest suppliers of consumer electronics and video games in a wide range of categories. They distribute consumer electronics with a specialization in drop shipping services.
Pros:
MegaGoods is cheap compared to others.
This could be a feasible option for you if you are keen on selling electronic items.
The site allows you to check the products before you sign-up.
Shipping speed is good.
Provides big brand names in the segment. Quality over quantity.
They provide 30-day free trial.
You can contact them via phone, email or Snail mail. They are quick to respond.
Cons:
They offer less number of products compared to other websites in the list.
Lack of tools, website integration, and shopping cart integration.
They do not have product notification feature.
Card information is required while signing up.
Lack of automation.
MegaGoods charges 20% restocking fee meaning when a customer returns an item bought from your store, you will have to bear the price for restocking.
Membership charge on their website is $14.99 per month. In addition to that, they charge $1.50 per order along with shipping charges.
Founded back in 2002, Inventory Source is one of the oldest drop shipping service providers. They have 100+ drop ship suppliers with them. All of these suppliers are vetted as trusted drop shippers by them. The company monitors the inventory feeds daily with their Dropship Automation Software. You can also integrate your own drop ship supplier, third-party fulfillment warehouses or Inventory management system.
Pros:
They offer a number of services right from integration with top e-commerce platforms like eBay, Amazon, Bigcommerce, Shopify, Magento, Volusion to name a few.
They can even build a website for you.
No card required to create an account.
You can access the supplier directory, community features and more for as long as you like.
There are lots and lots of free resources you can find on the website along with easy integration tools.
Cons:
Inventory Source can be expensive if you want to collaborate with multiple suppliers. They charge you differently for each supplier.
There are no market research tools to help you figure out the competition in the niche.
Drop ship fees, restocking fees and shipping and handling costs vary depending upon the supplier.

They do not charge you for signing up on their website, giving you the access to supplier directory. To start selling from their website the plans start with $199 a month provided you opt for full automation. Apart from that, if you just want to integrate your supplier with eBay as an example, Inventory Source will do that for you for $25 a month.
A company that was awarded an A+ by the Better Business Bureau. Sunrise Wholesale provides you access to 15,000 brand name products. They also provide you with two very useful tools, Amazon Selling and Research Manager and eBay listing wizard and Research Tool. These tools also allow you to fulfill your orders with a single click, analyze stats and charts easily.
Pros:
You do not have to sign up to see their catalog or even the product pricing. You can easily see the descriptions and product pricing before you sign up.
Great integration with marketplaces such as Amazon and eBay and e-commerce platforms such as Shopify and Bigcommerce.
They provide a 7-day free trial.
Cons:
Compared to other drop shipping providers in this list, Sunrise Wholesale has around 15,000 products from a limited number of suppliers.
They charge 20% restocking fee whenever a product is returned by the customer.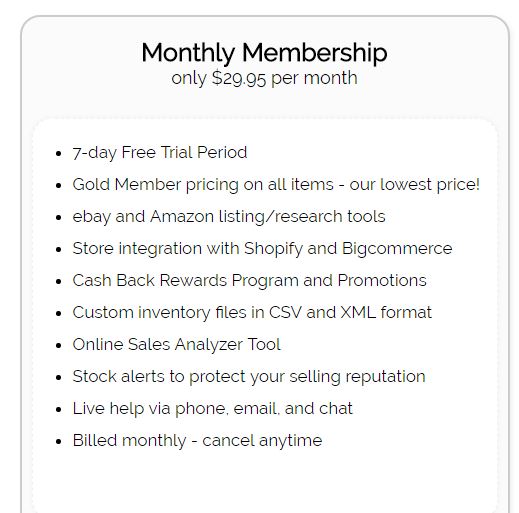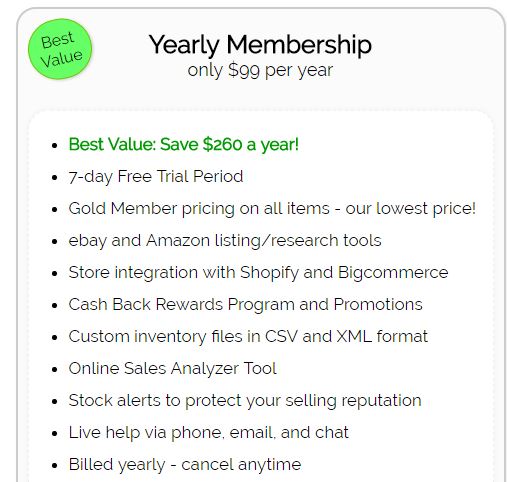 Monthly membership with them will cost $29.95/month and the annual membership cost is $99/yr.
World Wide Brands is the largest product sourcing directory online. They keep on adding more and more suppliers on their website while maintaining a detailed check on each supplier ensuring their legitimacy. Every supplier that you will find on their website is certified, nulling out the chances for spam.
Pros:
They have over 8000 certified suppliers who offer to drop ship.
They have a lifetime membership registration option.
Each and every supplier that you find on their website is certified by them.
The company is certified A+ by BBB.
Cons:
It doesn't have many drop shipping features that other companies provide.
There are no automation and analytics tools available.
The lifetime membership fee is not cheap though.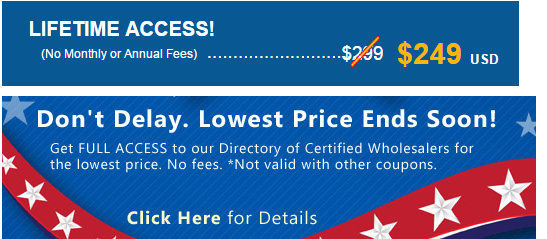 If we talk about the pricing, the lifetime membership fee is $299 in order to get going with the directory. Currently, there is a sale on the website and they have reduced the price to $249.
10. Dropship Direct
Dropship Direct have been in the drop shipping business since last 13 years. They have a large inventory of 100,000 products from over 57,000 merchants. They boast of 1,100+ brand names affiliated on their website.
Pros:
They do not charge you for any subscription fee; registration is completely free.
The company does not include any promotional materials in the boxes.
They ensure blind shipping; your customers will never know where the product came from.
They have a handsome range of product selection.
Cons:
They lack research tools and learning activities.
You will need to make all your orders manually, no automation is provided.

When it comes to pricing, they do not charge you any upfront subscription fee. Subscription is free on their website, you just need to pay $9.97 for using their push list technology.
11. Dropship Design
Established in 2004, Dropship Design is a versatile drop shipping provider with over 1 million products at your disposal. Membership plans are quite affordable making it a good company to start with.
Pros:
You have to pay a one-time fee with most of the plans which become quite hassle-free.
The company has good inventory and back-end features.
If you choose to opt out of the membership, they will not ask for any penalty fees.
They have a minimum risk approach, which means you pay to the company only after you start selling.
There is no minimum order quantity, no commission.
Cons:
They do not have a good customer support. The company does not provide any number on their website where you can contact them directly.
It may take days to hear back from them if there is any issue troubling you.
You will need to sign up in order to see the product pricing.
They offer to dropship only in the US. They had a drop ship plan for the UK but have removed it since July 2014.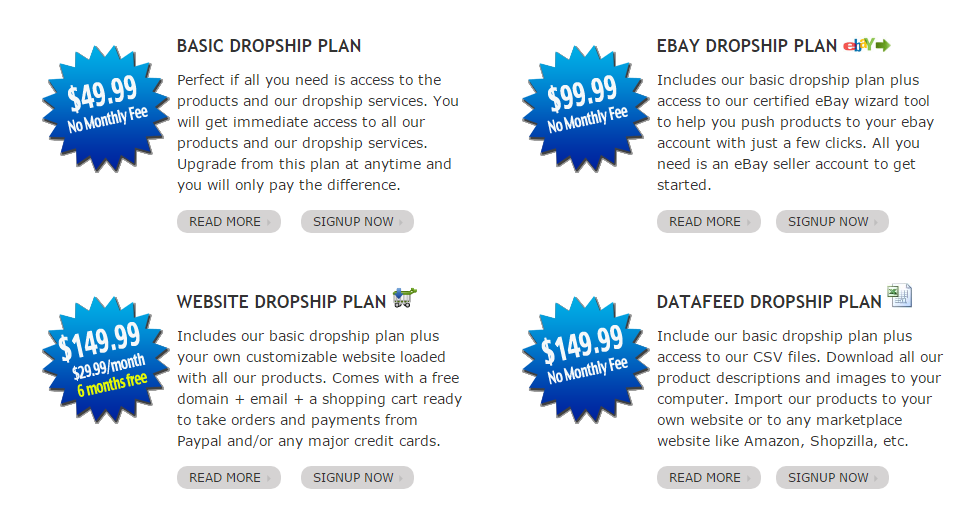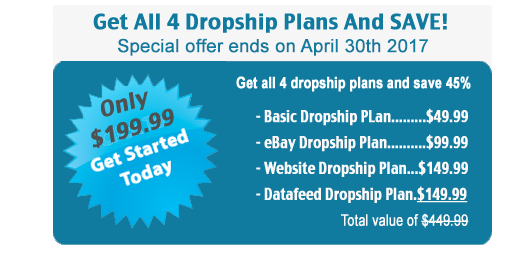 There are multiple plans to choose from. A basic drop ship plan starts from $49.99 for no monthly fee. If you wish to aggregate all their website plans for your business, they charge $199.99, again with no monthly charges.
National Dropshippers has an inventory of over 250,000 products with them. You can gain access to their products with a 7-day free trial that they offer. Overall, a simple website where you can start viewing the products of your choice from a wide range of categories.
Pros:
They offer the fastest shipping speeds among the other companies.
250,000+ products to browse and choose from.
You can export product images and descriptions on the marketplace of your choice directly from their website.
They offer a variety of plans and can also help you build a website.
Cons:
They do not have any analytical or integration tools available.
You will need to log-in every time you want to order products from the website and place the order manually.
They lack any educational resources and training materials for beginners or anyone who wants to learn dropshipping.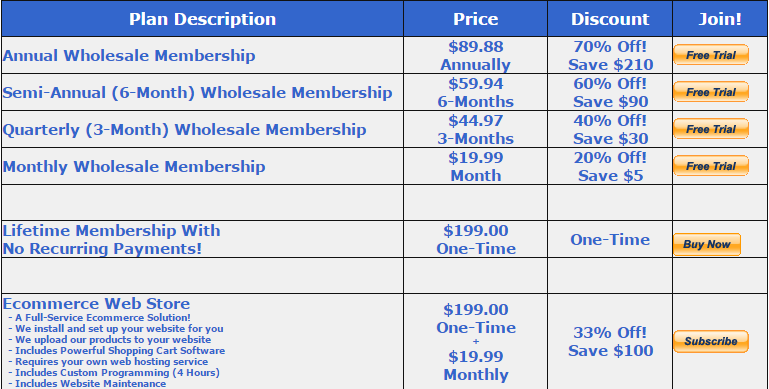 National drop shippers have affordable pricing. Their monthly wholesale membership starts from $19.99 a month. Similarly, you can choose a membership for 3 months, 6 months and 12 months. They will help you build a website for $199.00 as a one time cost and $19.99 charged monthly thereafter.
13. Smart Living Company.
Smart Living Company offers a decent amount of products for anyone who wants to start with their drop shipping business. Their main focus is on home decor, outdoor, fashion and toys.
Pros:
A good, easy to use website. You can browse through all the products easily.
A wide range of product selection for anyone willing to start their business in home-decor.
They have great customer support. You can contact them via call, email or even start a live chat on the website.
They have their own forum and discussions page where you can get additional information.
Cons:
Smart Living Company doesn't have a wide range of products that other companies offer here.
They have a catalog limited to a certain category (home-decor and outdoors) which might not resonate with someone willing to sell on a wider platform.
You need to sign-up in order to view the product pricing.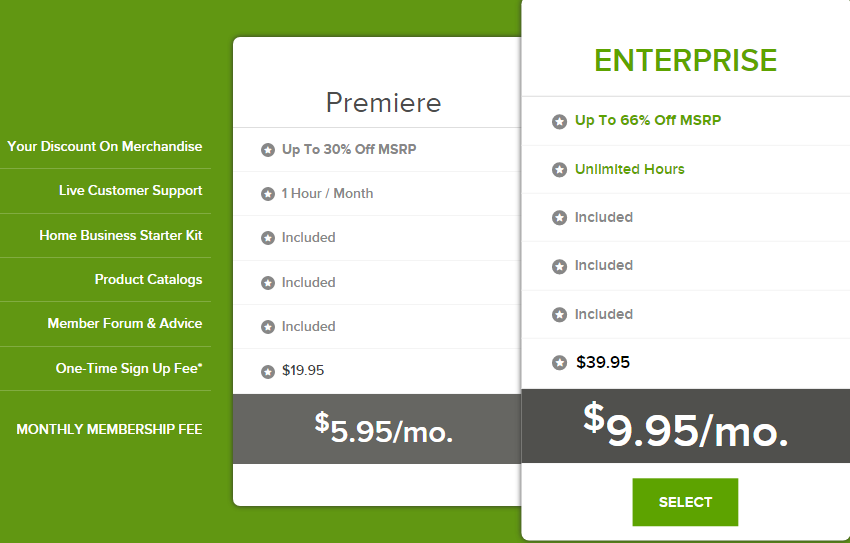 When it comes to pricing, Smart Living is quite cheaper. They have 2 plans to choose from; Premier and Enterprise. Premiere plan starts from $5.95/month and Enterprise plan costs $9.95/month. One time sign-up fee for both the plans is $19.95 and $39.95 respectively.
Conclusion
Now that you have a detailed review of all the drop shippers you will ever need, get yourself up and wait no more. You can check each website individually with the help of the link we have provided here and choose to partner with the best.

Get a Free Design Mockup for your Dropshipping Store