It is that time of the year! When you sit back and relax, the leaves are changing its color, and the pumpkin spice mania craze is reaching a new height.
Well, this can mean only one thing.
It's time you dust off that old crystal ball and gear up for some PPC trends for the upcoming year.
Here is a detailed list of all those PPC trends that will make waves in 2018.
1. Need for speed
To be clear, users are not thinking about your how much but their actions speak something else.
When your site takes more than few seconds to load, you lose 40% of your visitors. You can also expect your conversation rate to sink like anything if your sit takes even longer to load.
People prefer to browse on the go. An idea pops up into their mind and they Google it. And if you don't give them a leisure browsing, they'll leave your website without giving a second thought.
Also Read— eCommerce Trends 2018 : Planning for Post Holiday Season
2. AMP (Accelerated Mobile Pages)
Looking at the need of the hour, Google launched Accelerated Mobile Pages (AMP) in 2016. AMP pages are the ones with the little lightning bolt icon you see in search results.
They load with a fraction of a second.
In September, Google introduced the AMP landing pages for text ads. This format has already been tested by some news publishers (like The Guardian and Forbes) and e-commerce websites (Zalando and AliExpress), however, only in organic search. The AMP versions of pages appeared to load "instantly" – or, to be more precise, approximately four times faster than regular pages.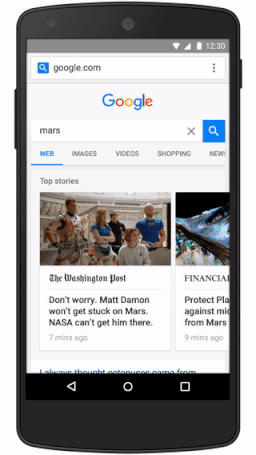 It's time you implement AMP for your PPC pages!
3. The new AdWords user interface
Perhaps the most peculiar change in the PPC landscape is the new AdWords user interface.
Advertisers all your seen the little blue box in the bottom right-hand corner of our AdWords screen that says "Get more done. Try the faster AdWords."
We're all busy, we're all in a time-crunch, and venturing outside the familiar comfort of the classic interface just never seems like the best use of our limited time.
3. Google attribution testing
Every change you implement has to be measured carefully. To help you better analyze your performance, Google will roll out Google Attribution – a brand new solution based on machine learning to help you measure with more precision how each cent you spend pays off. You can expect it to give you a lot of insights for your campaigns and here is why:
• It is cross-channel and cross-device
For those who run campaigns in search, display, and email, on desktop and mobile, it is always a challenge to determine which channel contributed more to the conversion and which device is more efficient. As Google claims, the new solution will bring together the data across channels and devices to give you a clear picture.
• It is integrated
If you use external tools, it always requires some effort to make sure the information is transferred and displayed correctly.
It is everyone. Some businesses can already try data-driven attribution, but with the current limitations (at least 15,000 clicks and 600 conversions per account in 30 days to start using the model (and a minimum 10,000 clicks and 400 conversions monthly to continue using it) it doesn't seem doable for small and medium advertisers. The new attribution is expected to change this in 2018.
If you haven't been in the first wave of testing this new tool, you can apply by clicking here.
Bottom Line
Considering all the PPC advancements, 2018 is going to be the year of advanced analytics and the freedom of experiments. so how will you leverage PPC campaigns in 2018? Which features will you use? Let us know.