It's no more than 6 months since Shopify and MailChimp parted ways. The official integration ended on 12th May and ever since the eCommerce email marketing scenario on Shopify changed for its online sellers. To get back in the game with full power, Shopify just added one more feather to its giant hat of marketing solutions! The just-launched (5th November 2019) 'Shopify Email' is a marketing app extension for its eCommerce merchants. Apart from all the Mailchimp Shopify alternatives, here's an in-house email marketing solution that Shopify family can make use of! Albeit the feature is currently in BETA and you need to apply for the early access from your Shopify store. There's an official announcement of this feature being available for all the merchants soon with different plans. 
When we talk about the most ROI worthy marketing channel, email marketing fits the bill like no others! Adding email capabilities into its in-house marketing tools is the biggest breakthrough for the SMBs who seek quality email marketing services without any third-party extensions. The value it will add to communication and customer relationships is remarkable. Online marketers with zero to negligent knowledge about email marketing can streamline their campaigns with ease. It's a step forward in providing a consolidated marketing setting for eCommerce stores that every non-expert can approach and adopt! Like any other full-fledged email marketing service, Shopify Email are proclaiming to give full exposure to its users. It contains capabilities to create, market, and track the email marketing efforts made on your eCommerce store.
Key Features of Shopify Email
Shopify Email is a tool specifically designed for eCommerce entrepreneurs to help build their brand.  Major functions needed to run an email marketing campaign efficiently are there at our disposal. Let's explore the new feature a bit more…
1. Email Template Customization
Shopify email fetches the branding details from your eStore to come up with a template you can directly use. It is capable of pulling in your store colors, logo, and product details automatically. Moreover, you can send distinct types of marketing emails that aren't limited to sales. Ready to use templates let you connect with your consumers with product collections emails, newsletters, greetings, festive offer emails and more. And when we talk about customization, Shopify emails are alterable enough to add/delete text, buttons, images, and more. An added advantage is the auto-save function!
2. Lets You Send From Your Domain
Shopify Email comes with a provision of 'Use your own Domain'. This is an important feature in terms of building brand loyalty and another benefit that comes with this is being able to dodge the spam filters.  In order to run email campaigns via Shopify Email, you need to simply import the customer list to Shopify and segment the emails to reach the right customer base. The preview option makes it easy to identify any flaws and correct them before sending.  Another pivotal aspect covered is 'email scheduling'! eCommerce businesses serving cross-border or multi-time-zoned customers can schedule their campaigns to be sent on a specific time.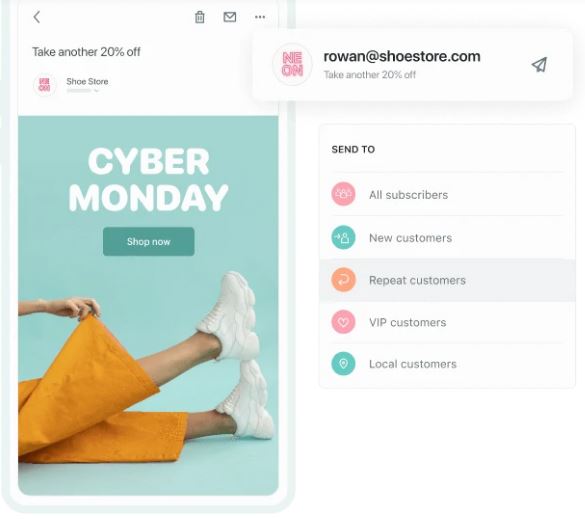 (Image courtesy: Shopify)
3. Email Analytics
The crucial part of any marketing campaign is its performance report. Without analyzing how the campaign is working for your brand, you would never come to know what customers want from your brand and what are the areas that need improvement.  Shopify Email comes with campaign analytics. It lets you analyze the data for email open and click-through rates, plus the number of products added to carts and purchased. Everything comes under one roof where you can send and track emails from the same place you manage products, customers, and other digital marketing campaigns. eCommerce stores can try new things to refine the approach over time with each email campaign.
Over to You
Shopify Email is said to be the extend marketing capability introduced to replace the missing MailChimp integration! It has also partnered with various advertising platforms such as Facebook, Google, Microsoft, and Snapchat. The third-party marketing apps Seguno, Omnisend, and SMSBump have also integrated into Shopify to support a variety of marketing campaigns easily.
It is yet to see how this built-in email marketing function will affect the workflow for Shopify's one million merchants around the world. We can definitely conclude that with Shopify Email, Shopify is coming out as a powerhouse for the eCommerce landscape. Merchants can create, nurture, market, and sell online without any technical or marketing expertise on Shopify!
For the latest updates on the eCommerce marketplace, stay tuned to QeRetail Blogs, and for any eCommerce services, big or small, get in touch with our eStore handymen.