You may agree to the fact that it takes a lot many efforts to bring a customer to the checkout page of an eCommerce website. What if the customer leaves the store without buying? Yes, that is known as shopping cart abandonment – the biggest threat for online retailers these days.
When a customer abandons the shopping cart, all your investment in eCommerce web development and its digital marketing efforts go in vain right?
So, how should we prevent shopping cart abandonment? Here are some simple ways which can help you in encouraging your customers for not leaving your online store without completing their transactions.
Modify Shipping Costs
As you can see the below image, high shipping costs are the major reason due to which your customers leave your website without buying.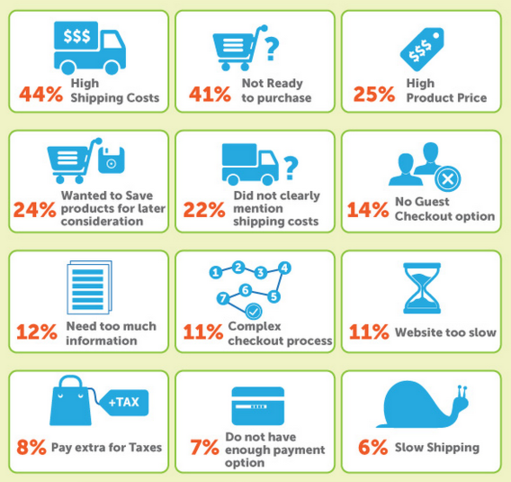 Most of the customers choose to buy from a store offering free shipping. Moreover, they even try to purchase enough so that they get free shipping. This proves that your customers avoid paying for shipping charges.
Above all, if you surprise them with unexpected shipping costs when they reach to the checkout page, they may get annoyed and leave your store.
So, what should be done?
Eliminate shipping costs or offer free shipping on a certain amount of purchase. Your customers dislike paying for shipping. Instead, they will buy more from your store to save themselves from shipping costs.
Be crystal clear about your shipping costs on your Home page or product page itself. Don't try to reveal shipping costs at the end of the transaction as your customers really hate this.
Establish Trust
Establishing trust is the most effective factor when selling online. 61%  of people didn't complete purchase because there were no trust logos present. Your customers are highly concerned about sharing their confidential information like credit/debit card details. Many of them don't even buy online because they don't want to share such information online.
You need to eliminate this fear of your customers by placing security logos prominently visible. Also, ensure that those logos are clearly recognizable.
Provide Multiple Payment Options
Many times customers abandon the shopping cart because they don't find their choice of payment option. Now, when payment options like Apple Pay and Google Wallet are becoming popular.
Adopting latest trends in payment options can help you in eliminating one of the most potent reasons for cart abandonment.
Allow Guest Checkout
Many people abandon the cart because it is mandatory to register with the website to complete the purchase. To register, there are many details to filled in the form and customers get annoyed with that process.
To make things easier for your customers, let them provide minimum information like email id, phone number and shipping address, and checkout as a guest.
You may miss out to gather a lot of information required for your marketing efforts, but this will help you in providing a seamless shopping experience to your customers.
Ensure Quick Loading of the Website
After adding the products to the cart, your customers might browse through the website to have a sneak peak on other products too and check out if they are missing to buy something else. At that time, if it takes a hell lot of time in loading category and product pages, they get annoyed and just leave the website.
Make sure, that your website has been hosted on a reliable server. Also, it should be ensured that the images and other technical elements of the web pages load quicker and provide an excellent shopping experience to your customers.
Quick loading speed of the website would help you in keeping your customer engaged to your store and complete their purchase.
Indicate Progress While Checkout
Indicating progress while checking out would eliminate the uncertainty arising in the mind of your customers. Show them the steps of the checkout process and indicate them where they are at present. This would give them the assurance that they are about to complete the purchase quickly.

Moreover, it makes it easier for your customers to understand the entire purchasing process on your online store. They are likely to visit your store again for their future purchases due to this clear indication of their buying process.
The Future of Shopping Cart Abandonment
Besides above-mentioned reasons and solutions relating to shopping cart abandonment, there might be other factors too which make your customers leave without purchasing.
There was a time when it was considered that offering discounts are enough to attract online shoppers and retain them for future. But, now providing seamless shopping experience has become mandatory to make an online business successful.
So, the key factor for preventing shopping cart abandonment would be to just step in the shoes of your customers.
You can also go through – 6 Steps to Plan a Perfect Abandoned Cart Recovery Campaign.
Whichever technique you adapt to eliminate shopping cart abandonment, the secret to success would be to provide an excellent shopping experience to your customers.