You have developed a kick-ass website and are promoting it vigorously on social media. You are having visitors both on your social media pages and on the website but very few of them are converting.
68% people abandon online carts. There might be a lot of reason causing this to occur. Price hikes, not-so-optimum store design or the mood of the consumer. There are a lot of things that you might need to focus. This infographic from Red Stag Fulfillment walks through several of the areas of focus.
Building a profitable business is not just about setting up well; it is also about running it well.
What is eCommerce conversion?
eCommerce conversion is the process by which more and more visitors become your consumers. eCommerce conversion optimization can be achieved by improving the overall shopping experience which leads to more sales.
Conversion rate optimization(CRO) can be administered on landing pages, checkout pages or category page.
To have a better understanding of the website, you can have a look at this article.
6 eCommerce Conversion Rate Optimization tips to follow in 2017
Before we move forward towards the tips, we want you to know what your current visitors are exactly doing–why are they leaving your website without converting. Let's move towards knowing the real issues with your conversion rates and correcting them to render sales this year.
1. Get friends with conversation rate calculating tools
A machine can reach where humans can't. There are some helpful tips which would make you figure out problems in your current conversion rates. Some of them are:
▪Google analytics
Google analytics is the ideal tool for analyzing your website. It shows parameters such as:
1. From where the visitors are — their location
2. How long did they stay on your website
3. How visitors found your website- from referrals, Google search or keywords
4. Are the visitors new or old
5. It also tracks the paid traffic by linking to your Google AdWords account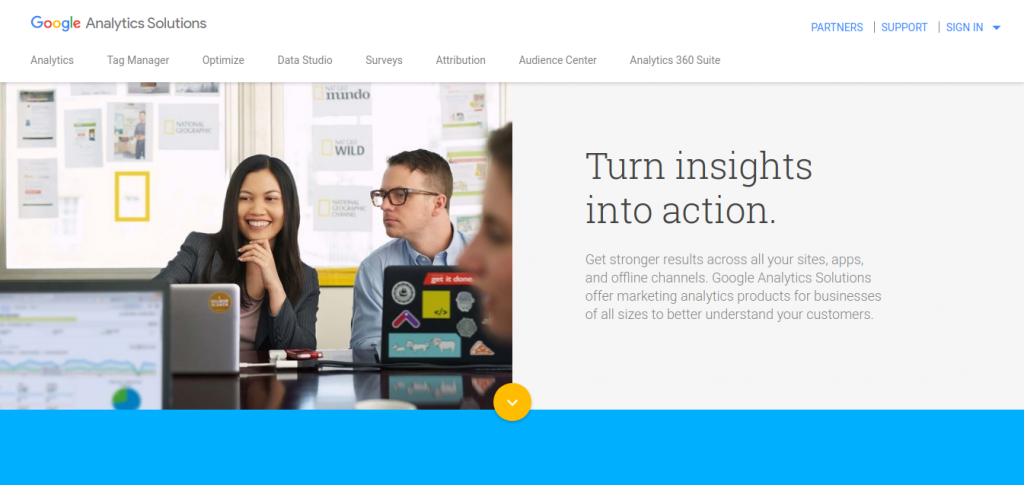 ▪Inspectlet
Inspectlet records every step taken by the visitor on your website. It will show the IP address, from where the visitor came and for how long it stayed. Create an account on the website and put a script tag on your website and start recording. You can record up to 100 sessions in the free version. For viewing a users activity, click on a session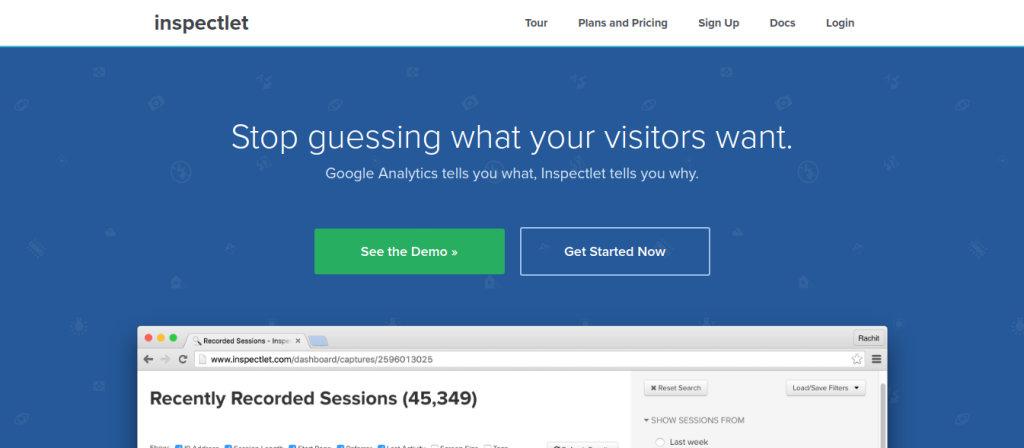 ▪Crazy Egg
It enables you to see where users are scrolling and interacting based on Heatmap, Confetti, Scrollmap, and Overlay. I carried out a comparative analysis of our website.


However, this tool isn't free. The basic plan is for $9/mo wherein you'd get 10,000 visitors per month, 10 active pages, and daily report.
2. Optimizing product images
An IRCE 2012 report states over 60% of consumers say that quality of images and ability to see products from different angles is the most important feature of an eCommerce website. Make it a habit to put high-quality images which users can zoom in and zoom out. Also, showcase your images from all sides and angles. If you're offering a t-shirt which is in more than one color, show images of all colored t-shirt. You can search for HD images in Google. Look at this example of Nike shoes.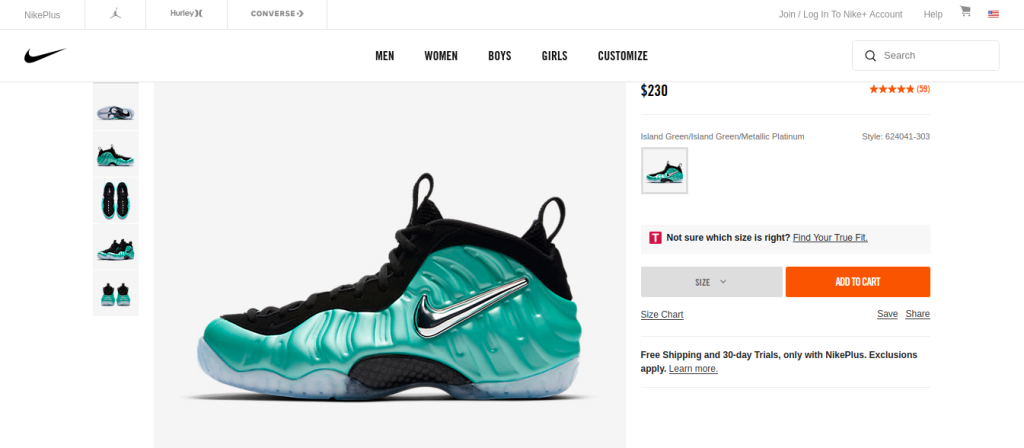 3. Free shipping
Free shipping is a great deal for the shoppers. They think they are getting a deal even if they aren't––the hack here is to play with a customer's psychology. But then you might be thinking that this would squeeze you even more. Don't worry! Increase the prices of your products to cover the shipping cost(only if is the last option). Drop shipping won't break your buck. Here's how to do it.
Also read this: 4 Best order fulfillment service providers for online sellers
4. Recovering abandoned cart
Almost 70% of customers will abandon their shopping cart. If your store checkout process is too complicated and difficult to understand, you may end up frustrating the customer. As a result, they would not complete the checkout process.
To solve this problem, send automated email reminders to customers who have abandoned their carts. You can use built-in Shopify or BigCommerce features. Doing this, you can recover 5% to 10% of the lost sales.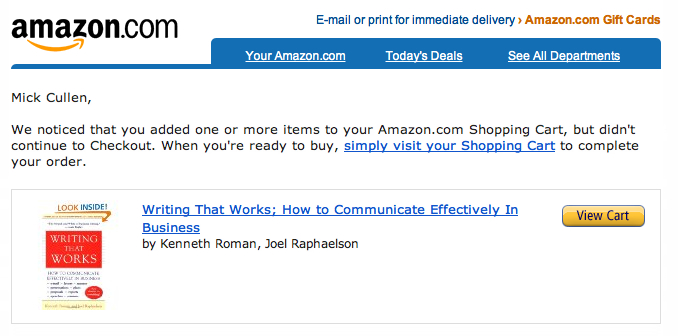 This is a good example from Amazon where it reminds the user to complete the checkout process
5. Coupon codes
Create coupon codes and deals that a user can apply at the checkout to get the product at a lower price. Coupon codes can prove out to be a great tactic to invoke consumer to buy from your website. They might not be getting an amazing deal but coupon code makes them believe so. You can also partner with any popular coupon websites.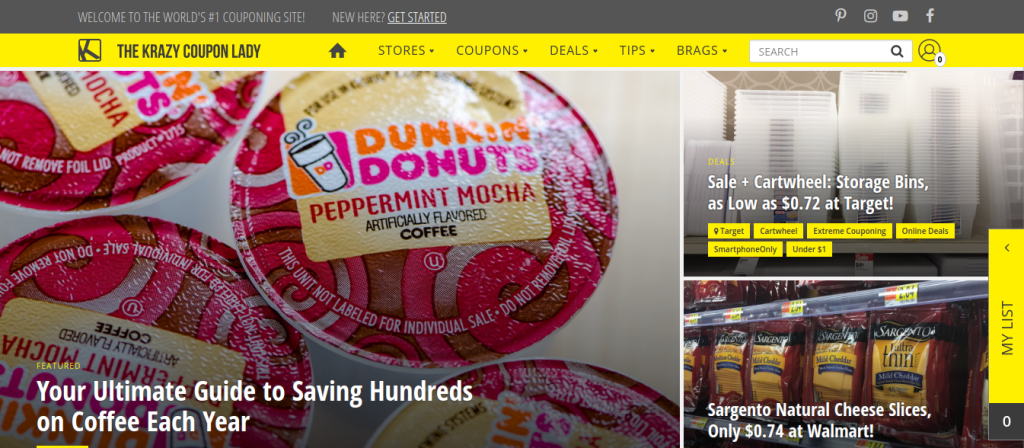 The Krazy Coupon Lady is a great coupon website which you should really look up to for collaborating.
6. Create a comprehensive and engaging description
A comprehensive and enticing description can increase eCommerce conversion optimization rates. A good product description directly speaks to the customers, shows the benefits. It is emotional and descriptive. Mention those elements in the description what a customer is looking for.  Here is a step by step guide that shows how you can multiple sales by product description alone.
Also, don't forget to mention product specification. They give a clear idea to the customer about the product. Besides this, it also creates trust and maintains transparency. Always remember, a more informed customer is less likely to return the purchase.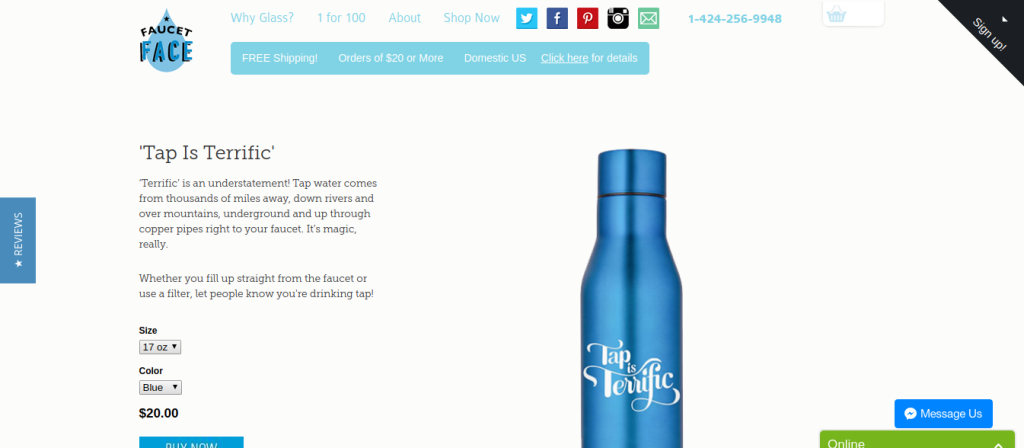 FaucetFace tells a story about what makes their bottles great and why you need one.
Bottom Line
The success ladder doesn't pay equal to everyone; neither it is perfect. But you need to get into the customer shoes to understand why they don't convert. Also, it is important to analyze the pitfalls in your website.
eCommerce conversion optimization is extremely valuable both in terms of revenue and brand engagement and consumer interaction. But before you take a step further, make your sales to convert at a baseline level of 1-2%. These tips would help you achieve your desired goals without breaking a buck.
Liked the blog? Do let us know. You can also see what we as an eStore handyman offer.