In this turbulent facade of COVID-19, the world is changing! Between working from home, social distancing, staying-at-home, and panic buying, shopping behaviors of people are running errands. We have seen a dramatic increase in eCommerce sales, and experts say, this online shopping trend is here to stay! 
People are spending the recommendatory quarantine time in their homes. But, the scenario is not stopping them from buying online. In fact, there is a significant surge in online purchases! In this time of the pandemic, healthcare and essential goods are the two commodities that by no surprise can see a rise in sales. Nevertheless, there are other products too that are facing an influx. For starters, here's an image by Shopify depicting top trending product categories that saw growth in the last week of March 2020, compared to the last 30 days.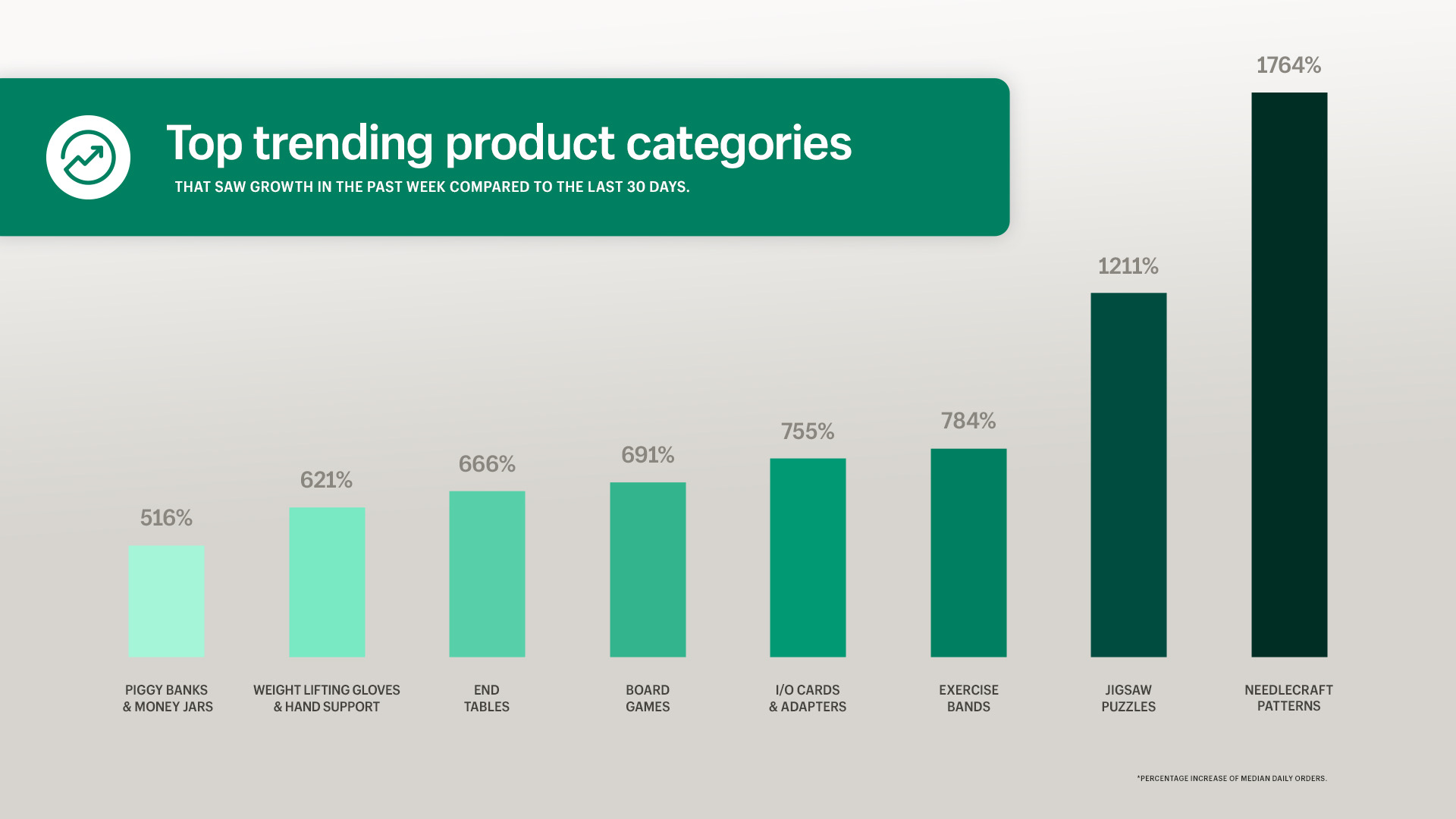 eCommerce is shaping a new shopping arena for the world! Shoppers are considering the ease and security that online shopping provides like never before. Let's dig a little deeper into how the entire Coronavirus scenario is affecting the buying behavior of the shoppers.
The Star Player – Online Grocery Shopping
Let's start with the star player of the season (and of course necessity): Grocery! Anyone who has visited a grocery store over the past few days knows the coronavirus crisis has become a  crucial challenge for these retailers.
Consumers, fearing there might be lockdown orders, have been stocking up on essential, especially food products, and at the same time retailers are facing supply chain disbalance. And as the COVID-19 crisis continues, the ritual of grocery shopping is changing. More and more number of customers are turning to delivery, curbside, and buy online pick up at store (BOPIS) options to meet their needs during this period.
As stated by Digital Commerce 360, online order volume from full-assortment grocery merchants rose considerably from March 12 through March 15, compared with the same period in 2019. 
The dollar value of orders from full-assortment grocery merchants during these four days—BOPIS and delivery—was up 210.1%, while the number of orders grew 151.1%. For the period of Jan. 1 through March 15, sales increased 61.3% and the number of orders rose 57.6%, compared with the last year.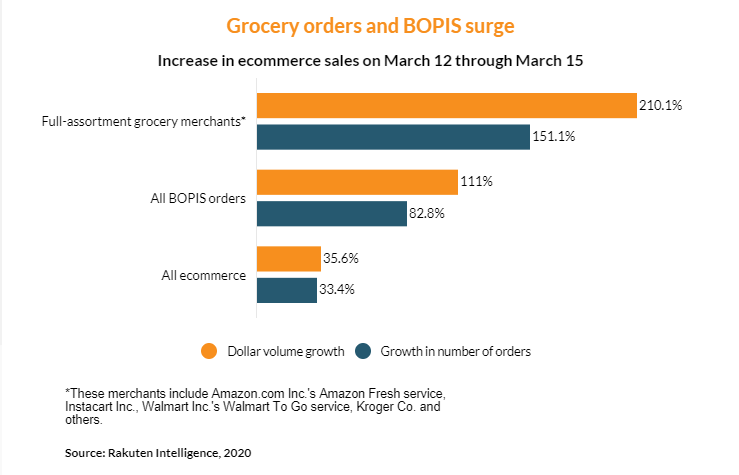 It's all bright and sunny for online Grocery retailers. Local grocers, on the other hand, are going digital and struggling to keep their businesses running. Not to mention the community is coming together to help them out with extended eStore trial periods, ad credits, free domains, and donations, it is going to be challenging for the traditional vendors who have zero knowledge to all the online scenarios.
Another speculation running amid the grocery shopping spike is whether this trend will outlast the pandemic or will die a quick death. Almost 47% of the U.S. consumers admitted to shopping online groceries more during the week of March 2020, as compared to prior weeks. However, we could fairly consider this hike as a result of panic buying scenarios. Consumer shopping behavior is shifting, but is it going to last? Grocery and food items fall under a category of essential goods, which will always be in demand. Once people experience the ease of shopping online, either they will stick to it or will never return. It's up to the eStore owners to provide them with an image that lasts long in a good way.
What Else Consumers Are Buying Online
Lately, people have accepted the new reality of not stepping out. If we

compare Amazon searches

of January to March, it has been found that searches for 'desk beds' increased 3 times among increases for back massagers and office chairs. With the new lifestyle seeping in, searches for 'bread machine' grew by 13 times, 'home workout' by 6 times, and 'gardening' by 7 times. People are also searching for 'wall paints' and 'organization & storage' at a rapid pace. Jenga has become a bestseller game on Amazon, with searches increasing 14,885%.

From reading the hundreds and millions of online payments across the globe, ACI Worldwide analysis reported a whopping 74% increase in the transactions of March 2020 as compared to last year.

ACI Worldwide research also revealed an increase in Home products and furnishings by 97%,  DIY products by 136%, Garden essential by 163%, Electronic by 26.6%, Telco by 18.6%, and Online gaming by a staggering 97%.

If we take a look at the Shopify figures, it claims for

27,000 COVID-19 discount codes

generated by Shopify merchants since January. And the last time we checked, Shopify has more than a million online stores running on its platform.
With curbside pickups and contactless deliveries, shoppers are getting into the 'Stay Home' zone. By purchasing desk beds, board games, DIY products, and resistance bands to keep toned online, notably, there's a rise in people choosing eCommerce during COVID-19.
Wrap Up
If we put this in a nutshell,
People are staying at home discovering new hobbies and being artistic. They're buying crafty stuff like colours, papers, gardening tools, and more.

The ones that are working from home, want comfortable home-office space and accessories, they're buying small electronic and office stationery items.

For passing time with kids, old-school ways of families playing board games and cards are back.

Gym freaks, fitness enthusiasts, and generally the ones who want to ditch the sedentary routine, are ordering home-workout equipment.

Friends and colleagues are connecting virtually over video calls ane online games. Multiplayer games have become the new hangout spots.

Streaming networks are in high demand as binge-watching is the new cool!
All in all, people have established a world inside their homes! The major shift that retailers are facing is taking their stores online (who aren't already). eCommerce has become people's go-to solution during this time of Corona epidemic. You need to place your businesses where the consumers are searching, and ONLINE is that place to be!
If you seek an expert who can help you establish an eStore with quick turnaround time even in this ongoing pandemic, get in touch with our eStore handymen. Be it a hosted platform or an open-source eCommerce store, QeRetail has your back!