What happens when you have the potential to sell? When you have the right kind of traffic and inventory? When your bank balance is still stuck in the middle of the river? eCommerce Happens! And if you are thinking to switch to the magical world of eCommerce platforms, you're already half way there.
Once you have the products stocked, shipping resources done, all you have to do is to get a surefire source of income for your business. However, one might get puzzled which platform to rely upon in order to maximize the profits. Don't worry! We have covered some of the best shopping carts to integrate with your website.
9 Add to website shopping carts to convert your existing website into an eCommerce site
Ecwid
Ecwid is just phenomenal when it comes to international selling. It has got 40 payment methods and numerous payment options. It bridges the gap between you and your consumer with just a few clicks. It also has a unique feature known as 'Unfinished Sales' which allows you to get some insights of the buyer's journey. Ecwid offers a range of payment plans depending upon the products that you're selling. You can sell up to 10 products for free. Add shopping cart to website with Ecwid
Learn more about Ecwid

Shoprocket
Shoprocket has everything you need to manage your store. All you need to do is to set up your account and start selling anywhere in 5 minutes. Also, you can access secured payment gateways such as Stripe and PayPal. Keep your inventory in sync and get real time updates. The best part is you can select your own shipping options by choosing a country or region and can set prices according to the weight. The pricing starts from $7/month. You can also opt for a free trial which is valid for 14 days. Add to website shopping carts with Shoprocket
Learn more about Shoprocket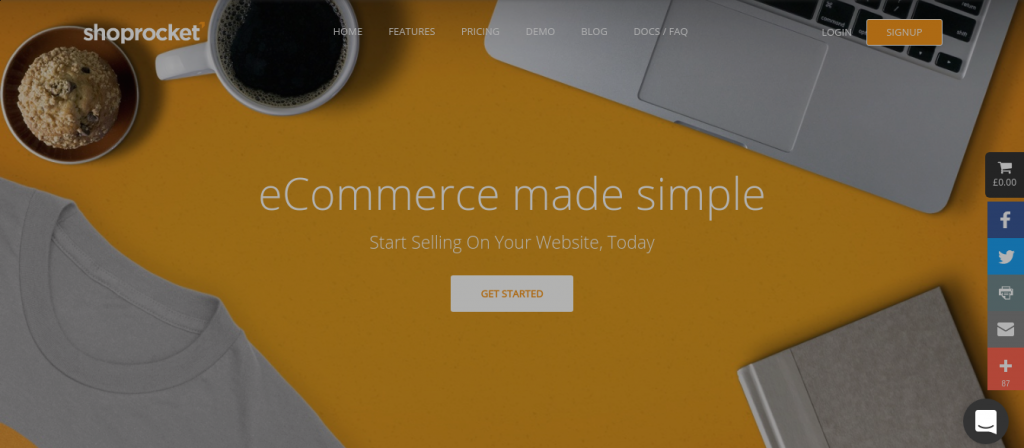 Snipcart
If you want to expand your business to the international market, Snipcart is ideal for you. It covers all the shipping and ordering destinations across the globe. Snipcart offers you a range of other features as well. Along with this, it is mobile-responsive which means your consumers can purchase stuff while being in any part of the world. Also, you get to access fully secured payment gateways such as Paypal and Stripe which makes the payment procedure simple for you and your customer. Snipcart charges just 2% on every sale that you would be making. Add to website shopping carts with Snipcart
Learn more about Snipcart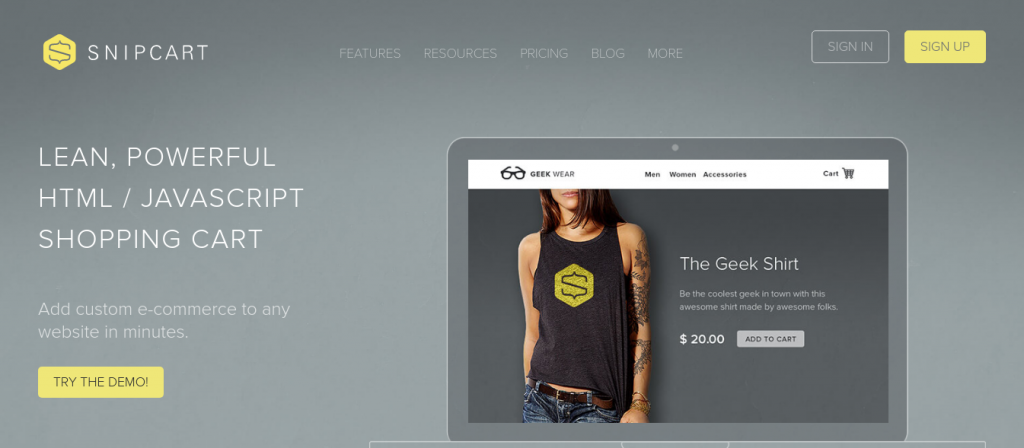 Selz
Selz is a simple platform. It gives you only those tools which are required to run your e-commerce business; no other unnecessary tools! This platform is specially designed to make beginners well versed with the eCommerce environment. There are some amazing perks that you might get associating with Selz, For example; it gives you a free Facebook store for more customer engagement. If you some hands-on the email marketing, then you can build a contact list and export it to MailChimp, AWeber, Campaign Monitor, or to CSV. Selz charges just 2% per transaction. One of the most frugal add to website shopping carts, isn't it?
Learn more about Selz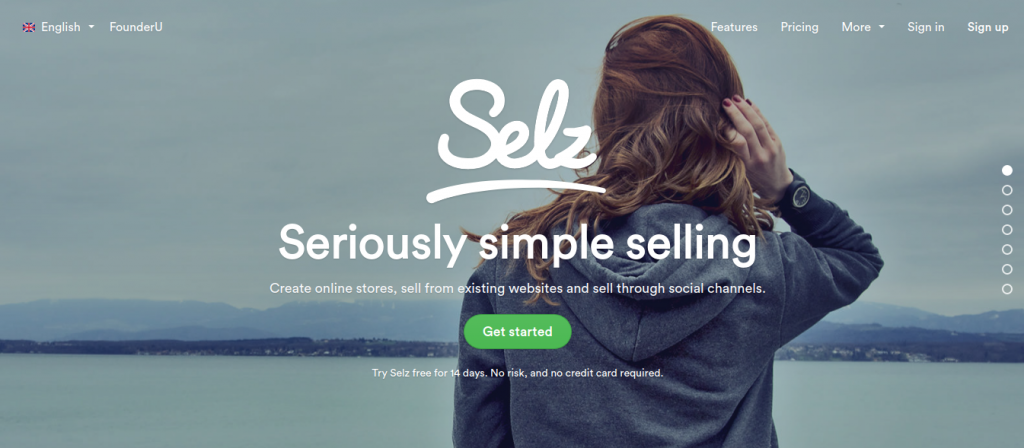 Romancart
If you want to make your inventory super easy and super awesome, opt for Romancart. It keeps a tab on your stock and also keeps you updated about it in the real time. You can also look for so many amazing marketing features which can save your time and make you money. One such feature is 'Welcome back autoresponder.' Packages are from $0 to $739.99, depending upon the features you opt for.
So what are you waiting for? Add eCommerce to existing website right now.
Learn more about Romancart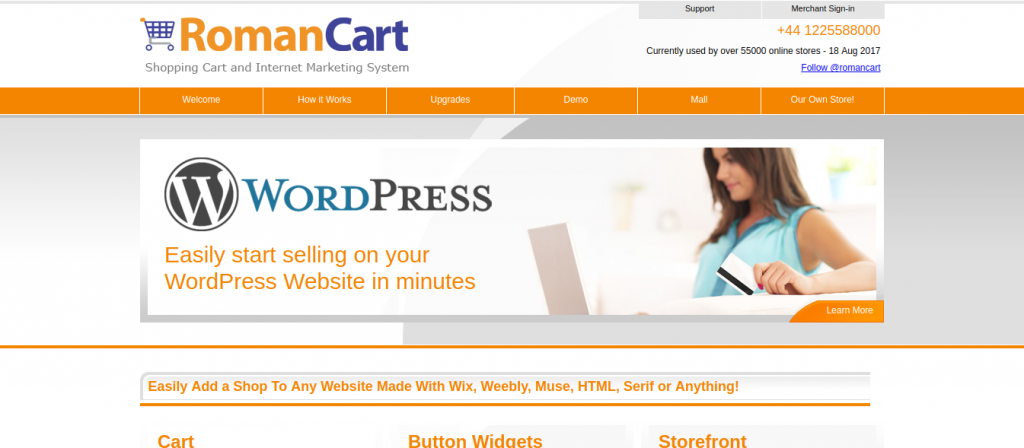 Abantecart
AbanteCart is a non-commercial free eCommerce Platform that has been built and designed for the people who are passionate about their eCommerce business. It was founded in 2011 in the USA with the motive of giving state of the art facilities to its customers. It is one of those eCommerce Platforms which offers mobile responsive websites to keep your eCommerce on fingertips. It also comes with SEO feature and the latest technology such as HTML5, Bootstrap, Jquery, AJAX, MVC, API and much more.
Learn more about Abantecart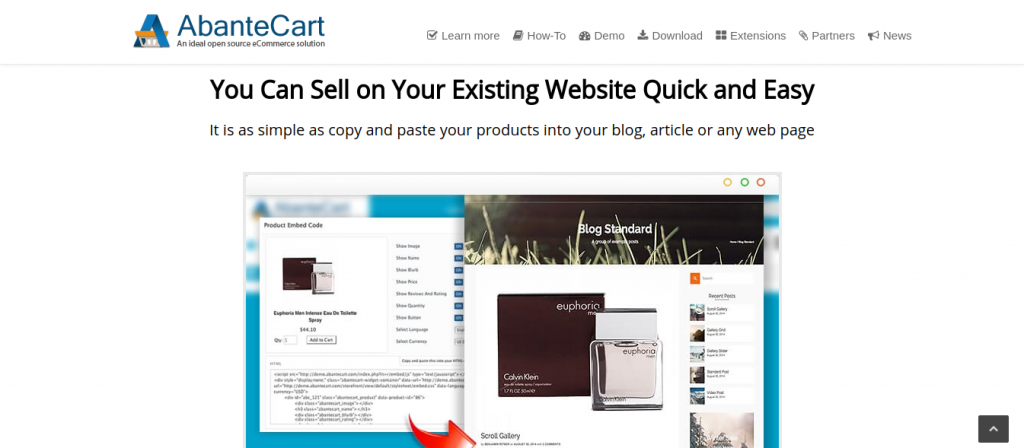 Shopsite
Shopsite is THE  shopping cart for the small to medium-sized business. With Shopsite you can easily manage your store without any HTML coding. It also helps in creating search engine friendly websites and integrates with social media websites and WordPress. You can use built-in themes, SEO tools, etc.
Learn more about Shopsite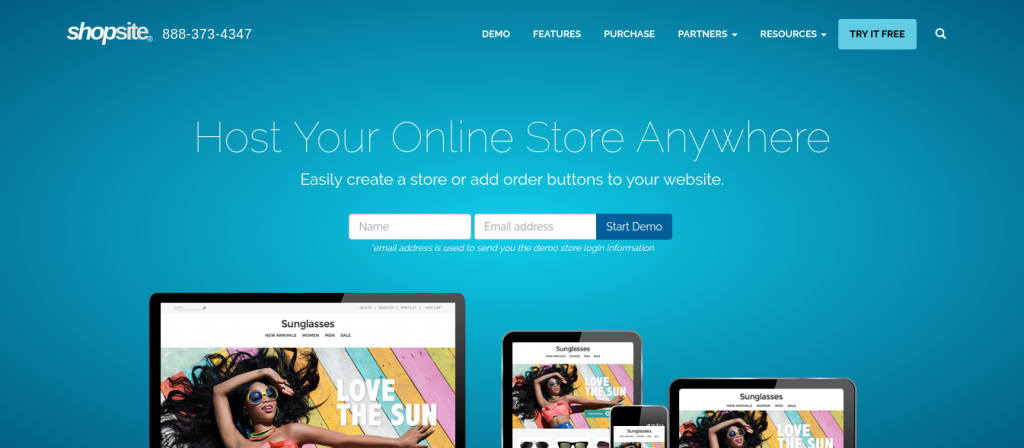 Shopify Buy Button
Shopify Buy Button allows you to generate a shopping cart on any website and make it eCommerce. You can customize your cart as much as you can. The free trial is for 14 days. After that, you can opt for a plan which starts from $29 per month.
Learn more about Shopify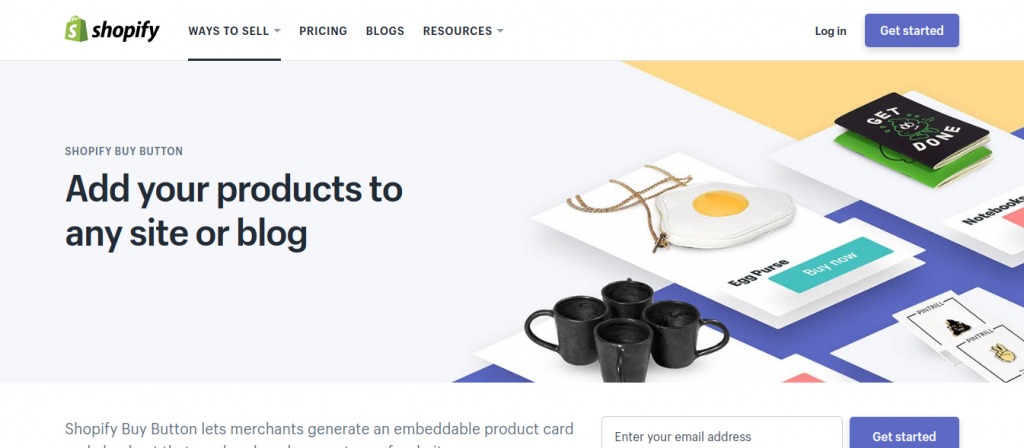 BigCommerce Buy button
Through Big Commerce buy button, you can sell on other websites. The Buy button is fully responsive towards desktop and mobile. You can even customize your own buy button by picking the desired colors, fonts and texts. Integrate your store with Google Analytics to easily track views and conversions coming from the buy button. You can avail the free trial for 15 days and then can pick a plan. The pricing starts from $29.95/month. Add to website shopping carts with BigCommerce Buy button.
Learn more about BigCommerce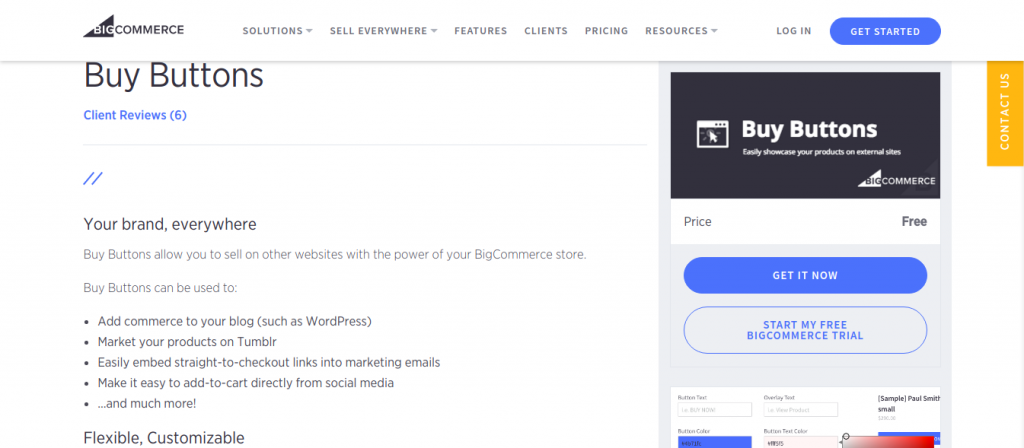 You can make your website an eCommerce website with these amazing platforms. However, you need to be skeptical about which platform is the best for your industry. Integrate your store with these add to website shopping carts to get the most out of the eCommerce aura.