One of the most sought after ways to make money is, selling online. With sophisticated platforms like Shopify, easily helping budding entrepreneurs to create an online store, it's more than easy to create an eStore. The first roadblock one hits is whether to use the already existing Shopify theme or go for a custom Shopify design?
Building or revamping your online store
When you start out to build an online store, the awe one feels is similar to that of a child entering a large toy shop for the first time. Dozens of vivid colorful themes to choose from; creating a conflict of choice. Just like a child, it kind of spoils you! We easily give in to the magnetic appeal of colors and end up making the website look like Unicorn land.
Shopify heavily scrutinizes the themes submitted on their website for customers to use. Those are some of the best themes one can get for creating their online store.
You see, the thing with any pre-made, pre-arranged theme or template is that they limit your hands when your mind wants to trade the uncharted seas. Even though this is not a drawback, since Shopify has a generous amount of themes to choose from, this, however, robs you of your imagination.
Shopify Theme vs. Custom Shopify Design
A unique website has its unique set of requirements. Already existing themes are available for anyone and everyone to use. There is a chance two different people with different purposes around the globe might be using the exact same color scheme and theme design.
Here is an example of a pre-built Shopify theme. It uses a single color scheme throughout.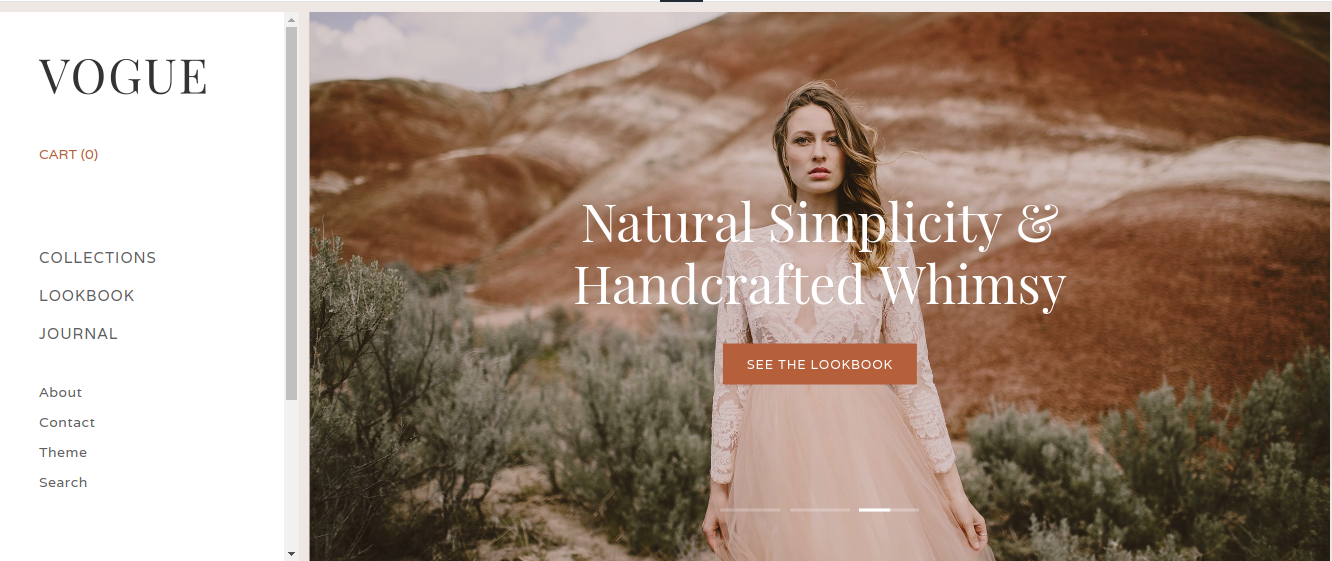 Below is a custom designed theme by QeRetail. This store is built on Shopify.

A custom-made design implementation highlights the prime objective of the website and brings out the best in a website.
Let's have a look at some of the key differences between a basic Shopify theme and a custom designed theme.
A) Be you, be unique
People can steal your work, but they can never steal an idea. Imagination goes beyond limits. Custom Shopify design puts the power in your hands. Your website stands out from the crowd.
Peculiar things easily bewitch out minds. A visitor strolling on your website presents an enormous opportunity to convert him into your customer. One should be unique when it comes to designing a website, it should stand out from the crowd.
In this world, today, when there is a large chunk of people selling similar products and services, having a USP, is a must. Make your custom store design your USP.
B) Immaturity OUT, Maturity IN
Product placement, color schemes, pictures, and navigation are some of the key elements that communicate with the subconscious mind of a person, or more precisely a visitor.
Shopify templates or be it any templates for that matter, are not engineered around the real purpose of your website. Those are designed keeping in mind the general themes and websites. This is where a custom designed theme comes into play.
You want the customers to fall in love with your products & website and not abandon it. Custom designed website gravitates a visitor towards it; hence it is termed as 'Pull Principle'.
Do not keep pushing in on your customer to buy things or fill in those contact details. Make your customer compelled to add items to the cart and enter the card details happily.
C) Take complete control of your website
Having a custom design places the customer's online experience completely in your hands. You can choose to include, exclude, remove or add microscopic elements to ensure superior customer experience.
The website's functionality is squared around what you want & what your customers want. Keeping in mind the demand of your target audience and their notions, every single element is structured accordingly.
When a website is designed without keeping in mind the buyer's journey, customers are destined to go from pillar to post but never to your shopping cart and eventually through checkout.
Your ready-to-apply theme might give you all the benefits you are looking for, a custom Shopify theme will definitely deliver the results.

Looking for a redesign of your Shopify store? Get a Free Design Mockup today @ No Cost
Get in touch to pan out a concrete structure for your new website, old website or even if you want to build a new website. Give a Facelift to your online store or build a new customized store, we are here for you.