From a surge in popularity of Instagram stories to the recent expansion of advertising opportunities— it is the right time to be on Instagram for business.
How can you leverage Instagram marketing? This article has everything— right from creating a content strategy to building your brand and boosting results.
In this article, you'll find ways to engage the audience by Instagram videos for business.
1. Show what you do in a creative way
Focus on the solution that you're providing rather than the products that you sell. It is important to add value to your customer and look pretty while making visual content.
If your business is service-oriented, you can focus on showcasing the process behind the services. You can also showcase your team, your work culture, mission with the world or simply share some tips and how-tos. Let your creativity flow, consumers will be impacted if you post short 1 min videos including GIFs and Boomerangs.
2. Urgency is good
Because Instagram stories can only be used for 24 hours, they are best to create urgency. You can offer deals in limited offers and let people anticipate it.
Set up an offer that people can avail only until the lifespan of the story is available. This idea will keep people coming back to your account sensing the urgency and might buy something from you.
3. Collaborate with an influencer
Those days are gone when only big brands having a considerable budget could attach a recognizable face to their products and services. Thanks to social media, especially Instagram, businesses of all sizes can reach out to influencers in a wide variety of niches. Partnering with a relevant influencer to take over your Instagram story allowing you to introduce your content to their audience.
In this example photographer and publisher Kris Graves announces a takeover of the 10×10 Photos Instagram account.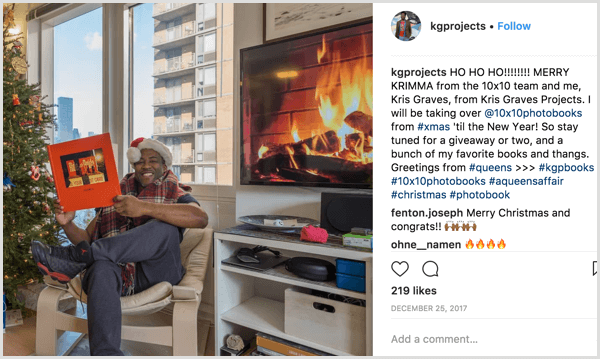 4. Expand your reach using #hashtags
Use hashtags to expand your reach. This can either be campaign specific or in general—  all that important is they are relevant. Make sure to also set up your company hashtag (#brandname) religiously in your posts. This makes it easier for people to find content related to you as well as your main account.
Use your own campaign specific hashtags along with the most popular hashtags. For example, try adding hashtags like #tbt (throwback Thursday), #instamood, #goodday. Also, don't forget to add industry-specific hashtags. For example, if you're in IT, then you can add #tech. If you sell food items, you can add #food, #foodporn etc.
Also, take in consideration how are you adding hashtags. They can either be added at the end of the post or in the comment section.
5. Highlight your products
Showcase your products in a cool and sexy way. When creating a product video, focus on a few key features to keep your viewers interested and dazzle them with the attention-grabbing footage.
Videos play automatically and can be second long, making them a breeze for viewers to get through.
6. Upload a DIY
You probably think 1 minute isn't enough to make a useful video? But probably you're wrong. You'd be surprised what can you accomplish.
Here is a great example.
7. Create short commercials
Short commercials on Instagram can be funny, inspirational and motivating. They are a great way to portray your product in an artistic way or link to a particular lifestyle.
Take this example from Lithium Cycles commercials appeals to having an active and sturdy lifestyle.
8. Analyze your success and build on it
Without giving a second thought analyzing what worked and what didn't, marketing becomes a guessing game. The truth is you can read n number of topics about best marketing practices but you will only find out what works for your clients through testing and measuring the results.
Make sure you regularly measure your follower count, engagement, and clicks. They all help to improve your strategy.
So what are you planning for your Instagram strategy in 2018?
Over the time Instagram has become an important aspect for eStore owners to advertise their products. So what are you waiting for? Use these tips.
If you want to know what all services we offer, feel free to contact us.