Google Pay is here. Google has rolled out an update to the already existing Android Pay. Google brought in improved functionality with the aim to make their payment service omnipresent— both in stores and on the internet.
The functionality of Google Pay is the same as Android pay. It's a way for customers to easily pay in stores, on the web, and in apps (like Airbnb, Fandango, Lyft, and Instacart) without having to get the card out every time.
Google plans to merge their entire payments eco-system into one ubiquitous app to send and receive payments with cards saved on the Google account.
Feature packed
The new Google Pay design is a rip off from its predecessor, Android Pay. It captures the aesthetics of Google's material design standards and guidelines.
Android Pay features like extra security, bank perks, and protection, which were quite popular, have found their way in Google Pay.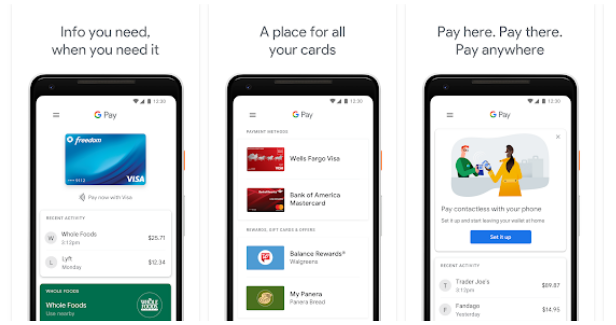 The all-comprehensive Google Pay is a good news for merchants accepting payments online. Rather than filling out boring check-out forms and financial information every time, a simple click with the Google Pay app will do the trick.
Instead of sounding limited to a particular range of devices with the name Android Pay, they decided to expand the consumer perception beyond mobile devices, hence Google Pay.
Not only can one make payments but also can send and receive money easily and pay fares.
Online Checkouts are now simpler
A website or an app can start accepting payments from Google Pay by integrating the API on their website.
Google checks if the user has Google Pay set up on their device or Google account. Once done, merchants can start accepting payments online.
Note that these payments still get routed through developers' regular payment processors like Stripe or Braintree.
The API provided by Google is very simple mainly because Google does not process the payment. They simply pass the credentials to whoever does it.
Apps like DoorDash, Fandango, Boxed, Hotel Tonight, Airbnb etc have already started accepting payments through Google Pay.
How secure is it?
When it comes to security, we all know Google takes it seriously. Most of the data is stored in a cloud after heavy encryption.
With Google Pay, Google does not share customer's card number with the merchant while they make the payment. Instead, the merchant side receives a unique code attributed to the payment. In this way, one can be sure their card details are never disclosed.
On the other hand, Google is discontinuing the processing of payments for a handful of digital goods like e-books, subscriptions, online games, and music.
With time, the competition is likely to get tough. We will see many different start-ups for virtual wallets. They will rise and they will fall. Only a handful of them will be strong enough to survive the competition.
Currently, the said features have been rolled out for U.S. and UK regions only.
One thing we know for sure is, Google Pay will be the one going a long long way.