According to a recent statistical report, 75% of Instagram users take action in terms of visiting the website after going through a post on this incredible platform.
Instagram has become a platform worth selling on for the brands these days because it is now considered the prime source to drive sales for eCommerce stores through social media marketing.
Do you know why? The below latest statistical report shows
Number of monthly active Instagram users from January 2013 to June 2018 (in millions)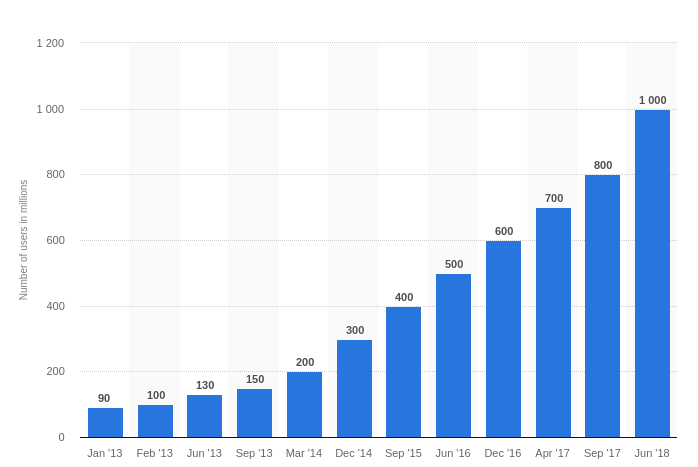 So, can you miss out on targeting these 1000 million active users? Of course not.
There are different techniques which can be used for selling on Instagram. That's why we have put up 6 tips that can help you master the art of selling on Instagram –
Build Instagram Business Profile
The design of your Instagram business profile is as important as your eCommerce homepage design, thus you need to ensure that it attracts your audience to follow your business. Your business profile  is the first door to the opportunities you can gain from Instagram.
Just make sure that you optimize below-mentioned elements in your Instagram business profile –
Your profile photo should align with your brand identity so that it becomes easy for your customers to identify you.
A clear description of your business and what you offer in your bio would help your audience to get a clear picture of your products and offerings.
Include the URL of your eCommerce store in the bio as that would help you in driving traffic to your online store.
Set Up Instagram Ads
With so many businesses posting on Instagram, it becomes difficult many times for your posts and updates to get noticed by your target audience. Instagram advertising can eliminate this problem.
Just decide on the budget you can spend and launch an ad campaign on the Instagram platform. You can select the type of audience you want your ad to be shown to and how long it should be displayed.
Instagram advertising has a variety of options helping you to target the audience you would want to based on their interest, age, gender, demographics, etc.
Start with a small budget initially and test different tweaks which can make your Instagram effective. Just remember the ad which conveys the right message at the right time would prove to be lucrative for your business.
Launch Instagram Stories Ads
Instagram stories have become a great way to grab the attention of the followers by showcasing their brand identity. You can create an attractive image or video and post it as your Instagram story. This would help you in grabbing the attention of your audience having a habit of taping through the Instagram stories.
Advertising through Instagram stories was launched in March 2017 and since then brands are using this to grab new business opportunities. It has been estimated that in 2018 30% of businesses would use Instagram stories ads to improve conversions.
Also, you can provide the product link in your Instagram story if you have more than 10,000 followers. This feature of Instagram can help you in driving traffic to your store and improving conversions.
Create Shoppable Instagram Feeds
The new feature by Instagram helps the merchants to tag the products in the photograph which are available for sale. The below image clearly shows the example of shoppable Instagram feed.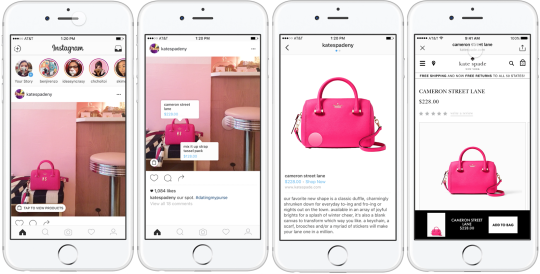 But how does this work?
The customers can view the name and price of the product when they tap on the image. There can be multiple products available for sale in the same image. When the customers tap on "Shop Now" it will take them to that particular product page on the eCommerce store and from there they can add to cart and checkout.
Collaborate with Instagram Influencers
Due to increased awareness of the consumers these days, it has become difficult to yield results out of traditional advertising. Your consumers are likely to trust personal recommendations more than brand advertisements.
It is beneficial for the brands to get an influencer photographed using their products and posting those pictures with details about each product to reach out to the target audience.
People when view a renowned personality or celebrity using your branded products, probably they get tempted and make a purchase.
Promotional Offers Exclusive for Instagram Followers
Consumers just love discount offers. You can introduce special promotion offers exclusively for your Instagram followers. You can update the offer details in your Instagram stories and updates in order to attract your followers.
Also, you can include a small teaser about your offers available exclusively for Instagram followers on Facebook and other social networking platforms. The users on those platforms can click and land on your Instagram business profile. This would help you in increasing your Instagram followers.
Selling on Instagram: Think Creative
Taking a picture, adding some filters and posting it straightaway used to work well when Instagram was in its infancy stage. But, now when many eCommerce stores are using Instagram for business the competition has increased fiercely.
To succeed in Instagram marketing efforts, you also need to increase number of followers on Instagram. For that you can go through – 7 Smart Ways to Grow Real Instagram Followers.
Now, it is the time to think creative. You need to think out of the box to decide on the best instagram marketing strategy. The above mentioned tips might be useful while selling on Instagram, still if you are confused with how to go about it, you can always rely on your eStore Handyman – QeRetail.