As per Campus Monitor, You are 6x more likely to get a click-through from an email campaign than you are from a tweet. What does this mean? Email brings customers. More customers mean more customer engagement. And more customer engagement leads to a healthy rate customer retention. Every eCommerce business follows a basic practice.
Attract >> Convert >> Delight >> Close
Customer-centric emails play a vital role in making eCommerce shoppers coming back to your website after their first purchase. After much heralding about emails dying a slow death, for many, it is still the king. As per eMarketer, emails are the steady flow of getting new customers and retaining the established ones.
So what kind of followup emails should you send? What should be the frequency and what should you write in them? Here are few examples of followup emails and what you can learn from them.
6 Best Follow Up Email Types for Customer Retention and Engagement
1. The replenishment email
We often witness after making a purchase from the website, they immediately encourage us to buy again. This marketing strategy is the idea that more and more shoppers are likely to come back after the first purchase.
But many companies tend to not follow up when they don't get any response from the consumer.
So if your emails are getting corny, why not wait for some time before sending anything out. Baldwins is one such brand having a great replenishment remedy.
The below email sent from a London based herbalist is useful, friendly and easy to read. It immediately catches the reader's attention sending a gentle reminder of what needs to be topped up.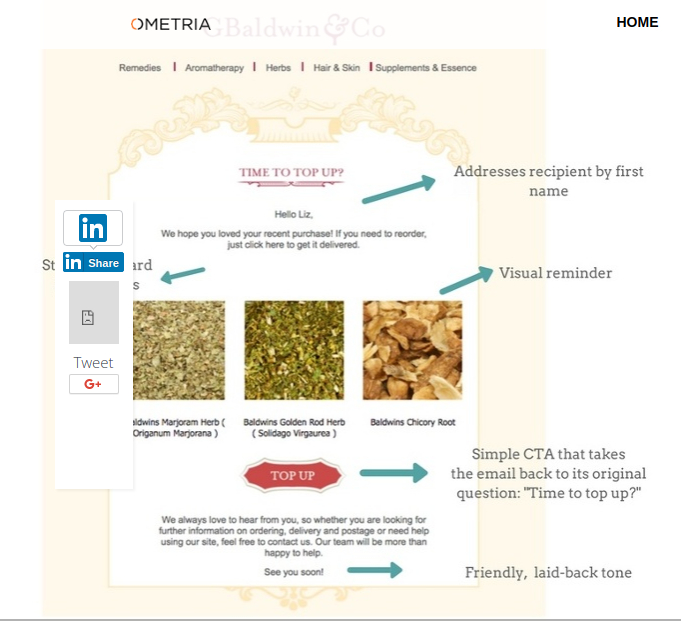 2. We miss you email
One alternative is to surprise customer by giving a deal which they don't want to miss. Coupons, deals, and freebies are loved by all.
Many customers hold their horses till they don't get a good deal.
Pinkberry is a globally recognized frozen yogurt food chain. Have a look at their 'aww-ing' mail. This definitely gives a lucrative incentive to the recipients reading which they would come back to your website.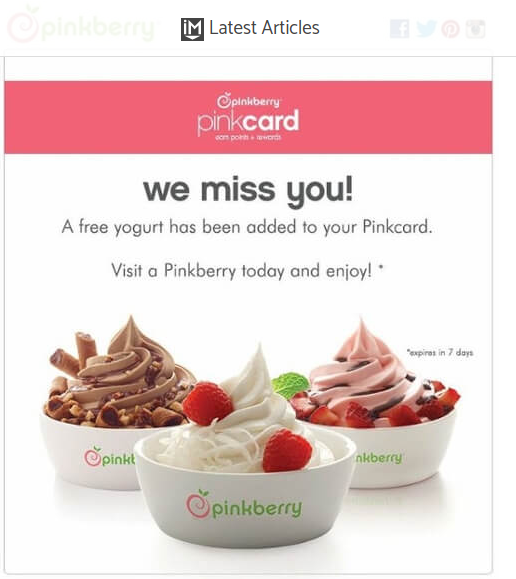 3. How was the User Experience?
Many times customers don't have time and patience to write a page long review. In such cases, you should send them an email seeking their review. Here is a great example of Amazon's 1-click review.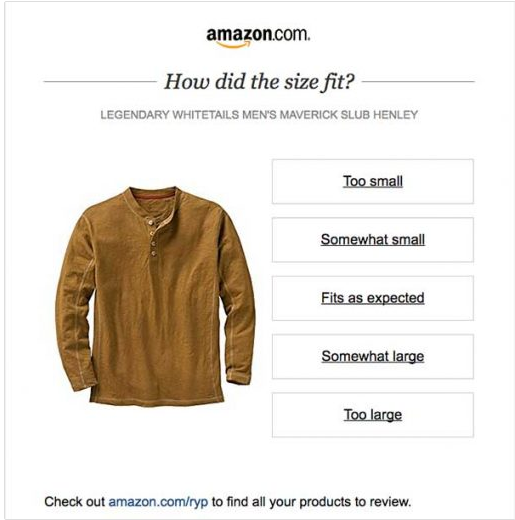 Followup emails seeking reviews should be crisp, concise and straightforward. Talking of Amazon, it is the leading eCommerce marketplace simply because they tweak, test and tracks everything very closely.
4. The warranty expiration notice
This type of email occurs when customers have purchased goods and services for a particular time frame. Most people who purchase spare parts or recreational services are viable to get such emails.
While making a purchase, consumers sometimes don't want to extend the warranty. They rather want to stick to the original manufacturer's time frame.
In such situations, you can remind them about the expiring warranty and ask them to renew before it gets too late.
Here is a notable example of a warranty expiration notice email
5. The 'showed your interest' email
Consumers these days compare things and buy. They look forward to buying things which are value for money and have an excellent back support.
Many times people have a look at the products and services, add them to their wish list but get skeptical about the buying decision.
For such consumers, you can send them a reminder, if they haven't added the product to your cart.
Let say you have an apparel store and Harry is your prospect. He has picked up a shirt and added to the wish list. But due to some reason, he's not completed the checkout process. Now that you have his email address and other details, you can guide him how to complete the checkout.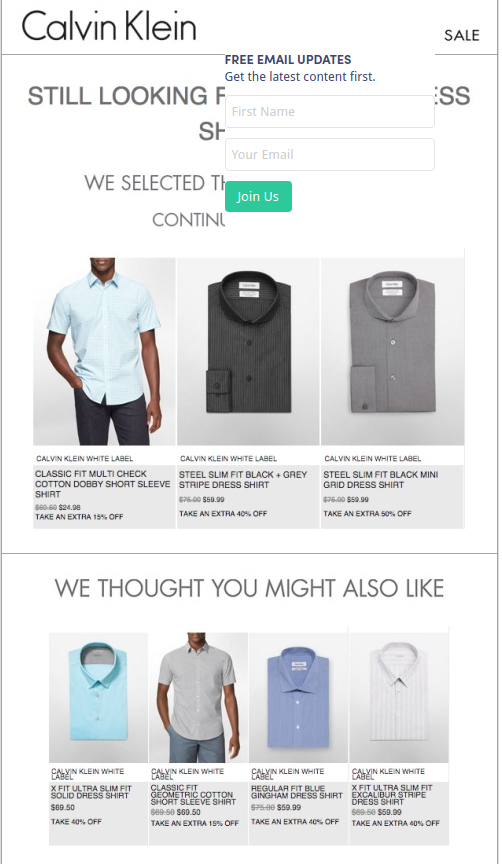 6. Demographics play a vital role
Well, these emails don't rely on previous purchases. They start fresh with new product recommendations based on demographics. Here is a great example of Zara's promotional email.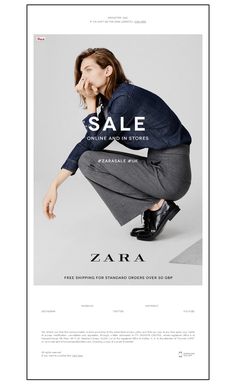 Final words
Marketing is all about targeting the right people at the right time.
When they are more exposed to your product. Despite the different products and industries, these emails are addressing, there is one common thing in all of them– and that is the utmost attention to the customer orders, browsing habits and preferences.
You might be doing great with your eCommerce business but these emails open the gateway to new approaches and ideas.
Liked this blog? Do let us know. Also, have a look at the services we as a handyman offer.