Let's face it – competition is fierce in eCommerce. There are many elements of an eCommerce business which play a vital role in converting visitors to customers, but among them, product description can be considered as most significant.
Many eCommerce marketers may argue that product description is just a list of the features of the product and most of the time the visitors don't have time to read it.
But, this is not right. A product description can make or break your business. There are some smart ways, which can help you in writing your product description in such a way that it changes the perception of your audience towards your products and brand.
As per a recent report, 87% of consumers consider product description important while deciding to buy from an online store, and 50% of consumers returned the product because it was not as per its description on site.
Let's go through some smart ways of writing product descriptions which actually convert –
Know your Audience
To write an effective product description, the first step would be to know your audience. Rather than writing generic content which addresses to general public belonging to any region, age group or gender, it is better to write content which is actually written for your potential customers.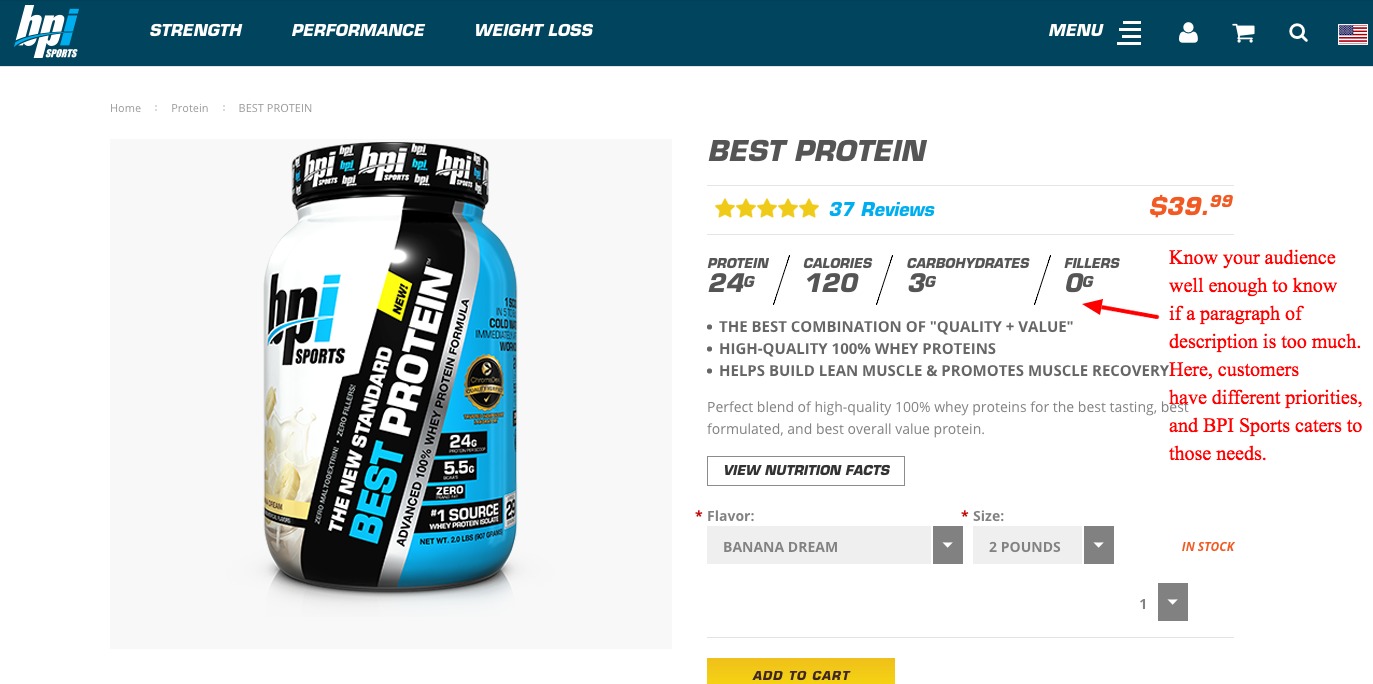 List Benefits Over Features
You may list out several features of your product in the description, but if you don't make your audience aware of the benefits of those features, all your efforts of writing great content can fail. Just make sure, that your product description is conveying the right message to your audience. Your audience is interested in benefits and not only the features of your product.
Be Specific
Yes, to be specific in terms of content for so many products on your eCommerce store might seem to be difficult. But, it is not impossible to have unique content for each and every product on your store. For example, using generic terms like "Excellent Quality" for most of your product descriptions can never impress your audience. Write specific content for each and every product and engage your audience in a smart manner.
Use Words That Helps Reader to Imagine
The biggest drawback for online buyers is that they cannot touch, hold or feel the products. You can describe how it feels while touching or using the product which helps your buyers to imagine your products, and appeals their senses.
Include Story in the Description
Writing a sales pitch in product description might not engage your audience. Instead, if you include a case study of a buyer who has benefited out of your product can help your visitor in knowing the advantages of using your product and that can be the reason of high conversions.
Stay Accurate
Quality of the content on your product page can be the key to success. What if you find several spelling and grammar errors in the product description, you might not find the content interesting and may form a wrong impression about that particular brand.
Also, it is very important to be accurate in your statements. If you tell that your product is being sold to 240 countries, then that might sound fake as online shopping is prevalent in 200 countries till now. No fake commitments should be given to your audience as that can adversely affect your business.
Use Minimum Words
Your audience doesn't have a lot of time to go through long product descriptions. Write precise and direct content. Keep the content interesting to ensure that the reader doesn't get bored while reading otherwise that may only increase your bounce rate.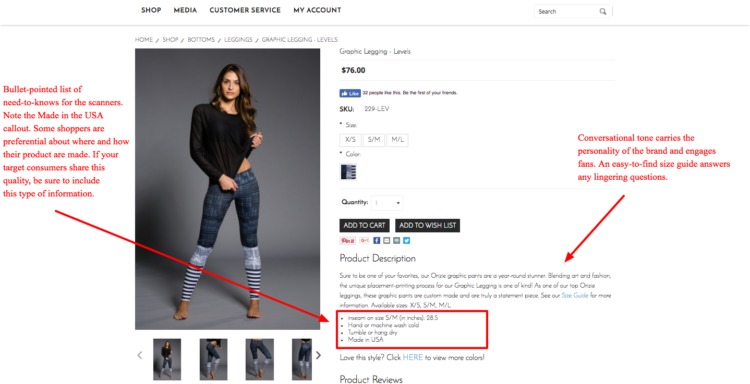 Keep It Uncluttered
Most of your visitors would scan the content instead of reading the entire content. The paragraphs in product description should be small. It is always better to include the content in bullet points. Keep it uncluttered by giving white space between different elements like text, videos, and images.
Maintain Brand Identity
Stay consistent with all the different product descriptions in your eCommerce website. While writing product descriptions just don't get overwhelmed with the idea of including as much as you can to impress your audience. Ensure that product description matches with the tone of the content in rest of the pages of your website.
Use Proper Tone
It doesn't matter what you say but it definitely matters how you say it. The tone of presenting your products and brand plays a major role in converting. Be creative and keep a polite tone in your product description to win more customers.
Don't Let Buyers Feel Guilty
Whenever a visitor is buying something, it is common for them to feel guilty as they are spending money. By proper use of words and language, you can prevent your buyers from feeling guilty. Use words like "deal" "essential" "save" etc. Make them feel that they are saving money while they buy your product, that will help in converting better.
Include Product Reviews
Most of the people rely on product reviews while making purchase decisions. Positive product reviews would give your audience to buy your products with confidence. So, just try and include as many as natural product reviews on your product page as that would help in converting better.
Optimize for Search Engines
Besides, taking all the above tactics of creating effective product descriptions into consideration, it is also important to optimize for search engines. If your product pages don't show up in the top 10 results of SERPs, you may not be able to drive traffic to your store and convert. So, just conduct a proper keyword research and create content which helps your product pages to rank high with relevant keywords.
For more information for creating search engine friendly product pages, you can go through – Product Page Optimization Techniques That Can Help In Improving Conversions.
Product Description Writing: The Key Takeaways
Thus, when it comes to writing product description, there are many things to consider to ensure that it is seductive enough to attract your customers and purchase from your store. Be creative, precise and consistent in your product descriptions as much as possible to engage your customers in an effective manner. If you are not sure how to go about it, better take professional eCommerce catalog management services which includes effective product description writing. Obviously, appealing product descriptions can bring a drastic improvement in your eCommerce store conversions.