To keep the buzz alive in the lives of today's search-savvy minds, eCommerce market is accepting social media penetration with their arms wide open! The social media trends are inevitably changing, and we live in an era where algorithm changes are an everyday thing! 'Out of sight is out mind', and the businesses today understand this way too well! With an approximate estimation of 221 million social media users by the year 2022 stand alone in the United States, it is one of the key marketing strategies to build a strong social media presence. Digital marketers should keep up with the latest social media marketing trends to up their marketing game in 2019. With this being said, here are the most lucrative social media trends for business you shouldn't miss out on!
Short span, Long Effect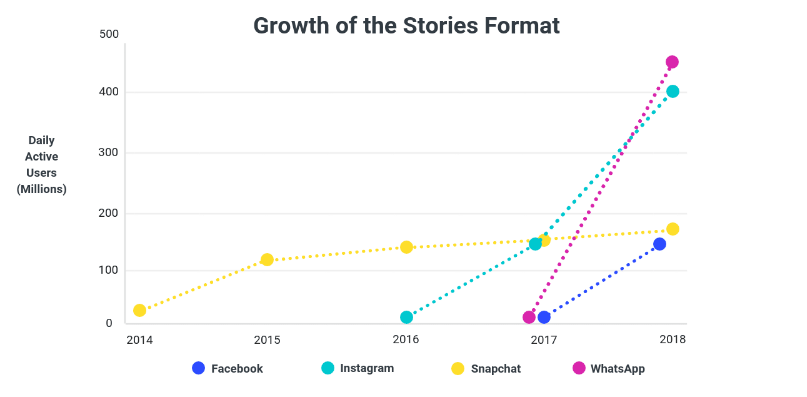 Yes, we're talking about the 24-hour thing that's buzzing on almost all the social media platforms. Stories! Brands indulging into creative story content is the latest social media trend of 2019. Snapchat might be the pioneer of the concept but other social platforms are pacing up really quick!
Snapchat Stories
Snapchat was the market leader and pioneer in the story concept till Instagram introduced the same feature on their Mobile App and soon followed the Facebook and WhatsApp (status). In 2018, nearly 84.8 million U.S Snapchat users were there, which is estimated to reach 103.6 million by 2020. The communication app is popular among the youngsters since long and hence, most Snapchat users segment from the Gen-Z and millennials. As we're aware of the market stat that says Gen-Z to be the most powerful generation by 2020, it is wise to include Snapchat marketing in your social media strategy. Brands like Netflix already uses this app's creative approach to reach out to people.
Marketing approach – You can try creating geological filters to promote your brand or products, can come up with face lenses, promotional filters, location-specific filters, AR lenses, or simply run your sponsored stories between the user stories. For instance, Netflix created an Augmented Reality Stanger Things lense in 2017 when their science-fiction horror television series's second season was about to go live.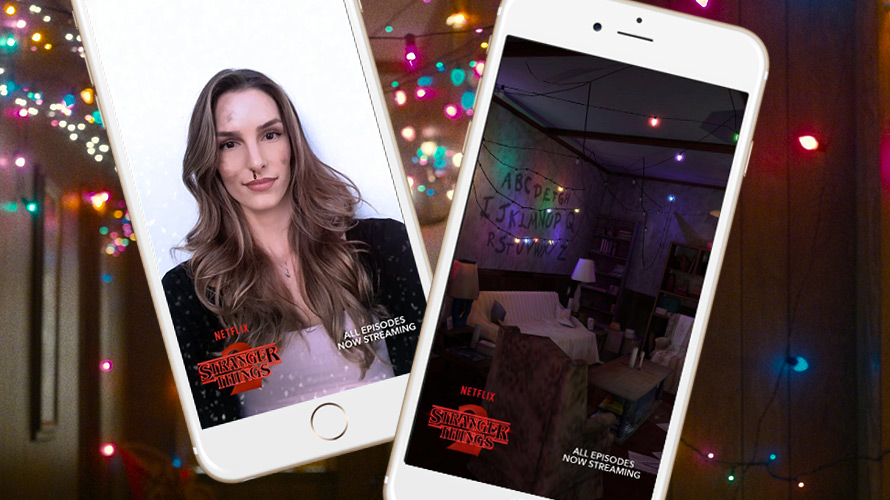 Image source: https://www.adweek.com/digital/netflixs-immersive-stranger-things-snapchat-lens-transports-you-to-joyce-byers-eerie-living-room/
Instagram Stories
The exponential growth of the Instagram business, as well as personal accounts, are not a mystery anymore. And, to deliberately mention it, the not-so-old Instagram story feature is gaining the popularity at the same pace as well. The daily active Instagram story users as of January 2019, were 500 million; and there's no turning back from here! Investing in Instagram marketing should already be a part of your social media strategy because that's where the leverage is.
Marketing approach – Major brands are already using Instagram ads to reach to their audiences. The catch here is, Instagram works on an algorithm which will show your sponsored ads to the people who are interested in similar kind of product or service. Preference-based marketing is a major advantage here. Create doodles, spread awareness, tag customers and related people, create short videos, share pictures and much more. The opportunities here know no limit!
Facebook & Facebook Messenger Ads
The most influential social media platform of all time – Facebook! With over 1.52 billion daily active users as of third quarter of 2018, Facebook reigns the social media market. Facebook ads are reaching new heights with marketers investing more and more in the facebook retargeting structure. But the social media trend that will rule the ad's world in 2019 is the trend of stories. Facebook stories come with a feature of publishing the same content on it's Messenger App. These stories are gaining popularity as it is linked to the Instagram story section as well. Facebook sponsored stories reach a huge audience base. Like Instagram, you can get as creative as you want to connect with your audience through FB stories.
Marketing approach – The Facebook pixel lets you track the website activities of a user to retarget them on Facebook via various ads. Facebook stories are a new way to reach the audiences with similar product/service stories that they've searched for.
YouTube Stories
Yes, it is happening! Youtube stories are already out. The BETA YouTube stories are on a testing spree these days and are open for only the creators with 10,000+ subscribers, but the point is, it is a thing already! Unlike Facebook, Instagram or Snapchat, Youtube stories last for 7 whole days. The YouTube Help center says, 'the Story feature is currently in beta and available to all eligible channels with over 10,000 subscribers. It may take up to 4 weeks for Stories to show up after reaching 10,000 subscribers.' They provide a 'direct subscribe' feature from the story tab itself. More features and improvements are yet not revealed, but we're assuming that an industry giant like Google (as YouTube is one of Google's subsidiaries) has many things in store for the marketers as a part of story ads now when they're also into this segment.
WhatsApp Status
WhatsApp statuses are in use since long, and people are utilizing it to share things on a personal level. The burning question here is, will this personal messenger app ever open its doors for the marketers? As it is an entity of Facebook, will it be streamlined to its other platforms Instagram and Facebook? Or will it continue to be the personal chat app only? Only time will tell.
Stories and rise of short-lived content across social media networks will be seen a lot in 2019. One of the key parts of this STORY trend is that it will become the primary way to share content on social media, overtaking the News Feed.
Omnichannel Marketing
The second social media trend that'll approach with its full force is the Omnichannel Marketing Trend. Social media marketers are running their ad campaigns on multiple channels and it is time when they will actually switch to the omnichannel marketing approach. The Omnichannel marketing structure emphasizes the importance of reaching and interacting with customers in all and every channel of social platforms. The best part about thinking of marketing like this is that paid ads, social, content, and email channels don't have to compete against each other for sales or customers. Marketers and brands can grow your business by strategically integrating all these channels together.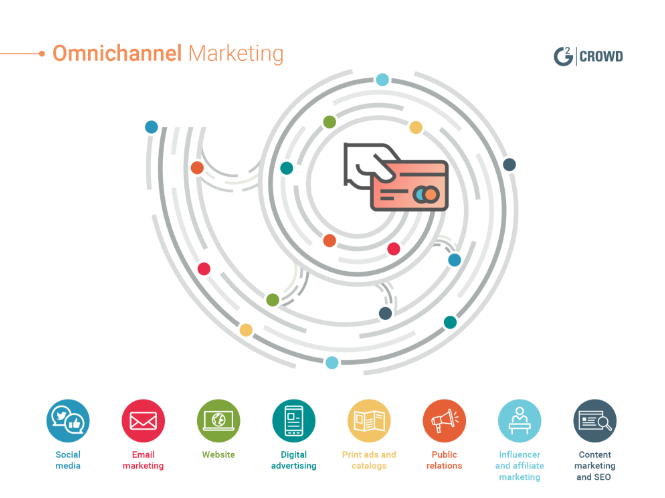 AI Driven, Personalized User Experience
Personalization is not limited to the email marketing campaigns. Marketers now follow hyper-personalization functions and take help of the technology like machine learning to approach the audiences with the RELEVANT data that have higher chances to convert. With the help of artificial intelligence and various social media metrics, brands now focus on providing helpful, interest-based content for better results. This lucrative AI driven personalization user experience is our third and last social media trend for 2019.
Instagram has changed their chronological order algorithm long back to come up with user preference that is more focused on users' likes and interest. The same neuromarketing concept has been followed by giant names like Google and Facebook. From chatbots to ad optimization, they're considering artificial intelligence to enhance customer interaction. For instance, Amazon's 'products you might also like' or 'recently viewed products'.
Wrap up
The mentioned three trends are vital and lucrative. Before adopting other ongoing trends, it is advisable to at least give these a shot. Social media trends are changing and the only way to be in the sight is to adopt the change and embrace the grind!