A business desires to receive good customer reviews for their product and services. However, as every customer is different, they have a different level of expectation from a company. Therefore, making each of them happy and satisfied is absolutely impossible for a business. Considering the fact, you should accept that, along with the positive reviews, sometimes you will receive negative reviews as well. So, instead of burying your head in the sand, look at the positive side of the negative reviews and unhappy customers.
Your most unhappy customers are your greatest source of learning. – Bill Gates
Every customer is important to a business, and so are their reviews, whether positive or negative. Though positive reviews boost your confidence and create a good impression on your customers, you cannot deny the power of negative ones.
Negative reviews create many opportunities for you to go closer to your customer, by solving their problems. The better you serve them, the more you gain their confidence. Not only this, Negative reviews prove to be very helpful for you to grow your business as well. Hence, along with your happy customers, you should also preserve your unhappy customer and make preparations for dealing with them ahead-of-time.
Now, let's discuss in detail how bad reviews could help businesses take lessons from their experiences and help them grow, instead of damaging their reputation as they are mostly believed to do.
1. Helps You to Improve and Innovate
You might be giving your best to satisfy your customer, but there is always a scope for improvement. And bad reviews help you with this. Customer reviews add a perspective to your business as well as throw light on the areas which can be improved.
The customer directly talks about their problems and expectations through their reviews. This helps you to understand your customers and serve them better. Not only this, but the reviews can also sometimes trigger a new idea to make your product better and innovate.
For Example, The following review brings a problem of mobile devices into notice.
To deal with such a situation, first of all, you need to assess the issue and find out whether the problem exists only in one device or is it a major lag in the design itself. Based on the analysis, you can improve or innovate accordingly.

(Source: Hubspot)
Some reviews also have an indirect suggestion such as adding a new feature to your product. Here in this example, the user suggests automating the cashback process.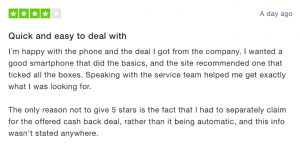 (Source: Trustpilot)
2. A Check on Your Problem Solving Skills
Bad Reviews not only create opportunities for product improvement but also for you. Different customers post different reviews, some are harsh and some are polite. In these scenarios, you can check your problem-solving skills. You have to be cautious about how you deal with the situation.
Marriott Ottawa hotel beautifully deals with a negative review posted on its website. Instead of panicking over the review, it tries to get to the roots of the problem. Hence, first of all, it investigates the entire issue and then provides authentic information to the user.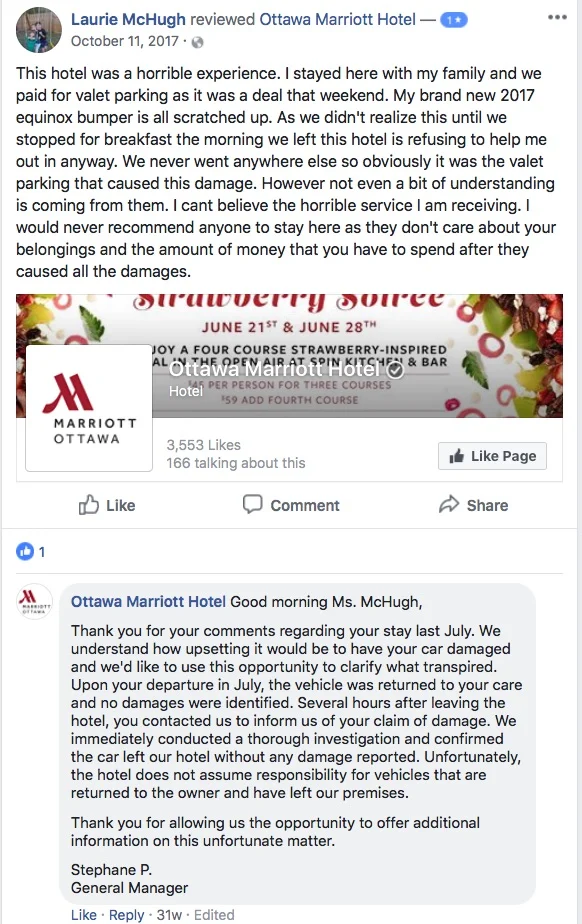 (Source: Neil Patel)
Hence, to deal with such a situation, you should also be prepared in advance and have amazing problem-solving skills. Following guidelines can help you with the same-
Decentralize the decision making authority. Allow the front-line employees to make decisions and resolve the user's issues.
You can also ask directly to the users, the way they prefer to get their issues to be resolved.
Be empathetic and try to understand your customer's pain points.
Offer customized solutions to users.
Show your human side.
3. Provides a Deeper Insight into Your Business
The reviews give a deeper insight into your business, according to which you can make changes to your business strategies. The reviews give you an idea about the performance of your product and services.
Whether your product aligns with the latest market trends?
Are the products still relevant in the current scenario?
Is it worth making an investment in the product?
Are you marketing your product in the right way?
Is the information appearing in the description accurate or is it misleading?
Are the other market alternatives for your product performing better? If yes, Why?
All these factors can be analyzed through bad reviews. The analysis helps you in making necessary business decisions regarding, and take your business to the next level.
4. Acquaints You with Your Shortcomings
A bad review proves to be the best source to acquaint you with your shortcomings and flaws. In fact,  to find out the complete details about the issue, you can directly reach out to the customer himself, who raised the issue. A Customer can be your best critic, especially the one leaving a bad review.
Try to communicate with your customer, to find out the details of the problem face by him as well as his expectation with the product. You can also ask them about the reason for switching to your competitor if they are. This information will help you find the flaws and the area of the improvements, based on which you can make necessary improvements to your product and business.
5. Boosting conversion
Reviews always have had a major impact on our buying behavior. Earlier we used to rely on testimonials provided by our family and friends. And now, we consider the customer reviews for the same.
68% of US shoppers state that they base their purchase decision on customer reviews.- Statista 
The more a customer spends time on your website, the more are the chances of him making a purchase. Bad reviews tend to grab a huge user's attention and your response can help you to make the most out of this situation. According to a study conducted by Power Reviews, 85% of consumers seek for negative reviews to make informed purchases. Hence, if you respond to the reviews appropriately, it can boost your lead conversions.
6. Bad Reviews Help in Nurturing Customer's Trust
Trust is something that can take you a long way, leading to an increase in sales. Customer appreciates honest opinions, hence they consider customer reviews instead of ads, before purchasing a product. However, if all of the customer reviews are positive, the customers start getting skeptical about its genuineness.
95% of consumers suspect censorship or faked reviews when they don't see bad scores. – Vendasta
The reason behind this is that some businesses generally remove the negative reviews to paint a perfect image of their product. Hence, when a customer finds all the positive reviews for a product, they start losing confidence in your brand.
You should always maintain transparency among the customers and publish all the reviews. The reviews should never seem like being crafted by your marketing team, instead, it should be genuine.
7. Opportunities to Engage Customers
We all have given reviews for some or the other product. Sometimes to appreciate the product and sometimes to complain about its unsatisfactory performance. Which review did you track more often- the negative or the positive one?
Bad reviews lead to better customer engagement. A customer always comes back and tracks the bad reviews more than the good ones. Along with the complainant, the other customers also go through these reviews to check your responsiveness. This is the time when you can gain your customer's confidence.
For Example- Zappos, in one of its responses, not only apologizes for their mistake but also provides the customer with a quick solution.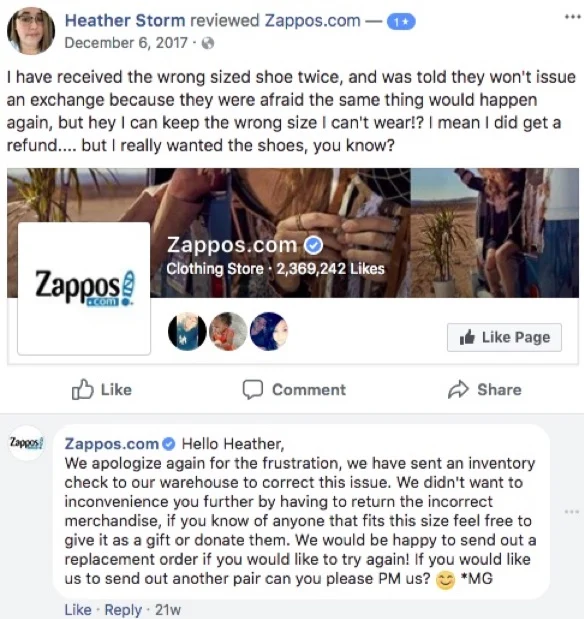 (Source: Neil Patel)
Bad reviews provide a great opportunity to communicate directly with customers. Customers feel good when you address their problems. Hence, always respond to their queries with a solution. This reflects your responsiveness, leaving the impression on the potential customer that you will solve their problem as well in the future. In fact, with your response, you can also turn an unhappy customer into a loyal brand advocate.
Conclusion
A Bad review is not bad for everyone.
A product might not perform the same way for all the customers and the customer knows this. Remember, a customer does not always go through your reviews to leave your website, but to check numerous factors. Bad reviews tend to help the customers in many ways, like checking your responsiveness, finding out the best fit product for them, etc.  So, removing bad reviews from your website is not a good idea.
All you need to do is to prepare yourself before the storm. Create a sound plan about how to deal with reviews. Your response tells a lot about your brand. Hence, make sure you present your business in the best light.
Though the process is critical, requiring you to be extremely cautious while handling the negative reviews, it is extremely important. And, taking risks here, can lead to serious damage to your business.  Hence, reach out to our marketing expert, leave the hassle to us.