Over the weekend, we got to have a word with Patrick Connelly, founder of the much-loved brand Stellar Villa. 
Read through to know more about how he and his wife Laura created this special brand for pet-portraits, and why their story makes a difference.
The inception : From a 10 year E-commerce stretch to sustaining through the rackets of time.
"I've been involved in e-commerce for over ten years. It's more than just a job for me, it's a true passion. I started selling on eBay and Amazon platforms in the early days and graduated to building successful online brands." says Patrick when asked about his background before he ventured into his own business.
"I've created several 7-figure online businesses across a number of different industries. I enjoy the challenge of competing in this space as it is changing every single day. With each new day, there is something new to learn and a new problem to tackle. No day is just like the next which keeps things interesting."
" I had no prior training. I learned everything I know by doing and through trial and error. "
"When we started Stellar Villa, I had this prior experience so the startup process was pretty smooth. The biggest challenge we faced was that there were so many requests for our custom pet portraits that we had trouble meeting demand. To this day we often have a wait list of customers wanting pet portraits created. To meet this challenge, we have expanded our product line to include pre-made prints and are planning to bring on additional artists." says the young founder about what it was like in the very beginning, and how challenges changed the game. "
Teamwork : Why a solid support system matters.
 Having a strong support system is very important. It's crucial to surround yourself with a strong team. For me, says Patrick; that includes a good accountant and lawyer. These two people will help ensure you set up your business correctly from day one.
It's important to create the correct legal entity for your needs.
An accountant is important because they will help you save money over the course of your business venture.
I also utilize an organization called SCORE which is part of the US Small Business Administration and they offer free business mentoring. They have local mentors with whom they can pair you with in order to get advice. These mentors are active or retired business executives with a lot of experience. It's great to have someone you can call or meet up with and discuss ideas or ask questions.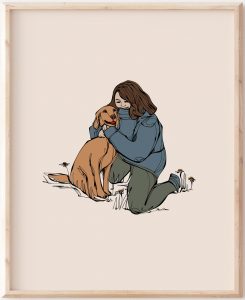 Partnership :
"Diversity is important and when people who think differently work together, the end result is going to be better ideas and outcomes"
"I have always wanted to work with Laura on a project like Stellar Villa. Laura is so wonderfully creative, something that I certainly lack. I myself have a solid business background, so together we make a great team and our skills compliment one another. we both have different skill sets. With our partnership, we have a strong foundation on which to grow our business. "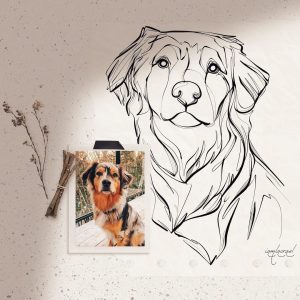 Why pets?
At the start of the COVID-19 Pandemic, Laura wanted to do something to give back to the community. She heard about a local animal shelter that needed funding and decided to run a fundraiser to help raise money for them. For the fundraiser, she illustrated peoples' pets while accepting optional donations, and created over 1,200 illustrations over the course of three weeks and raised nearly $12,000 for the shelter. People loved her artwork so much that even after the fundraiser ended, her inbox was flooded with messages from people requesting a portrait of their pet.
That's when we decided to launch Stellar Villa.
We now offer custom pet portraits in many different styles.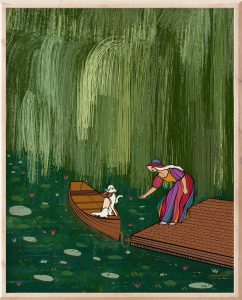 The Final Outtakes
"We push each other to do our best."


"Setting up a business together is a fun and exciting adventure. We both share the goal of growing the company to be the best in the industry. We push each other to do our best and keep each other motivated. It's been a wild ride this past year as our company has caught the attention of and been featured in major publications like Forbes, Marie Claire and Fast Company. I can't wait to see what the future holds for us and Stellar Villa."
Check out Patrick and Laura's custom pet-portraits to find out more about their company – Stellar Villa.