Are you satisfied with the revenue which is being generated through your online store? If no, then you really need to check out on your eCommerce marketing strategy you are working on right now.
If you think that you have designed a perfect marketing strategy which can get maximum visitors to your website, but not getting enough conversions, then you might be lacking some tactics which can engage them and ultimately encourage them to buy from your store.
To have a better understanding on this topic, we have come up with these 10 out of the box tips if included in your eCommerce marketing strategy can maximize conversions and take your online business to new heights.
Expand Email List
A visitor first time visiting your online store is less likely to buy compared to the visitors who have visited your online store multiple times. This gives an idea that you need to consistently stay in touch with the first time visitors in order to get them back to your store and encourage them to buy.
How can this be done?
Your first-time visitors should be converted to your email subscribers. Put your maximum efforts to collect the email ids of your first-time visitors through –
Review Forms – Ask your visitors about the design or any other aspect of your store through a review form and collect their email id.
Exit-intent Popup – As soon as your visitor tries to close the window or tab of your online store, there should be a popup asking for their intent and email id both.
Live Chat – Get a live chat integrated to your online store and offer a help to your visitors as soon as they enter. While offering the help, you can ask for their email id.
Discount – Offer your visitors discount on their purchases in lieu of the basic information like their name, email id, etc.
Minimize Shopping Cart Abandonment
People leave the shopping carts without purchasing might be because of below-mentioned reasons-
Unexpected charges levied at the time of checkout
The tedious and time-consuming checkout process
Found a better price elsewhere
Worried about payment security
Payment gets declined
And many more, as given below –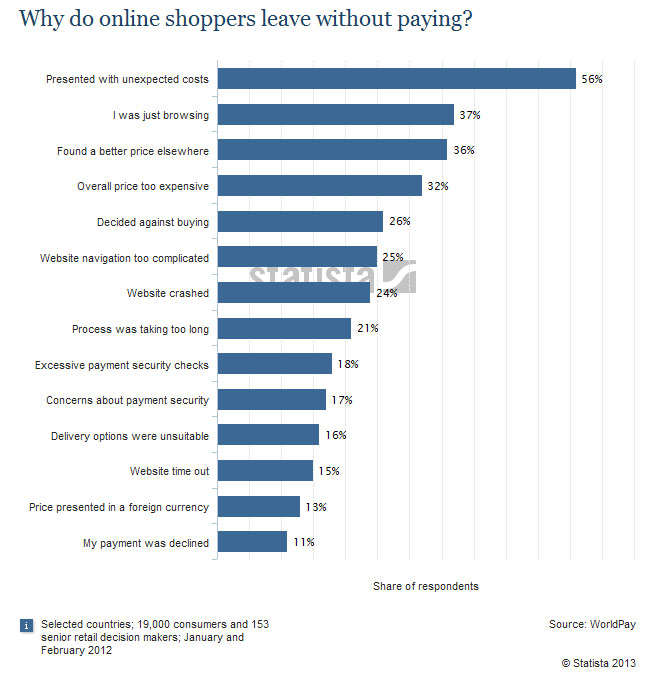 We need to eliminate these reasons by making the checkout process as user-friendly as possible. Also, check on your website loading speed, as that may annoy your customer and instigate them to abandon the shopping cart.
What about the visitors who have already abandoned the cart? We need to create opportunities to bring back the visitors who have abandoned the cart. But how?
Send an email to visitors who have abandoned the cart offering them free shipping and extra discount on the products in their cart.
Call them if you have the contact details, asking about the problem they have faced during checkout and assure them to solve that issue if they come back to the store and complete their purchase.
Upsell and Cross-Sell
Upselling means offering the higher version or better quality product than the product which has already been selected or purchased by your customer.
Cross-Selling means offering a similar or relevant product to the one your customers have purchased or intend to purchase.
In both the ways, you can boost the sales of your online store. So, if you have not thought about this before, you can implement this strategy for your eCommerce store.
Encourage Product Reviews
You would agree that product reviews play a major role in the purchase decisions of your customers. The reason? People trust product reviews more than product descriptions.
So, how to ensure that you get maximum positive reviews for your products?
Send an email to your customers asking for the reviews for the products they have purchased in lieu of a discount code on their next purchase.
Just ensure that –
You send an email asking for review within 24 hours of product purchase
You provide an attractive incentive to your customer
The email content should be convincing and persuasive
Leaving product review should be an easy process
eCommerce Personalization
You might have heard about eCommerce personalization. There can be different ways of personalizing shopping experience for your customers –
Recommend products to your customers based on –
Previous purchases
Information gathered through surveys like their age, gender, etc.
Special days like – Birthdays, anniversary, etc.
Real-time information like location, time, etc.
Moreover, personalized emails can also encourage purchases. For example, an email sent to a customer saying "$49 discount only for you" can motivate them to purchase products from your store.
Many customers also prefer to view personalized shipping and tracking information. They would definitely prefer to purchase from your store in future if they get personalized shipping and tracking information.
Mobile Optimization
Having a responsive website can just not be enough to get high conversions. You need to ensure that your online store website provides excellent mobile experience as most of the purchases done these days are through mobile.
Few factors to be considered for best mobile user experience would be –
Quick loading time
Simple navigation and menus
Optimized site search
Concise product filtering
Easy checkout process
To get a better understanding on this, you can check out our infographic – How to optimize your store for mobile visitors?
Excellent Customer Support
If you are providing excellent customer support, you can be sure that your customer would return back to you only for their future purchases. Otherwise, you know that there is a lot of competition and your customers can get better options.
To retain a customer is really challenging and customer support can highly contribute to overcoming this challenge.
Be available for your customers 24/7 through –
Live Chat
Phone
Social media
Email
Assure your customers to provide quick solutions to the problems they are facing as that would be a sure-fire way to delight and drive them back to your online store.
Customer Loyalty Rewards
Loyalty rewards is an excellent way to encourage your past customers to buy from your store again. You can treat your customers with –
Points which they can redeem in their future purchases
Discounts coupons to be used in their next orders
Free shipping
Early access to newly introduced products
Loyalty rewards if implemented in a right way can motivate the buyers who have purchased only once or twice from your store and thus improve conversion rate.
Send Emails Based on Customer Behavior
Have you ever analyzed your customer behavior? If not, then it is really significant to do that in order to give relevant offers to your customers.
Different emails can be sent based on –
Pages visited during your customers' previous visits to your online store
Products added by customers in their cart
Your previous emails read by the customers in past
Your customers' previous purchases
Which links in your email campaigns were maximumly clicked by the subscribers
Wishlist of your customers
Based on all the above facts, you can draft a personalized email and send it to your customers for better results.
Use Social Networking Platforms
Showing off your products on Instagram and Facebook is in trend these days. Although, people don't visit social networking platforms for shopping, still if they find products which can lure them, they would definitely visit your store and purchase those products.
Using right hashtags, appropriate filters and posting at the right time would be some tactics to sell successfully through social networking platforms like Instagram and Facebook.
Moreover, you can also sell directly from Facebook by launching a Facebook store which can be integrated with your online store making it highly convenient to manage the inventory.
eCommerce Marketing Tips: What to do Next?
Now, these were some of the best eCommerce tips which can help you in encouraging high conversions on your online store.
Still, if you are in any kind of dilemma or confused about how to practically implement these eCommerce marketing tips, just get in touch with QeRetail – a specialized eCommerce marketing agency.